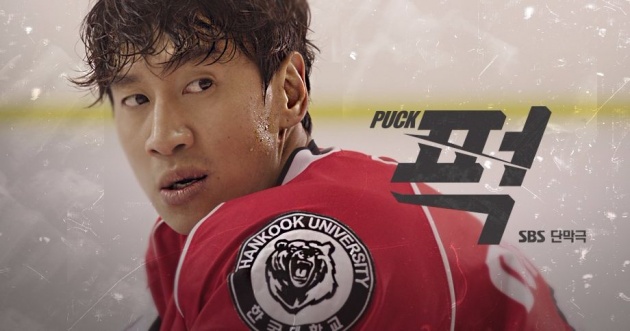 Image Source: Google
◌ Puck! (퍽!) ◌
"Because I want to live."
Hello guys, how are you ?. I usually spend my night with watching movie, drama, anime, or variety show, and on the blog this time I will discuss about drama special titled "Puck!". When I had dinner usually I avoid the show that is serious, so I decided to watch this drama special few days ago. The main reason I watched this drama is because there is Lee Kwang-soo or you could called him "Giraffe" or "Prince of Asia" because his popularity has spread around the Asia. I have not see the Running Man since last year, I wanted to see his funny looks and how much progress his acting. Happy reading!
"Puck! (퍽!) Trailer"
Video Source: Youtube
◌ About Puck! ◌
Puck! (퍽!) is a Korean drama special that aired on SBS in 1 January 2016, with two episodes lasted around 60 minutes each episode. The drama is called a drama special because these kind of drama usually only consist of 1 - 4 episodes, unlike regular Korean drama series that can reach 10 episodes and even hundreds of episodes. This drama came from Lee Gwang-young as the director and Yoon Hyun-ho as the writer.
Some you must be wondering what is the meaning of the puck, Because I also do not know at first and found out later why this drama special was titled Puck!. The story in this drama will focus around Ice Hockey and the life of gangster under loan shark, that's why they chose Puck! as the title.
"A hockey puck is a disk made of vulcanized rubber that serves the same functions in various games as a ball does in ball games. The best-known use of pucks is in ice hockey, a major international sport." -wikipedia
◌ Story ◌
The story opens with a scene when Jo Joo-man annoyed and beat someone to bleed to collect money for his boss. Then an accident happens when someone nearly died from falling off a ladder as a result of Jo Joo-man violence, and he gets scolded from his boss. But the boss still hired him to collect the money because he was loyal like a dog.
There is an ice hockey team in Han Kook University. They were having a difficult time because they often lose in every game. One by one the team members began to withdraw, leaving only five members. On the other hand, the team coach, Heo Myung-geun also has its own problems when Jo Joo Man appeared to him to collect the debt. Heo Myung-geun has no other source of income apart from the ice hockey team. However, now the team nearly disbanded because of pressure from superiors and it takes six members in one team if it wants to continue the match.
"Ice Hockey Team Members"
Image Source: Google
If ice hockey team disbanded, then either Heo Myung-geun or Jo Joo-man will not be able to get the money. Jo Joo-man who does not know anything about ice hockey eventually forced to join into the ice hockey team to get debt from Heo Myung-geun. There is a promise from the Head, if there is one win in the remaining games then the team will continues.
With only 6 members they continue the match to get at least one win and the real story begins. . .
◌ Cast ◌
"Puck! (퍽!) Cast"

Image Source: Asianwiki
Aside from the main cast above, there is also a supporting actor who plays ice hockey team members, such as Lee Kang-min, Sul Jung-hwan, Jo Yong-hoon, Kim Jin-woo, Kang Ki-young, etc, which mostly is rookie actor. And some veteran actors also take part in this drama, such as Lee Joon-hyuk, Kil Hae-yeon, Park Young-soo, etc, which played a minor role.
"Puck! (퍽!) Main Cast"
Image Source: Google
◌ An Improvement In Acting ◌
The last time I saw Lee Kwang-soo acting is in a movie titled "Confession" in year 2014. During this time, Lee Kwang-soo is known as a funny comedian with his dumb and silly behavior. In this drama, he proved his ability in acting as an actor. I think he was worthy enough to be a main cast in a drama, because he has always been a supporting player in the drama he had before. He did a good job in conveying different emotions in this drama, like when he had to be cruel, crying, laughing happily, etc. By this he showed that he has developed into a real actor.
"Jo Joo-man practices ice hockey"
Image source: captured from video
As for the supporting actor also did not disappoint me in terms of acting. As time passed by, I could enjoy this drama until the end with just 2 hours long.
◌ More Than Sport Drama ◌
In addition to stories about the sport and ice hockey, this drama also contains story about problems in life and the harshness of reality. As experienced by Hwang Gyung-pil. Although he loves ice hockey, but because of difficult family circumstances, he lived in misery and had to work to earn money for his family. One day he met with Jo Joo-man and asked a favor to kill him. Jo Joo-man granted his wish and bring him to railways and decided to die together.
"Hwang Gyung-pil asked Jo Joo-man to kill him"
Image source: captured from video
The story would not be complete without love. This drama adds a bit of a love story in the life of Jo Joo-man. Starting from collect debts on a strange woman, he started to have interest and care about her. Although it is not as the main story, but it could be a supporter of this drama in conveying the message to the audience. Even the cruel or evil human still have a good side in them.
"Jo Joo-man secretly followed a strange woman"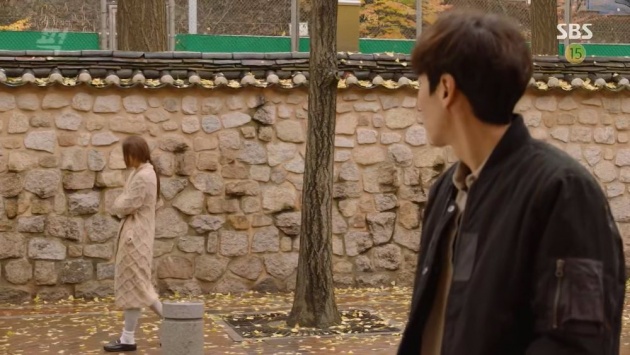 Image source: captured from video
Korean drama special always bring something new for the audience. One aim is to determine what kind of drama that interesting for the audience that time. The idea of using sport as a main background in drama, in this case is ice hockey, is quite interesting and new. But since this is a special drama with 2 episode only, they didn't explore much about ice hockey such as rules, techniques, etc. Even so, this drama did a good job in delivering the main message about the story with sport and gangster life as background. If you like sport especially ice hockey, maybe you'll disappointed about this drama, but still a worth to give it a try, because this drama is more than sport drama.
Puck! (퍽!) is not just a sports drama, but a drama with friendship, love, passion, and hope. If you like light and warm drama, you should try this drama. And if you're a fans of "Giraffe" (Lee Kwang-soo), then you must watch this drama.
"Warm friendship in snowy night"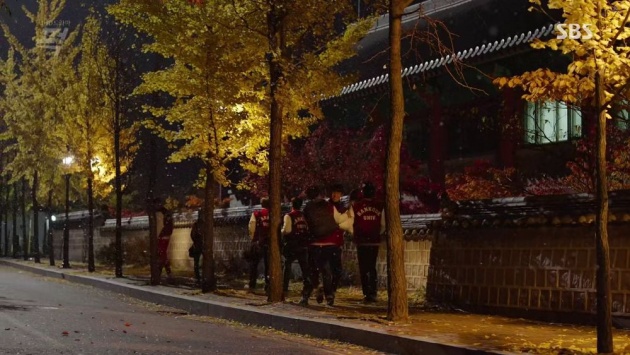 Image source: captured from video
Regards
LookUp
©2016 LookUp. All rights reserved.