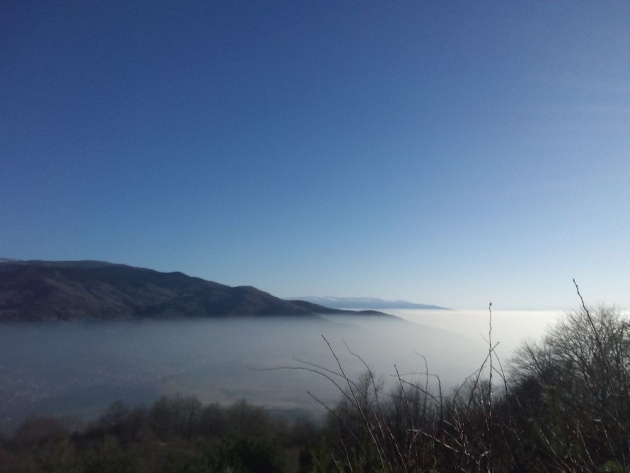 Photo Credit: NinaB via bitLanders.com
Hello, guys!
I was wondering today what topic to choose to write on, and I remembered that I've been to a certain mountain nearby already several times, but I never took the time to write anything about it. And my both visits were in different seasons - one in autumn and one in winter. Probably I should make two more trips to complete the cycle - in spring and in summer but we will see how things go. I usually don't like visiting the same place more than once, but I was nicely surprised that I actually enjoyed my trip in winter (my second one).
Where is Lyulin Mountain?
Lyulin (Bulgarian: Люлин or Люлин планина) is a range of hills in western Bulgaria, located several kilometres west of Sofia.
Lyulin Mountain is situated very close to the capital of Bulgaria - Sofia, and even closer to my neighborhood. To reach the mountain from my home takes probably not more than half an hour with a car or by bus. There are several places where people usually go on that mountain - these are an area, called Bonsovi polyani, an ecotrail - "Esperanto", and a path near Bankya called the Path of Health. They are all adorable places, and really close to the capital. Since Sofia is a city with over a million population, nature-lovers always spend time in the mountains whenever they have the chance.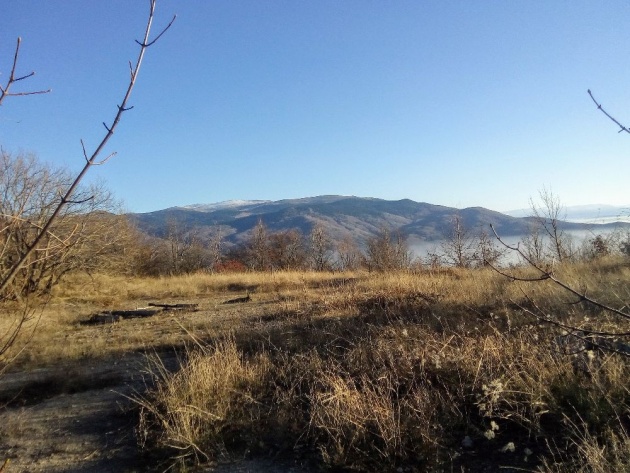 Photo Credit: NinaB via bitLanders.com
The mountain is not very high, in fact, it is a little-known mountain; many Bulgarians haven't even heard about it. But the people from the region and the neighborhoods around know it very well. The highest peak in Lyulin Mountain is called Dupevitsa and is 1256 meters high. But, I'll give you more details about this peak later on, so keep reading.
Bonsovi Polyani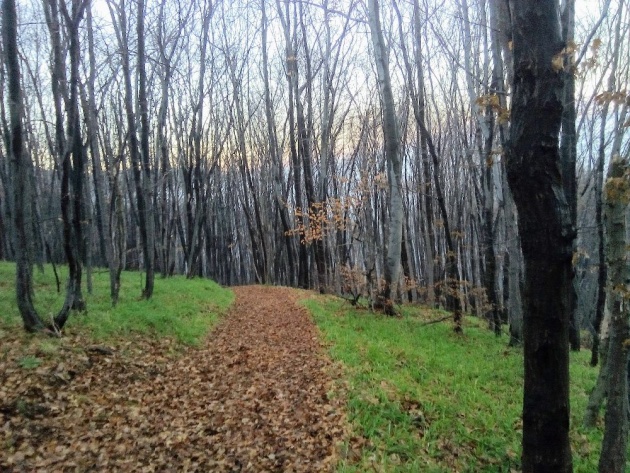 Photo Credit: NinaB via bitLanders.com
The first place I want to talk about is called Bonsovi polyani and is a destination only a few kilometers from the residential district Gorna Banya (famous for the mineral water with the same name). When I visited in autumn I got the bus to this district and from its central part, I was walking to my final destination. Well, it was kind of scary as there were almost no people on the road. I think that was because I was there on a working day when everyone was at work and not hiking like me. The entire route to the area is going through a road with almost no cars, no people, no nothing, just woods, meadows and some crops here and there.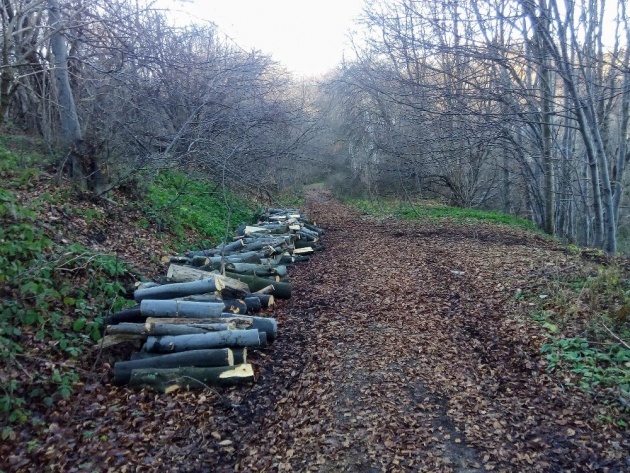 Photo Credit: NinaB via bitLanders.com
Of course, there is an option to catch a bus in order to reach Bonsovi polyani, but unfortunately, this bus is not coming regularly and you need to stick to its schedule and plan your trip upfront. It's not like other buses that pass every twenty minutes. I think there were only 3 or 4 buses during the whole day. So, that's why I eventually decided to go on foot. I don't regret it as it was a nice training and I believe it is healthy to walk through the mountain for so long. At the end, I estimated my total time spent in walking was 4 or 5 hours and I passed 25 kilometers.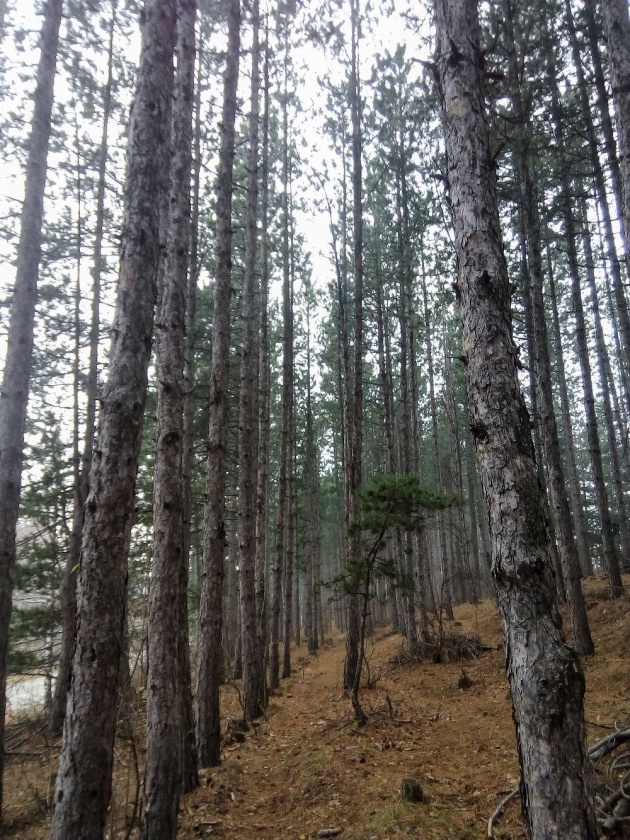 Photo Credit: NinaB via bitLanders.com
Surely it was scary. Most of the houses in this area have dogs, and they go crazy whenever a stranger passes close to them. But, I managed to reach the area completely safe. What's so special about it is that the view is amazing and there is a cottage for the tourists to cool off/warm up inside, a small restaurant and other attractions. For example, you can use a swing, hanging from a tree, wooden benches and a table in the yard for the seasons when the weather is good and also playing facilities for the children.
Video Credit: Asen Krachmarski via YouTube.com
From the cottage a path starts in the mountain which leads to the highest peak, that I already mentioned. The first part of the path is really steep; it's hard to climb up especially in bad weather. When I was there it was kind of foggy in the forest and sunny outside of the forest, and the weather was changing during the hours I spent there. And funnily, there was nobody going to the peak like me, not even one person I met, not even one animal on my way to the top. The path was actually an asphalted narrow road, which I'm not quite certain a bigger car would fit.
Video Credit: NinaB via bitLanders.com
Seemed quite abandoned to me. Many buildings were there on the side of the road, or should I say, remains of buildings - no windows, in some places, missing walls, etc. Seemed that the area was used before but then left; only the remains are still there, and nobody cares. Close to those remains, there is a wide clearing for wood extraction, and the peak itself. Yellow signs are pointing the visitors in the direction of Dupevitsa Peak. It takes some minutes to reach it as it is very close to the buildings.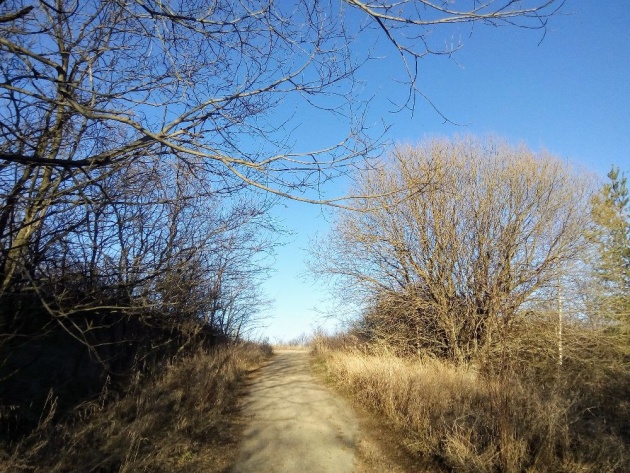 Photo Credit: NinaB via bitLanders.com
Something I find really strange about Dupevitsa Peak is that it is not really clear where is its exact location. You go to the peak and you don't know you are there and which spot is the peak simply because there is no flag or a sign or even a stone indicating it. And that's really weird, considering that this is the highest peak of a whole mountain, and nobody bothered to mark it in some way. Indeed, the first time I visited I had no idea if I had managed to reach it or not. I found out later when I checked on the internet that probably I passed through it. As far as I understood there used to be a bunch of stones at the spot of the peak, but then they were lost or scattered after the place was abandoned.
In Winter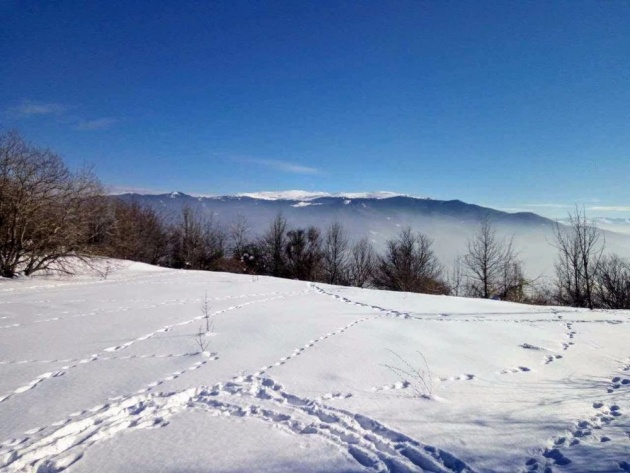 Photo Credit: Myself
Last winter I decided to make another trip to the very same place. There was a lot of snow and the mountain looked quite different. The meadows were used by the children for sliding and playing and just enjoy the snow. The place looked far more populated than the previous time I visited, probably because I chose the weekend this time. I was not alone - a friend of mine agreed to join me in the mountain tour. To make things somewhat more thrilling, we took a different path in the mountain. After passing by a monastery the path became extremely narrow, then very very steep, until it was too late to go back.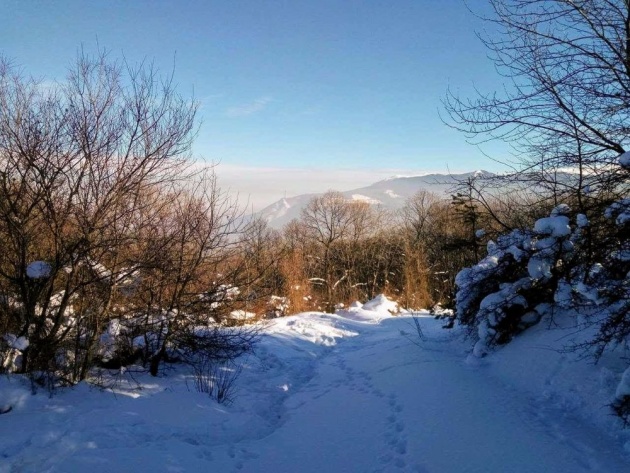 Photo Credit: Myself
Not long after that we were already walking next to the abandoned buildings and managed to reach the peak quite fast. It happened, that this steep path was actually a shortcut through the forest to reach the hill quicker. I am thankful though, that we didn't get lost in the process. We made some pictures and then went down using the regular path. Even though it was winter and there was at least 20 cm of snow, the weather was nice and sunny.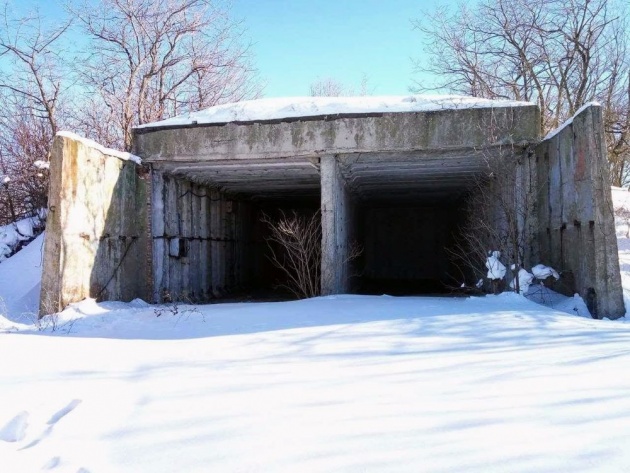 Photo Credit: Myself
It's hard to decide whether I like the mountain more in winter or in autumn. It has its charm in both seasons. Even though Lyulin Mountain is a relatively small mountain and not very high it's a quiet and excellent place for spending the weekend or for healthy walks. Even running activities are organized in the area by a non-profit organization. That will be all for now.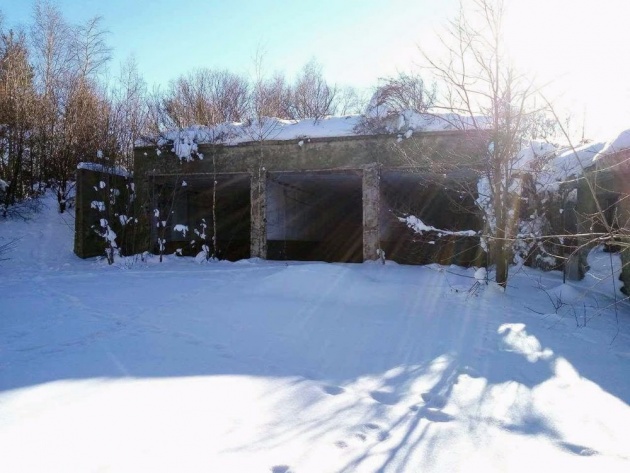 Photo Credit: Myself
Thanks for reading! See you in my next blog!
- NinaB