6 Solarium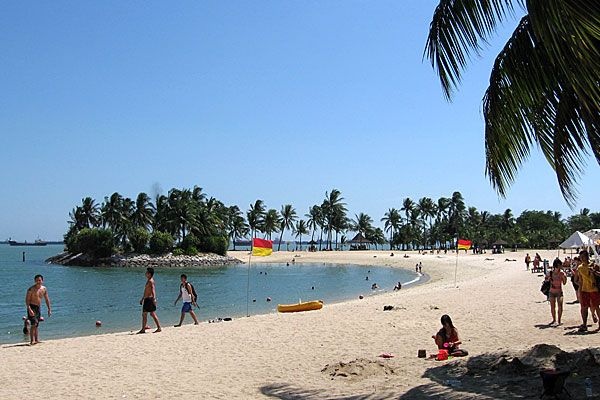 Singapore has many beaches, beautiful islands. Sentosas most famous island, where you do not charge to visit. Visitors can still enjoy the sun, sand free.
If you want to have private space, go to Changi beach or Pungool / Sembawang - to go away though and solitary beauty but also no less.
7 Visiting the museum
Singapore has a lot of museums and a number of free open. Singapore Art Museum, where they are kept much of modern art in Southeast Asia will not enjoy visiting the ticket on day 6 from 6 pm to 9 pm.
Also 5 museum is operated by the National Heritage Council are: the National Museum of Singapore, Asian Civilisations Museum, Singapore Stamp Museum, Peranakan Museum (Peranakan Museum) and Reflections at Bukit Chanda not specified the admission money with which to customize tourist center.
Relax in theater 8 "Durian" (Esplanade)
The musical performances will be held every evening in the Esplanade, which is accompanied by art exhibitions, film screenings, theater performances, and totally took tickets at the door.
9 Hiking
If you can go hiking, try to walk the path of Park MacRitchie Treetop. Here you can cross a suspension bridge at a height of 250 meters above the tropical rain forests.
If you want a more challenging way less, try the Southern Mountains (Southern Ridges), with a long walkway stretches over 10 kilometers of the territory's four parks. From here you can enjoy panoramic city, harbor and the southern islands.
10 Visit the Singapore Botanic Gardens
This is certainly not the experience to tourists to Singapore for the first time that even the regular visitors. With an area of ​​74 hectares and diverse flora, lakes and gardens in particular, Singapore Botanic Gardens is a peaceful destination is different from the hustle, bustle of urban life.
Do not overlook park Evolution (Evolution Garden), which will tell you the story of plant life on earth many times, and Garden Ginger (Ginger Garden), which showcases 250 different varieties in their home ginger!