(Photo credit via wwe.com)

In the world of professional wrestling drama is the first priority that must be delivered by the wrestlers inside that ring. And a drama can be obtained most commonly in a relationship, right? WWE Universe just loves short segments of love life drama between World Wrestling Entertainment (WWE) couples. For a few months, they just show their love life & romance inside that ring and later just vanishes from each other's life after on-screen breakups. If you are a wrestling nerd then you might remember on-screen breakup of Randy Savage and Miss Elizabeth. It was heart broking moment for most of us.


(Video credit: WWE via YouTube)

On the other hand, some couple`s relationship ended without even any skit or segment. Same like Edge & Lita`s relationship ended out of nowhere. I can`t even find any video of that segment on the internet. LOL, a strange breakup. With that all being said, I would like to write some words about "10 Shocking WWE Couple Break-Ups".
1.

Santino Marella And Maria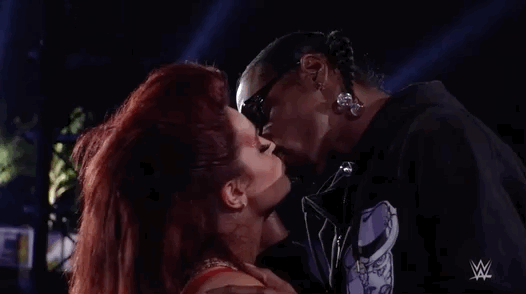 (Photo credit via wwe.com)

In their strange love relationship, everything was going really smooth for both of them. WWE Universe was invested into both of the characters. But, a major problem and jealousy came along when Maria did a playboy shoot in 2008. Santino Marella did everything to make perverts not to see his girlfriend's playboy shoot. Later, he goes on to stop and control Maria on many things. This resulted in an on-screen breakup between both of them. That didn`t go well for Santino because at that year`s WrestleMania Snoop Dogg kissed and stole Maria from Santino.


2.

Kane And Tori
(Photo credit via wwe.com)

Kane was competing in a strange match stipulation against during that time World Champion Big Show. The match stipulation was that if Kane loses this match then his girlfriend Tori would have to spend Christmas with X-Pac. After a week when Tori came back to Kane, she was acting strangely. And later that night it was revealed that Tori actually cheated on Kane by seducing X-Pac this whole weekend. Ouch, it was hurtful because Tori was Kane`s first girlfriend.


3.

Daniel Bryan And Aj Lee
(Photo credit via wwe.com)

For weeks Daniel Bryan was acting strangely and kinda rude towards Aj Lee. And after weeks of this storyline, Daniel Bryan found himself facing Sheamus at WrestleMania. When the referee ordered timekeeper to ring the bell, Daniel immediately called Aj Lee up to the ring apron and kissed her. When he turned his face, Sheamus boot his face with a "brogue kick" and pinned him in 18 seconds. Following week Daniel Bryan blamed Aj Lee for this loss and ended this relationship.
4.

Goldust And Aksana
(Video credit: WWE via YouTube)

During Aksana`s run in NXT, she was engaged in a relationship with his mentor Goldust. The two after few weeks of love life decided to marry in front of NXT Universe inside the NXT ring. For the whole evening camera showed how Aksana and Goldust were excited for their new phase of life. But Goldust never knew what was actually in Aksana`s mind which came as a surprise for everyone. During their wedding ceremony, Aksana slapped Goldust instead of giving the kiss and just left him. It was a shocking moment for Goldust and NXT Universe as well. The whole segment revealed as a trap by Aksana on the following week.


5.

Dolph Ziggler And Aj Lee
(Photo credit via wwe.com)

So Aj Lee is back again in this list. She was now with Dolph Ziggler who was the World Champion during this time and was defending his title against the Alberto Del Rio. You know the rest of the story, right? LOL. Aj Lee caused Dolph his match and Alberto won World Championship. Next night a guilty Aj Lee showed her face to Dolph Ziggler and a few seconds later Dolph literally did the unthinkable. He ended his relationship and separated his ways only to left crying Aj Lee alone. WWE Universe`s reaction to this backstage segment is priceless.


6.

Triple H And Stephanie Mcmahon
(Photo credit via wwe.com)

During a segment, Stephanie Mcmahon revealed that she was pregnant. She forced Triple H to stay with her and marry her. But on the wedding night, it was revealed that she was not pregnant and she had lied about it. This made him lose his temper and on the wedding ceremony, Triple H refused to marry her. He mentioned how he now know Stephanie`s intentions and her lies. WWE Universe gave a huge pop during this whole scenario.


7.

Matt Hardy And Lita
(Photo credit via wwe.com)

During late 2003, Lita was after WWE Women`s title and she started to get obsession of winning that title so badly. This made Matt Hardy confront Lita for this obsession. Matt Hardy told Lita that she is putting this obsession over her relationship. After an argument, in front of WWE Universe, Matt Hardy dumped Lita which was a big shock for everyone. No one ever imagined that this real-life couple would ever end their long lasted relationship.


8.

Chris Jericho And Trish Stratus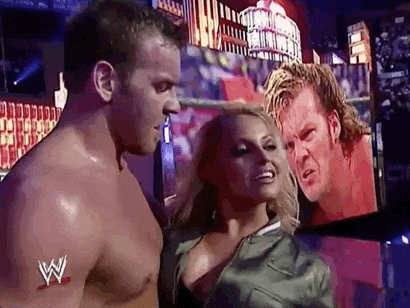 (Photo credit via wwe.com)

In a storyline, Trish Stratus was in a relationship with Chris Jericho during the early 2000`s. They both were the perfect couple and loved each other. But, on an episode of Raw, she caught Chris Jericho with Christian on discussing a bet. A bet who would sleep first with their respective girlfriends for a Canadian dollar. Eventually, in the following weeks, Chris Jericho came to know the reason for Trish`s changing behaviour for him. Later, he regretted his actions which hurt Trish and gave an apology. Everything came back on track between both of them. During that year`s WrestleMania one of the biggest shocks came when Trish helped Christian to take a win over Chris Jericho. After the match, she kissed Christian and later it was revealed that she was cheating on Jericho.


9.

Edge And Vickie Guerrero
(Photo credit via wwe.com)

Edge and Vickie Guerrero where both on-screen husband and wife. Vickie who was General Manager of SmackDown, helped Edge to get championships through his run during 2009-2010. But, things changed for Vickie when Edge on an episode buried Vickie with harsh words. He mentioned how he just can`t stand with her huge size of the body, her bad breath and he only hold himself with her because he wanted championship opportunities. A breakup happened after Edge asked for a divorce. The whole scenario was greatly supported and chanted by WWE fans.


10.

Dusty Rhodes And Sapphire
(Photo credit via wwe.com)

Everyone knows how popular and respected is Dusty Rhodes. When he joined himself with Sapphire, people literally loved the duo. They both competed in matches and people never wanted to stop this on screen going chemistry. But unthinkable happened when Million Dollar Man "Ted Dibiase," told that he now owns Sapphire. Basically, he enslaved her by purchasing her. She never wrestled again in WWE and the duo`s relation was ended with Dusty`s heart shattered into pieces.


So, guys, this was the list. Hope you enjoyed reading it. I will catch you soon with another blog. Meanwhile, don`t forget to check my other blogs -
10 Fastest WWE Title Changes In History
10 WrestleMania Matches You Actually Need To See
10 Iconic Wrestlers Never To Main Event WrestleMania
8 Shocks That I Was Expecting At WrestleMania 34

You can follow us on Social Media -
►Facebook Page: https://goo.gl/Ou1mex
►Twitter: https://twitter.com/YourReviewKid
►Instagram: https://goo.gl/Dl0vvM
►YouTube: https://goo.gl/S8DJH0
Written for Bitlanders by YourReviewKid. All rights reserved
©Your Review Kid