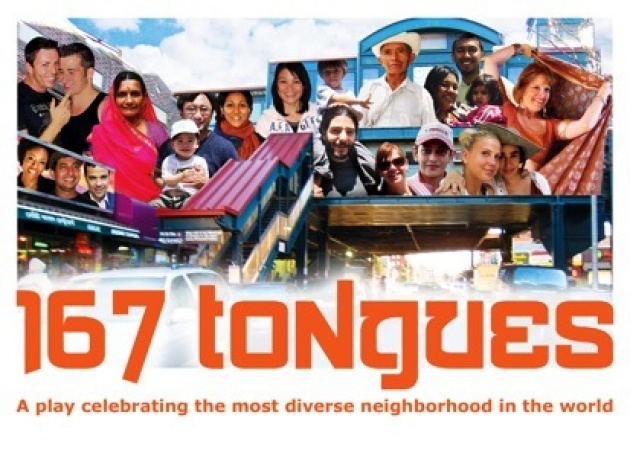 Yesterday, I spent the afternoon watching a wonderful play, 167 Tongues by Ari Laura Kreith, a female director. The play is part of the Jackson Heights Trilogy, produced by Theatre 167. Thank you, Mari Lyn Henry, for inviting me! The play explores the emotional geography of Jackson Heights, the most culturally diverse neighborhood in New York City, and apparently in the world! There are 37 characters in the play, and their stories intersect along the way, producing a heartfelt, imaginative, humorous, and touching whole. It was an absolutely pleasurable 2 hours, and it was eye-opening to witness the stories of all the characters from so many different backgrounds. From the Ecuadorian girl who hates her mother to the aspiring Puerto Rican stand-up comedian, I already have my favorite characters down. I couldn't help but ask, "Who this and who's that?" as I watched the actors perform, because I wanted to learn more about them.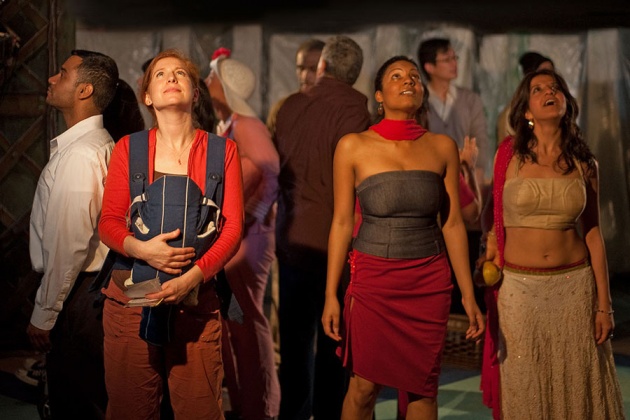 Still from 167 Tongues
167 Tongues and the Jackson Heights Trilogy is a Theatre 167 production led by two women, ARI LAURA KREITH (Artistic Director) and JENNY LYN BADER (Co-Founder, Director of Artistic Development). I had the opportunity to meet with Jenny Lyn Bader who is one of the writers and the producers of the play. Other plays Bader penned include Mona Lisa Speaks (Core Ensemble), None of the Above (Lion Theatre), first produced by New Georges (w/ Alison Pill) and published by Dramatists Play Service; Manhattan Casanova (Hudson Stage), winner of the Edith Oliver Award (O'Neill Center), also seen at Guild Hall (w/ Mercedes Ruehl); and In Flight, which won the NAAA Festival in London. Bader also authored both seasons of the web drama Watercooler (MSN) and He Meant, She Meant (Warner Brothers). A Harvard University graduate, she also frequently contributes to the New York Times.
I think Jenny Lyn is a great role model for all women who want to tell their stories, and I'm excited to introduce her to our Women's Annex audience. The play really resonated with me and showed me once again that despite our differences, the emotions we feel, our basic needs, and our empathy for one another brings us closer. There was a lot about the way we connect with each other in the play, the way we express ourselves, our need for friendship and intimacy. With Women's Annex and Film Annex's online film network, our goal is to bring women from different backgrounds under one umbrella and give them the tools to express themselves through online film distribution. Watching a play directed by a female director and co-written by a female playwright will be inspiring for all women in Women's Annex, and I recommend this event to everyone!
For more information, visit the play's website.
-- Eren