T-Twenty
We all familier with cricket because its a game of millions.There are almost everywhere is the world are big fan of this amazing sports.T-twenty short abbreviation (T-20) is the form of cricket in which overs are limited to 20 per session.International Cricket Council (ICC) is basically an cricket's governing body which controls the rules and regulations of cricket in the world and all tournaments of cricket held under their supervision.
T-20 World Cup 2007

First time in T-20 worldcup started in 2007 in south Africa.It was decided that already later that there is T-20 worldcup once in 2 years.There are almost 5 worldcups are already played on this format and 6th is coming soon.
T-20 Worldcup tournament which is held in South Africa from 11 to 24 September 2007.This was first time that in this format worldcup of cricket organized.There are 12 teams participated int this first 13 days tournament .Whole tournaments took place in different stadiums in South Africa.

Rules and regulations
During group stage and Super 8 stage points are given as reward so, all depends on points who go forward or not.Points are given in following formate.
Wining Team gets 2 Points
No result means draw or not play 1 point.
Loss team gets 0 points.
Teams are short listed in group stage according to point and also which team play with other in Super 8 stage also depended on points they already wins.Average of scores are also matter in that tournament.


Groups & Teams
In first T-20 world cup there are 12 teams participated and in start they all divided equally into four groups.These groups are made according to their performances in T-20 format up to 1 march 2007.one team must eliminated from each group which scores least points in group.
First Round
Group A
In group A South Africa ,Bangladesh , West Indies.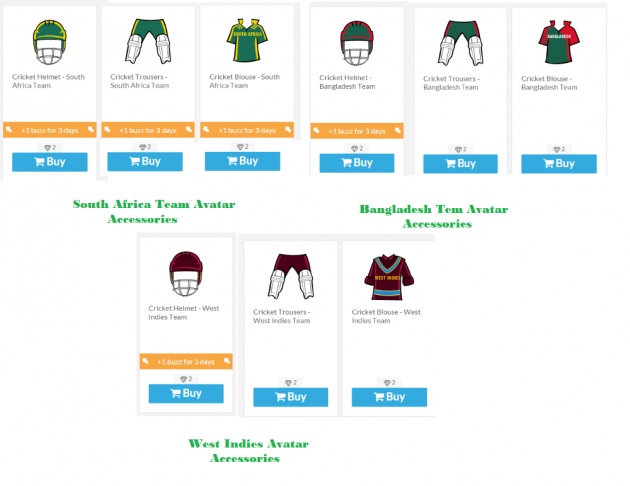 Group B
In Group B Australia , England , Zimbabwe.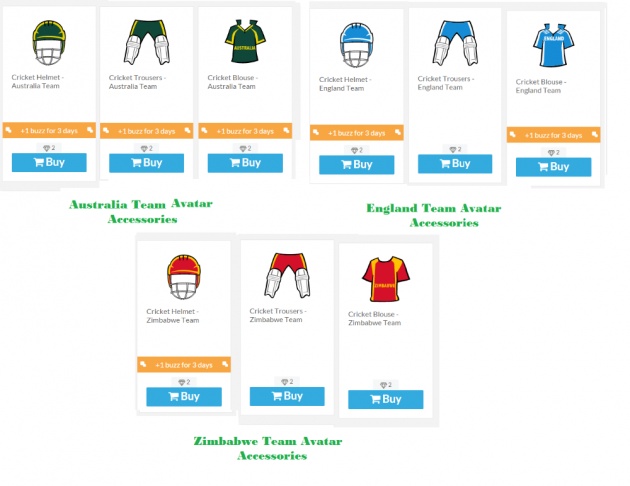 Group C
In Group C Sri Lanka , New Zealand , Kenya.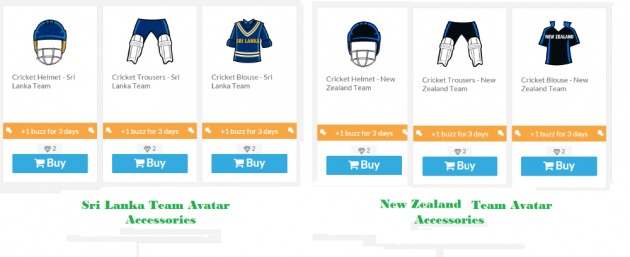 Group D
In Group D India , Pakistan , Scotland.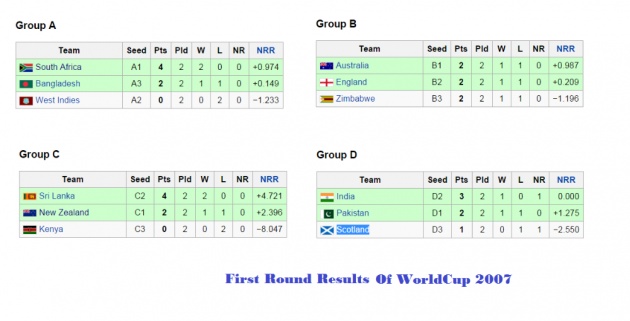 West Indies from group A , Zimbabwe from group B, Kenya from group c and Scotland from group D can't qualify for the super 8.Only eight out of twelve qualify the next round SUPER 8S..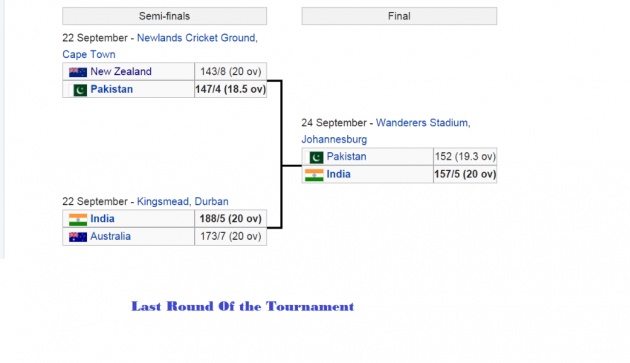 India Champion of first T-20 Worldcup
The Final match of T-20 worldcup was actually palyed between Pakistan & India 2007.Pakistan qualify for the final after beating New Zealand by 6 wickets in Cape town ground and on the other hand India reached final when they beat Australia by 15 runs in Durban cricket ground. Wanderers Stadium, Johannesburg was the ground where final of the T-20 world cup 2007 were played between Pakistan and India .
India won the toss are were decided to bat first..Pitch is actually a batting pitch and higher score can easily be done on that.India can only make 157/7 after the end of 20 overs. Umer Gul with his amazing spell took important wickets of Yuvraj Singh and Mahendra Singh Dhoni.Gautam Gambhir basically all rounder done an amazing job for India made 75 runs just on 54 balls which helps India a lot.
Less runs is good for Pakistan but Indian amazing bowlers Irfan Pathan and Joginder Sharma made these runs to hard for Pakistan to make because of their amazing bowling spells/Pakistan needs 54 runs after the end of 16th overs.Misbah is till on pitch to hit boundaries .On last over Pakistan needs 13 runs to wins and India wants one wicket to won.Last over done by Joginder Sharma first ball is wide ball and second was dot ball and then a six by Misbah and leaving Pak to need 6 runs more to winsAs Misbah tried to go for another six, he was caught at short fine-leg by Sreesanth and Paksitan all down on 152 runs and India won the 2007 first T-20 worldcup.


Indian Cricket Avatar Accessories