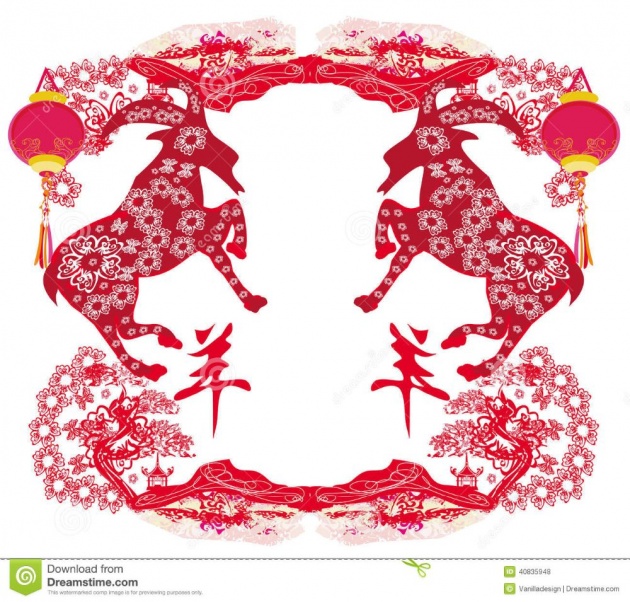 The Goat's Personality: Calm, Gentle...
People born in a year of the Goat are generally believed to be gentle mild-mannered, shy, stable, sympathetic, amicable, and brimming with a strong sense of kindheartedness and justice.
They have very delicate thoughts, strong creativity, and perseverance, and acquire professional skills well. Although they look gentle on the surface, they are tough on the inside, always insisting on their own opinions in their minds. They have strong inner resilience and excellent defensive instincts.
Though they prefer to be in groups, they do not want to be the center of attention. They are reserved and quiet, most likely because they like spending much time in their thoughts. Goats like to spend money on fashionable things that give them a first class appearance. Although goats enjoy spending money on the finer things in life, they are not snobbish.
Good Health for "Goats"
People born in a year of the Goat are very serene and calm. Therefore they tend to have fewer health problems.
If goat people are in mental and emotional good spirits, this should have a positive effect on their physical health. Eating fresh and organic produce, and eliminating red meat from their diet when possible, is an effective way to keep healthy. They should get out among nature and commune with the great outdoors. Fresh air, trees, and sunshine will all do wonders for their health. Goat people should have a regular schedule for meals and keep their sleep and waking times consistent.
The Best Jobs or Career for Goats
People born in the year of the goat prefer to work in a team. Their best work partners are Horses. They are not crazy about status and power. Unless asked, they won't ever volunteer for anything and act as leaders. Good career choices for goats are pediatrician, actor, daycare teacher, interior designer, florist, hair stylist, musician, editor, illustrator, and art history teacher.
Read more on What Zodiac Sign Is Your Best Work Partner.
How to Build Relationships with "Goat People"
Generally speaking, Goats are private. Therefore it may take time and effort to get to know those who are born in a year of the Goat. Goats seldom share their personal lives. This is the reason why most Goats have few intimate friends. Once they become friends, their friendship is peaceful and fulfilling. They work hard for those they love.
The Luckiest Things for "Goats"
According to Chinese astrology, each animal zodiac has its own lucky numbers, lucky days, lucky colors, lucky flowers, and a best direction. Here are the Goat's:
Lucky numbers: 2, 7, or numbers containing 2 and 7 (like 27 and 72)
Lucky days: the 7th and 30th of any month according to the Chinese lunar calendar
Lucky colors: brown, red, and purple
Lucky flowers: carnations and primroses
Lucky direction: north