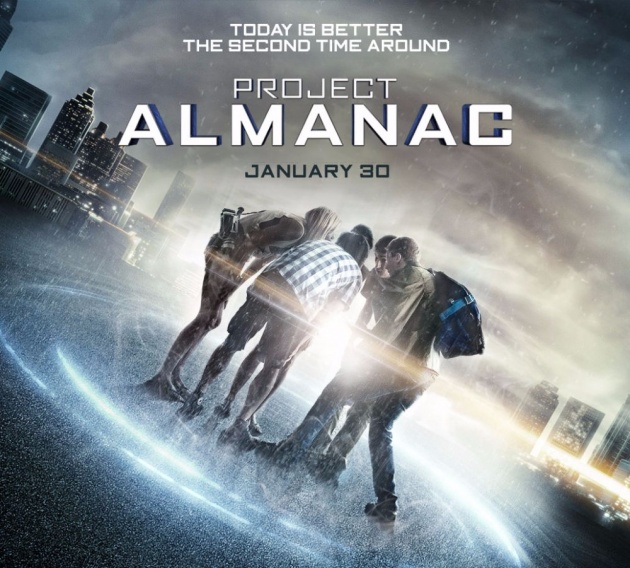 Image Source: Project Almanac via saga.guhsd.net
Time is never an issue
PROJECT ALMANAC
Hello Bitlanders! Hello Everyone! I'm back after almost a week ~ after my blog about pizza (Are you ready to take a bite?) I'm back with another movie review. I was thirsty to watch a Time Travel movie and to blog about it, So here it is. Project Almanac is on the menu for today folks! ~ So, sit back, ready your mind and eyes as we explore the past. Enjoy reading!
ABOUT
Project Almanac is a 2015 American found footage science fiction thriller film that was first seen in big screen on January 30, 2015. It is directed by Dean Israelite. It received a mixed critic reviews from people and audiences, It also gained a $33 million versus their production budget which is $12 million dollars.
It was produced by Andrew Form, Bradley Fuller, Michael Bay. Project Almanac production companies are Insurge Pictures, MTV Films, Platinum Dunes. It was distributed by Paramount Pictures which is surely gave a great movie because of the following movies that was made by Paramount: Ghost in the shell, Transformers, Bay watch, Top Gun, Titanic, Arrival, Silence and Many more.

Image Source: Paramount Movies via Goggle
Video Source: Project Almanac via Youtube
STORY OF PROJECT ALMANAC
Once there was a young man probably teenager, who dream of being in a prestigious school who specialize with Technology or MIT. a school for best engineers and entering there needs a lot of work. This guys name is David Raskin. With his skills and knowledge, He passed successfully with the help of his sister and friends, Christina Raskin, Adam Le and Quinn Goldberg after presenting his invented Flying craft which can be manipulate through motion sensor.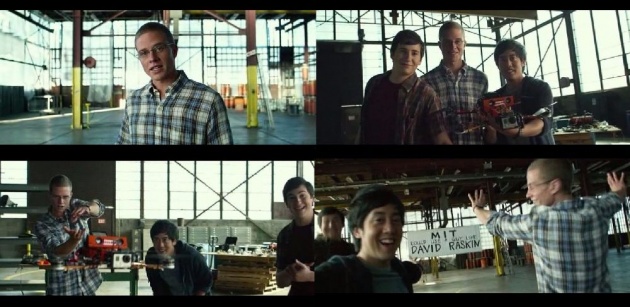 Image Source: Movie Scenes / Edited by: Me
Good news will always be the contradiction move of bad news, So as exchange of the Good, He didn't get an scholarship and her mother will eventually sell their house. David take his time at the attic where he and her sister found an old video camera which contained old videos, his 7 year old's Birthday party. He notice something strange in the video clip, They saw David himself as a teenager in the video which is impossible because it's his 7th birthday. This made him and his friends think about an conclusion and that is, He Traveled through time.
Later that day, They've open the locked basement of his father. Unintentionally they've found a great invention that was made by his father and this was a mysterious glass box and a blueprint of Temporal relocation or in english, Time Travel which called Project Almanac.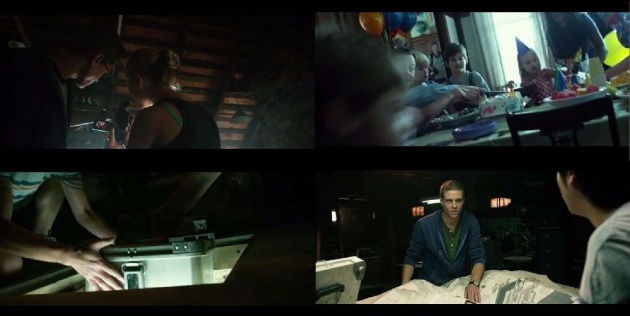 Image Source: Movie Scenes / Edited by: Me
David didn't believe it was possible but when the evidence of his 7th birthday overpowered the possible, They build it using a lot of energy from a source. After a lot of trials and fails, Eventually the matter of being real and matter of time traveling was utilize through their everyday life. Going back through time to experience life greatest moment.
Quinn Goldberg: The machine has given us everything.

David Raskin: It's not just about us. This thing is better than us!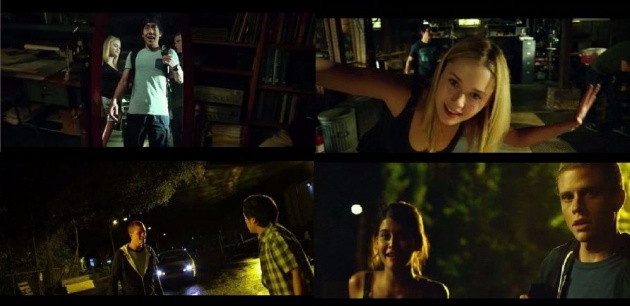 Image Source: Movie Scenes / Edited by: Me
At First they used the Machine to correct what is broke and make up to the things they've not did at the past. Harmless at first but as time comes, the machine damage the most important thing in the world, Appreciation of the moment. The adventure through time will test the whole being of David and his friends. Will He overcome the consequence of their action?
CAST AND CHARACTERS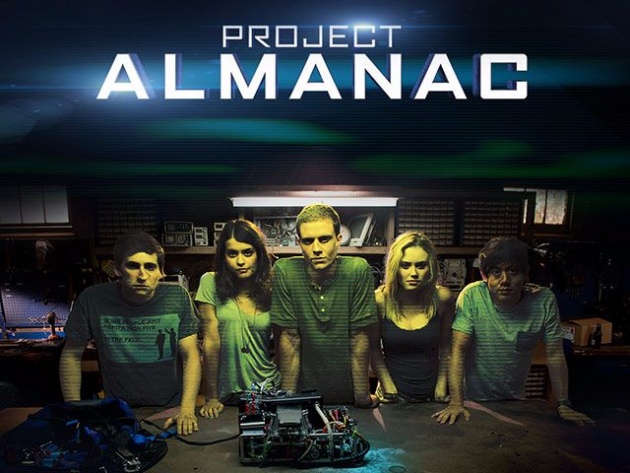 Image Source: Project Almanac Cast via us.24h.com.vn
1. David Raskin - a young man who's goal is to innovate his own self through technology. His Dad invented the Temporal Relocation.
Actor: Johnny Weston
2. Jesse Pierce - school chick which was included to the gang when they use her car's battery to input power to the machine. She also David's Love interest.
Actress: Sofia Black
3. Christina Raskins - Sister of David, who was bullied way back and Time traveled time to revenge to those bullies, also she was the camera person for almost the entire film.
Actress: Virginia Gardner
4. Quinn Goldberg - Let say, He's the ambitious among the group and he want fame and riches, he used the machine to be one.
Actor: Sam Lerner
5. Adam Le - He helped a lot in building the Project Almanac, he is an engineering student.
Actor: Allen Evangelista
Five teenagers who was brave to fight time against its will to follow their needs and ambition.
THE IDEA OF TIME TRAVELING
What first comes into your mind whenever you hear the word Time Traveling? For me, Returning to the History. Returning the moment that I've missed and would never be right again.
I love the Movie's Theme, Science Fiction which the main point is Traveling through time, Amazing right? The exciting of being in a place where in the character would be and one thing that I like about this movie, Project Almanac. Is their ability to scare people in a way of making a big change in the characters life, Scare in a good way when they are having a great time but at the same time, Scare in a bad way when they actually did a big tragedy.
Jessie Pierce: When you said time machine, I thought dinosaurs or at least Woodstock, you know?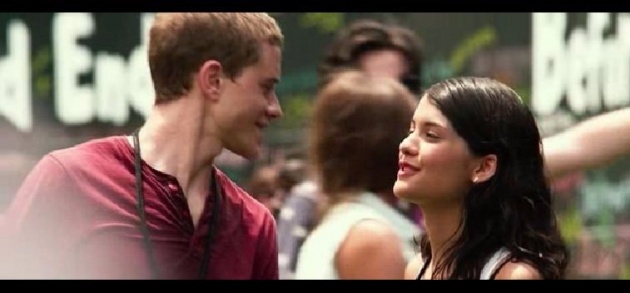 Image Source: Movie Scene / Edited by
Honestly, The movie stress me too. Questions begin to pop into my mind, questions like How David will fix it if the time sequencing is not right anymore and He doesn't have an idea about what's happening after he was out of the current time? Especially, He is traveling alone which he forbid to anyone of the group to do it.
But I think, This what make a movie great. Audiences and viewers would be stress out too and satisfied by the movie flow. 8.5 out of 10 for the stressing factor of the movie ~
AMBITIONS' ACHIEVED
One thing I like here is that they show the positive side of having a Time Machine mainly the characters are teenagers (Even me, I relate so much to their adventure) Number 1 of the biggest thing, WINNING LOTTERY TICKET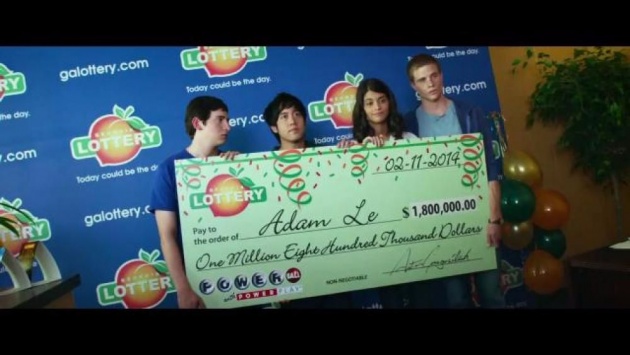 Image Source: Project Almanac Lotto via ispot.tv
I couldn't stop the laughing when I saw this Scene. I was like, what? almost 2 million dollars is enough. haha! But as you can see, Their face is unexplainable. Watch the movie and you'll know why ~
Don't lie but you dream of having a time machine to get a lottery winning numbers and go back to the past, Well this movie is for you. You'll encounter a bunch of cheat of time here and that's why I like the movie more ~
Jessie Pierce: You know that you can do this. What are you waiting for?
Second is, THE CONCERT/PARTY. Yep The party that they've missed and the whole social media is talking about.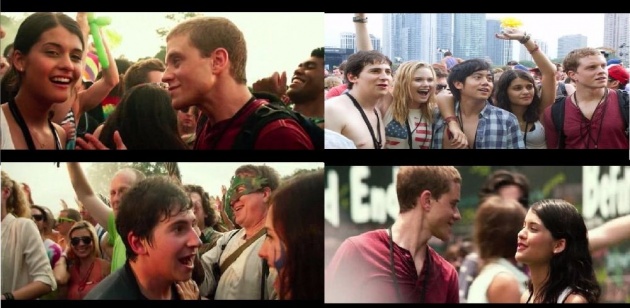 Image Source: Movie Scenes and Proj Almanac Party via rickys film reviews / Edited by: Me
This Scene didn't bother me a lot cause on that day a bunch of people or let say the whole place is full of party goers and I think there's nothing big would change in the future, but as they say "Small Things Matter"
One thing, how did they got to that place? Isn't it's only Time Traveling not Place Traveling? Isn't weird to be in the school in the present time and then jumps into other places in the past? I don't know then, It might be they travel literally right? Oh well, it's not in the movie.
ALL IN ALL THE MOVIE IS...
Great! Experience was Great, Especially when the film was recorded by a first person's point of view. It gave such a realistic feeling, and the fact of you being in the movie, together with the group while Traveling through time.
Best time to watch? Bedtime! Why? The ambiance is relaxing even though it's stressing, get it? Characters are looking at you, Thats fun and relaxing, believe me ~
BUT...
The Ending is not satisfying, for me. I'm seeking for more, for more twist and changes but nah, it doesn't have and they live me plain and blank. But what do I expect right? The character did what he should have done and it's okay. I've enjoyed the movie. ~
Jessie Pierce: You know what I would've done if I was smart enough to build a time machine? I would've gone back in time to meet you sooner.
Video Source: Project Almanac Cast Interview via youtube
I wish Time Traveling would never be invented

Cause the reality is...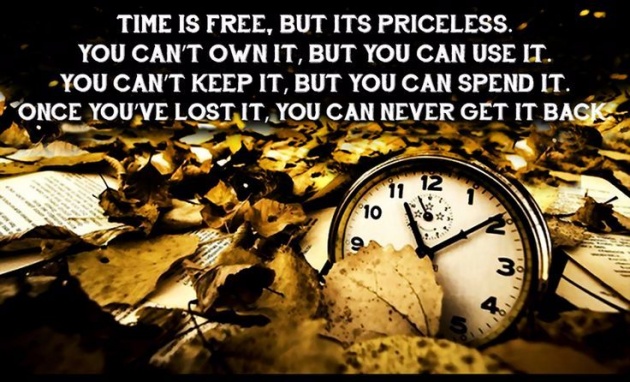 Image source: Time Quotes via quotesgram
Hope you enjoy this Time passing blog, and I hope you've learned something too.
See you again Next time buddies!
Thank you for your TIME!
and
Keep Safe!
Best Regards,
July 2017