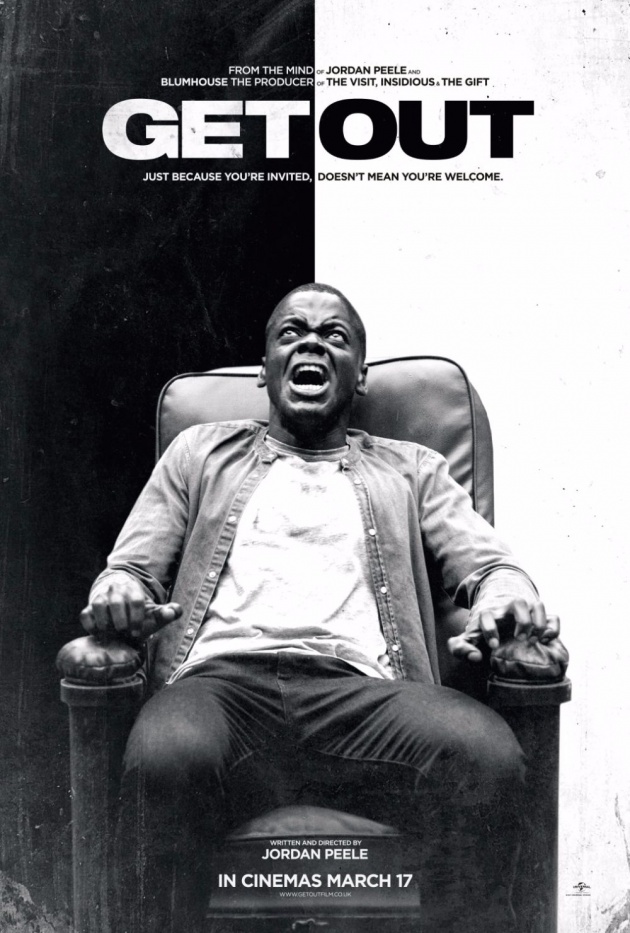 Image Source: Get out via impawards
Andre Hayworth: Just because you're invited, doesn't mean you're welcome.
Get Out
Hello Everyone! This is hRajput! Before starting this visit my blog- hRajput's Blog. Today this blog is totally different from the other's one. Actually this is going to interesting as when i watched it this is really amazing. After watching this i totally shocked that "In real life, People really do that". So, now i'm going to share this with you. First, Sit back, Relax and Be amaze~
About
Get out is 2017 American horror film which was first released on January 24,2017 in Sundance Film Festival and in cinema on February 24,2017. It was Directed by Jordan Peele
The film received generally positive reviews, basically this is related to a blackman and i'm going to tell you all the story. The film has grossed $252 million worldwide against its $4.5 million budget.

-Get Out via wikipedia.
Get Out movie is produced by Sean McKittrick,Jason Blum, Edward H. Hamm Jr, Jordan Peele. Its Production company are Blumhouse Productions, Monkeypaw Productions and QC Entertainment and was distributed by Universal Pictures.
It's co-movies under Universal Pictures are Jurassic World: Fallen Kingdom, Pitch Perfect 3, Fifty Shades Darker, Dragonheart, The Secret Life of Pets, Fast & Furious 6 and many more...

Image Source: Universal Pictures via Google
Video Source: Get Out Trailer via Youtube
Story of Get Out
This movie started with a suspense and this is about the black man name Andrew walking is a street at late night and then he saw that a car is following him, he tried to escape but when he saw that the car is stopped and there he was abducted by an unknown assailant.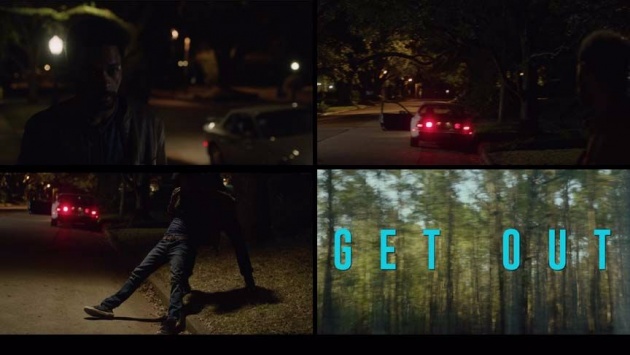 Image Source: Movie Scene/ Edited by Me
This is about the story of Chris Washington. After Few months of that incident, Chris and his girlfriend Rose Armitage meet. As Rose comes to the apartment of Chris with breakfast and they start talk as love and there Rose Armitage plan a trip to meet Rose's parents. As Chris was not agree for this trip because he was thinking he's black and then Rose tell him that she already told there parents that she is coming next week with her black boyfriend and then her parents shocked. Then he agree for the trip and they packed up and went for the trip. On the way Chris want to smoke and and then Rose broke his cigarette.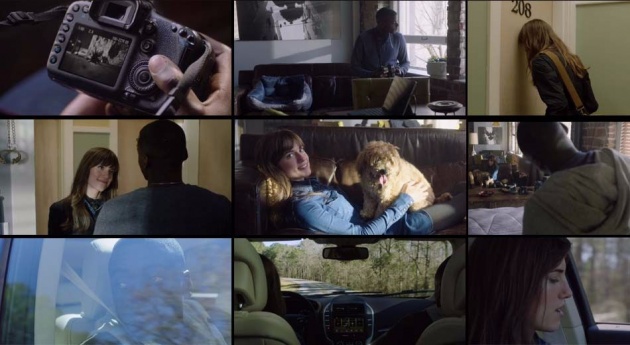 Image Source: Movie Scene/ Edited by me.
Chris call to his friend Rod. On the way they got an accident by hitting a deer with a car, Chris was thinking that it's a sign to stop him but he didn't concentrate much on it. His friend Rod was not agree with there relationship. Rose's Parents the Neurosurgeon Dean her father and psychiatrist/hypnotherapist Missy Armitage her mother and her brother Jeremy Armitage. At the house everyone tries to welcome Chris, but he was disturbed by the odd behavior from the black groundskeeper Walter and housekeeper Goergina.
That night Chris was feeling disturbed and he went out from home to smoke then he again saw the odd behavior of groundskeeper and housekeeper. They were behaving very oddly and then he come to home and was going to the room. On the way, Missy stopped Chris and force him to sit with her. Then the Chris sit with her and there Chris talk about his mother to Missy, who died in hit and run when he was eleven. There her mother hypnotize him and he saw himself feel on the ground.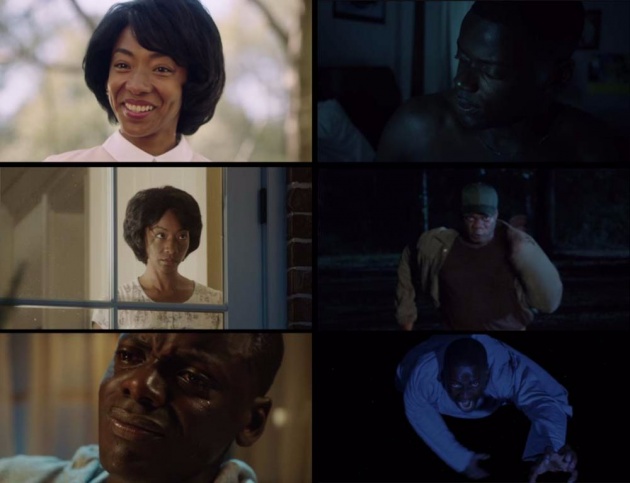 Image Source: Movie scene / Edited by me
Next Morning he wakes up then he found himself in bed, he thought that it was a nightmare but later he realized that Missy hypnotize him for quit smoking. Then he told Rose the story about last night. She ignore him by laughing on him. Then Chris call to his friend Rob and told him that Rose's mother hypnotized him last night. After that the put his phone on charge and go out for some photo shoot. Then he meet to the Walter after that he come back to the room and tell Rose about that there is something wrong.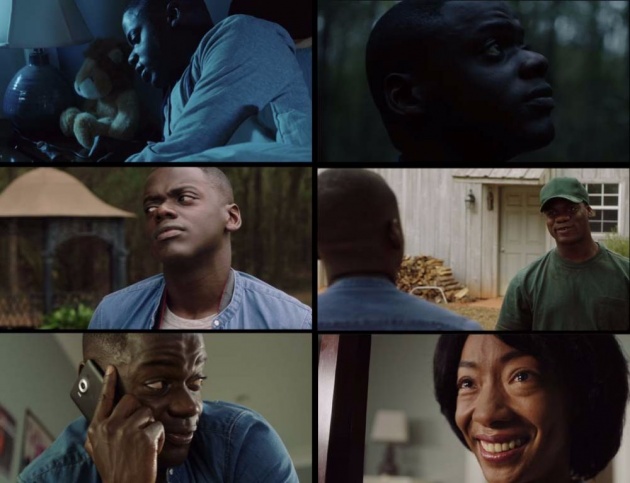 Image Source: Movie scene/ Edited by me
Then Rose tell him about the party celebration. There Chris meet to the Rose's relatives and there he meet a Guy Andrew Logan king. Andrew was a singer and missed from the last 10 months. He was thinking that there is something wrong. then he talk to him he was talking like a slave and he talked to Chris and then go away after coming the white lady. After sometime Rose's relatives ask Chris about the Black Africans then he call Andrew to tell him because he is also a Black man. Then Andrew was talking with the others and Chris take his snapshot with the phone, during the click of picture the flash light through to the face of Andrew and he got the nose bleeding. Then he fight to Chris and after sometime the white lady came with Andrew from a room and Andrew sorry to Chris about the happening before.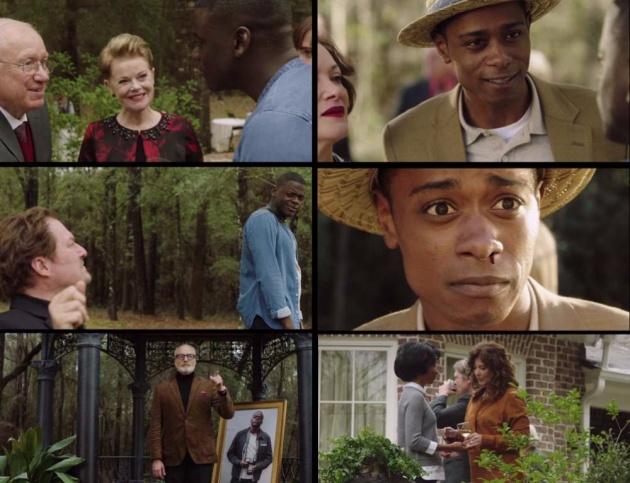 Image source: Movie Scene / Edited by me
Then Chris send the picture to his friend Rob who is in Police Department and told him that something wrong here. After the arrival of Guests Chris want to leave the house and then the Rose's parents and brother cover him and hypnotize him and tie him in a secret room. There they tortured him. Actually they wants the Chris Brain and replace it to the Rose's grandfather who was also a neurosurgeon. They kidnap the black guys, wash there brain and sold them to white families and that families treat them like there slave.
CAST AND CHARACTERS
Image Source: Get Out Cast via Google
1. Rose Armitage: She is Chris girlfriend and she plays a role to tap the black guys in movie.
Actress: Allison Williams
2. Chris Washington: He is the main actor and Rose's boyfriend.
Actor: Daniel Kaluuya
3. Dean Armitage: He is a Neurosurgeon who washes the brain of black people in movie.
Actor: Bradley Whiteford
4. Missy Armitage: She has a role of psychiatrist/hypnotherapist in this movie and wife of Dean Armitage.
Actress: Catherine Keener
5. Rod Williams: He is the friend of Chris and has police officer role in this movie.
Actor: Lilrel Howery
As these actors are on the main, Indeed they really plays an awesome job. Especially Chris. He is the main actor in this movie and the target of the white family.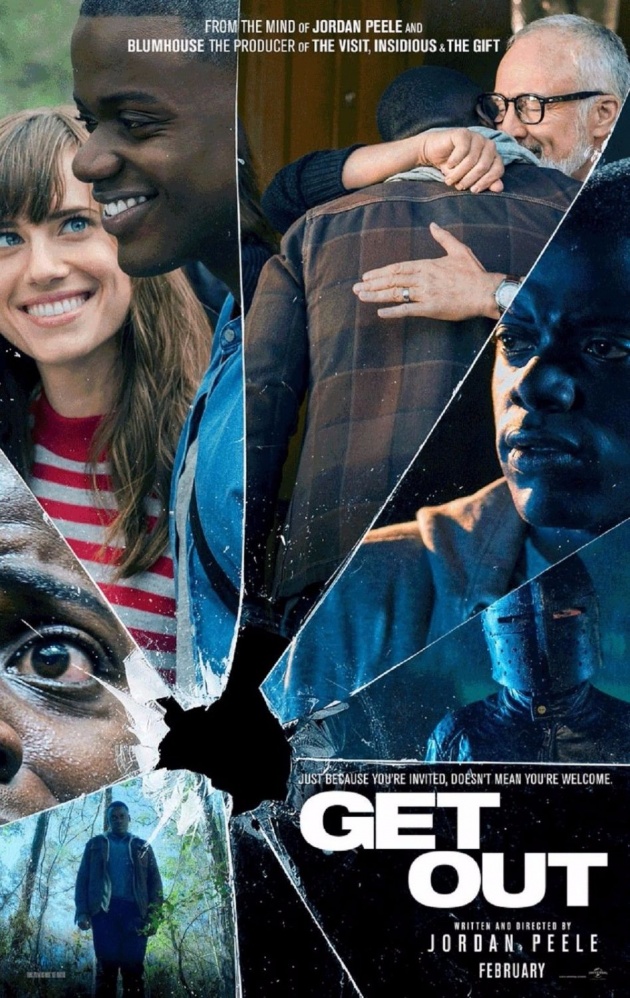 Image Source: Get Out Poster via impawards
As the story remains from the end part. Chris was tied by the Armitage family and they were planning to replace the brain of Chris with the Grandfather of Rose. As Dean is going to operate his father head and then he sent his son to take the Chris from the room where he is locked. His son goes with the wheel chair and then he came to the room. He untie Chris and then Suddenly Chris attack on him and hit a ball on his head then he ran from that room and there he attack on Dean who was outside the lobby of the Operating room and he kill Dean, Missy and Jeremy. Then he try to ran from there and drive the car fast suddenly he hit Georgina in front of the car.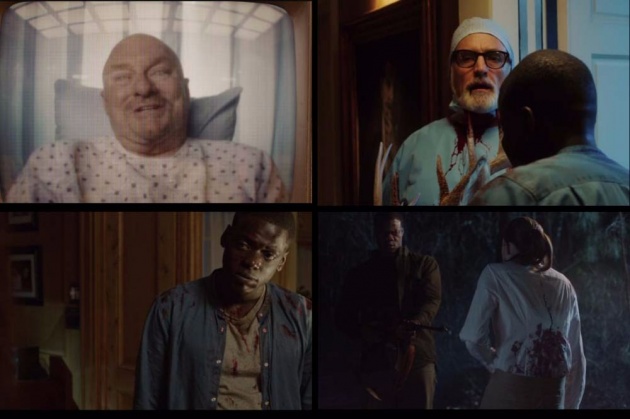 Image Source: Movie scene/ Edited by me.
As the favor of black people Chris pick her to help for emergency but she was washed out mind and she attacked in the car and he hited from the wall. There Rose come and try to shoot on Chris. As he saved his life.
Peele said about the film,
"The real thing at hand here is slavery... Not to bring down the room, guys. It's some dark shit.

-Wikipedia:Get Out
As about this movie my opinion is that you must watch this movie, this is super amazing. I personally like this movie and i don't have any idea about your taste that you will like it or not but if you understand the story you will definitely like this movie.
Video Source: Interview via youtube
So, i Hope that you like my blog. Please rate it as much as you can. Your support will motivate me. I'll come back with another interesting movie.
So stay Connect and Stay Tuned.
Best of Luck.
Thank you Everyone.
See you on the next.
Best Regard,
July,2017