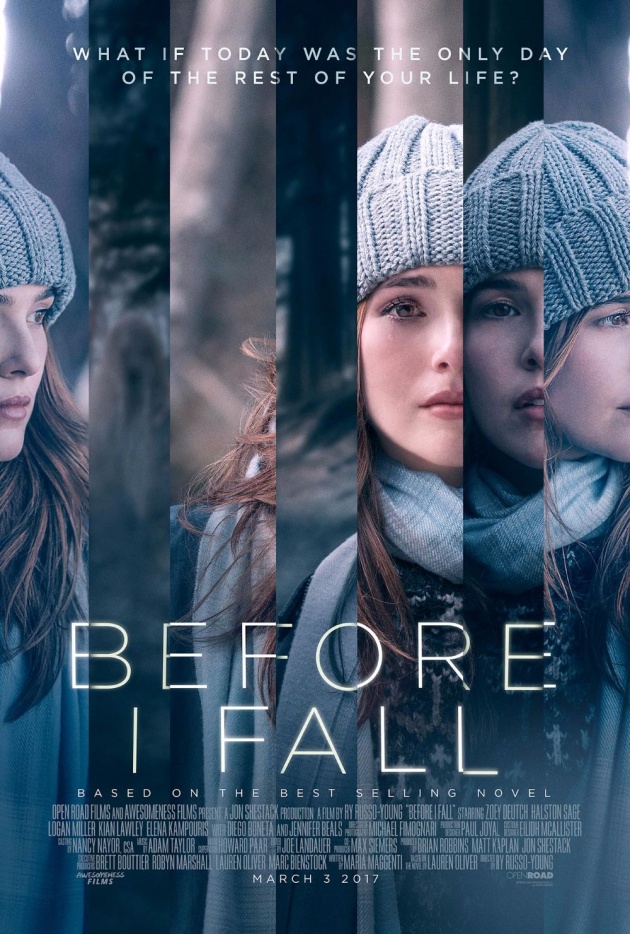 Image Source: Before I fall Movie Poster via traileraddcit
Samantha Kingston: If I was going to live the same day over and over, I wanted it to mean something... and not just to me
Hello Everyone here in Bitlanders!! I'm here again and again. After blogging about action film (Insurgent), I'm going to share to you this Drama Movie which I want to share to all of you, Not just for it's beautiful content but it's beautiful life lesson. So I hope, You'll read this and watched it after. Enjoy everyone ~
ABOUT
Before I Fall is a 2017 American teen drama film. It was first Release on January 21, 2017 at Sundance and on March 3, 2017 at United States. This was directed by Ry Russo-Young and Produced by Matthew Kaplan, Brian Robbins and Jonathan Shestack.
The film had its world premiere at the Sundance Film Festival on January 21, 2017, and was theatrically released on March 3, 2017, by Open Road Films. The film received mixed reviews from critics and grossed $15 million worldwide against its $5 million budget. According to IndieWire, it was one of the highest grossing independent films of 2017.
Before I fall, Production company are Awesomeness Films and Jon Shestack Productions, and was Distributed by Open Road Films. its co-movies are Marshall, Max Steel, Mother's Day, Triple 9, Gleason, Fifty shades of black, Dope, a haunted house and many more.

Image Source: Open Road Films Movie via Google
Video Source: Before I fall Trailer via Movieclips Trailer Youtube Channel
STORY OF BEFORE I FALL
Samantha Kingston, a teenage girl who's living her life at the best situation. Having a Great future towards her, a beautiful family that loves her, a popular boyfriend which everyone dreams having of, a cool and loving 3 best friends and a good image in her school.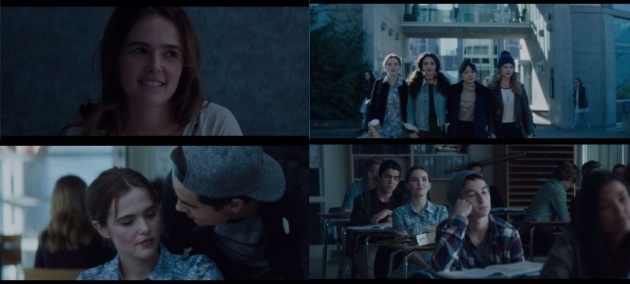 Image Source: Movie Scenes / Edited by Me
Teenage life at its best is with Samantha and her friends, Lindsay Edgecomb, Ally Haris and Elody. They are one of the most popular and the most a lot received roses in Cupid's Day. But this is not an excuse in bullying lonely school girl, Juliet Skyes.
They make fun of her wherever and whenever they can. They spread a really convincing rumor that made Juliet looks bad in front of everyone.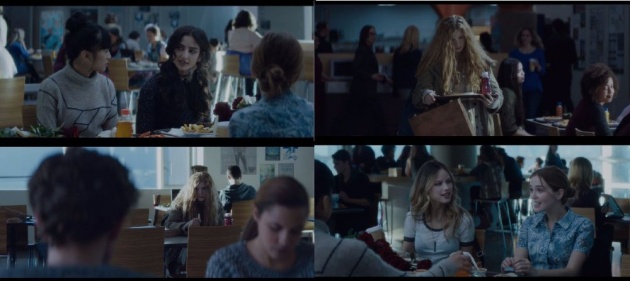 Image Source: Movie Scenes / Edited by Me
A huge party was coming up at Kent Mcfuller's house. Kent has a secret feelings to Samantha so he invited her, but Sam seems not to care.
As one of the most popular teen in their school, The four best friends decided to attend and fulfill their Cupid day's happiness. Sexual Doings, Drinking until the end, Partying, Dancing to the fullest and any thing that is wild for a decent teenagers.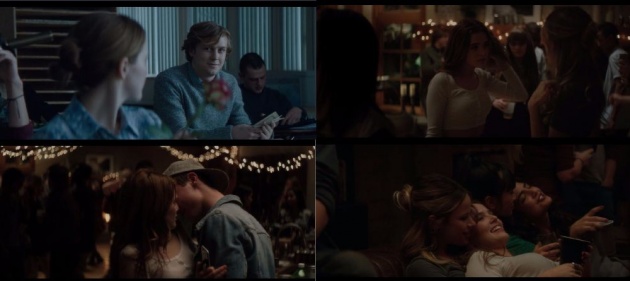 Image Source: Movie Scenes / Edited by Me
However, Happiness turns into nightmare. When they bump at Juliet Skyes which made them furious and mad. They humiliated her in front of everyone by talk shaming and throwing a liters of beers at her.
because of this unexpected event, They turned back at the party and decided to go home. Another unexpected happened. A drastic accident that can kill anyones life.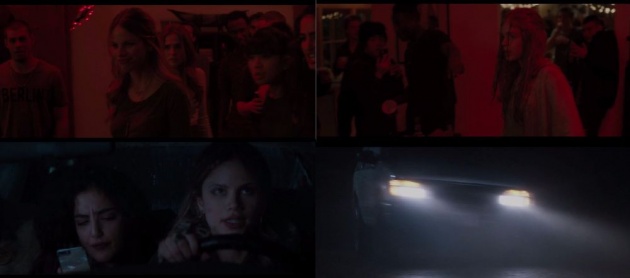 Image Source: Movie Scenes / Edited by Me
The morning after, Samantha wakes up again with the same situation and same ambiance as what she felt yesterday before the accident. She thought of deja vu but things happened again again at the next day after another accident.
Her Life became a malfunction video tape who plays everyday again and again even she chooses to changed it.
CAST AND CHARACTERS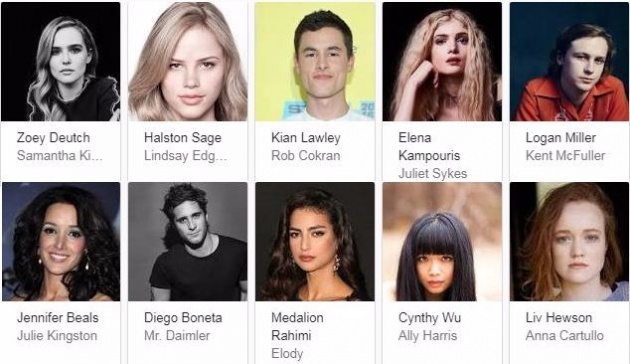 Image Source: Before I fall cast via Google
1. Samantha Kingston - The Protagonist Antagonist who need to realized something to end everything and put things on the way they should be.
Actress: Zoey Deutch
2. Lindsay Edgecomb - Samantha's best friend who became a little bit bad influenced especially when they bullied Juliet. She drives the car in where the group rode everywhere they go.
Actress: Halston Sage
3. Kent McFuller - Samantha's secret admirer and also her childhood friend. He throws a big party at his house while his parents are out of town.
Actor: Logan Miller
4. Rob Cokran - Boyfriend of Samantha who doesn't really give a care about anything, He just want that 'thing' from Samantha. Also a Popular teen in their campus, everyone wants to be with him.
Actor: Kian Lawley
5. Juliet Sykes - She was always bullied by Samantha's group especially Lindsay. Known for her weird aura and also known for the psycho path girl.
Actress: Elena Kampouris
Those four best friends are all Gorgeous!! I've enjoyed watching because of some way I like the way they dress, the way they project their roles, the way they shoot their lines out of them. I love it! The Lead actress, Zoey Deutch, I think is the best selection for the character. Even Halston Sage, I remember her from the movie Goosebumps (which I also blog about)
I also want to mention about Logan Miller, I was like 'Hey Samantha, Be good at him!' He does look like Enrique Gil in some part of his face (Agree?) When it comes to Kian Lawley, I think his face isn't that attractive as what they describe him as the guy who is liked by almost all the girls in the campus' and most of them want to hook up with him.
Those rebellious and teen stuff scenes makes the movie more fierce and interesting. Well, The Characters really did their part very well thats why it turns out the way in the novel should be.
THE NOVEL
r
GIF source: Before i fall via Tumblr
Before I fall is a 2010 young adult novel written by Lauren Oliver. It is written in first-person narrative of a teenager who is forced to relive the day of her death every day for a week. In an attempt to understand why this is happening to her, as well as trying to change her fate, she takes new actions each day, some of which are out of character and surprise her family and friends. The book is the basis for the film of the same name, which was released on March 3, 2017.
Personally I've never read the Novel but I heard about it. I am not fond of buying expensive book, that's why. But for some reviews about the books, I was fascinated by the fact that it is really a wonderful novel, no wonder they adapted it as a movie.
The movie justified it and there's no doubt in that. I like the whole concept but honestly at some part of the movie, The scenes seems so dull and repeating, Yup I know she is waking up everyday at the same day but at some point it kinda boring. (Sorry) I recommend you to watch this, be patient and appreciate each lines and realization the character have thought of.
Drama is Drama. If you won't learn something then your watching experience is not enough. You need to seek more and go deeper.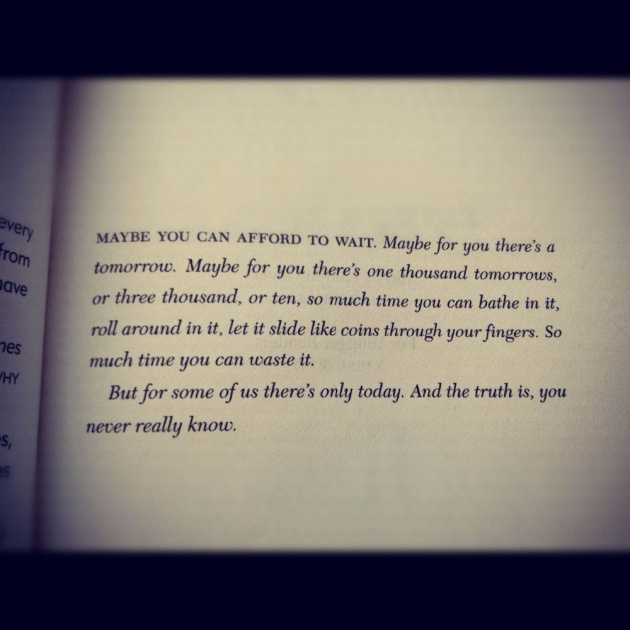 Image Source: Before I fall Novel lines via pinterest.com
Read those lines above. Watch the movie and you'll realize something. In my own experience after watching the movie. I felt very sad for the character and especially happy because I know I've learned the best thing that I can learn in my entire movie life. That Everyday must not be waste, Everyday must be the best day of you life, The best day that you can do for someone, The best day that you can change something to make yourself a better self.
Samantha is brought on a journey that involves the people she loves and those who are influenced by her actions. The film digs deeper beyond romantic relationships. But rather, it touches upon which relationships are the ones that truly matter the most in our lives.

- Megan Yam reviews via faze.ca
Think and realize while watching. Samantha has it all except the appreciation of all those little things, all those people who truly love and care for her. If not for that mysterious phase of her life, She will never know that importance of those thing. She would never reach the most beautiful things in her life. Not roses or fame but Love and Family.
I was touches by the way she hugged her sister at the rising action part of the movie, I was teary eyes back then and I want to hug my little sister so bad (She's taller than me though :D) I can sense her guilt and the feeling of every times she wasted. I really felt sorry for her :(
ENDING
All I can say about the ending is Simple and Lovely.
Special but not too intriguing. but If you're a technical person then you'll ask why and how but if you are just a life's lesson achiever person then you'll understand what the movie wants to send to their viewers.
I have my own prediction in the open ending, I think Samantha and her friends really died in the real dimension and her who struggling in the repeating day of her life is somehow The Last Chance that God gave her to change the way she think and the way how her life works. That's beautiful and heart warming :)
BEFORE I FALL...
It's never too late to do something. Think the best for it and good thing will rise up.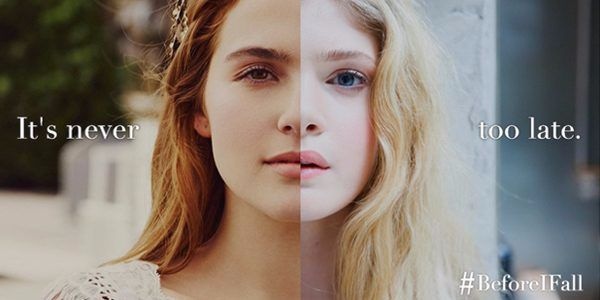 Image Source: Before I fall reviews via faze.ca
Video Source: Before I fall Q & A with the cast via Epic Reads Youtube Channel
See you on the next one
THANK YOU!
and
KEEP CHANGES FOR GOOD
Best Regards,
August 2017