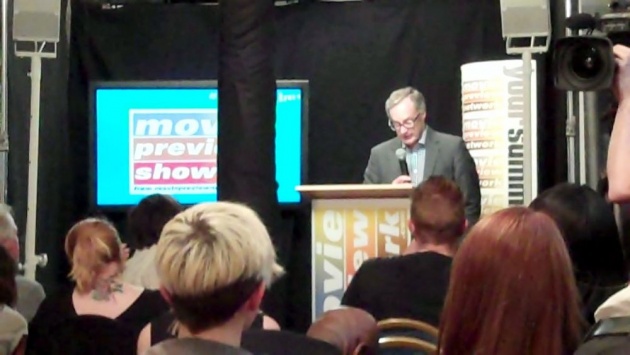 The UK's Film Distributor Association invited a tipsy of forty or so mostly London-based film bloggers to the Strand Gallery on a rainy Thursday early evening to launch #25NewFilms, which is to say to draw our attention to the cream of this autumn's UK movie releases. The Head of the FDA, Mark Batey (pictured) was on hand to welcome us and introduce host Alex Zane, to drum up enthusiasm for such films as LUCY, SIN CITY 2: A DAME TO KILL FOR, INTO THE STORM and twenty-two other films, interrupting his spiel to throw out a few quiz questions. I walked away with a 'Kermit the Frog' baseball hat (a tie in to MUPPETS MOST WANTED) for correctly guessing that CALENDAR GIRLS was the most successful British film to be released in UK cinemas in September (from a choice of five movies including BILLY ELIOT). I consider myself wowed.
With many movies released worldwide in the same month, if not the same day, here is my pick of the soon-to-be-released movies hitting UK cinemas in the next two months, and doubtless cinemas worldwide. UK Release dates in brackets.
LIFE OF CRIME (5 September) – the unofficial prequel to JACKIE BROWN, again from a book ('The Switch') by Elmore Leonard, starring John Hawkes in the Robert de Niro role. Two petty criminals and a slightly psychotic white-supremacist gun enthusiast kidnap a wealthy but unhappily married housewife (Jennifer Aniston) not anticipating that her husband (Tim Robbins) won't pay the ransom. It's not Tarantino – it's much shorter, the sort of film QT would make if he wasn't so in thrall to dialogue.
PRIDE (12 September) – A gay and lesbian group protests in support of the Miners' Strike in a feel-good comedy drama directed by theatre wunderkind Matthew Warchus. This movie has considerable buzz to it and is one of four particularly strong British movies vying for audience and award glory. Imelda Staunton and Paddy Considine leaven the loaf. ('Mother's Pride', geddit – no, perhaps not.)
THE RIOT CLUB (19 September) – Laura Wade's play POSH is brought to the big screen by Danish Dogme 95 graduate Lone Scherfig, the story of how members of the personalities of the elitist Bullenden Club (re-named for legal reasons) took shape over the course of their student days. Alumni of this posh boy club are currently running Britain, introducing 'over occupation' bedroom taxes for benefit claimants and advocating volunteering (working for nothing) as a way of learning to invest in society. I suspect that the only volunteering that the members of the Riot Club will do is to hold one another's champagne bucket. Expect a lot of 'nyah, yah, papa'. Jessica Brown Findlay, Max Irons and Sam Claflin star.
THE EQUALIZER (26 September) – Denzel Washington is Edward Woodward in a big-screen film adaptation of the late lamented TV series where he grants justice with a revolver on behalf of those denied by the system, in this case Chloe Grace Moretz (also seen this autumn in IF I STAY). Antoine Fuqua, fresh from causing structural damage to the White House in OLYMPUS HAS FALLEN, directs.
GONE GIRL (3 October) – I understand that Gillian Flynn's novel is a big deal for those who like PRESUMED INNOCENT style 'did he or didn't he kill his wife' thrillers. Ben Affleck plays the suspected husband. Rosamund Pike (currently seen in HECTOR AND THE SEARCH FOR HAPPINESS, reputedly zzz) is the title character. The director is the whoop-generating David Fincher, looking for his first hit since THE SOCIAL NETWORK. Give it your attention, the maximum amount, if you dig this sort of thing.
THE IMITATION GAME (8 October, London Film Festival opening film, then November) – Benedict Cumberbatch is Alan Turing in a film about breaking codes and repressed homosexuality in Wartime Britain. Keira Knightley co-stars.
FURY (19 October, London Film Festival closing film, then wide) – Brad Pitt leads a tank squadron, collecting the scalps of 100 Nazis, alright, maybe just dodging mines and criticism of his accent as he does his bit for World War Two. David Ayer directs and I'm reliably informed it is better than SABOTAGE.
THE BOOK OF LIFE (24 October) – The Mexican Day of the Dead is the inspiration for this moderately anticipated family entertainment which does not involve computer generated Mutant Ninja Turtles or dodgy burritos. Guillermo del Toro produces. Expect weird looking creatures and Salma Hayek in the voice cast.
MR. TURNER (31 October) – Mike Leigh's study of English landscape painter JMW Turner earned Timothy Spall the Best Actor Award at Cannes this year, which is a polite way of saying we should give a poop. Anyone expecting a spin off from TURNER AND HOOCH will be disappointed with a film that cogitates on the content of canvases, and much else besides.
THE BABADOOK (31 October) – I don't know much about this Australian horror film but apparently it is really, really scary. Well, if nothing else, it has the oddest title of all the autumn releases.