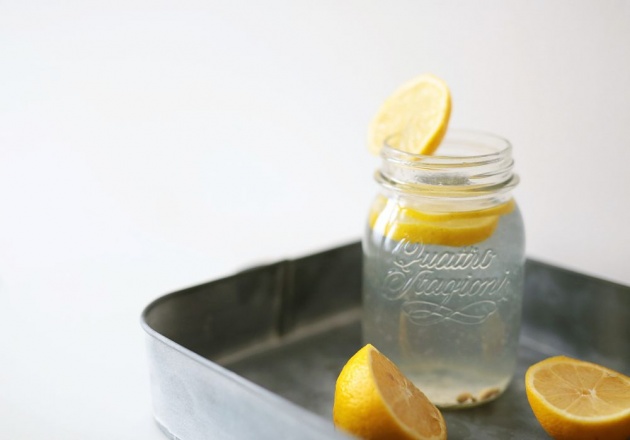 Happy Monday, my dears! I hope you have a great start into this new week. In my last lifestyle article I told you about some new habits I adapted to my everyday life. One of them is to drink a hot lemon each morning. Some of you asked me how I make the hot lemon and which effect it has on the body. So today I want to share 5 health benefits of hot lemon juice with you. But first of all: how to make a hot lemon? It's really easy, you only need to boil some water and let it cool down. In the mean time cut one (washed and organic) lemon in two halfs. Cut one half in slices and squeeze the other one. Then put the luke warm water into your cup and mix it with your fresh lemon juice and the slices. Stir well and that's it! The whole procedure will only cost you 3 minutes every morning and is therefore super easy to integrate in your everyday life.
1. IMMUN BOOSTER
Lemons are very rich in vitamin C and antioxidants. These boost your immune system and are a real life saver when you are suffering from a cold or a flu. Iron has a really important role in the immune system, too. Lemon juice helps the body to absorb the iron better.
2. DETOX
Lemons help the body to flush out unwanted materials and toxins. They contain many important minerals and vitamins that help to loosen toxins in the digestive tract and stop bloating. Furthermore the lemon juice increase the function of the liver and kidneys so it detoxifies your whole system.
3. REGULATES PH-LEVEL
Although lemons taste sour, they are one of the most alkaline foods in the world. It helps the body to regulate its ph-level and acid-base balance. If there is too much acid in your body it can cause stomach pain, infections and many other diseases.
4. CLEARS SKIN
Since lemons contain loads of vitamin C, they help to eliminate free radicals which refines the skin. It also helps to reduce wrinkles, blackheads and other impurities.
5. FRESHENS BREATH
Last but not least helps a hot lemon in the morning helps to freshen the breath.