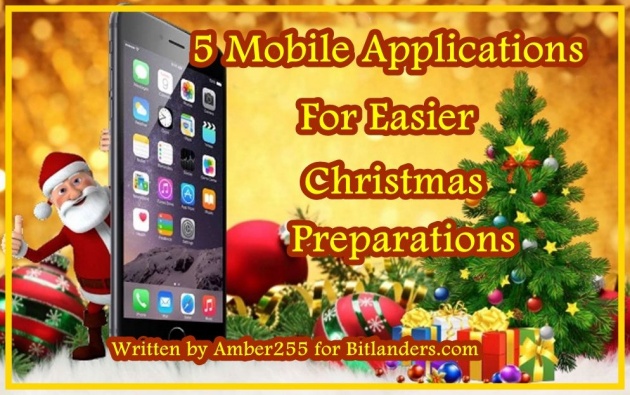 5 Mobile applications for Easier Christmas Preparations - Photo credit: youtube.com, Edition by Amber255 via Bitlanders.com
Christmas is a celebration that is impossible to hate. It has long crossed the boundaries of Christianity and spread throughout the world. What makes us so fascinated by this holiday? Perhaps hope and a new start. During Christmas, all the sores of the past year are forgotten at least for a short time, and the future looks bright. So it's not surprising that it's always fun to wait for Christmas. And in order to make them even easier and more fun, I present a few Christmas applications that, let's hope, will bring some good emotions throughout the preparations.
When accidentally somewhere we smell a mandarin scent and the first snow falls outside, we think about Christmas. This holiday is the coziest and most welcome to everyone. As Christmas approaches, even our cities get decorated - colorful luminous garlands, huge Christmas trees, decorated shop windows - all this not allow us to forget for a moment that Christmas is no longer far away from us. The colder gets outside, the more I look forward to Christmas. And all the supermarkets shout that it's time to get ready, get festively dressed, or think about how we decorate our homes.
Soon will come the most beautiful holidays of the year. Some of us plan it earlier, others - at the last minute. Well, but most people are already choosing decorations, decorating their home, buying gifts, tickets, planning with whom and how they will celebrate their holidays. How you plan to meet Christmas? How do you meet the biggest holiday of the year: in a big circle of friends, in a cozy family gathering or in mass events? Anyway, I guess that with the planning your Christmas celebration you have a lot of stress.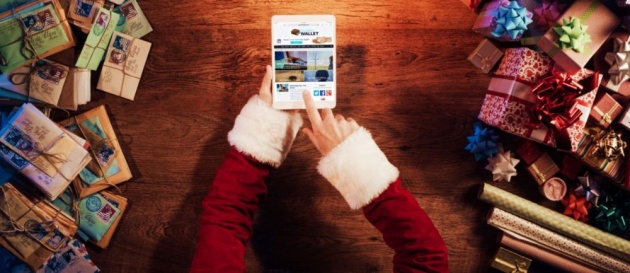 Best Christmas apps - Photo credit: us.targus.com/blogs/
Have a Christmas without any stress. Every year we all look like a crazy for Christmas gift a few days before the holidays. All supermarkets and grocery stores are over-fulfilled by people flow before the Eve of Christmas. And what even to talk about the search for beautiful festive outfits. After the mid-December, the streets, stores are fulfilled by people as never, the number of jobs that need to be done before Christmas is only rising, while the time for searching gifts is shrinking. Sometimes, I even want to avoid any shopping before Christmas exactly because of mass people everywhere.
I think the traders can enjoy pre-Christmas time very much as this is a successful period for them. However, Christmas waiting time is a very stressful period for many people. There are some useful smart applications that can make it easier for you. Look at there five applications designed to make the preparation for Christmas much easier. Yes, can you believe that smart applications can help prevent this pre-holiday stress?
Best Christmas apps 2018 - Video credit: Potty Training via Youtube.com
With Gifts Register, You Will Have Less Confusion
What Christmas without gifts? Not in vain it is said that Christmas is a gifts time. Everyone wants to surprise its loved ones, friends, and colleagues. The complaints about what to buy and stress will only increase every day. Is there salvation?
Someone has already bought gifts, others are just planning, and some people should not be forgotten - such lists can be conveniently transferred from paper or thoughts to the phone. With the free Giftster mobile application, you can not only register your purchases or ideas but also share responsibility for gifts with your loved ones.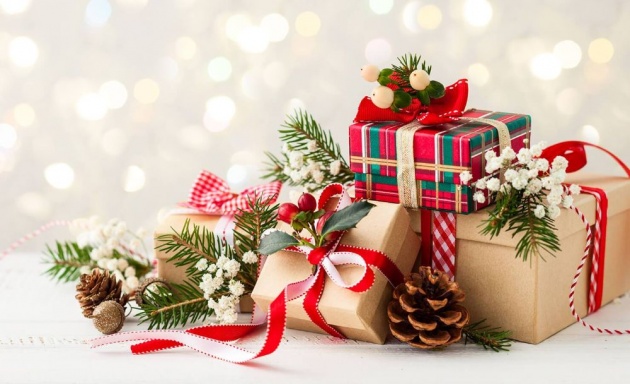 Use Giftster mobile app - Photo credit: womantoc.gr
Giftster mobile application works very simply - with the introduction of it together with your friends or family members, you can create a gift list together and share it. To keep your surprise is also possible, you just have to point out which registers can be seen by each member of the group and which should be kept in secret.
Introducing Giftster mobile app - Video credit: mygiftster via Youtube.com
Secret Santa - Drawing Names Is Easier
My family or better to say closest relatives circle is really big, and we have a tradition to gather at Christmas. The Eve of the Christmas we meet with own family but at Christmas afternoon all families: my family, three families of my mom's sisters and our grandmother (20+ people) - gather together. With every year, people become more and more, and it is impossible to buy gifts to everybody, so some years ago we decided to simply to use a secret Santa method - buy one gift to the person whose name you drew. But there is a problem - it is hard to organize the names drawing when our relatives live not at the same town. So, the smart application - the Elfster Secret Santa Generator - helped us a lot.
The best of all gifts around any Christmas tree is the presence of a happy family all wrapped up in each other. - Burton Hillis

Credit: thebalanceeveryday.com
The same problem is at my job. We have enough big collective at out Real Estate office, but it is not easy to gather all agents in the office at the same time, as some of them are busy with clients. This year it was the first time when we used this application for drawing names, and everything went very smoothly. it was very helpful to us, and I know a few other offices that used this app for secret Santa gifts too.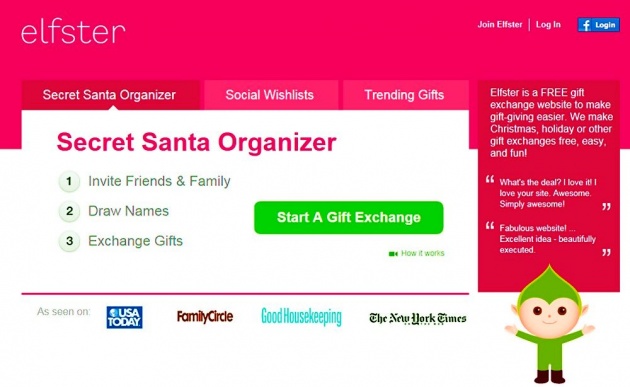 Elfster Secret Santa Generator - Photo credit: twitter.com
Your family or friends circle is very large, so every year you organize a gift exchange? If it is, then you know how it is difficult to get all of them together for a secret drawing. But this time, you can replace the usual name papers with a more comfortable tool - the Elfster Secret Santa Generator.
After downloading the application, you will only need to enter the attendance names and their email addresses. The gadget will send out individual letters to everyone, which will secretly inform to whom you must buy a gift. It is a very easy application but very helpful.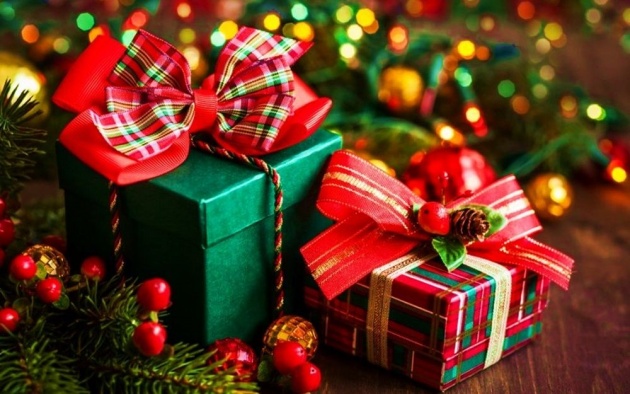 Mobile applications for Christmas - Photo credit: youtube.com
Personalized e-invitations
This year you will be the host of the holidays? It is time to send invitations to relatives! Install the PunchBowl mobile application, and you can do it smartly and quickly.
The application allows you to choose from many templates, different themes, and stylistics. When you find the one you like, you will be able to mark the date of your holiday, name, insert the invitation text and choose how it will be sent to guests - by SMS or by e-mail.
In addition, everyone who receives an invitation will be able to notify the host of his own participation by the click of a button. Of course, this app is useful not only for invitations to Christmas celebration but for other events too.
I can give you again an example of my family's Christmas gathering. Every year, one family organize the celebration. All preparations lie on their shoulders: search of the accommodation with an overnight stay ( as we always stay for one night), to order hot and cold food, make all festive decorations, to plan all entertainments, games and so on. So, when everything is ready, usually we get invitations. In the past, we simply were informed by FB messenger, but this year I got invitation made by this application. It is very nice, and I say, it is looking more festive and moody, creating the possibility right before the celebration. Try it, I know, you will like it.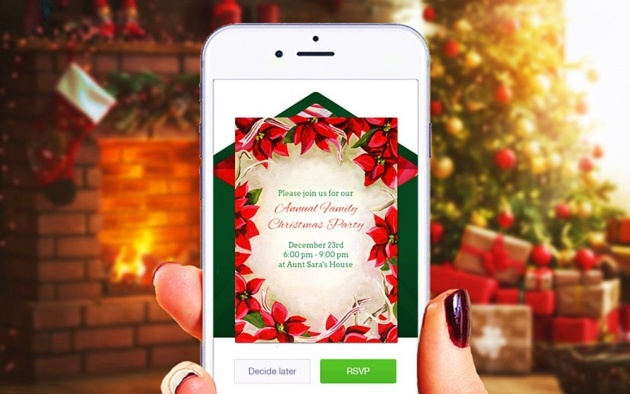 PunchBowl mobile application - Photo credit: thunknews.com
Recipe Folders
After you sent the invitations, it's time to think about festive dishes as well. The online recipe portals are great, so it's easy to find ideas, just how to keep them in mind? Of course, you can bookmark all the dishes you have found interesting or tasty, but is it very convenient to search any between many bookmarks? Or you can write down every recipe, but this way is old-fashioned and again not convenient.
ChefTap developers have offered a unique solution to all recipes lovers.
This application is like a personal recipe folder found in cyberspace. To use it is simple, just copy the link of the recipe you like, and the application will save it. In addition, shopping lists are also available at the same time.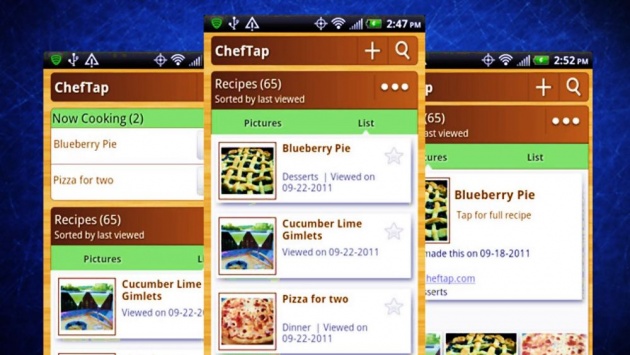 ChefTap Mobile application - Photo credit: lifehacker.com
I offered this app to my mom who likes to save recipes. She uses only the phone, so now it's much easier for her to find the desired recipe and to make perfect dinner for our family at Christmas Eve.
I read somewhere that people who start early preparations for Christmas, wait for them, decorate their homes, are happier. I would add Christmas smells to the full happiness of Christmas which, first of all, to me associate with cinnamon, cardamom, ginger, cloves, and they come mostly from the oven! Christmas dishes are a very important Christmas accent. So let the ChefTap help you.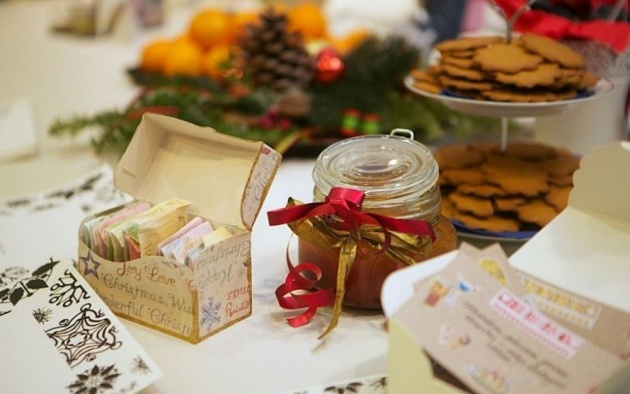 Mobile applications for Christmas Preparations - Photo credit: delfi.lt
Listen To Christmas Music
Even if you download all the smart applications, the traffic jams in the streets will probably not be avoided. However, the time will not be boring in the car, and preparing for the holidays will be more fun while listening to the Christmas tune. Christmas music is a symbol of holidays.
By installing the Christmas Radio mobile app, you will have as many as 80 listening radio stations on your phone. You can choose from jazz, blues, classics, rock styles, and even music transmitted directly from the North Pole.
And that is the application I love the most. It is up all the time on my phone at Christmas waiting period. I even infected my colleagues, and now we are listening to Christmas tunes even at work time. It creates a really festive mood.
Writing this post, listening to the Christmas songs and sending you all the best feelings, dreams and other sounds that have been added to these songs: She & Him - Have Yourself A Merry Little Christmas and also their The Christmas Song; Queen - Thank God It's Christmas, Sarah McLachlan - I'll be Home for Christmas, and others. Let's be grateful for the simple good things. Smile and have your dreams.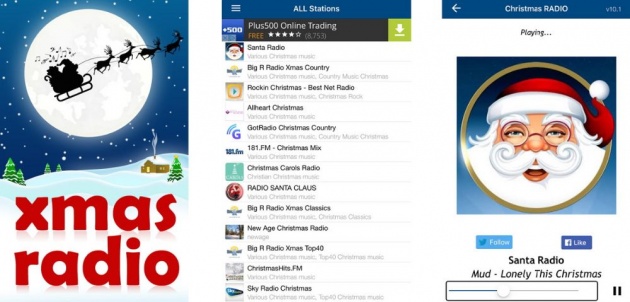 Christmas Radio mobile app - Photo credit: smart4k.co
On The Final Note
Our life is overwhelmed by my mobile deals; we all have numerous useful applications. So, why not to use some more that can be useful for Christmas preparations? Especially if you can delete them at any time. Christmas is a celebration of warmth and tranquility, so we have the opportunity to prepare in advance and meet them without stress. Surprise your loved ones with creativity.
Whatever we care about everyday worries and the continuing routine, we look forward to Christmas: miraculous, cozy, delicious, sweet, and soothing heart. While behind the window are a true winter with white snow and cold, the snowflakes are already falling in my heart, while Christmas sounds are sounding in my head.
Christmas Eve and Christmas - it is a ritual of security, consistency, and festive tranquility. The year is almost over. With the mind and the heart, I feel that after a good week everything will begin again, but it's not so easy to put the dot - all the happenings and unfulfilled goals stay in front of you and are waiting for evaluation. And what kind of blessing, if you sort out with yourself, give yourself forgiveness and sit at the Christmas Eve table with a delicate heart!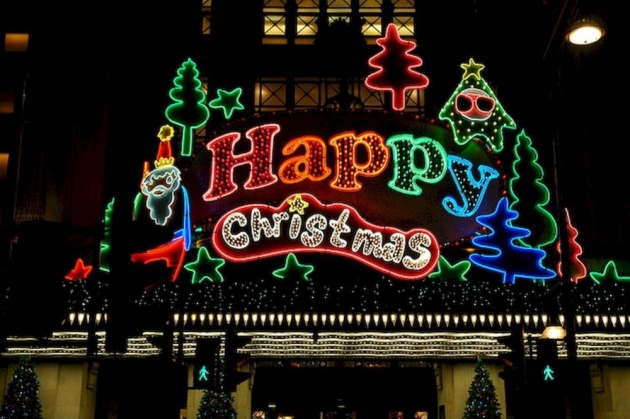 Happy Christmas celebration - Photo credit: browpicz.pw
Yes, sometimes life, waiting for the holidays and through them, is really hard, sometimes it's just awesome, then again hard, and there is a day-to-day and simple time between the wonderful and hard moments. But that's the way it should be. The celebrations are not a never-ending joy, so there is no sense to pretend that life consists only of good moments and loading yourself with numerous things or overloading others with them will make you happier.
But it makes sense to create meaningful, cozy, sincere holidays full of sharing memories, talking, hugging others, loving life such as it is. Let Christmas will be a celebration of love, proximity, simplicity, and goodness. Happy Holiday to all you!
What is Christmas? It is tenderness for the past, courage for the present, hope for the future. - Agnes M. Pahro

Credit: goodhousekeeping.com
**************************************************************************************************
Thank you for stopping by and reading my blog.
2018, All Rights Reserved.
You are very welcome to join Bitlanders and share your valuable knowledge and opinion.
**************************************************************************************************