Hello everyone! Welcome to another seaside travel blog! This time I am going to share what we did in our trip last month to Five Fingers and Laque (Laki) Beach in Mariveles, Bataan. First let me give you a short background on the said places.
• Some info about Laki beach:
According to one of our hired boat men, they used to call it Laque however people bastardized the name so eventually it became known as Laki instead.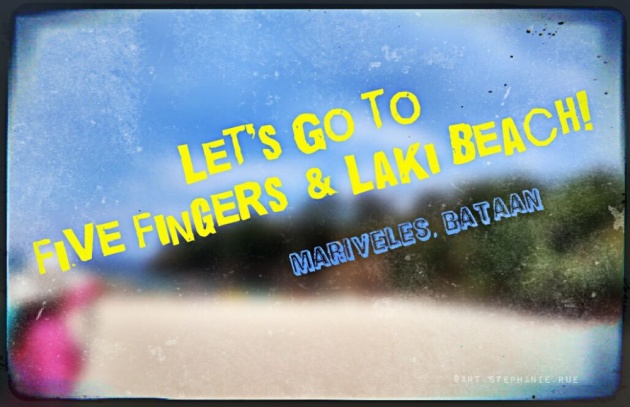 We had a wonderful 2 days and 1 night stay at Laki Beach and oh it was fun but last year, some people were told to leave the island unexpectedly. Upon further research it looks like it is a privately owned beach (by a certain Atty. Gonzales). It also has an environmental fee and said to only be open to the public from Friday up to Sunday. There are a few FREE cottages there too but it's on a first come first serve basis.
I guess the owner of the beach lives there too because I only saw one house in the entirety of the seaside but I didn't ask. Or maybe that's where the caretakers live or perhaps there's more houses inland but I didn't check.
There are toilets and several clean water sources for cooking and taking a bath etc but since it's summer and it's peak season, expect a line when you want to use them.
It's quite new to everyone because it was only opened to the general public in late 2016. It got really popular last year and also closed for a bit and had gotten some permit to operate and then it reopened. This year we had the chance to finally go there because it's just about four hours away from Metro Manila!
• Some info on Five Fingers:
Five Fingers is called such because it looks like five spread out fingers when seen from above. This is where you go to have some cove to cove adventure. Places to go there are called the following:
Talaga Beach, Apatot Cove, Pulong Kawayan Cove, Tinanlakan Cove, and Nagbintana Arch
• Important tips before you go there:
Aside from clothes and toiletries, bring a power bank, sunblock, some medicine and your own water just to be safe. Also bring food, tents and cooking utensils. If you're joining a travel/tour group like we did then they can take care of those last three things, although some will not so prepare everything you need before going there.
There's no mobile signal or electricity at Laki beach so do not expect your (Smart or Sun) serviced phones to be useful unless you're in the middle of the ocean going from cove to cove. That's the only place where good reception/signal is.
As for Globe subscribers, well there is a weak signal sometimes but don't keep your hopes up. When you get to Laki beach, set up camp and enjoy living in the wild. Hahaha.
Anyway so what's there to do in these places? Well read on! :D
1. Camping
Have you ever camped in the wild before? I haven't until we joined the trip. Didn't join the girl scouts in my other grade school. I only got up until star scout in one school and that's it. Haha.
So in the picture below you will see we have camping tents set up! Hey hey! First time I ever went and slept inside one, ever. It didn't feel bad at all. I slept really good and the sand under the tent was comfortable. Even if the people outside were all noisy and drinking and all that, I slept good. Well, am not a light sleeper so that's another factor to consider.
I lacked sleep the night before so I just slept the night away at the beach and didn't drink much. Everybody was partying while I was sleeping. Lol. Gave me the much needed beauty sleep.
Look at this beautiful camping beach view.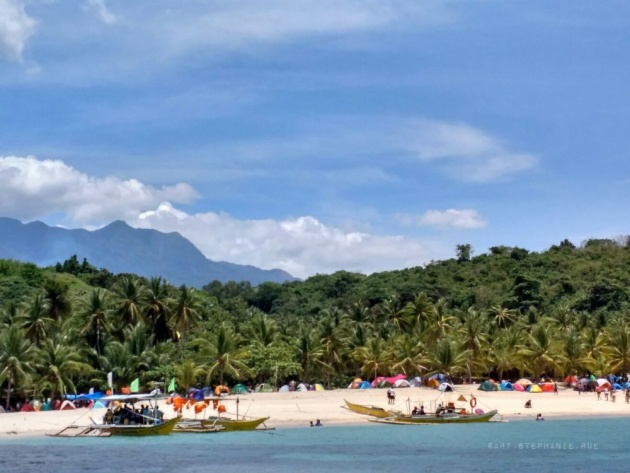 If you see the big pink tent thingy near the middle part surrounded by several sleeping tents, that's where our camp was. :D We were the only group that had an overhead tent like that which served as one of our shelter from the hot sun. That's where they cooked and prepared the food and where everyone socialized and such.
There are a lot of different groups of people along the seaside as you can see but I didn't see anyone familiar or get to know anyone new. I only went there to swim you know, not to socialize. Oh how "anti-social" of me, hahahaha. Come on and welcome me to the anti-social social club. Hahahaha. But of course I've talked to some strangers while in line to bathe/rinse but that's it. I spent more time in nature than with other people. :D
I saw a lot of stars clearly up in the still dark sky past 3am when I woke up to pee. The place was finally all quiet at that point. Hahaha. There were night lights around but the stars were still able to shine real bright. Too bad my phone couldn't take good enough pics. Or maybe I was too sleepy to fiddle with the exposure and such. I only took a picture of the slightly full moon and that's it, I went back to sleep.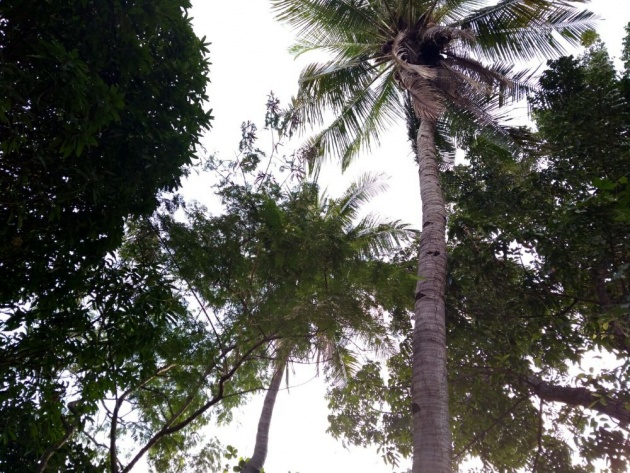 Here's a semi-foresty picture for you, took it around daybreak on our 2nd day there. We sat under the shade of trees during the day if we weren't swimming or sleeping because it's hot inside our tents. Hmmm. Maybe we should bring some insulators in the future if we're just going to rent them, you know, so when you get inside you will feel like you're in a fantastic Harry Potter magical tent. Hahaha.
2. Swimming in the Sea and of course picture taking!
Yes, what else do you do at the beach? Sun bathe? I don't do that. I'd rather float on the ocean and swim from time to time instead of burn my skin for nothing. Haha. And before you swim, of course take some selfies and pictures and put on some sunblock!
Take pictures of the sunset too! Even if I didn't get to take a picture of the sun setting in the ocean, at least I got a picture like this on the way back from cove to cove hopping. Makes you feel thankful for being alive. ♥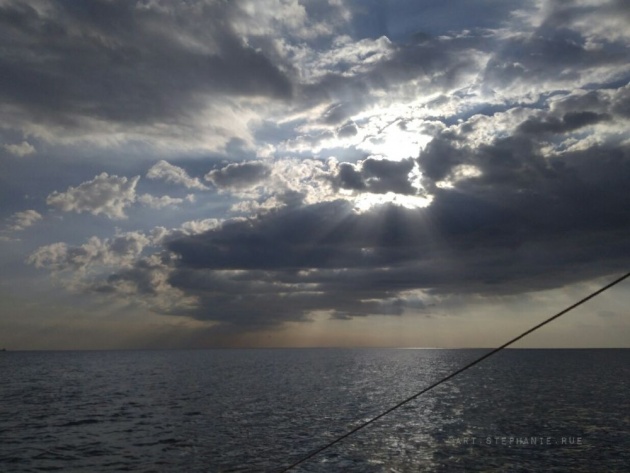 The first day the ocean was pretty peaceful and not too wavy so I had fun swimming. Second day it got wavy and fun to swim in, riding each wave, however the water got bubbly and there were white stuff that showed up on top of the water so I dunno. I didn't like swimming that much when the water became like that. I still swam anyway so whatever. Hahaha.
Oh and don't forget to bring some waterproof photography gear or just use a plastic waterproofing thingy for your phone too. That's what I did but I didn't bring it near the ocean until we decided to trek up some seaside mountains. Or are they hills? I have no idea. Summady refresh my adult mind about geography. Hahaha.
3. Light trekking
Laki beach is a stretch of white sand in between cliffs. It doesn't really matter to me if the shore has dark or white sands but what I saw looked kinda yellowish to me. Okay, how about off white or cream-colored sand? :P

Anyway so we went up this side...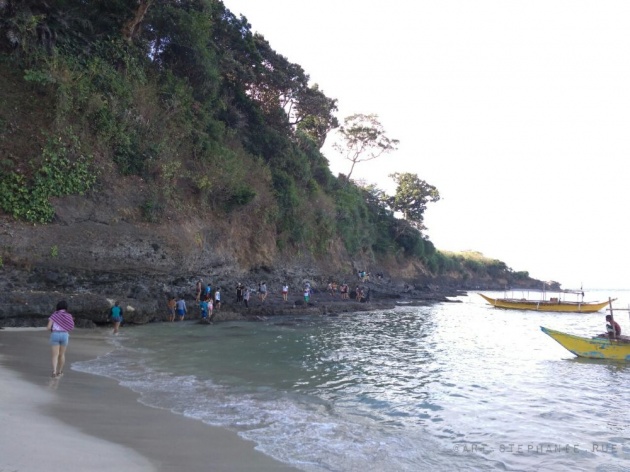 Yep, see all those people walking? They're all going to the top of that land mass at the end of the short light trek. I didn't really want to go and do that but you know, it's good to explore and see the world from time to time, right? Haha.
On the way to the end of it that's where we saw the small sea urchin. (You'll see it's pic later below.) Once we got to where you can climb up, we were able to get to the top of it and see some breathtaking views. You can see the other high land mass at the other side of the beach from where we were. I mean look at that amazing blue sky and the very deep blue sea too. This picture does not have any filters, color correction or minor edits at all, promise.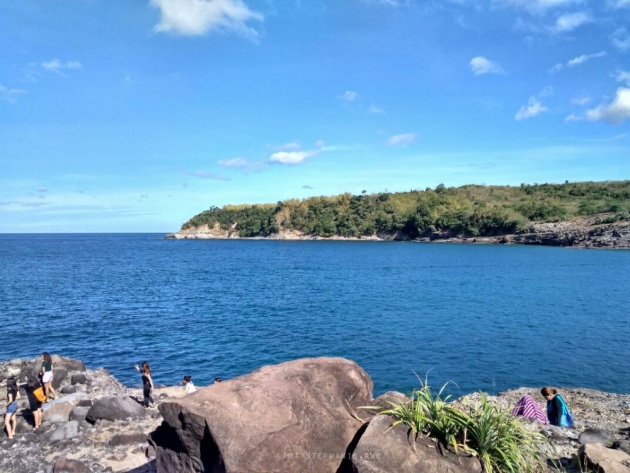 This was taken around 7 or 8 am and it was beginning to get hot already so we trekked back to camp after all the pictures. Would love to post all the pics here but you know, 10 pics is good enough so you'll want to go there. Hahaha.
4. Cliff jumping and cove to cove hopping
No, I did not get to experience jumping off a high place and into the ocean because I lacked sleep. Even with the 4 hrs or so travel time in the wee hours until dawn, that isn't enough to feel rested the morning after.
Jumping off Tinanlakan cliff is actually one of the trip highlights but I stayed at the boat along with a few group members while the rest went ahead. Sad but it's okay, I know one day I will be able to do it.
I think it's better if you just watch a video from YouTube instead to know more about it. There are lots of videos but I chose this one because you get to see that even if in case you can't swim, there will be boatmen/guides to assist you after you've jumped. That's a good safety practice!
One of the guides/tour organizers told us not to jump with your body too straight because that'll make you go really deep in the ocean once you've jumped. I might have heard wrong but several videos and how-to online articles say that you have to be straight and vertical like a pencil and your toes pointed into the water when cliff jumping otherwise you might get hurt doing it.
Don't dive either unless you're really an expert at cliff jumping. C'mon you'll jump off from a 40ft high place, that's about 12.19 meters or approximately eight 5 ft tall people standing on top of each other. They even said when you hit the water, the impact can hurt a bit. Your skin may get all red too if you're sensitive but hey, what's one time of jumping off a cliff worth huh?
I swear I'm going to try and overcome my fear and jump that when I get another chance.
Aside from that high cliff, there are other places to visit like the Apatot bat cave and Nagbintana cove and it's amazing mountainous dark rock formation. I mean, look at this rocky formation at the bat cave.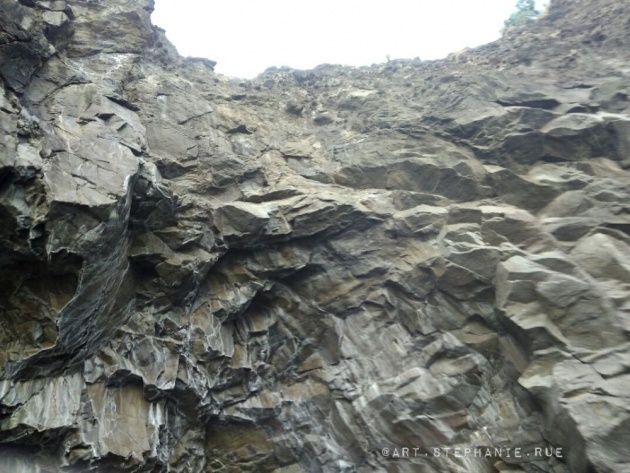 5. Seafood eating and sea creatures sight seeing
When you get to the first beach or fishing port in Mariveles to get to Laque/Laki beach, this is the scene that will greet you: A very busy fishing port!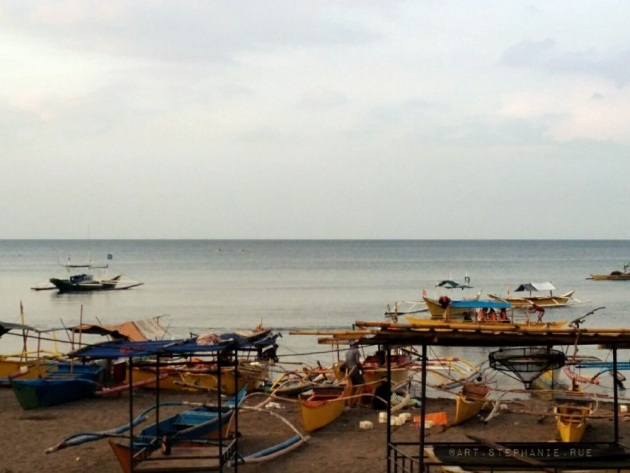 (Photo credit: ArtGirl via Bitlanders)
It's best to arrive and be at Porto del Sol, Mariveles at dawn. Why? You can buy one or two of the fish they catch there to bring with you to cook and eat at Laki Beach. How's that for a summer beach vacation eh? Sadly no one in our group bought a fish because we already had some food to cook, all packed up from the nearest market. Oh well, having sushi at the seashore won't hurt so maybe next time I'll get to taste it.
Indeed, it's best to go there early in the morning. Aside from getting the best spot at your island camping destination, you'll get to see all the fish the fishermen caught. Look at all these large fishes!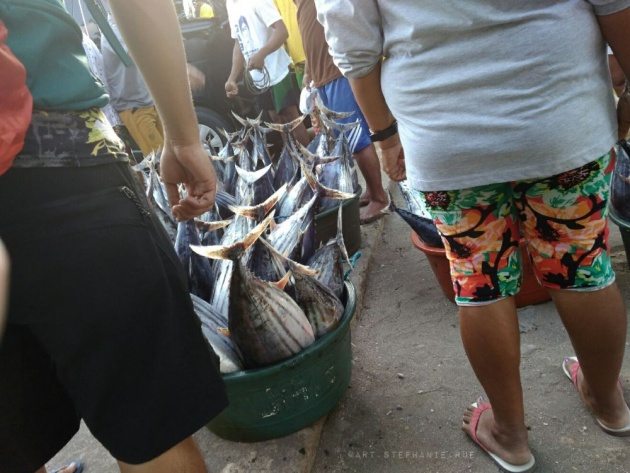 Not sure what kind of fish those were but it looked like a plentiful fish haul. I mean look at that! Freshly caught from the sea! They're not moving anymore but oh my, how many of those fishes do they catch everyday? Whoa... I saw several of those containers filled like that. Should have counted them but I think it was more or less 10 of what you see there in the picture.
On top of that, if you'd like to eat or taste some sea urchin, you can too! No don't eat the little ones, eat the bigger ones that can be netted in the deeper part of the ocean. The boat men can net or catch some while you're out cliff jumping and swimming from one of the cove stops. I saw a boat man of another group do it while some of our companions went to jump from the 40ft cliff.
If you haven't seen my photo gallery yet, this is the small sea urchin we saw near Laki beach. It's body circumference, minus the spines, is just a bit bigger than a coin. The ones they catch in the deep ocean are the big ones with the black thorny exoskeleton. Doesn't look like this at all. This one looks like it has toothpicks sticking out of it. Haha.
I didn't dare touch it but check the video of it crawling slowly away here.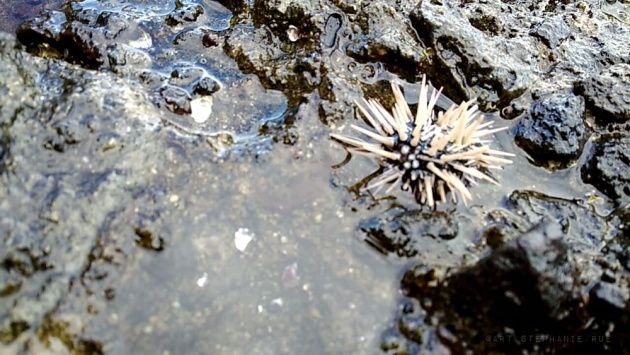 (Photo credit: ArtGirl via Bitlanders)
• What else is there to see and do?
There are some seaweed near the shore and a few jellyfishes too. What's disappointing though is when people or even kids see those jellyfishes, they go stab stab stab with their parents' (or other adults) approval. Omg so heartbreaking. Yes I know they are dangerous sea animals but it's still heartbreaking seeing them defenselessly stabbed even when they aren't even moving! Ah well...
Yes I'm sure there's still more you can do that we didn't get to do, like snorkeling. If you have your own gear then you can definitely snorkel away. Some played frisbee or volleyball on the beach while other people had their Go Pro and drones buzzing away. Of course the night brought a lot of activities too. Our group had a fun drinking session and some heart to heart talks. We could hear other groups farther away having like a Ms. Gay competition or something. Haha. Imagine, they even brought some microphones and such? I slept all through all sorts of noises but I could hear them from time to time.
Want to know what else is in Bataan aside from Five Fingers and Laki Beach? Watch this. :D
Ready to go there? Well just read on in my other blog on how to travel on a budget in the Philippines if you'd like to know more. Link below. Or you can go there privately too, up to you. :) Have fun, enjoy and don't forget to clean as you go!
For my other travel and related blogs, click below:
If you're not a Bitlanders member yet, sign up and click here
and be appreciated for what you post plus earn extra $$$.
If you have any problem or site issues, read the FAQ then please report and send an email to cs[at]@bitlanders[dot]com.
All images are copyright of their respective owners.
Written for Bitlanders by ArtGirl. All rights reserved
© Art x Stephanie Rue