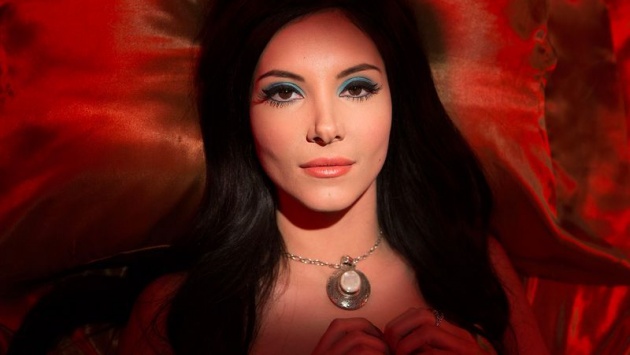 Still: Samantha Robinson in 'The Love Witch', courtesy of Oscilloscope Laboratories/Icon Film Distribution UK
The Love Witch is a highly stylized subversive comedy that normalises witchcraft in Southern California. It offers a throwback to the 1960s, specifically the television series, Bewitched. It also plays to humorous effect on the notion that all women want is a man and love, love, love. It doesn't rigorously stick to the 1960s aesthetic – there is a mobile phone, though not one that you would use in polite society.
Director Anna Biller previously made Viva in 2007 which paid homage to sexploitation films of the 1960s and 1970s and in which she played the leading role. That's bravado! Her other films include the shorts The Hypnotist and A Visit from the Incubus (both 2001). The Love Witch took almost seven years to get before the camera – and it is shot on beautiful 35mm, a paean to Technicolour. 'I had money for production but not pre-production,' Biller told Filmmaker magazine. 'So pre-production was just about me making everything.' The Love Witch is, quite literally, a labour of love in which the sets and costumes and – I'm guessing – the witch bottles are made by Biller herself.
The throwback to the 1960s begins with the name of the heroine, Elaine (Samantha Robinson). Elaine was the name of Ben Braddock's girlfriend in the 1967 film, The Graduate. OK, so most other Elaine's feature in TV sitcoms like Taxi and Seinfeld. It isn't a name that shrieks vamp or danger. You won't find an Elaine as a controlling female fatale in film noir in which men are lured by sex – or the promise of sex – into doing bad stuff, like cheating on your tax returns. We first see Elaine driving down a deserted road. She is thinking about her husband, Jerry (Stephen Wozniak). Now, Jerry wasn't unfaithful – she killed him. But that's not how she talks about it. She muses about his weakness. From less than five minutes into the film, we are in a world where the heroine doesn't acknowledge her own power. She wants a man who is obedient and she can love completely but it has to be someone not driven mad by desire.
Colour is carefully controlled from Elaine's sky blue eyeliner to her red dresses – there is plenty of red. Her car pulls up to a Gothic mansion but it is only occupied by two other people, Trish (Laura Waddell, an English actress who played 'Girl with Autism' in the TV series, After Lately) and her husband, Richard (Robert Seeley).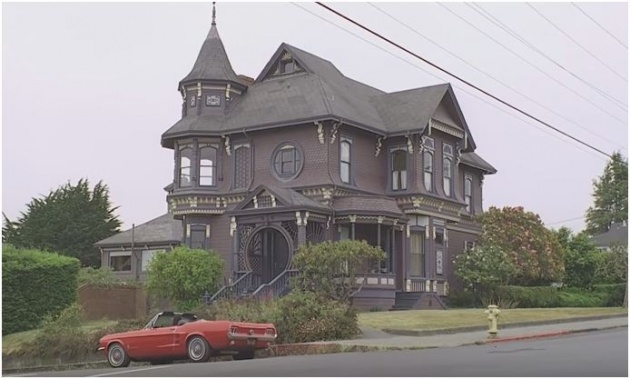 Still: check out this des-res. Courtesy of Oscilloscope Laboratories/Icon Film Distribution UK
The contrast between women couldn't be stronger. Trish wears beige pant suits that shriek 'conservative', 'sexually repressed' and 'beige'. She is also an interior decorator. Trish has prepared a room perfect for a young witch complete with suggestive pictures. The two women go out for tea in a Victorian tea room.
Elaine is desperate for a man and does what any woman in her position would do - proposition a stranger in the street. He is Wayne (Jeffrey Vincent Parise) and just happens to have a house in the country. Elaine psychoanalyses him perfectly – she knows he likes the house in the country for alone time. (Psychoanalysis here is kind of obvious.) She wants to go with him to the house in the country right now. Oh, and to make him dinner.
Biller is playing with the innuendo undertow of 1960s romantic dramas. At the house, Wayne kisses Elaine but then she makes dinner. Then they have sex. Not explicit sex – Biller doesn't exploit her lead actress, though Samantha Robinson is sometimes filmed with her long black tresses covering both breasts in a suggestive but tasteful style – see Roger Corman's Edgar Allen Poe adaptations. Wayne is driven mad by Elaine. Then he dies – and she has to bury him in the garden.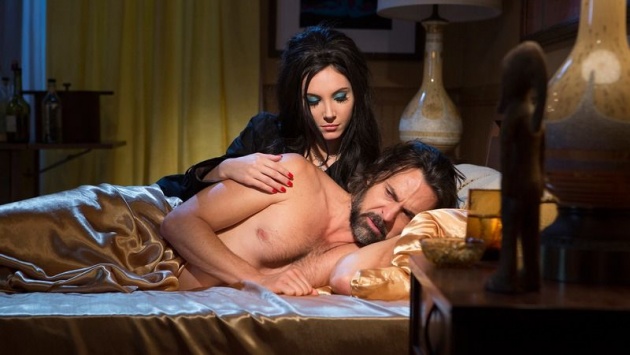 Still: Samantha Robinson and Jeffrey Vincent Parise in 'The Love Witch'. Courtesy of Oscilloscope Laboratories/Icon Film Distribution UK
Two other men enter Elaine's crosshairs – Richard, who spends time with her whilst Trish is away – and a cop, Griff (Gian Keys) who, during a Medieval Fayre, gets symbolically married to Elaine. Cue the song 'Love is a Magickal Thing'.
Here, the film comes into its own, with 'him' and 'her' voiceovers, articulating the opinions of Griff and Elaine. She is hopeful about love. He is completely cynical and imagines a life where she emasculates him. It is a parody of male paranoia and female naivety. It tells you how the film will end – not well.
Elaine visits a night club when she meets an old Satanist. There are rituals featuring some nudity (male and female) from the supporting cast. In the club, there are regulars who complain about witches and want them driven out. In a scene near the end, a male mob is whipped into hysteria and shouts 'burn the witch' whilst one of them is removing his trouser belt and intends to commit rape. There is an intentional disconnect between word and image.
A Parody of Bad Acting
The fight between Griff and his (male) partner is an intentional parody of bad acting. Every detail down to the performances and look is carefully crafted. This is a genuine auteur work, unmediated by producers, complete and of its own world. Even a large round wine glass gets a laugh as does the painting of a woman tearing a man's red heart out of his chest. The violence is stylized but the thump on the soundtrack does the job. It might look phoney but there is still a frisson of shock. Like Julia Ducournau's Raw, this is a singular vision that celebrates its anti-heroine. It is a wonder!
Reviewed at Stratford PictureHouse, Screen Four, Tuesday 14 March 2017, 18:30 screening