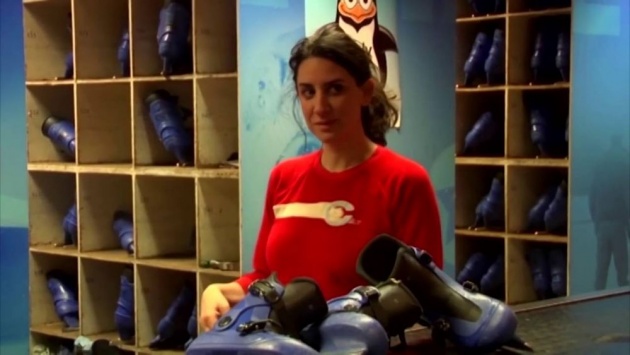 Still: Mercedes Grower stationed at ice rink boot camp in 'Brakes'. Still courtesy of Brakes Film Production Ltd
I'd like to make a prediction here on Sunday May 7, 2017, that on its eventual release in the UK, the film Brakes will be critically hammered.
It is not that the film isn't ambitious, funny and at times extremely well-acted. It is just that it exhibits writ-large the unconscious bias of its writer-director, Mercedes Grower.
It is a film about break-ups, the moment when people look to their other half, their travelling companion on life's travails and say 'it's not me, it's you'. The more polite – can you be more polite in a break up – say 'it isn't working' as if relationships are expected to be work. Compromise, yes. Tetchy - most certainly. Involve the throwing of crockery – only in the movies. Nothing says I hate you more than the smashing of a cereal bowl, except I still eat my Cheerios out of my son's plastic 'Noddy' bowl, and it is very resilient.
The couples don't have children – or at least those under the age of eighteen – that we hear about. They are mostly young – or young-ish. One of the women (played by Grower herself) is pregnant. She brings her drug dealer along to meet her boyfriend (Noel Fielding) in a sex street in Soho. He is in football shorts – but it's snowing. The scene meanders and builds to the guy locking himself in a public convenience (underground restroom to my Transatlantic friends; bog to South Londoners) when he will only respond if the pregnant woman knocks nicely.
None of the couples of the film are connected to one another. This is a film set in London. Here's where the unconscious bias comes in – none of the couples are black or Asian. Heck, the furthest south of the river that Grower goes is the South Bank. What about Clapham, Balham, Peckham? This is a film about acting – why no acknowledgement of the ham? Yet the film bears the British Film Institute (BFI) logo, yet eight months after the launch of 'Black Star'. This film shows the BFI in its true colours – and sends it backwards.
The film was developed from an idea that Grower cultivated some years ago: pair actor friends together and record them breaking up. The film is part acting exercise and part statement of the immaturity displayed in the relationship-severing business. It begins with a split by Skype as John (Steve Oram) puts his relationship with an Irish woman, Maeve (Kelly Campbell) out to pasture. It hits its stride in the second skit, which involves Elliot (Julian Barrett) surprising his Barcelona one-night stand, Raymond (Oliver Maltman) at the stage door of the National Theatre. Elliot has brought ice cream and his way of charming him is to hand over a dripping cone. When Elliot wants to show endearment, he dabs ice cream on Raymond's nose. We've all done that, though mostly with children. Elliot leads Raymond down the gravel path to the bank of the Thames and forces him to retreat, ice cream still dripping. Grower breaks up the scene by introducing another couple, but this is one of the more successful comedy interludes.
Some of the un-couplings last a few moments. The Bride of Frankenstein leaves a Zombie behind. They can't go to a fancy dress party together for Hallowe'en; they are generically incompatible. One couple on the roof of a building part company – we barely get to know them. However, the film comes alive in two extended scenes.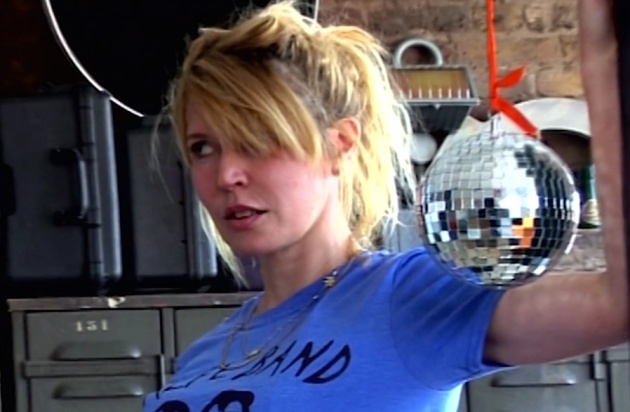 Still: Julia Davis as the unhinged Livy in 'Brakes'. Still courtesy of Brakes Film Production Ltd
The first involves an actress, Livy (Julia Davis) who ropes Karl (Seb Cardinal), the star of her husband's film, into a rehearsal. Then the director, Alan (Peter Wight) turns up to interrupt the casual flirtation. Livy serves up spaghetti bolognaise – well, spaghetti with sauce. But no one is eating. Livy has disrupted the director's creative process. The relationship comes apart. Karl appears to have left as the conversation becomes more personal, but then reappears. 'We're still good, right?' he asks Alan, wondering if he has kept his job.
The second features Rhys (Roland Gift, the lead singer of Fine Young Cannibals) returning to his luxury Marylebone Road flat (near Baker Street tube) to be greeted by his partner, Brinie (Kerry Fox, explosively brilliant) who is lounging on a sofa drinking a Martini, one where the ice has melted; this is a good metaphor for the end of the affair. She wants to know where he's been. 'The pub.' With whom? 'Friends. Eventually just one. 'Who?' 'Fiona. We had a bite to eat.' 'You started early,' says Rhys, going on the offensive. 'You had a drink at the pub, yes?' asks Brinie. Rhys nods. 'Well, you started before me.' 'What's for dinner?' Roland asks, changing tack. 'When?' 'Just once I would like to come home to dinner.' 'When?' 'Seven O'Clock? Saturday?' The sarcasm from Brinie bites the air. At the same time, Brinie strokes her long beautiful grey hair. It makes waves, like the choppy remarks coming from her mouth. Rhys busies himself on his laptop – conspicuously not plugged in. The framing and acting in this scene are superb, as if the film were elevated into a real drama, with real stakes and characters that we care about. It ends with Rhys going out – again – and Brinie walking to the balcony. The street below makes London – intersection of Baker Street and Marylebone Road – look like Paris. It's extraordinary how parts of London look when seen from above. Grower definitely has an eye.
There is another dramatic break up at Hampstead Heath station, with Susan (Kate Hardie) heading towards Richmond and Peter (Paul McGann) wanting to stop her. A train pulls up but Susan doesn't get on. Interestingly, the background action makes us pay less attention to the words coming out of either character's mouth, but now we have got into the rhythm of the film, we know how it will end. There is simply no point in doing these scenes straight.
The second half of the film – designated 'Part One' – shows how the characters meet. Some of the introductions are more interesting than departures, notably when Maeve complains that John should not have swum in the fast lane before acknowledging that he had helped her with an IT problem. The Brinie-Rhys (re)acquaintance at Kings Cross station is understated and doesn't amount to much but we enjoy Raymond waking up in Elliot's Barcelona apartment and especially Livy turning up for an audition for Macbeth, with bruises around her eyes, meeting Alan for the first time and taking charge of the meeting. Her Lady Macbeth speech is brilliant, though her knowledge of Shakespeare's plays is only qualified by quantity and not by detail.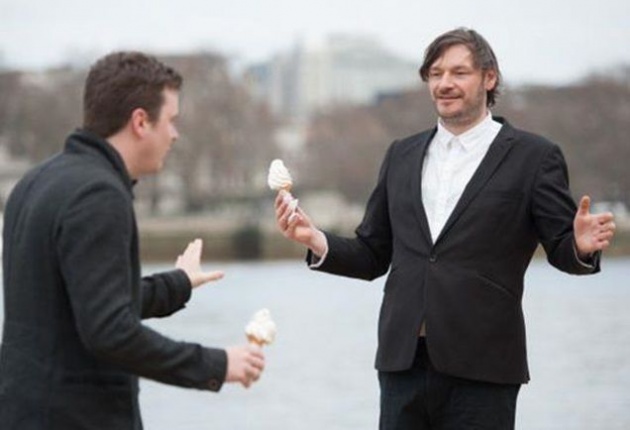 Still: Oliver Maltman and Julian Barrett debate the merits of Mr Whippy in 'Brakes'. Still courtesy of Brakes Film Production Ltd
It ends at Queensway Ice Rink with Noel Fielding's Daniel charming Grower's Layla and the couple going on a ride on an ice re-surfacer (otherwise known as a Zamboni).
Quite apart from the compare and contrast aspects of the film, you feel that Grower isn't quite in control of her material. She might have focused on how the end is signalled – or not – by the beginning, or indeed on the general point that no one knows what makes a successful relationship when couples are drawn together by desire. I quite liked the guy who turns up in an artist's installation and asks her to leave through the back door, though I can't remember how they broke up. The problem with concept movies is that they need to be given shape. Otherwise they are simply a set of random sketches with no particular meaning attached to them. Grower has attracted a stellar cast to her project, but doesn't always know how to make the most of their talents. When the film is good, it is exceptional. For some stretches it is as the young say 'meh'. The credits sequence featuring old movie clips makes you wonder how Grower cleared copyright for such a micro (no) budget film.
Reviewed at Loco Comedy Film Festival, Saturday 6 May 2017, 18:10 Screening, BFI South Bank, Screen One, Waterloo, London.