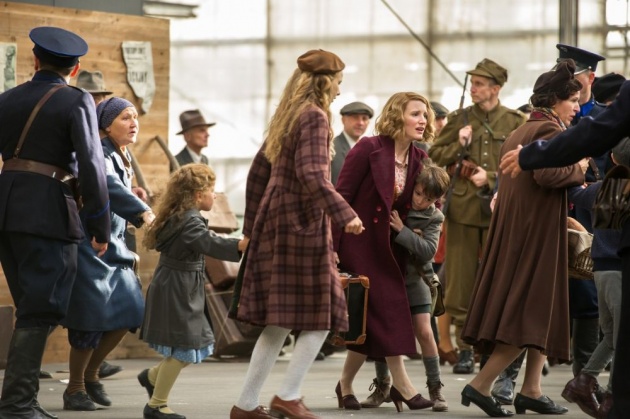 Still: Panic following the invasion of Poland as recreated in The Zookeeper's Wife, starring Jessica Chastain. Image courtesy of Focus Features/Universal.
Never confuse an important subject with an important film.
The Zookeeper's Wife has an important subject, focussing on the selfless work done under threat of death by Antonina Žabińska and her husband Jan Žabiński in Nazi-occupied Poland during World War Two. Together, they provided refuge for some 300 Jewish men, women and children, smuggled out of the Warsaw Ghetto, in the grounds of Warsaw's bombed-out zoo that they formerly managed. Madame Žabińska's houseguests were lodged in disused cages and underground tunnels whilst the zoo was re-purposed as a pig farm, producing meat (eventually) for the Polish Resistance. Of the many guests, there were only two fatalities – a mother and daughter discovered by the Nazis and killed. Madame Žabińska had a German admirer, Lutz Heck, who, whilst not exactly looking the other way, ensured at least that she was above reproach. The killing of the zoo's stock by trigger happy Nazis left Madame Žabińska devastated. She was also a music lover. When visitors came, she played piano to warn her guests to hide until the danger was over.
In translating this story into a narrative feature film, the writer and director - in this instance, Angela Workman, adapting Diane Ackerman's biography of Žabińska, and Niki Caro - are expected to take the audience on an emotional journey. The sense of danger should be constant. They should understand that it is not so easy to feed tens of houseguests without the Germans knowing and they should explain – as I imagine was the case – that human excrement was mixed with pig waste to hide the evidence of habitation.
But The Zookeeper's Wife is a Hollywood film – and Hollywood don't do pig shit.
The part of Antonina Žabińska is played by Jessica Chastain, who rose to stardom portraying hard-as-nails women such as CIA Agent Maya in Zero Dark Thirty, mob daughter Anna in A Most Violent Year and Lady Lucille in Crimson Peak. Her most recent release, Miss Sloane, features her as the titular political lobbyist who takes on the firearms industry. Chastain's characters stake their claim in hostile male environments and make their points loudly and clearly. Antonina is not a typical Chastain role. She cannot be loud and vocal against injustice under Nazi occupation. Loud and vocal gets you shot.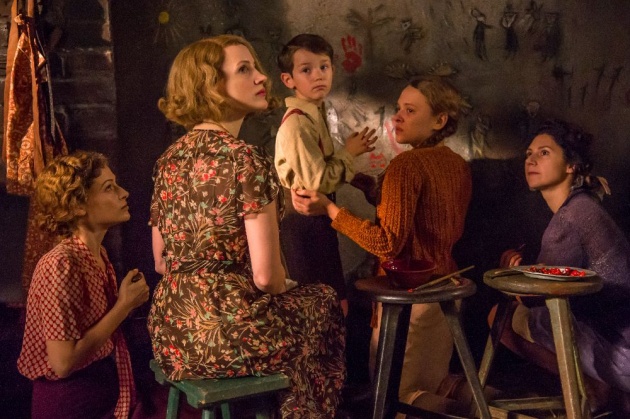 Still: Mme Žabińska (Jessica Chastain) sits among her 'guests' in The Zookeeper's Wife. Image courtesy of Focus Features/Universal
Antonina is a caring zookeeper. We first meet her tending to an elephant in distress. She is like a young person in the most wonderful place in the world as she speeds past all the cages on her bicycle. Then Hitler orders the invasion of Poland on 1 September 1939 and everything changes. Polish troops are unable repel the might of the German Wehrmacht. The Polish Government retreats to Romania and the defenders of the Poland's capital city, Warsaw, give up on 29 September. No sooner have the last Poles surrendered their weapons in early October than Adolf Hitler addresses the Reichstag and makes a pledge to 're-organize the ethnographic conditions' in Europe. As for the Poles themselves, if they cannot be Germanized, they are to be reduced to a nation of slaves, receiving no more education beyond the four year elementary school; reading is not considered an essential skill. The Nazis carry out murderous campaigns not just against Jews and partisans but also Catholic priests, the intelligentsia and Polish Nationalists. The Polish Resistance only becomes emboldened once Nazi Wehrmacht forces are defeated at Stalingrad in January 1943. Resistance is met with counter-violence. Between October 1943 and July 1944, 2,705 Poles are publically executed in Warsaw, whilst another 4,000 are killed in secret.
The film depicts in broad strokes the creation of the Warsaw Ghetto in October 1940. It is the largest Ghetto in Nazi-occupied Europe. All residents of Jewish origin are required to move into it by 15 November 1940, after which the wall will be sealed. At its peak, in April 1941, the Ghetto's population is 460,000 – approximately 146,000 people per square kilometre, 8 to 10 persons per room. Residents take little with them, only a few personal belongings and bedclothes. Food supplies are limited. Between October 1940 and July 1942, 92,000 people – approximately 20% of the Ghetto population – die of starvation.
Antonina and Jan manage to save 0.06% of the Ghetto population. It is a shockingly small yet important number. The problem with 300 is that it is too large to adequately bring to life in a two hour film. You care about those who are saved in the abstract, for a few short moments in which their lives are acutely in danger as Jan escorts them out of the Ghetto pretending to be his colleagues; Jan is able to do so by masquerading as a doctor. The sheer numbers of residents and the confined living conditions make it difficult for the Nazis to notice absentees. Had the Ghetto been less densely populated, the rescue attempts may have been less successful.
In the absence of being intimately acquainted with the rescued, Workman and Caro should make us care about Antonina and her family. There is a tense scene in which her young son, Ryszard (Timothy Radford) is taken to a wall and almost shot. None of the characters really comes alive in the way that you might imagine. I half-expected the line: 'we had all those lovely animals; now we just have people.' Workman and Caro have (thankfully) too much taste for such an observation.
The flaws of the film are numerous. The decision to make it in English compromises its verisimilitude. I had the same problem with Roman Polanski's The Pianist but there were compensations with the spectacle and a strong sense of place. Chastain musters a passable accent but doesn't bring much tonality to her performance; Antonina never really comes alive. The only other 'name' in the cast is Daniel Brühl, who is typecast as Lutz Heck, the zoologist who allows Antonina and her family to remain at the zoo. Brühl is an actor who chooses projects rather than roles but doesn't have anything to really stretch him here.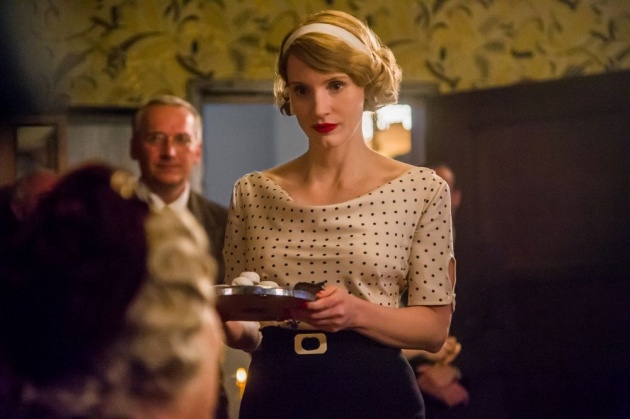 Still: Before the invasion, Mme Žabińska (Jessica Chastain) on social duty in The Zookeeper's Wife. Still courtesy of Focus Features/Universal
Dramatic development is fairly limited. Not only does Jan smuggle Jews out of the Ghetto, but he also joins the resistance – all without the Nazis noticing. Young Ryzsard follows him and is sworn to secrecy, but nevertheless blurts out the slogan, 'Hitler ist kaputt'. Lutz makes a pass at Antonina. Eventually, the film builds to the great escape when the ruse is finally discovered.
The disappointment of The Zookeeper's Wife is that it never justifies the title. Antonina and Jan make an extraordinary couple, so why just emphasize the former? Caro has no inclination to make a star vehicle for Chastain, who is cast against type. Chastain got the film made – it was shot in the Czech Republic with a large (English-speaking) Czech supporting cast - but in the process the raison d'être is lost. Caro knows that the story isn't really 'entertainment' but she doesn't find a way to make it vivid. Her last film, McFarland, USA, an altogether more assured work was for Disney; here, photographing Chastain with cuddly animals, she seems stuck in Disney mode and – a random partially nude scene aside – doesn't get out of it.
Strange fact: Antonina's maiden name is Erdman – she is the original Toni Erdman.
Reviewed at Cineworld West India Quay, East London, Thursday 27 April 2017, 19:50 screening