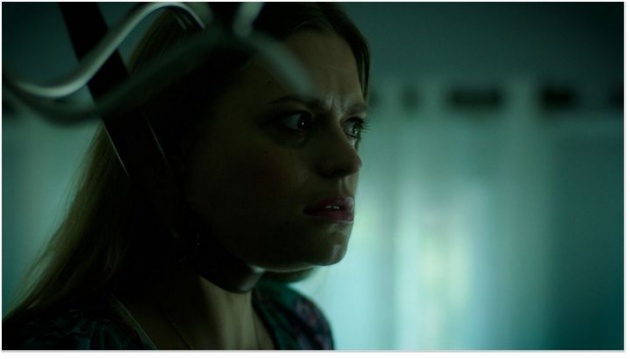 Still: Marianna Palka feels leather around her neck in 'Bitch'. Courtesy of Sundance Institute.
The forgotten wife and taken-for-granted mother is the subject of Los Angeles-based, Scottish-born writer-director Marianna Palka's fourth feature, Bitch. The title doesn't take prisoners. You look at it in movie listings and it is an accusation: Bitch. It's a label that is too readily used, a go-to curse word, dismissive, marginalising – Bitch. It's not a title you want to repeat. 'What have you seen recently?' 'Oh, a film about a woman who has a mental breakdown and turns into a dog.' 'Sounds interesting, what's it called?' 'Bitch.' I think of it as a conversation stopper, an expression of exasperation and admission of defeat – Bitch. It is a powerful, powerful word, one that needs to be divested of its import, although until recently I thought 'divested of its import' means taking away a St Bernard's alcohol.
Bitch flip-flops between psychological drama, dark comedy, horror film and a story of the things we do for love, that is, get on all fours in public and yap like a dog. It does not deliver the sugar-rush pleasures of a single genre movie. Rather it's a ninety-minute wow, or bow-wow – or bow-wow-wow. Goodness, I've started panting.
It begins with a dog – what else – a German shepherd in the middle of a street somewhere in the suburbs. This dog is intercut with Jill (Palka) walking barefoot on a table with a leather belt around her neck like a dog collar. She caresses the collar like it's a sexual thing, like she luxuriates in an acknowledgement of servitude. Except who wants to be a servant, invisible? Jill doesn't. She wants to hang herself – and she does. Her feet quiver then straighten. Then there's a crash. The light fitting has failed her. You can't rely on modern electrics.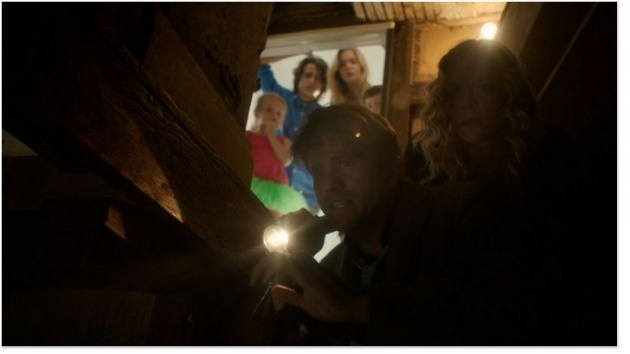 The family make a shocking discovery in the basement. Still courtesy of Sundance Institute
Jill's husband Bill (Jason Ritter) is being serviced by a subordinate. But there is pandemonium at his company. He is summoned to the conference room – a running joke. When he gets home, Jill begs him to let her go on a painting retreat. 'You can't – what about the kids?' Bill didn't even notice the broken light fitting.
Now, Palka's film doesn't offer a realistic portrait of family life in LA. Clearly, Jill would have a maid who would read to the children, make their lunches and wipe their dirty little tushes. Jill and Bill have two boys and two girls. Not only can't these kids do things but they don't appear to have lives.
Jill snaps. She disappears. Suddenly Bill has to take the children to Middle School, to Kindergarden. He does not even know the names of these schools, though surely he could back-trace them to his GPS. The older kids are given a $100 bill. The youngest girl is deposited without lunch. As for the youngest boy, Jed (Jason Maybaum) – Bill screams and curses and screams some more, until he realises the kid is sitting in the back. He drags him to his class.
At the office, pandemonium continues. Annabelle (Sol Rodriguez), Bill's saucy mistress, has lost her job, or rather her jab, because – well, accents. Bill begs his boss to keep her. 'Well, maybe if you would like to resign, Bill,' he suggests in heavy, threatening tones, 'you might save the jobs of 169 people'.
Realism is stretched and then snaps back like elastic – Bill doesn't resign.
Bill is desperate. He phones his sister-in-law (Jaime King) who then turns up at the house. The kids are home. Bill asks the youngest, 'how did you get here?' 'Taxi man!' Personally, I thought it was 'when a mummy loves a daddy very much'. The four kids explain that they have found mom. They are laughing. She has shed her clothes and is growling like a dog. Whizz and faeces are everywhere.
Jill ends up in the basement.
Under duress, Bill calls the family doctor. Then the police arrive. It's a 5150 – person with an unspecified but potentially harmful medical condition. Then Bill goes gaga. The Christmas tree is put up.
At no point do the kids take over. Jill doesn't have any friends either.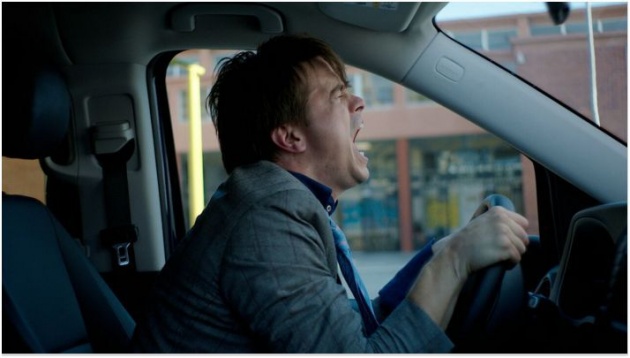 Still: Bill (Jason Ritter) vents his frustration in 'Bitch'. Courtesy of Sundance Institute
The score by Morgan Z. Whirledge is all over the place. At times, it plays off the image – cutesy, sedate, even though Jill is about to hang herself. Then it goes bonkers, like the entire orchestra has risen up to complain. There are some fantastic flare shots – light into the camera. Eventually a lawyer becomes involved.
Palka's inspiration is a case study by the Scottish psychologist R D Laing. In that case, the woman had empty nest syndrome. This is a story about a woman with no purpose. She articulates her frustration through growling. At no point is she sectioned. I don't want to say what happens, but it is a peculiarly tolerant response to mental illness. We could all learn something.
Bitch is Palka's fourth film as writer-director after Good Dick (2009), I'm the Same (2014) and Always Worthy (2015). She is also the subject of Lucy Walker's documentary, The Lion's Mouth Opens; Walker filmed the actress as she awaited the results of tests for Huntington's disease, a hereditary brain degenerating condition that claimed the life of Woody Guthrie. Palka also appears in other directors' films, including Talulah Riley's Scottish Mussel. Her film has been described (by one of her actors) as a fable. This is a polite way of saying that the dog transformation isn't somehow empowering. The final shot is ambiguous – and wordless. Is there a resolution, or a lull before the bite?
Reviewed at Sundance London, Friday 2 June 2017 15:30 PictureHouse Central, with the director in attendance. No trailer available