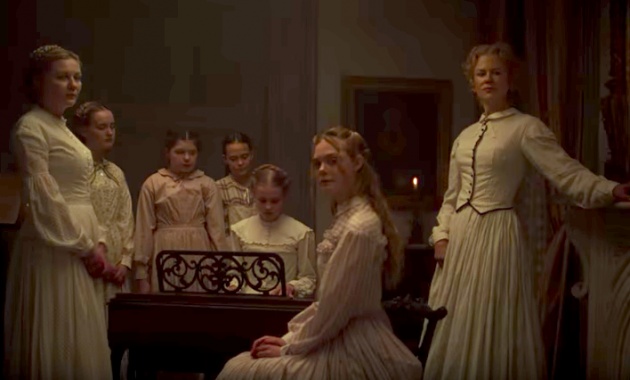 Miss Martha (Nicole Kidman, right) and class seek the approval of Corporal John McBurney in 'The Beguiled', written for the screen and directed by Sofia Coppola. Still courtesy of Focus Features
You wait years for a Coppola movie and two come out at once.
Paris Can Wait, the travelogue, sorry road movie starring Diane Lane and Arnaud Viard and written and directed by Eleanor Coppola will be the subject of a later entry in this series. First we have The Beguiled, written for the screen and directed by Sofia Coppola, Eleanor's talented daughter.
The Beguiled is Coppola's sixth feature film, after The Virgin Suicides, Lost in Translation, Marie Antoinette, Somewhere and The Bling Ring. You will have seen or heard of the second one, you know Bill Murray goes to Japan to make a whiskey commercial and hangs out with Scarlett Johansson, before she became Black Widow. This is typical Coppola – not big drama. She has also done TV – Murray asked her to helm his Netflix special, A Very Murray Christmas. Great title, but I remember Scrooged, man, a very underwhelming Christmas comedy. She has also directed opera – La Traviata – in Milan, with costumes by Valentino. Some people go to the opera for the costumes – look what she's wearing! Aside from Lost in Translation, the daughter of Francis Coppola and cousin to Nicolas Cage and Jason Schwartzman hasn't directed what you would call a crossover hit. Until now – maybe!
The Beguiled is Coppola's first remake. Thomas P Cullinan's 1966 novel was the basis of a 1971 film directed by Don Siegel and starring Clint Eastwood and Geraldine Page. If Coppola is going to remake a Don Siegel picture, why not Charley Varrick? (I love that movie.) The Beguiled is about seven women crowing over one man in a Southern boarding school in 1864. They are Confederates. He's a Yankee. He's been shot in the leg. They do needlepoint and speak French. The Siegel version overplayed female desire – one of the women was (physically) in love with her brother. Eastwood's Corporal McBurney even wanted to make it with an African American helper. She told him the only way he would do so was if he got into necrophilia. You can understand why Coppola would want to make a corrective version, albeit one without any reference to slavery or necrophilia.
Up until now, I would classify Coppola as an urban director, although Marie Antoinette had its country gardens. The Beguiled is different. It begins in the forest with a slow pan down to a young girl, Amy (Oona Laurence) out looking for mushrooms. After some picky, picky, she discovers Corporal John McBurney (Colin Farrell) who is wounded in the leg, has the Irish accent and everything. Farrell is great at faux gratitude. 'If you hadn't found me, who knows what would have happened?' Indeed – he might have joined a boy band.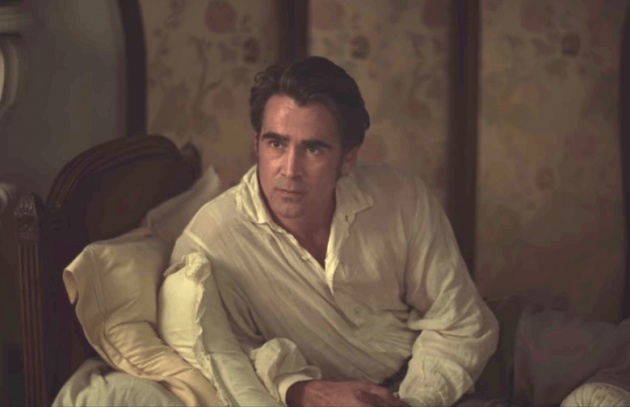 Pictured: A clean-shaven Corporal John McBurney (Colin Farrell) works on his bedside manner in 'The Beguiled'. Photo courtesy of Focus Features
Incredibly, all on her own, young Amy manages to help hobbling John back to her home, 'Miss Martha Farnsworth's Seminary for Young Ladies', which is not to be confused with Tim Burton's last film – though if Eva Green had played Miss Martha – my, my. Here, women are occupied with the dainty pursuits – basic French grammar and turtle herding (one of the girls keeps a turtle). Miss Edwina (Kirsten Dunst) can barely keep her class focused; they know she's missing Spiderman.
John is tended to by Miss Martha herself (Nicole Kidman) who gives him what is referred to as a bed bath, though when her cloth wanders towards his covered crotch, it is almost bed bath and beyond. (I always wondered about that store name.) After the bullets are prized out of his leg and he is stitched up, John slowly recovers, engaging his visitors in conversation.
Only one of the young womenfolk wants to hand him over to the Confederate army – to do so would entail hanging a blue scarf on the front gate. A red scarf might mean 'no milk today'. But Miss Martha says 'no'. She implores her students to prayer. These are good Christian people.
McBurney exerts a fascination for the young women. They are eager to impress him and he rewards them with compliments. The first half of the movie threatens to show McBurney making a pass at one or more of them. Indeed, he saves his most fulsome praise for Miss Amelia.
Up to this point, the scenes are brisk and without extra diegetic music; that is, there is no musical score. We hear the cicadas as well as music sung or performed by the young women – the film introduces Amy through her singing which we hear before we see her. There is a plethora of establishing shots. I lost count of the times we were shown five Ionic columns that represent the exterior of Miss Martha's home. At the halfway point, a score by Phoenix intrudes. The music is based on Monteverdi's 'Magnificat' - alas, I'm not familiar with it. McBurney plays his hand and then suffers the same fate as one of the characters in Ashgar Farhadi's A Separation.
The last part of the film is what gives the story its infamy. I don't want to say too much about it but Coppola downplays its grisliness. She follows the plot very faithfully but doesn't allow any one of the women to fully emerge as a character.
Philippe Le Sourd's cinematography is impressive. Some of the shots of hanging trees and pools of water – a tradition signifier of female sexuality – are beautiful. Coppola cannot offset the inherent campiness of the story. Even she cannot stop the audience from laughing when Miss Martha cries, 'bring me the anatomy book'.
In Coppola's hands, the film is less about the battle of the sexes and more about a single transgression having a snowball negative effect. The Beguiled isn't a radical feminist text and it is disappointing how little Coppola adds to the story – hers is an illustration of the art of subtraction. The story offers its own pulpy pleasure and I enjoyed Farrell's mostly sympathetic performance. Though if you must see one Farrell-Kidman film this year I'd recommend The Killing of a Sacred Deer, due out in November.
Reviewed at Crouch End PictureHouse Screen Four, North London, Saturday 8 July 2017, 21:00 screening