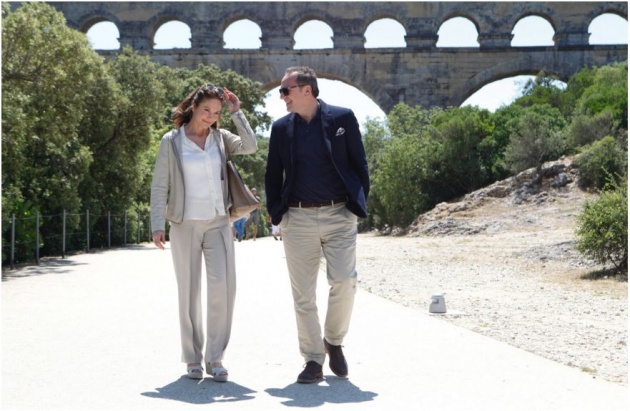 Anne (Diane Lane) and Jacques (Arnaud Viard) are underneath the arches in 'Paris Can Wait', a road movie written and directed by Eleanor Coppola. Still courtesy of Sony Pictures Classics
For film directors, passion projects come in all shapes and sizes: an adaptation of a difficult to film popular novel (Dune, Naked Lunch, The Last Temptation of Christ); a coming-of-age movie based on traumatic personal experience (Au Revoir Les Enfants, Hope and Glory); a biopic of a celebrated artist with whom the producer-star has an intimate connection (Frida, Pollock).
For her passion project, Paris Can Wait, first time feature director Eleanor Coppola filmed a road trip from Cannes to Paris in which the principal characters take in the sites, eat a lot and take pictures.
Passion projects are by their nature un-commercial or risky. They are at the very least ambitious, an attempt to show us something we haven't seen before. You wonder whether Coppola watches Saturday Kitchen, Food and Drink and anything involving Rick Stein. To be fair, American food shows focus on consumption, in which the host gorges on mountains of chicken, steak and ribs (Man Verses Food). You can understand why Coppola would want to do something different.
Paris Can Wait is not so much a saga, like Eleanor's husband's Godfather trilogy. It's more a Saga holiday. Except that the protagonists, played by Diane Lane and Arnaud Viard aren't that old, or at least look good for their age – it must be all that good living.
Lane plays Anne, the mildly inconvenienced wife of a film producer (Alec Baldwin), who suddenly has to travel to Budapest to deal with the problems of his latest production. The director is having an affair with the star, and now they have fallen out. The budget is soaring. I know what you're thinking: I want to see that movie. Except you have probably seen it already - Day for Night, State and Main and Their Finest are all examples of films about filmmaking. There is a general truth that films about filmmaking rarely make money. If so, films about the people left behind by filmmakers must make even less. On its select release in the United States, Paris Can Wait has so far made 5.1 million US dollars as compared with Their Finest's 11.5 million US dollars. Point proven, though Paris Can Wait had a lower budget.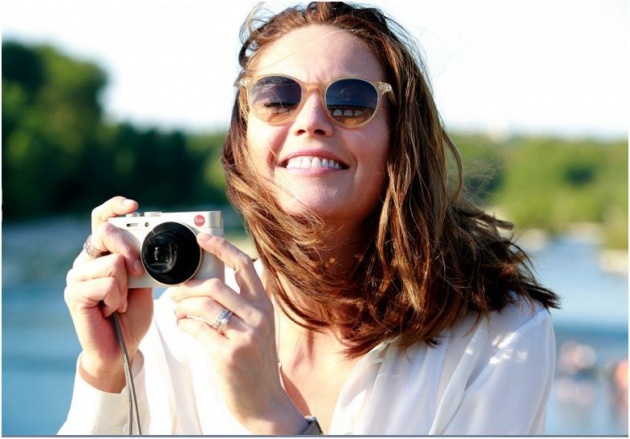 Still: In my glasses, the aqueducts welled up - Diane Lane in 'Paris Can Wait'. Image courtesy of Sony Pictures Classics
Travelling back to an apartment in Paris owned by a family friend, Anne gets an offer she cannot refuse from her husband's associate Jacques (Viard). He suggests that he drive her back in his clapped out, sorry quaint jalopy. It is no inconvenience, really. Viard is no Jean Dujardin, but he'll do. He has charm, bonhomie and is a font of knowledge about the local area. Where was this acquired, you wonder? A combination of National Geographic and the History Channel, I suppose.
Jacques has all these things as well as whims and caprices, which should be spelt with a capital WC. What he doesn't have is money. The dramatic tension lies in whether he is going to fleece Anne for her credit limit and maybe even make a suggestive pass.
However, Anne has, how you say, self-possession. Yes, she'll let Jacques use her credit card, but she'll also fend him off with a baguette if she needs to, or rather a seeded bread roll.
This isn't quite the sum of Paris Can Wait. For Anne mourns the death of her young son. You remember with a start that Eleanor lost a son, Gian-Carlo (Gio) Coppola, who died in a motorboat accident on 26 May 1986 whilst in the company of Ryan O'Neal's son, Griffin. Eleanor is expressing her own grief – or rather living with it – in her own way. The pleasures of photography, food and drink are relative.
There is also a deeper theme about not living through your children, but instead sharing their enthusiasms. At one point, Anne plays a contemporary piece of music enjoyed by her daughter. Coppola shows how individuals don't give up living when their children come of age but drink off their energy. Children are one way of remaining connected to the world, as they shape it while you chew the grapes.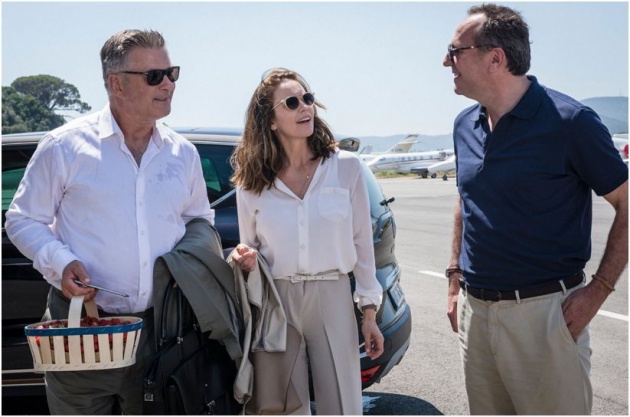 Still: 'You get my wife, I get a basket of strawberries?' Alec Baldwin contemplates the Art of the Deal in 'Paris Can Wait'. Image courtesy of Sony Pictures Classics
The stops along the way have a particular meaning for this particular Italian-American. The pair lingers at Sainte Victoire, described by the film's website (sonyclassics.com/pariscanwait/) as noted for its stunning landscape and views, in particular its mountain, which impressionist painter Paul Cézanne depicted sixty times in his work. (Imagine the conversation: 'It must have been an important influence, Monsieur.' 'No, there was nothing else.') They tarry at Pont du Gard, one of the world's best preserved examples of Roman architecture, an aqueduct, no less. UNESCO has declared it a world heritage site. Nabisco has declared it a good place to eat Corn Flakes – everywhere is a good place to eat Corn Flakes, apparently. They take in the Pyramid of Vienne, a modern day food tourism destination, pretty much like Paris, Rome, New York and London. You'll have to do better than that. Of course, they can – there is an annual jazz festival, pretty much like in Paris, Rome, New York and London. They stop off at Lyon, home of the Institut Lumiere, a museum (sorry, musée) devoted to the work of the fabulous Lumiere Brothers, Louis and Auguste, who some say invented cinema, or at least popularised it in the 1900s. That train coming in to the station is something else. This is the nearest Eleanor Coppola gets to being meta – not bad for an septuagenarian (she was 79 when she shot the movie). Oh, and Lyon is the silk producing capital of France, where the French practice their silky charms (groan). Finally, they have a gander at the Vézelay Basilica, which houses the resting place of Mary Magdalene, another UNESCO world heritage site, a departure point for pilgrims leaving for the Crusades - they must have plenty of food stalls there, also. ('Something before you roast unbelievers to death, m'sieur?')
Does Anne get to Paris, and what will she discover when she gets there? This is a bit of false suspense. The film is, in the best French sense, agreeable. It is not a 'smugly affluent Euro trifle' (Jeanette Catsoulis, New York Times) or 'sheer agony' (Peter Debruge, Variety). It is a reflection on a certain set of concerns. Fundamentally, it does not make plot the central point of the movie. The characters aren't defined by what they do, exactly, but also what they choose not to do. Several roses were uprooted during the course of the movie, but that is the worst I can say about a film that has an easygoing charm, a night cap after a day of more emotionally charged storytelling during my recent visit to the Edinburgh International Film Festival. Surrender and enjoy.
Reviewed at Edinburgh International Film Festival, Friday 23 June 2017, 20:50 screening, Cineworld Fountainbridge, Edinburgh, Scotland