Still: Reluctantly wearing best bib and tucker, Charlie (Harry Gilby) stares longingly at white wedding dresses in 'Just Charlie', an independent British film produced by Karen Newman, written by Peter Machen and directed by Rebekah Fortune. Photo courtesy of Media Luna New Films
Just Charlie, the debut feature of British independent director Rebekah Fortune, won the Audience Award at the 2017 Edinburgh International Film Festival. It deals with a challenging subject, gender dysphoria, a subject so challenging but that it fails my computer's spell-checker. Dysphoria exists - get over it!
According to the website NHS Choices (though dysphoria isn't a choice), gender dysphoria is a condition where a person experiences discomfort or distress because there is a mismatch between their biological sex and gender identity. It is sometimes known as Gender Identity Disorder, gender incongruence or transgenderism. (Transgenderism also fails my computer's spell checker – what is wrong with you?)
The British film, written by Peter Machen, who developed it from a short, Something Blue, and produced by Karen Newman, who raised completion funds through the website IndieGoGo, tells the story of 13 year old Charlie Lyndsay (newcomer Harry Gilby) who at the start of the film is a promising footballer. He is the kid who scores the winning goal, acclaimed by his mates but shy and unassuming. He bonded with his dad Paul (Scot Williams) over the game and has been spotted by a talent scout at a recent match. If he plays his cards right, he could end up in an academy.
But Charlie has hit puberty. He is more interested in his sister's dresses and her make-up. Disappearing into the woods, he dresses as a girl, and is seen by his coach.
Charlie doesn't want to play football with his team any more. He avoids his best pal. He only feels authentic in women's clothing. His mother, Susan (Patricia Potter) accepts his transformation as does his elder sister, Eve (Elinor Machin-Fortune). Paul does not. He is fuming. What is Charlie playing at? When is he going to go back to being normal?
We don't get the full picture of Charlie's experience, for example how he adjusts to school knowing he cannot transition. He abandons his team and his friend but joins a girls' team where they only know him as a girl.
This transition isn't straight forward. In the boy's team he was a star, in the girls' team, Charlie has to fit in. But fit in he does. In this new environment he can be a girl he was supposed to be.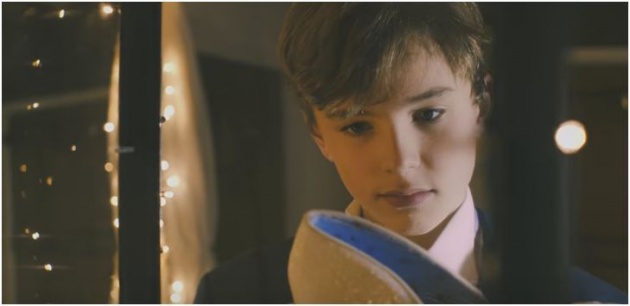 Still: Charlie (Harry Gilby) is fascinated by women's shoes in 'Just Charlie', a drama directed by Rebekah Fortune. Still courtesy of Media Luna New Films
There is the small matter of his best friend, who rejects Charlie when he discovers the truth. Their two fathers argue in a pub and it is Paul who is told that he has to leave.
Charlie puts himself in an awkward situation when going out with girl teammates. The boys are staring and expect something from Charlie, something even a thirteen year old girl might not be ready for.
The film builds up to a wedding and you know what the 'happy ending' money shot will be. Just Charlie has something important to say but it doesn't entirely feel authentic. It has a point of acceptance for sure but is only really at the beginning of Charlie's full transition. It isn't a depressing film, though. It acknowledges the mixture of feelings that such a transition produces. Gilby is totally convincing as the boy who believes he's a girl and is convincing in girl's clothing – though this isn't always true of transgender people, who have an even harder time than Charlie does.
Fortune's film feels entirely outside its subject looking in. It does not celebrate the power of confidence in one's new, proper identity. Freak Show, a film about a transgender boy (Alex J. Lowther) starting in a new school, does that more successfully.
Reviewed at Edinburgh International Film Festival, Friday 23 June 2017, 18:15 screening, Cineworld Fountainbridge, in the presence of its producer, director and star