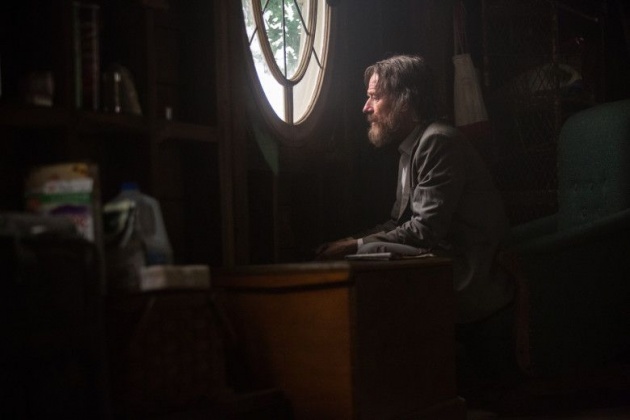 Pictured: Howard Wakefield (Bryan Cranston) abandons life as he knows it in 'Wakefield'. Still courtesy of IFC Films
Wakefield, adapted from a short story by Edgar (E.L.) Doctorow by the writer-director Robin Swicord offers a profound study of masculinity in crisis. It tells the story of a middle-aged, New York City lawyer Howard Wakefield (Bryan Cranston) who decides one day not to go home. Instead, he moves into the garage opposite, observing the effect of his absence from a distance. Swicord films the drama entirely from Howard's point of view. We can see, but not hear, his family. Instead, there is an over-reliance on voice-over. In the interest of full disclosure, voice-over is one of my least favourite filmic shortcuts in movies. At its worst, it negates the image and tells us what to think. However, this is premium voice-over. Howard is an intelligent, articulate if unlikeable man and Doctorow is a terrific writer. The film takes us to a place we have not seen before. Imagine a version of It's A Wonderful Life in which Jimmy Stewart's character snarls and curses his family after his death. This gives you something of the tempo – and the non-commercial nature – of Swicord's film.
Howard's wife, Diana is played by the estimable Jennifer Garner and we discover early on that Howard hates other men looking at her. He hates it and yet he is turned on by it. Howard's jealous ranting about Diana inviting the attention of other men morphs into the beginnings of sex. Mrs W is not amused. Howard is immature. She knows it; we know it.
We discover, through flashbacks, that Howard won Diana after lying to a colleague, Ben Jacobs (Ian Anthony Dale) about having slept with her. His rival rows with her and abandons her, allowing Howard to console and eventually marry her. He is a sham, a fraud, never able to confess his manipulation. As he watches his family and becomes a vagrant himself, he reflects upon it.
A conventional narrative would frame the drama as a redemption story: Howard faces up to his lies. Wakefield is more sophisticated. His external vagrancy is a manifestation of his internal shabbiness. As he curses his mother-in-law (Beverly D'Angelo) and 'comically' derides his wife for calling the police (what did he expect) we view him critically.
Part of the function of a voiceover is to closely align the viewer with the protagonist's point of view. So we find ourselves forced to share Howard's unsympathetic view of the women in his life, extending to his two daughters. Yet he is not all bad. In contrast to his neighbours, Howard did not object when a home for people with Downs' Syndrome was set up in his street. When snow falls and he feels the cold, they become unexpected helpers.
The drama comes from the fear of discovery – if Howard is going to reveal himself again, it will be on his terms – and his struggle to survive without using money. He subsists precisely because of a waste economy. Americans – at least in the affluent suburban neighbourhood where he lives – prepare more than they can use. They throw away perfectly good food, especially at Thanksgiving – though not Mrs Wakefield as she celebrates the holiday with her mother. Howard is also grateful that they throw away perfectly good shoes.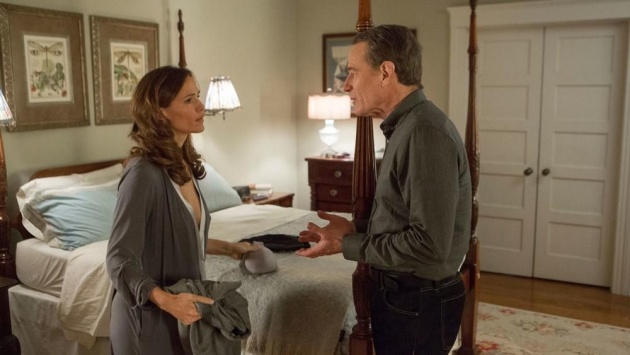 Pictured: Diana (Jennifer Garner) listen to her husband, Howard (Bryan Cranston) express his petty jealousy in 'Wakefield'. Still courtesy of IFC Films
Howard's decision to disappear is in fact an extension of his past behaviour, putting his wife under surveillance rather than enjoying her company. He is particularly cruel, not even having any love for his daughters. Howard's problem is entirely of his own making. He created the barrier between himself and his wife. His motivation is to experience the adrenaline rush of victory.
The dearth of dialogue, only in flashbacks, turns the film into a performance piece, a one man show. For much of the film's length, Howard's voice is the only one we hear, underscored by piano solos. Howard's family show rather than tell. He comes to the realization that they are better off without him. Although the story is cleverly worked out, its parameters are rather narrow. There is artificial tension when Howard fights for some shoes against organised rubbish collectors. He is one man against a hidden subculture. The action scene sits oddly in a film that is a long monologue. It also doesn't feel quite true.
Incredibly – or rather not so incredibly – Wakefield is only the 64 year old Swicord's second film as director. Her first was the 2007 adaptation of the novel, The Jane Austen Book Club. In an interview with the Los Angeles Times, she describes how she almost directed a film in the intervening years but was told that the budget - $22 million – was too big for her. Wakefield was shot in 20 days and cost $3.7 million to make. In addition to directing, Swicord made soup and granola for the crew. I suppose making a film about a virtually homeless man brings out the soup kitchen impulse.
Cranston is a talented actor but he cannot make us care for Howard. The film does follow through. It illustrates how behaviour, once adopted, is a very difficult thing to abandon. Possessiveness in relationships is humankind's least attractive traits, explored in grim fashion in Swicord's film.
Reviewed at 2017 Edinburgh International Film Festival, Saturday 1 July 2017, 15:30 screening, Cineworld Fountainbridge, Edinburgh