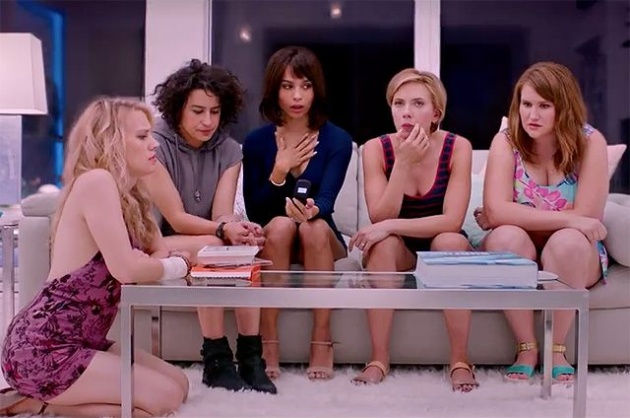 Image: The cast of Rough Night go through their options: from left to right Kate McKinnon (kneeling), Ilana Glazer, Zoe Kravitz, Scarlett Johansson and Jillian Bell. Still courtesy of Sony Pictures
The first laugh in a comedy is the hardest. The longer you wait for it, the more impatient you get. When there is something vaguely humorous, you begrudgingly acknowledge it but don't enter the party spirit. You wait instead for the introduction of a comedy element at a different register, a Robin Williams at full blast or Steve Martin turning up as a dentist in Little Shop of Horrors (the musical). If it doesn't happen, the film becomes tedious. Bad comedies are like food that has gone stale, wine that has turned to vinegar or a box set on VHS format left close to a magnet. No, no, no.
So how do you get that first laugh? First off, you establish a convention: a Jaws-like scenario at the beginning of Airplane, a serious documentary voice at the beginning of Take The Money and Run. If you try to be funny right from the first beat, you will fail – and fail hard. So Ghostbusters (1984) begins with a ghost attack in a public library. Then you bring in the comedians. They make big entrances as the disruptors, the bringers of chaos, with unrealistic expectations and off-kilter observations. They are the smartest people in the room but not necessarily the smartest people in real life. They have a different way of seeing things, potentially over-anxious but also fool-hardy. Fool-hardy is in fact a brilliant word to describe them; they are emboldened by their skewed viewpoint.
Double acts are often quick ways of generating laughs. You have the straight one, the one who represents order, and the mouthy chaotic one. At the beginning of Rough Night, a female-centred comedy about a bachelorette party that goes awry co-written and directed by Lucia Aniello, whose credits include the TV series Time Travelling Bong, Jess (Scarlett Johansson) is the straight sensible one who is game for beer pong; this, after all, is what Avengers do in their down time. Alice (Jillian Bell) is the wild and crazy one, the gal who can project a ping pong ball from her mouth into a beer cup several meters away. Go, Alice! Bell created the TV series Idiotsitter and cut her teeth as one of the writing team on the 2009-2010 season of Saturday Night Live. She projects desperation to impress, with a skewed sense of what is important. The opening of the film is set in 2006 when the young women are at university. Alice needs the validation of Jess to be super-crazy and successful, and she is strong enough to carry Black Widow, sorry Jess, on her shoulders, even though Jess bangs her head as Alice passes through a door.
The reason this opening isn't particularly funny is that it establishes a chaotic mise-en-scene to begin with, so there is no disruption. We are invited to sympathise with Jess and Alice as they are trying to beat frat boys at a man's game. But there is no comedy equivalent of a 'money shot' as Alice spits that ball. The slapstick exit is no pay-off. Only if Sca-Jo had come across as super-arrogant, we might have laughed.
The 2006 sequence ends with Jess and Alice being joined their besties, curly-haired future militant activist Frankie (Ilana Glazer) and super-cool Blair (Zoë Kravitz). Then a fifth girl turns up to crap in their room – yes, literally – and the filmmaker cuts to ten years later.
Scarlett Johansson may be the reason the film doesn't quite work. She's done comedy before, notably playing Ivanka Trump on two episodes of Saturday Night Live. Her biggest successes have been in the Iron Man-Avengers franchise and as Lucy. In both, she kicks ass. She hasn't established herself as an actress with range or as particularly empathetic. She also doesn't do self parody. In some ways, Johansson plays safe, when she isn't playing the love interest in We Bought A Zoo. She doesn't play characters that drive the narrative with their desires. Rather they find themselves in situations where they are forced to act or else, as in Under the Skin or Ghost in the Shell, they are other-worldly. If anything, the Scarlett Johansson that we see on screen is not of our world: she has super powers.
I can understand why she would make this film, but we don't want to see Johansson as cheer leader or even as a politician worried about her social media impact as she is here. She should be driving the comedy.
The plot has the soon-to-be-married Jess taking a break from her campaign to be senator to fly to Miami for a bachelorette party organised by Alice. Alice promises a wild night of drinking, dancing and foam. She even opens a bottle of champagne at an airport, which makes a sound like a gun – this is one of the better gags. Jess has invited along her best friend from Australia, Pippa, played by the estimable Kate McKinnon, who excelled in last year's remake of Ghostbusters. Although we wait for McKinnon to take over the film, Bell keeps her in check.
When Alice decides to introduce cocaine into the proceedings, our sympathies go south. Why would Jess be risked being photographed taking the white powder if she is running for office. Indeed, how could she possibly be tough on crime, tough on the causes of crime, if she indirectly helps Colombia's gross domestic product? Your jaw drops – well, mine did. Nevertheless, they partake and we stop laughing – well, most of us do. Then they go on stage and perform a party piece, though Jess drops Alice. How could she? She has 99.9% brain function.
The rivalry between Alice and Pippa powers the first half of the film. Alice wants to be the better friend, but Pippa has exclusivity rights after Jess took a post-graduate course in Australia. Jess is convinced that Pippa can easily slot into the group, ignoring the tension with Alice who calls her 'kiwi' and undoes her seatbelt while they are driving - we don't see this, but it is talked about. There is tension too between Frankie and Blair. They used to be lovers before Blair got married. Now Blair is in a bitter custody battle with her ex, who complains that she is twenty minutes late handing over their son into his care; he's taking photographs. Finger signs are exchanged. The film is at least daring enough to normalise lesbian feelings, though pushes it when at one point, Blair is pleasured by a Miami swinger, played to the hilt by Demi Moore.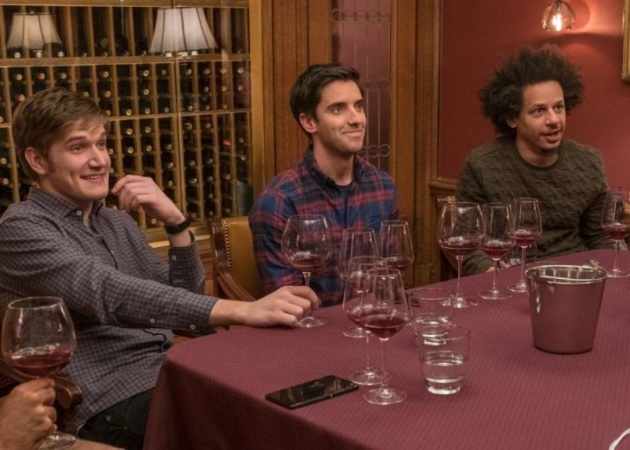 Pictured: while girls night goes awry, the guys merely go Sideways. Paul W. Downs (centre) in Rough Night. Still courtesy of Sony Pictures
I'm getting ahead of myself and I have not even got to the inciting incident. The quintet – including Pippa with luggage – return to the glass walled beach house that Jess has rented for the weekend (it's from one of her donors, another red flag) and then a stripper is ordered. A guy comes in looking extremely uncomfortable. He disappears for a moment before making a move for Jess who is sitting expecting the typical male stripper close-proximity bump and grind. 'Oh, I'm getting excited,' says Jess unconvincingly. Then the guy says something along the lines of 'you know you want it, you little' and Jess recoils. Then Alice jumps on him, he falls back, knocks his head and dies. Pandemonium ensues.
With a dead body in the house, each of the five women has something to lose: Blair her son, Jess political office, Frankie could go to jail on the three strikes rule, Alice the respect of her class and Pippa. Well, maybe Pippa doesn't have anything to lose. She's a singer songwriter, between melodies at the moment. Moreover, there is blood on the floor. Jess said that they must be careful with red wine, never mind rhesus negative. One of the women knows a lawyer who defended Bernie Madoff – there is always one – and they are consoled by his advice, only they mustn't touch the body. However, they have moved the body. The only place they can store it without it being seen is the leather sex seat – the owner has read 50 Shades of Grey or felt the red room would add to the real estate value. The preceding set-piece has two of the women head off with exfoliating cream disguising their faces to persuade an elderly couple to buy them a 'burner phone' (so they can call the lawyer). The old folks are dismissive in a foul mouthed way.
There is a set-piece involving a garage door, an attempt to hide the body at the bottom of the ocean and then the worrying suspicion that they have been caught on camera by the neighbours' CCTV. Oh and Pippa is bitten by a dog. The film is nothing if not busy. Crucially Jess' fiancé (Paul W. Downs, the other co-writer) believes that she has rejected him – he is having his bachelor party, a wine tasting, at the same time - another quite good joke. He decides to be a Sad Astronaut and get to Miami the fastest way possible. Cue a trip to buy male adult nappies at a convenience store for the long drive ahead, before being sent back by the shopkeeper ('they leak'). He then gets the right pair as well as a pallet of cans of Red Bull.
I won't spoil the rest of the film, but will reveal that you have to stay to the very end of the credits, to see the last loose-end tied up. I won't say too much about it, except that it involves 'Weenie Linguine'. Bo Burnham turns up as a motorist seeking a blow job and offering crystal meth. It is amazing how many motorists look for this on the road.
Johansson is literally called in to action in the climax, where her superhero back-catalogue comes into play. There is also a routine about a woman using her feet to pleasure a man – don't ask.
Male gross-out comedies work on the premise that it is extremely difficult for men to have sex, without paying for it, either with cash or emotional guilt. Female gross-out comedies involve body-shaming the deployment of hair removal strips, even though all the cast of Rough Night look like they use them. It's not the same.
The film cops out somewhat by a man coming to the women's rescue – the film's politics aren't that radical. The climax suggests a crisis of confidence; maybe the all female Ghostbusters went too far. Incidentally, its director, Paul Feig, is thanked in the end credits.
There are, finally, too few laughs in Rough Night to recommend it. It deserves kudos for trying. Jess learns a valuable lesson about what is important – not her constituents, but the people around her. Pippa gets to perform 'the Kiwi Song'.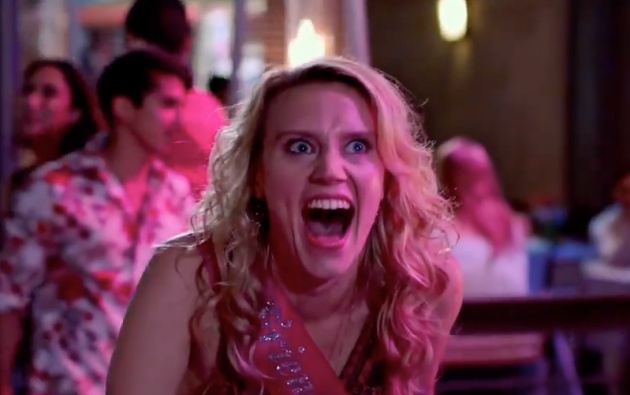 Sash-watch: Kate McKinnon in Rough Night. Still courtesy of Sony Pictures
Rough Night is more memorable than last year's 'bad girl' comedy, Bad Moms, written and directed by The Hangover writers, Jon Lucas and Scott Moore. This is hardly a high bar. My fear is that Aniello won't be given the chance to helm another studio comedy - Rough Night is produced by Columbia Pictures. I feel that Aniello and Bell have a better film within them.
Reviewed at Cineworld West India Quay, East London (Screen Four), Saturday 26 August 2017, 20:40 screening