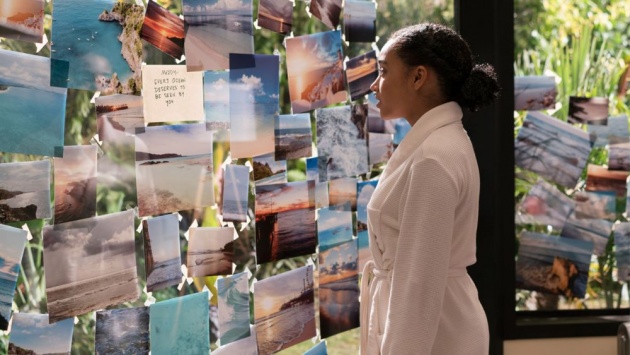 Pictured: Maddy (Amandla Stenberg) is photo-bombed by the boy next door in 'Everything, Everything'. Still courtesy of Warner Bros
Everything, Everything, directed by Stella Meghie (Jean of the Joneses) is adapted by screenwriter J. Mills Goodloe (Age of Adaline) from the debut 'young adult' (YA) novel by Nicola Yoon, first published in 2015. It deals with an eighteen year old girl, Maddy (Amandla Stenberg) who has a genetic disorder known as SCID – Severe Combined Immunodeficiency Disorder. The disease is rare but real – it is also known as bubble baby disease. The most famous 'bubble baby' was David Vetter, born in 1971 but died twelve years later. His condition inspired the John Travolta TV movie, The Boy in the Plastic Bubble, which aired in 1976. In real life, children born with David's condition can live normal lives, thanks to a breakthrough in treating SCID which was achieved in 2002. This involved a two year old Palestinian girl, Salsabil, being treated with non-myeloblative conditioning. The process involves isolating haematopoietic blood cells and reprogramming them to contain the adenosine deaminase gene. You can read the account in https://www.yourgenome.org/stories/treating-the-bubble-babies-gene-therapy-in-use.
The film of Yoon's novel imagines that this 2002 case history was not available to Maddy, which is fair enough. However, the idea that folks can regularly come and go in Maddy's home, sealed from the outside world by a single airlock, is scarcely believable. You want to know how the oxygen in the home is cleaned and how visitors are sterilised before entering Maddy's space – we see them washing their hands, but is that enough? You have to suspend disbelief, but then the YA genre gave us vampires and werewolves in Stephenie Meyer's Twilight series and dystopias in The Hunger Games. Incidentally, the two stars of Everything, Everything, Stenberg and Nick Robinson, have the leading roles in two forthcoming films of YA novels, The Darkest Minds, from Kung Fu Panda 2 director Jennifer Yuh Nelson, and Simon vs. the Homo Sapiens Agenda, directed by Greg Berlanti (TV's The Flash) respectively.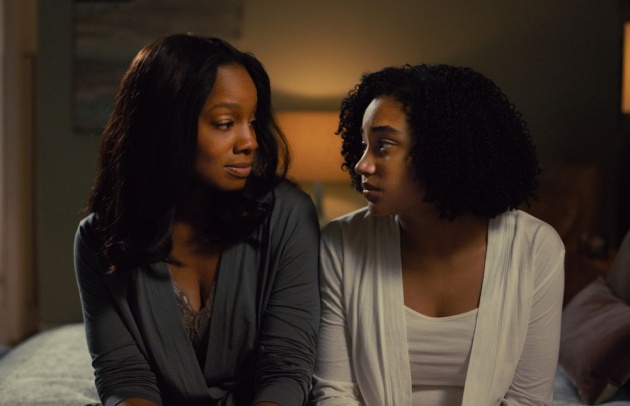 Pictured: Mom (Anika Noni Rose) explains to Maddy (Amandla Stenberg) that SCID is not short for skidaddle in the drama 'Everything, Everything'. Still courtesy of Warner Bros
Maddy has never left home. She has been home-schooled. She corresponds with other kids with SCID over the internet. Of course, she has never been in love. All this changes when a new family moves next door. Olly (Robinson) and his sister bring over a torte. It is something they are encouraged to do – a kind of tortious interference. Maddy's mother, a Doctor no less (Anika Noni Rose) declines it but asks Olly to thank his mother. Olly and Maddy then exchange texts. The relationship is encouraged by the home help, Carla (Ana de la Reguera). Before long, Olly is allowed a supervised visit. Then he tempts Maddy with the ocean and she decides to risk her health – and her mother not noticing that she has ordered a credit card – to fly to Hawaii for a one and only vacation with Olly.
I don't want to spoil what happens next, but there is a certain logic that is only apparent later. The film is about love emboldening people to take big steps. It deals summarily with the consequences of such action. The drama hinges on Olly idolising Maddy and Maddy seeing that Olly's own life is far from glamorous, with a father who keeps losing his job, forcing the family to move constantly. There is a fairy tale set-up inherent in the story too. Maddy is like Rapunzel or any princess trapped in a tower. But she isn't rescued. Instead she chooses to leave of her own volition.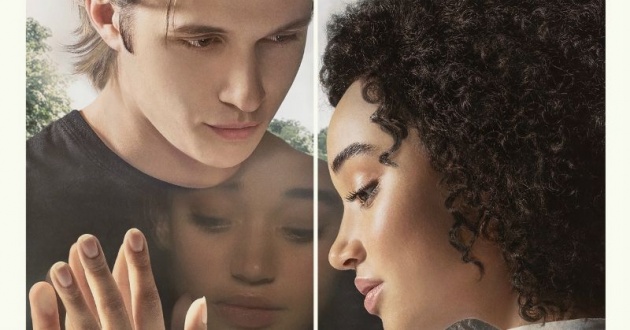 Pictured: The double-glazing between us. Olly (Nick Robinson) and Maddy (Amandla Stenberg) in 'Everything, Everything'. Still courtesy of Warner Bros.
Buoyed by two charming leads – the film would collapse if Stenberg and Robinson didn't have chemistry – it is at its best when Maddy first leaves her house and the soundtrack is delicately heightened. We appreciate that from every step onward, every sound and sight would be new to her. A ride in a car- let alone an aeroplane – would be unusual and Maddy would have no idea or normal speed.
Strangely though, for all the fact-based set-up, the drama is un-moving; the film has none of emotional impact of last year's Me Before You, another disability based love story, starring Emilia Clarke and Sam Claflin. Here, the set-up is perhaps too fantastic and the second half of the film rests on a twist. Pleasingly, though, it is entirely a female-led drama, with every decision that drives the action initiated by female characters, complete with English nurse Janet (Marion Eisman). In this sense, Everything, Everything is a satisfying movie. It doesn't capture your heart but the sentiments feel right.
Reviewed at Kinepolis Ghent, Screen Six, Belgium, Saturday 19 August 2017, 19:45 screening. At the end of the performance, the audience put their litter in bins provided at the front of the cinema. Incredible!