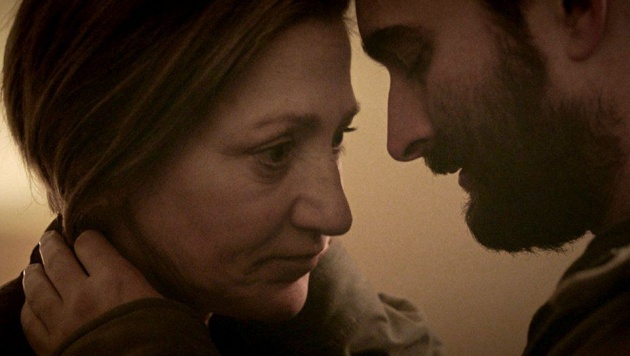 Pictured: A rare moment when Carol (Edie Falco) doesn't smile, opposite bearded ex-con Chris Connolly (Jay Duplass) in 'Outside In', written by Lynn Shelton and Jay Duplass and directed by Lynn Shelton
In the Church of Mumblecore - low-budget, low-fidelity, independently-produced American films made between 2002 and 2009 - Greta Gerwig would be the High Priestess, obvs. Lynn Shelton, writer-director, who came late to the game, would be the organiser of community improvement activities. She would be herding her co-filmmakers to go out and clean the graffiti on President Obama posters ('why does that one say 'Yes, We Cancun'?'). Shelton began her career with the documentary short, The Clouds That Touch Us Out of Clear Blue Skies, which sounds like a motto on the wall of a Waffle Dog outlet. (A Waffle Dog is actually a thing; I thought I made it up!) Taking its title from a W S Merwin poem, it describes what it is like to lose a baby through miscarriage. Shelton released her first feature in 2006, We Go Way Back, about a young actress, Kate who, at aged 23, looks back at her 13 year old self. The hero is played by Amber Hubert and Maggie Brown, jarringly in the same reality. (OK, I'm interested.) She followed it in 2008 with My Effortless Brilliance, which sounds like an homage to Gillian Armstrong's My Brilliant Career – I almost typed 'My brilliant Carer', which I hope I can look forward to in the decades ahead. Effortless is about two male friends (Sean Nelson and Basil Harris, who also collaborated on the improvised screenplay) who fall out and meet some time later at a log cabin to work things out. Log cabins, as it turns out, are central to Shelton's oeuvre and to low-budget cinema in general. You can control the environment and don't have to ask for a permit. A Shelton character hides in the woods - is discovered in the woods, expresses their most artistic tendencies in a log cabin; just don't tell, all right? Shelton has pretty much staked out the Pacific Northwest (Seattle, Washington State) as her turf. This is her Manhattan, with log cabins, bicycles and parties where guys make embarrassing trailing speeches, which express truth but not for the purpose of garnering much sympathy.
Shelton's claim to prominence was the 'pow-wham' 2009 comedy-drama, Hump Day, about two heterosexual guys (Joshua Leonard, Mark Duplass) who agree to star in the own gay porn film. Like, why would you go there? Men, it turns out, are ultra-competitive. Who knew? Hump Day was the first Shelton film to get UK release and she followed it with the traffic-stopping Your Sister's Sister (2011), about a guy (Mark Duplass) who has lost his brother, is secretly in love with his late brother's girlfriend (Emily Blunt) but sleeps with her (gay) half-sister (Rosemarie Dewitt).
You can see why it stopped traffic.
I am a big fan of Your Sister's Sister. It is the first film I saw that made me glad I survived my heart attack. Efforts to put that quote on the poster sadly floundered. It had the structure of a farce, set in a log cabin you could die for (pun rather sad). It also proves that any movie can be improved if you add Emily Blunt to it, except Salmon Fishing in the Yemen.
Lightning didn't strike a third time with either Touchy Feely (2013) or the director-for-hire assignment, Laggies (2014) starring Keira Knightley, Chloe Grace Moretz and Sam Rockwell. Heck, where were the log cabins?
Never stops smiling
Now she's back after a spell directing for television (episodes of New Girl, The Mindy Project, Fresh Off The Boat, Master of None, Casual, Santa Clarita Diet) with her first feature in three years, Outside In, a veritable return to form, with not so much a log cabin as a tree-house. It stars Jay Duplass as an ex-convict, Chris Connolly, who was released from prison following a campaign by his former High School English teacher, Carol (a beatific Edie Falco – she never stops smiling, really). Filmed in the Seattle area, it begins with a car tooling down a forest road with a shot of Chris looking out of the window up at the rain whilst eating a wilted French fry. He looks sort of happy – like child-happy. He has not done this in a long time – looked up at the rain, eaten wilted fries with his fingers (you want to handle prison food?), eating in his brother's car. Heck, his brother can drive. We see beads of rain slide across the side window. When he arrives at his destination the smile vacates his face. He is at his brother's place where there is sort of a surprise party. It's not really a surprise party if you know they're in there, right? They might think they are surprising you but, really, get over it. Chris greets the tsunami of well-wisher affection with the humour of a surfer who allowed an excellent wave to crash against him. Yeah, whatever!
He makes one re-acquaintance and one new acquaintance. He waves hi to Carol, to whom he cannot express enough gratitude. He meets, for the first time, Carol's daughter Hildy (Kaitlyn Dever) who is decorating the inside of his brother's toilet with a star made out of Q-Tips. Nice to meet you too!
What follows is a triangle of inappropriate relationships, something of a Shelton speciality. Chris kinda falls for Carol. Hildy sort of falls for Chris! None of this should be happening. Indeed, Carol is almost old enough to be Chris' mom.
Shelton covers Chris attempt at reintegration and the Awkward Dilemma in quick brush strokes. In her school staff room, Carol discusses Chris with a colleague. 'I think he has a crush on me.' 'I wish I had a thirty-eight ex-con running around my kitchen,' replies the colleague. A woman moves to join them. 'English department only,' he snaps.
Chris asks his brother (Ben Schwartz) why he didn't visit him in prison. That said, he is a bright guy and he could have figured it out – it's the film's one flaw. He does not read his mother's letter, pocketing the money that she sent to him instead. Where was she when he got released?
Potential Seattle Grunge Band Name: 'Twenty Years of Rust'
He experiences something akin to joy riding his old bike – one described later as having 'twenty years of rust'. The bike is way too small for him – he probably rode it when he was thirteen. He finds his other stuff perfectly preserved - all his VHS tapes and music cassettes, a visually precise way of expressing how much the world has changed in twenty years and how far behind Chris has been left.
His pen hovers over a job application, the piercing question 'have you ever been convicted of a felony?' He doesn't want to say. He wants to keep in touch with Carol. His attention confounds her, though it manifests itself into a breakfast invitation, a pleasant enough meal that includes Hildy – Chris makes jokes about puking, which is the only way you can really discuss it. The mood sours when Ben, Hildy's father, turns up. 'May I be excused?' asks Hildy as Ben squeezes next to his wife, the family facing Chris rather like - it has to be said - a parole board.
Carol's marriage is clearly in trouble, but Ben blames Chris for totally occupying his wife's spare time. Hildy's relationship with her mother is troubled too. She is shocked that Carol expresses interest in her.
Chris' job search takes him to a convenience store where Hildy works. Chris has 'forgot' his wallet, but Hildy serves him a corn dog with fries, gratis. 'Thank you for your custom,' says Hildy pointedly as he leaves. It is at this point that we learn exactly what happened to get Chris convicted.
Enough of the plot! What you want to know is: what's great about it? Deviating from the normal form of film reviews, here's a list for busy readers:
· The performances – Duplass and Falco have great chemistry
· The dry comedy (see above)
· Shelton's generosity towards her characters – she really, really likes them, except for Carol's husband, who is a bit of a B
· The fresh take on the 'ex-con coming home' story
· Jay Duplass' childish delight in a bicycle, happier than Pee Wee Herman (see above)
· Hildy's art project, not exactly The Gates (26 years in the making, mile upon mile of billowing fabric) more tapered
· Andrew Bird's closing song 'By Any Means'
· The moments of near farce
· The moments of well-observed interaction
· The moments of reconciliation
Reader, I was sold!
PS: If you want to see a Mumblecore director go down a different path, check out the work of Megan Griffiths (Eden, The Night Stalker) – more Swanberg than Bujalski.
Reviewed at Toronto International Film Festival, Saturday 16 September 2017, ScotiaBank Screen One, 09:00am screening 90% full