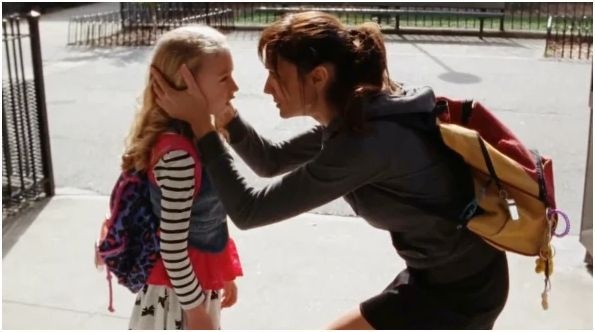 Pictured: 'That's the last time I buy you a Cornetto'. Luciana (Ana Asensio) negotiates the terrors of childminding in 'Most Beautiful Island'. Still courtesy of Glass Eye Pix
In the film industry, as in many creative areas, it is not enough to complain that you aren't given the opportunities to showcase your talent. You have to make those opportunities yourself. Actress turned writer-director Ana Asensio (born in Madrid in April 1981, but now based in Brooklyn, NY) did just that. She made her feature debut, Most Beautiful Island, about what she knows - being an invisible - that's my word, not hers. By invisible, I mean the countless foreign workers in menial jobs barely making rent money who scratch a living alongside the successful. What separates them? Respect! If you give someone regular employment, they have a title - executive assistant, customer service professional, whatever. If you put people on the end of a telephone, waiting for an assignment, they have no respect. If you give them a few hours of work, but not enough to make a living, that's not respect. Luciana, played by Asensio, is such a woman. She owes rent. She has multiple jobs. She has to make the best of opportunities without seed money. She puts her life on the line, answerable to people who don't give a damn about her wellbeing.
The 'most beautiful island' of the title is Manhattan. It can suck you dry, billing you for the experience. There have been many films about the corrosive effect of New York City, including this author's favourite, Taxi Driver. It is full of self-absorbed people, where proving yourself is paramount. You don't wear shoes with sponges on the bottom as you climb your way over people to the top, a destination occupied fleetingly, though you tell yourself that's not going to be the case for you. Digging your heels on the backs of others hurts them; you ignore their yelps of pain.
At the start of the film, Luciana enters a doctor's surgery. She needs pills, but doesn't have insurance or $75 for an appointment. When the receptionist is called away, Luciana slips into a consulting room. The doctor (David Little) is outraged; she could get him fired. 'Olga sent me,' Luciana explains. Compassion overcomes him. 'You know Olga?' Luciana has a range of symptoms, including nosebleeds. 'Have you taken any drugs?' Luciana shakes her head. 'What happened? Where have you been?' What follows is an account of the previous 24 hours.
You might know the song 'Perfect Day'. This isn't that. Luciana's hand to 'don't touch my milk in the refrigerator' mouth existence is fractured. You've heard of life hacks (advice to get the best out of stuff); Luciana is life-fracked. She returns home, passing a God-invoking Bible belcher in a subway station, exhorting no one in particular. You wonder briefly whether religious fanatics have pitches like buskers - the best place to save souls. Do they have to give up their spot after one hour to an advocate of another religion? Luciana finds a reminder 'rent due tomorrow' with a surplus of exclamation points. She turns the note into a paper aeroplane, writing on it in red ink 'most beautiful island' and casts it out of an open window. It could be an SOS.
Luciana is in demand. She joins her friend Olga (Natasha Romanova) to don chicken masks and stockings – over different body parts of course – to promote the Big Apple's Best Chicken. They even offer apples with flyers. Somewhat shockingly, they cast their masks in the garbage. That is a work uniform, regardless of how demeaning it is to wear. Someone may reuse it. They go for a coffee or rather sit in a cafe watching other customers leave having purchased something. Olga has a job that she cannot make – an opportunity to earn $2,000 for one night's work to go to a party. Could Luciana fill in for her? She could use the cash and agrees, even though she and the audience are apprehensive.
There are of course preparations to be made. Luciana needs a black dress. Asensio demonstrates the not to be recommended technique of getting a cut price dress from a boutique. I won't describe it here, but it looks plausible, if really unfair on small retailers (remember what I said about those heels). Then she has to collect a couple of kids from school. The kids are the opposite of cute. They scream entitlement, want to get Luciana in trouble, are not placated by ice cream – and then, well, I won't spoil it.
Then there is getting to the party itself, which involves promises ('I can't pay for this taxi ride – I'll pay you tomorrow') and being given a locked black handbag by a man in Chinatown. The address of the 'party' is on the edge of town. Unable to bring anything with her except the black handbag, Luciana hides her possessions in a trash receptacle and then enters the unknown.
As far as plot synopses go, that is as much as I can describe without dulling the impact of what happens next. Suffice to say, the tone darkens considerably. It is a criticism of the film that it resembles an expanded short. The subsistence of the film is contained in the second half. We are in Hostel territory, albeit in the hands of a director who does not do conventional torture porn. The final thirty minutes is a white knuckle ride. Asensio demonstrates that the most horrific thing by far is what you imagine is happening in the next room, meted out by people who have paid a lot for an illegal, exploitative privilege.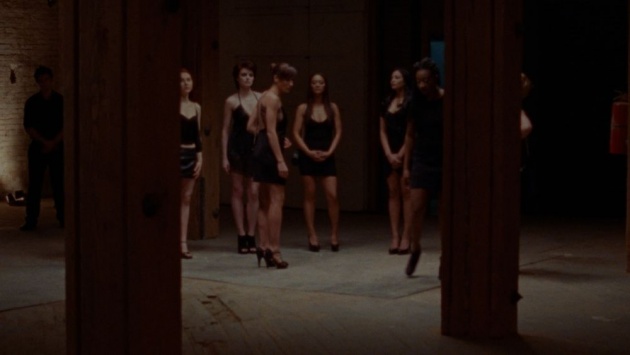 Pictured: 'Party time!' Luciana (Ana Asensio) and friends await their fate in 'Most Beautiful Island'. Still courtesy of Glass Eye Pix.
In all three departments (writing, acting, directing) Asensio distinguishes herself. She has made a debut feature that emblazons itself on your memory and grips you completely in its final third. Thematically it is entirely consistent. The city makes its inhabitants bury their humanity and place themselves at the mercy of caprice.
Most Beautiful Island was shot in 2015 – you see a poster for 'Focus' starring Will Smith on the aforementioned subway station - but was developed in 2010 by Larry Fessenden's production company, Glass Eye Pix. The route to cinemas was long but rewarding. The film won the best narrative feature at this year's South by South West (SXSW) film and music festival and has been picked up for distribution in the UK.
Reviewed at PictureHouse Central Screen 7, Shaftesbury Avenue, 15:40, Saturday 7 October 2017, London Film Festival Press and Industry screening