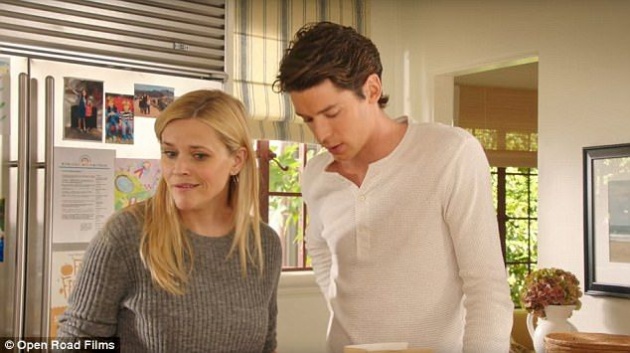 Pictured: Alice (Reese Witherspoon) and Harry (Pico Alexander) share an awkward moment in the kitchen in the un-romantic comedy 'Home Again'. Still courtesy of Open Road Films
Home Again, the debut feature of writer-director Hallie Meyers-Shyer (born July 1987) is not a movie – it's a sit-com pilot. It will remind you (if you have ever watched them) of New Girl crossed with Cybill by way of Two and a Half Men. Newly separated mother of two, Alice Kinney (Reese Witherspoon) moves back to Los Angeles to settle back into the house where she grew up. On a night out with friends to celebrate her fortieth birthday, she meets a group of would-be filmmakers – director Harry (Pico Alexander), lead actor Teddy (Nat Wolff) and screenwriter George (Jon Rudnitsky) – and ends up taking them home with her. They happen to have run out of money for a hotel, so whoopee for them, though they seem to have enough to buy rounds of drinks. Harry ends up in Alice's bed, though Alice left him to it, sleeping on the sofa. She happens to be the daughter of the late celebrated filmmaker John Kinney and the actress Lillian Stewart (Candice Bergen). The guys have multiple freak-outs: the sheets are so soft; the house is so clean; Harry's vomit stained clothes have been washed. Alice was up at five-thirty so she did a load. Then they discover that this is John Kinney's house. Ecstasy! Then Lillian Stewart turns up, with Alice's two daughters. What the heck. While Alice takes her two girls, Isabel (Lola Flanery) and Rose (Eden Grace Redfield) to school, Lillian, flattered by the young men's attention, makes them breakfast and feel right at home. She persuades Alice to let them stay until the deal they are hoping to seal – a feature-length version of an acclaimed short – comes to fruition. The 'deal' is complicated by Harry falling for Alice and Alice's music producer ex, Austen (Michael Sheen) hoping to angle himself back into the frame.
None of this is particularly like real life. This is the premise for a situation comedy that keeps partly quirky but entirely photogenic actors – young and old – in orbit around a lead character whose inherent perkiness and motherly can-do keeps her from lapsing into neurosis. Plus – we learn from this movie – whenever things get emotionally icky, they can be softened by a guitar on the soundtrack, a descending chord. Really, you think you can get me with the descending chord trick? Who do you think you are, oh daughter of film directors Charles Shyer (second unit on this) and Nancy Meyers (on producer and supportive mother duty)?
And yet, there is something agreeably subversive about the film's premise, how a woman can function best with three men in her life: a hunky male clothes horse whom she wants to be 'there' for her, his would-be action star brother and the thoughtful screenwriter who provides 'emotional support' to her oldest daughter, Isabel. Emotional support - young Isabel, he's a stalking horse who is going to have confused sexual feelings about you when you turn seventeen, something for season four. In Meyers-land, there is something innocent and well-intentioned – so well-intentioned, it will remind you of Alice's freshly laundered sheets – about George, even when he gets a job re-writing a horror film. Incidentally, when it comes to Harry's clean clothes, is this a reference to the Band's song, 'The Weight': 'get a load off Alice, get a load for free'. I'm not sure where 'putting the load right on me' fits in.
The film has fits and starts that never erupt into Major Issues. Alice gets a job as interior designer to society lady, Zoey (Lake Bell) – if you are going to pay homage to New Girl, in which a teacher (Zooey Deschanel) shares a flat with three guys, don't name your Disney villainess after the lead actress (well, nearly). Zoey has no interest in Alice's ideas – 'such a lot of blue' – rather using Alice as fill-in baby sitter and leverage. The big restaurant scene (I use this description modestly) has Alice on a date with a man her own age (so boring) spot Zoey with her husband and she tells her exactly what she thinks. Zoey is a white slaver, how dare she take on the Star Wars franchise? Wait, I'm thinking of something else.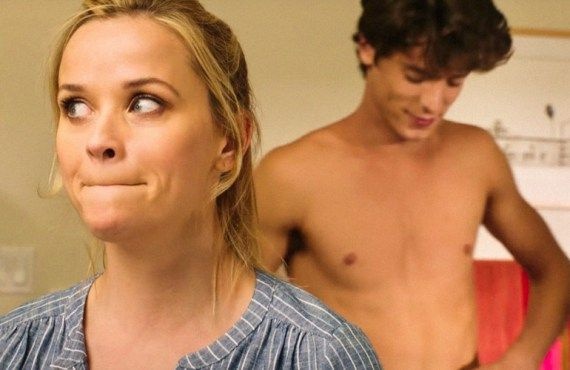 Pictured: Alice (Reese Witherspoon) turns her back on Harry (Pico Alexander) and a second Oscar nomination in 'Home Again'. Still courtesy of Open Road Films
What is Candice Bergen doing in this movie? She doesn't have to work anymore, after multiple seasons of the sit-com Murphy Brown. Well, it gets her out of the house, onto a movie set – the set is like her house, only with less light. At one point, I expected Bergen to burst into song – I have no idea if she can sing, but they have Idina Menzel for that – with Harry, Teddy and George providing Acapella support. The film has that vibe, complete with comedy drunkenness, Alice slumped outside a restaurant, abandoned by her date (so boring).
At certain points, Alice says something that could be the start of a real plot: 'am I going to be one of those women who turn a hobby into a career?' The real issue whether your friends should talk you out of it with the question 'where did you study interior design, Walmart?' Rather than say, 'you're so talented – really, they would be mad not to hire you'. There is the (topical) question of how accommodating should you be for your boss? (One for 'The View') and 'should I let my new boyfriend's young brother beat up the father of my children?' (This is one for Wendy Williams.) Worse, at one point, Alice complains: 'men do things. Women just talk.' Is this supposed to be ironic?
The scrap between 'action star' Teddy and bearded Englishman Austen is one of the film's biggest embarrassments. Seriously: who fights like these guys? In real life, Austen would have called the police and had Teddy arrested. But this is Meyers-land.
The most problematic character is Isabel, a neurotic teenager who just wants to be medicated like all the other kids her age. Really, let's unpack that. She has anxiety issues, but Meyers-Shyer does not delve into those. George encourages her to write and she comes up with a One Act play, 'Three Plus Three'. Only Lola cannot introduce it until George turns up. She needs to see him. Really, let's unpack that too! Meanwhile, Harry, Teddy and George are in the big meeting, the one where the money guy asks for Big Compromises ('Teddy for leading man? I'm thinking Channing.')
The film is at its best when it discusses filmmaking. This ultimately is a Disney movie, the antidote to Fast and Furious, another film about an extended dysfunctional family (yes, really). The big confrontation revolves around Harry's sensitivity: he doesn't want George to write something else or Teddy to go for auditions because to do so, they are giving up on him. Talk about male vanity.
There is no recognisable male behaviour in Home Again, a film where even the final theme song (by Carole King) is curtailed because they didn't quite believe in it. It is 100 minutes of candy floss. When I saw it, at a cinema in Leiden in the Netherlands, it was interrupted with an interval ('Pauze') on account of the audience being older and needing facilities or extra coffee. Unfortunately, the interval was so short that you would never get through the queue to the ladies before the film re-started.
Reviewed on Monday 30 October 2017, Lido Cinema Screen Three, Leiden, The Netherlands, 18:45 show