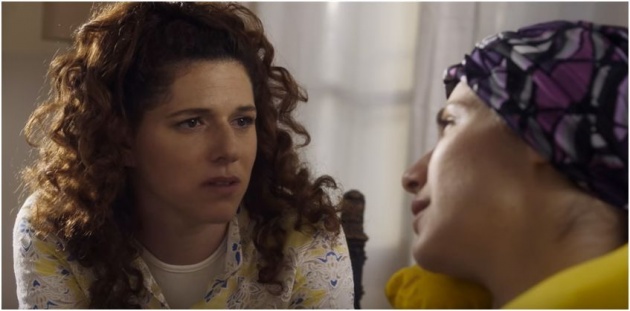 Romantic love is an arrogant folly. I'm not sure I want to believe this, but it is probably true. The idea of soul mates is absurd. Relationships develop through a mixture of desire, compatibility and an assessment of your life partner's skill set. There is a reason I spend Christmas Day in the kitchen – so that my family can hog the TV.
The Israeli comedy 'Through the Wall' (Laavor et hakir) written and directed by Rama Burshtein is about a thirty-something woman, Michal (Noa Koller) who is abandoned by her fiancé in the early stages of planning their wedding. Unperturbed, Michal books the hall anyway. She will marry on the 8th night of Hanukkah. There is the small matter of finding a new groom and hoping that he accepts his bride-to-be's petting zoo business, but if it is God's will, then Michal will be married.
Divine approval might be requested, but Michal has to do the hard work herself, engaging a matchmaker to arrange a series of dates. None of them goes particularly well. At one point, at a pilgrimage to Ukraine, Michal finds herself talking to God in a 'his and hers' praying booth. A man hears her. Not just any man, but a well known singer, Yos (Oz Zehavi of the band 'Yossi'). He asks her for her address and seems genuinely charmed, even though she is not the most glamorous, high-achieving woman he is likely to meet, and well over the age of his teeny-bopper fans. They meet again. In a Hollywood comedy, these two would fall in love and Michal would learn that feeling normal is not a prerequisite to happiness. But this isn't a Hollywood movie; this is Orthodox Israeli cinema. So the happy ending is something else – God will provide.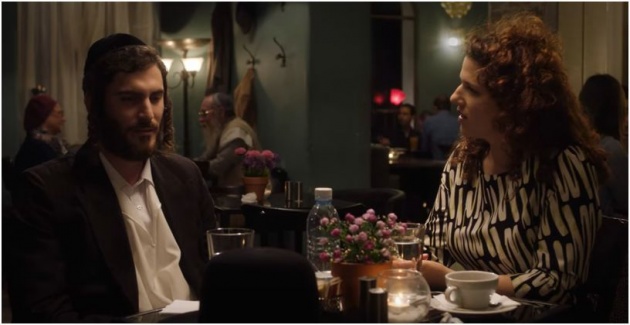 There is no doubt that Michal is far from normal, but she lives in a society where men are to some extent separated from women (Michal's colleagues are all women). So emotions don't develop through continued close proximity – in fact, continued close proximity drives couples apart. Having scared him away, Michal's sister stalks her estranged husband. The police are called. One of Michal's friends has arranged a date with a Japanese guy who has converted to Judaism – the net is cast as wide as Orthodoxy will allow. Michal doesn't make men falling in love with her very easy. It is not that she has high standards but she is only sure of what she doesn't want.
The denouement is, within its own terms, a wish fulfilment fantasy – the Israeli equivalent of a feel-good ending. I won't spoil it, but it relies on a happy coincidence.
It is possible that 'Through the Wall' or 'The Wedding Plan' (to give the film its title on imdb) might inspire a whole group of women to book halls and turn up on the day in a bridal gown awaiting the surprise groom. Be warned – it's very expensive.
Reviewed at Soho Screening Rooms, Central London, Thursday 17 November 2016, 18:30 start