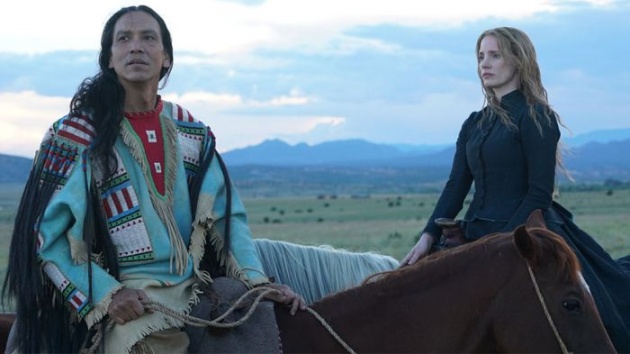 Pictured: Sitting Bull (Michael Greyeyes) and Catherine Weldon (Jessica Chastain) on top of horses that match their skin tones in 'Woman Walks Ahead'. Still courtesy of Toronto International Film Festival (TIFF)
When making films about inspiring real life people, filmmakers aren't obliged to be truthful. What they offer is a distillation of the story, ignoring elements that form unwanted subplots or bumps in the narrative. I should therefore forgive the liberties taken by writer Steven Knight and director Susanna White in telling the extraordinary story of Catherine Weldon, the socialite and Native American rights campaigner who traveled in 1890 to South Dakota to paint a portrait of Sitting Bull, proud leader of the Lakota Sioux Indians and retired member of Buffalo Bill's Wild West Show – he and sharp shooter Annie Oakley (of Annie Get Your Gun fame) had a thing. Catherine and Sitting Bull formed an unlikely partnership as Bull's people refused to sign up to the Dawes Expropriation Act, which was designed to take land away from Native Americans as a whole and grant small plots to individuals, with those conniving American negotiators intending to exploit the left-over land for themselves.
I should forgive the liberties, but I don't.
Woman Walks Ahead has been engineered as a star vehicle for Jessica Chastain, even though Kathy Bates might be a better fit judging by portraits of Ms Weldon. You understand why – you need a name actress to promote the film internationally. But just once, I would like filmmakers to give audiences a little credit. They will watch a film if it works emotionally, if the raw details are brought vividly to life. Woman Walks Ahead is a series of tropes and clichés. It is not a great advert for female creativity.
As played by Chastain, Ms Weldon is a widow liberated by the death of her husband to pursue causes closest to her heart and that means painting Sitting Bull's picture. In real life, she belonged to a group of East Coast liberals who supported Native American rights, a pressure group of their day, but Knight and White leave that detail out. Ms Weldon is depicted as an artist, and feisty and strong-willed at that. She is quite determined to pursue her vision because she is just a painter and it is not as if artists can change the world, at least not in 1890s America.
What then follows is a series of incidents that expose Ms Weldon's naivety. First, her luggage is stolen after she is dumped miles from the nearest outpost. She rebuffs the attention of the obligatory charming military man, Col Silas Groves (Sam Rockwell) who, incidentally, delivers her recovered suitcases. Catherine is told to go back East but she eventually meets Sitting Bull (Michael Greyeyes). He isn't impressed that she has painted important people, that is, other white folk. Instead, he asks for payment. After all, he's giving away his image rights. He might understand that one person's portrait is another person's inspiration for an advertising campaign.
In real life, Catherine brought her son out west – yes, she had a boy – and became Sitting Bull's secretary. These details don't neatly fit into the classic Three Act inspirational narrative in which Catherine helps Sitting Bull to understand that he shouldn't make a deal with the Americans. He respects her after she is assaulted for being an 'Indian lover'. The scene of violence isn't overly graphic, but it is shocking nonetheless.
In the end, the film relies on the well-known climax at Wounded Knee in which Sitting Bull's resistance is met with force. Catherine is unable to prevent Americans resorting to tactics they adopt when they cannot make a deal – treat the other party as a threat to their way of life and steal their assets. The growth of the 'Ghost Dance' – a 'new [pan tribal] religious movement incorporated into numerous American Indian belief systems' (says Wikipedia) promising a return to traditional values – didn't help, but is no excuse.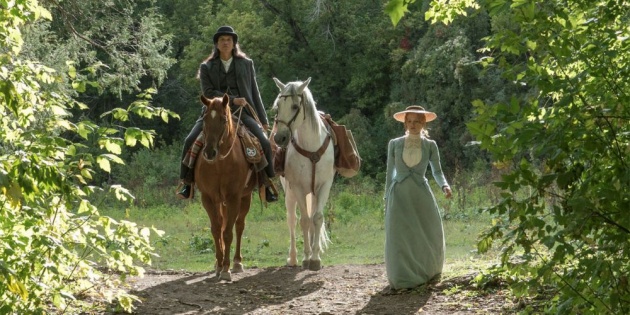 Pictured: Sitting Bull (Michael Greyeyes) and Catherine Weldon (Jessica Chastain) illustrsating the title, 'Woman Walks Ahead'. Still courtesy of Toronto International Film Festival
Woman Walks Ahead belongs to the genre of the sexless inter-cultural romance (Chastain and Greyeyes are both photogenic). It raises an interesting stylistic question. When a film features two oppressed groups, is it right that the one best representative of the audience takes precedence? What would have Woman Walks Ahead been like if the story had been told from Sitting Bull's point of view? Are storytellers equipped to tell Native American stories in a way that represents them as flawed individuals nevertheless deserving of our admiration rather than just an exotic yet wronged group? Chastain delivers the requisite level of proud feistiness, but I spent 101 minutes in the company of a movie character rather than someone approaching a real woman.
Reviewed at Toronto Film Festival, Friday 15 September 2017, 13:30, Winter Garden Theatre
Woman Walks Ahead has been acquired for US distribution by A24 Films for release in 2018. A trailer is not yet available