The Edge of Seventeen is a painful reminder that when you are a teenager, you are very far from the best version of yourself.
You are governed by insecurities, lash out for a ripple of attention, over-dramatise, I say again, OVER dramatise, and believe wholeheartedly that the impact you have on others is as nothing to the impact others have on you.
Oh, and you cannot communicate. Everything turns out wrong. Words congeal, get ahead of themselves, barely hint at subtlety and nuance.
Being a teenager is embarrassing – unless that is, you have some genetic advantage, some shortcut to popularity.
This is to say that The Edge of Seventeen, pitched midway between a studio (Hollywood sentimentality) and an independent feature (gritty, with an unlikable protagonist) is probably the most vivid and wince-worthy depiction of teen girlhood since Welcome to the Dollhouse. The difference between writer-director Kelly Fremon Craig's film and Todd Solondz's calling card debut is that Fremon Craig isn't a man projecting his insecurities onto a girl. Fremon Craig is holding up a mirror.
Hailee Steinfeld (True Grit, Ender's Game) gives an all-out courageous performance in a film in which her character, Nadine, is absolutely, positively not redeemed by a boy who finally notices her. The boy whom she attracts, Korean-American, Erwin Kim (Canadian actor Hayden Szeto) is just as awkward as she is. When they sit next to each other in class, he compliments her on her jacket – all exploratory conversations begin with a compliment. 'Where did you get it?' he asks. Nadine is tongue-tied, barely answers. Erwin has to re-group to keep the conversation going. This, people, is what being a teen is like. Heck, I'm still like that in my fifties.
I'm getting ahead of myself. The film begins with Nadine announcing to her High School History teacher, Mr Bruner (Woody Harrelson). How Mr Bruner responds tells you a lot about the rapport built up between student and teacher. Mr Bruner responds by saying that he too has just finished his suicide note written as a result of interacting with plainly dressed teens. So he's not taking her seriously. He's not mocking her either, rather inviting her to take down the hysteria a notch. Now a teacher and a student should not have the rapport that Mr Bruner and Nadine have; it's too familiar. If someone overheard their conversation, Mr Bruner's 'indifference' would get him into a lot of trouble. Fortunately, there aren't any other teachers in the movie so Mr Bruner's deadpan sarcasm doesn't lead to his dismissal. Nadine has an excuse. She doesn't have a dad. Mr Bruner is the nearest she has to an adult role model who might dispense non-judgmental kindness and support, just like her own pop.
What happened to him? Well, as a kid, when she is dropped off at school with her popular older brother, Darian – he doesn't look older in the flashbacks hunched over a portable video game console (could be a Nintendo) – Dad (Eric Keenleyside) has to get her out of the car. She has no friends, until she meets young Krista (Ava Grace Cooper) who shows her a creepy crawly caterpillar, probably the blackest, furriest caterpillar I have ever seen on screen. Krista allows young Nadine (Lina Renna) to be her caterpillar's second mom, until she accidentally suffocates it in a pencil case two hours later and it has to be flushed down the toilet. The two become great friends. Krista's upbringing has its own turbulence. The two of them have, as one might say, each other's backs.
What happened to Dad? Taking Nadine out for a cheese burger and giving his only daughter a motivating talk, Dad suffers from a heart attack and dies. Nadine has a certain amount of guilt (at least we think she does) for being the last person with him. I can tell you, I've had a heart attack in front of my child and it's no fun; fortunately mine was at a North London bus station and help was available. I can tell you that one good thing about being dead for thirteen minutes is that it builds character.
So Nadine has been scarred for life and she must know that suicide is a luxury not afforded to the cardiac-impaired. She deserves Mr Bruner's rebuff. She has a major crush on a boy, Nick Mossman (Alexander Calvert) who works at Petland. A crush in Act One leads to a pass in Act Two. Oh boy.
However Darian, described as a 'born winner' by his sister, looked as a boy, he has grown into a perfect teethed teen heart throb and is played by Blake Jenner (star of TV's 'Melissa and Joey' and 'Glee'). Darian has it easy – or so Nadine thinks. When Mom (Kyra Sedgwick) goes away for the weekend to spend time with her dentist boyfriend, Nadine invites Krista (Haley Lu Richardson) over for an 'all the soda – and a teensy bit of alcohol – you can drink evening. But then Darian shows up, with his friends and they are having fun in the pool. 'Get them out of here,' implores Nadine. They leave eventually. Nadine passes out in the bathroom – Krista drapes a towel over her. She helps Darian with the cleaning and then – wow – Krista and Darian end up in bed together. This puts a huge wedge between her and Nadine. 'Don't sleep with my friends!' she screams at Darian. 'Friends?' Darian snaps back. Nadine has but the one. Ouch.
The Edge of Seventeen explores how Nadine responds to this second loss. She is the awkward third wheel at a party. A girl compares Nadine and Darian to Danny de Vito and Arnold Schwarzenegger in Twins. Triple ouch. Nadine asks her mother to pick her up; she is beyond humiliated and gives Krista an ultimatum: 'him or me.' Krista chooses Darian because, well, this choice shouldn't have to be made.
It would give me enormous pleasure to relate the plot to you just to spell out how good The Edge of Seventeen is. I won't, though. It is sharply written and is a roller-coaster, very far from what passes for teen entertainment in modern Hollywood. Ten years ago this might have starred Hilary Duff or Lindsay Lohan, but down the path of false teenage advertising madness lies. Fremon Craig has done Hollywood – she wrote the 2009 teen pic, Post Grad starring Alexis Biedel and Michael Keaton. Here, she has produced something terrific, dare I say it, a modern classic.
Steinfeld never turns on the screen charm to win you over. She is playing a normal girl, not the prettiest in her class, nor the plainest either, but one with confused feelings about everything. When Nadine steals her mother's car (at one point) you really hate her for being so selfish. Yet there is a scene by a waste facility – Fremon Craig chooses her locations appropriately – where you experience just the right amount of sympathy for her.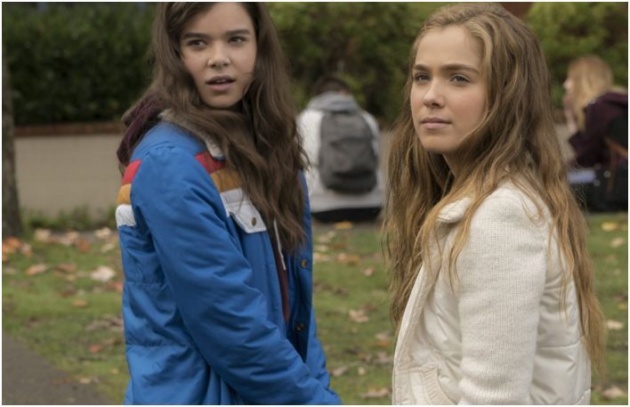 The Edge of Seventeen is Fremon Craig's directorial debut. Her film has earned a Golden Globe nomination for Steinfeld and deserves screenplay recognition. It is certainly a late addition to my films of the year and worth one hour and forty-four minutes of your time. One word sums it up: relatable!
Reviewed at Cineworld Leicester Square (formerly Empire) Screen Six, 14:40 screening, Wednesday 28 December 2016