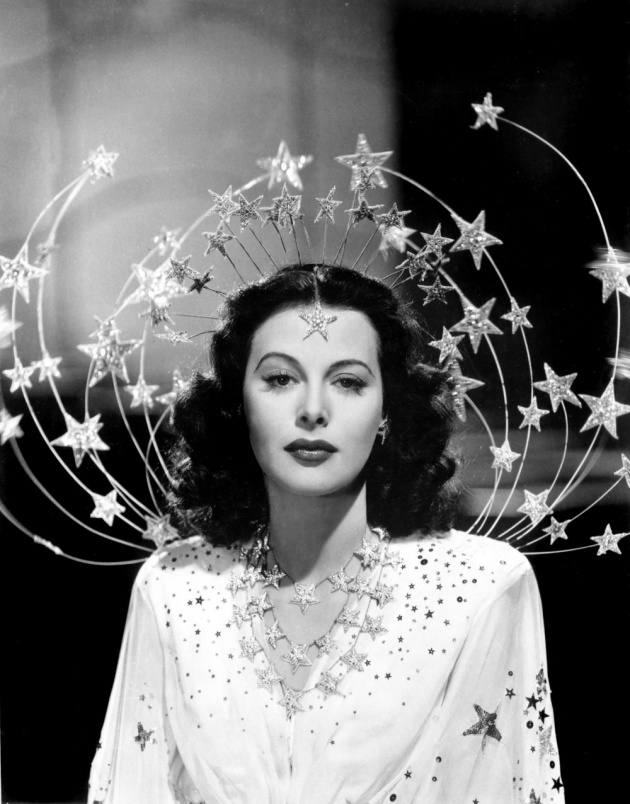 Pictured: Hedy Lamarr in celestial attire as featured in the documentary 'Bombshell: The Hedy Lamarr Story'. Image courtesy of Dogwoof Film Distribution
It is very hard to replicate the shock and giddy pleasure of discovery. Chances are, if you have decided to watch Alexandra Dean's documentary, Bombshell: The Hedy Lamarr Story, you may already know about the 'hidden' talent of the Austrian born actress turned movie producer. Let's say you don't. I'm not going to spoil it. Suffice to say that Ms Lamarr made a contribution to the fight against the Nazis that didn't quite go to plan but helped shape the world we know today.
The documentary tells her entire life story. What a life, what a story. Born Hedwig Kiesler in November 1914 in what was then Austria-Hungary, Hedy became an actress in her teenage years, starring in the notorious soft core pornographic film, Ecstasy. It made her a star, but also gave her the reputation of a woman with loose morals. She married an Austrian arms manufacturer, Friedrich Mandl, who kept a close eye on her. With his vast fortune, he attempted to buy up every copy of Ecstasy, only the film company kept printing copies. Mandl eventually resigned to the film being a success. Eventually Hedy felt stifled. She also didn't approve of her husband selling munitions to Adolf Hitler. During a dinner party, she conducted an escape, drugging the guests at a dinner party and changing uniforms with the maid. With jewels lining the coat that she wore, she secured passage to London, where she caught the eye of Louis B Mayer, in town scouting for European talent that he could put on contract fairly cheaply. He offered Hedy $125 a week. She refused. Then, thinking better of it, she caught the same ship as Mayer did to America and, wearing her most alluring attire, made him notice her. By the end of the voyage, she secured a deal worth $500 a week. But as a contract player, Hedy wasn't happy.
It was only when Charles Boyer offered her the female lead in the drama, Algiers, in which he played the jewel thief, Pepe le Moko, and she a fellow chancer, Gaby. Hedy was apprehensive. 'Don't worry, I'll hold your hand,' said the gallant Boyer. The result, released in 1938, was a smash.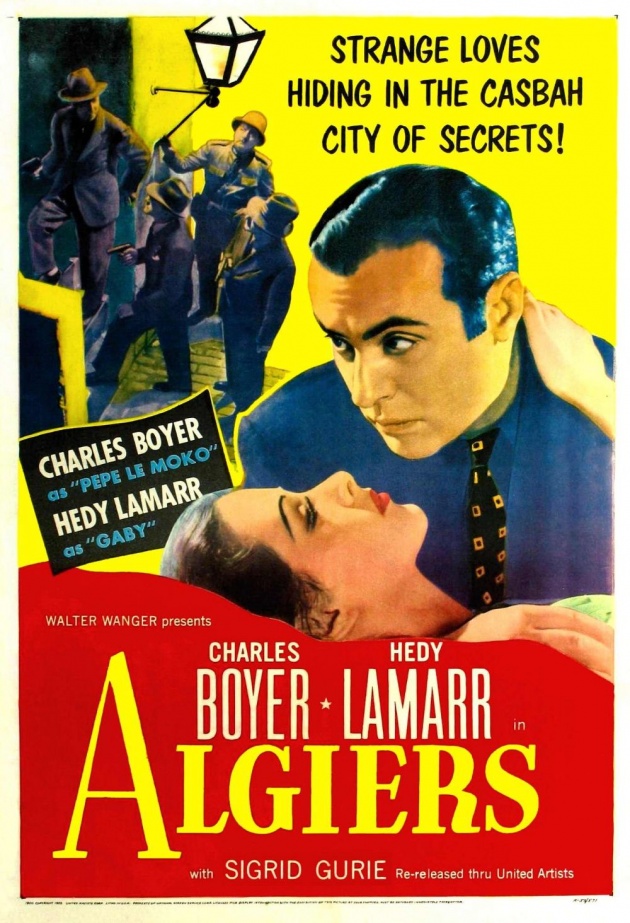 Pictured: The re-release poster for 'Algiers' (1938), courtesy of United Artists
Lamarr was never nominated for any Oscars. Nor did she appear in any critically acclaimed hits. Her unique selling point was her beauty, with her hair parted in the middle, a look many other actresses copied – or were made to copy. (The documentary doesn't make the latter point.) Her second most notorious film was White Cargo (1942), in which she co-starred opposite Walter Pidgeon, as the dark-skinned seductress Tondelayo, mercilessly parodied years later by Lucille Ball – the doc offers an extract. She appeared in this after the intervention that shall not be mentioned.
Among the interviewees is Mel Brooks. He put a jokey reference to Hedy in Blazing Saddles and counted himself a big fan. Woody Allen also appears in an excerpt from the Dick Cavett talk show on which Hedy is a guest, on what turned out to be one of her last public appearances in 1969.
Hedy's Hollywood career ran 20 years, but she used her intermittent success to produce three films, two in Hollywood – The Strange Woman (1946), a film noir directed by Edgar G Ulmer, and Dishonoured Lady (1947), starring opposite Dennis O'Keeffe and John Loder, the latter to whom she married during production but left before release – she had six husbands in total. The film was a flop and Hedy's career would be almost over, except that she found out that Cecil B De Mille was preparing the Old Testament romance, Samson and Delilah (1949). 'I am Delilah,' she declared (apparently) and got the part in what proved to be her biggest success.
Her third film as producer, Loves of Three Queens, directed by Marc Allégret and Edgar G. Ulmer cost her millions. In it she played three roles from history, Helen of Troy, the Empress Josephine and Genevieve of Brabant. I know what you're thinking – who is Helen of Troy? The original cut lasted three hours and didn't sell overseas. Eventually a cut down version was released. Lamarr's final screen role was in The Female Animal (1958), in which she played a Hollywood star whose adopted daughter (Jane Powell) falls for the star's live in boyfriend (George Nader). She didn't act again for reasons that the documentary reveals.
Amongst the hard life lessons that Hedy learned was not to marry a screenwriter - husband number two, Gene Markey, who promised to write roles for her but was too busy philandering. She was also ill-advised to let others write her story, as plugged on Cavett's show. Moreover, she became addicted to speed and plastic surgery – fortunately not at the same time. She adopted a child, then gave him up, then got back in touch. In her final years, the documentary tells us, she lived on $300 a month from the Screen Actors Guild and social security, before dying, aged 86, in 2000, shortly after watching an Austrian brass band on TV.
The Hollywood practice of drugging actors to make them work long hours is well-known; Hedy fell victim to it. She married a Texas oilman in the 1950s and built an Austrian Chalet in Aspen, Colorado. However, when she sent a substitute to a court hearing – rather as she used a body double to escape Austria – she lost her estate.
We learn some 'fun' facts, that Hedy designed her own plastic surgery, advising surgeons where to cut. Yet she had intelligence – exceptionally so.
You want to find out whether the Hollywood drugstore was ever successfully sued for the damage done to talented performers. It is this omission that turns a five star story into a four star film. But I have left something out, something that will make you re-think your attitude to Hollywood stars of the 1940s and 1950s. My big request is: don't google it or watch the trailer below, instead devour the film with wonder.
Oh – and she collaborated with Howard Hughes!
Reviewed at Soho Screening Rooms, Monday 29 January 2018, 18:30, press screening