Pictured: Aurore (Agnès Jaoui) enjoys a moment of 'me time' in 'Aurore', co-written and directed by Blandine Lenoir. Still courtesy of Diaphana Distribution
Aurore, co-written and directed by Blandine Lenoir, is the opposite of a high concept film. It is about a fifty year old separated mother of two, Aurore (Agnès Jaoui, a noted director herself – her latest, Place Publique, opens in France on 18 April) who experiences the menopause. It is a reflection on middle-age: warm, funny, rhapsodic, even a bit rude and edgy. It doesn't have much of a plot, but it's got everything else.
The film revolves around four women: Aurore, her best friend, Mano (Pascale Arbillot) and Aurore's two adult daughters, Marina (Sarah Suco) and Lucie (Lou Roy-Lecollinet). Marina is expecting her first child and wants everything to revolve around her. Lucie, who has a boyfriend, Tim (Théo Cholbi) is chilled, though requires frequent reminders whilst having sex that Maman is home. Aurore frequently finds herself absently removing a layer of clothing to stay cool. She has a lot to heat up about. Her new boss, Seb (Nicolas Chupin, a Johnny Depp lookalike who has gone to seed), insists on calling her Samantha. ('He does that to all the girls,' one of Aurore's colleagues tells her.) Worse, he puts her behind the bar. ('You are the Queen Bee. They are all the bees buzzing around you.') Then he moves the water behind the bar. Having watched Mano express exasperation at an older man dating a younger woman, throwing her ring at him and abandoning her demi-litre of beer, Aurore repeats the same trick with Seb. Only now she needs a new job, and getting one in the cafe business isn't easy.
The film ambles between set pieces with an almost frivolous disregard for drama. Aurore pretends to be interested in the current property that estate agent Mano is trying to sell, when she runs into an old flame, Totoche, sensibly known as Christoph Tocard (Thibault de Montalembert). He is a sonographer, so naturally Aurore takes Marina to his clinic and arranges lunch. ('All you care about is getting laid,' Marina bawls afterwards). Aurore goes baby shopping with the mother of her daughter's boyfriend and marvels at a baby rocker that emits sounds heard in the womb. When Aurore visits an employment agency, it is the advisor who gets upset when she hears that Aurore worked for her husband, all her repressed resentment flying out. She compliments Aurore Tabort on her 'good, strong' name. 'It's Aurore Plou, my maiden name is Plou,' Aurore replies knowingly deflating her. Aurore doesn't expect to be noticed but when she wears a plastic faux-leather skirt, she attracts a man who follows her in the street.
Now you know what prejudice is.
The gentle comedy extends to the young kid who attacks Aurore's estranged husband, Nanar (Philippe Rebbot) – his partner wanted a son, but he always ended up with daughters. Nanar is unable to fake payslips for Aurore so she is unable to evidence her skills in the real world. She is for all intents and purposes invisible: not referred to by her real name, not a standout in the employment market and unseen by automatic doors, whose sensor fails to register her. When she takes a job as a cleaner, she is told by a colleague, 'now you know what prejudice is'.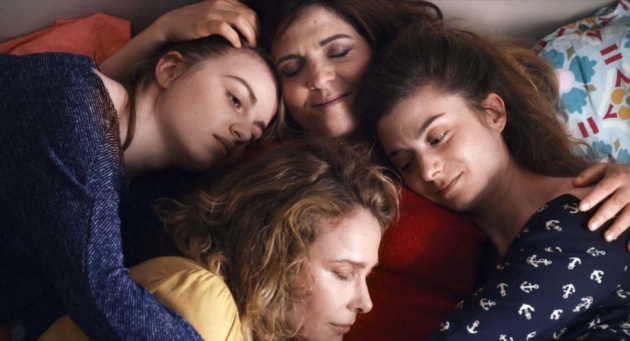 Pictured: Aurore (Agnès Jaoui) and her women in 'Aurore', a French comedy co-written and directed by Blandine Lenoir. Still courtesy of Diaphana Distribution
Aurore does indeed date Totoche, but chooses to dine at Bel Canto restaurant, where the waiters also sing opera. There is some conversation – Totoche sent Aurore tapes during his military service – but when the singing starts, they exchange looks that fall short of making a real connection. In a fantasy scene, Aurore also performs.
It turns out that she has a special talent, to instantly identify the number of letters in any word. This charms Hervé (Eric Viellard) with whom she has a sexual experience – a grope here, an orgasm there.
There is a high school reunion at which one friend can scarcely believe she married Nanar and then Aurore decides to send Totoche a tape. It reaches him when he has his mind on a terrible accident.
Lenoir maps the tectonic plates of family life. Lucie gives up college to be with Tim in Spain, but then returns disillusioned. Marina doesn't like to be written off as someone who cannot study at screams at her mom. The film is defined by the moment in which Marina's water breaks, just after the two daughters have left Aurore for a moment. It is low key.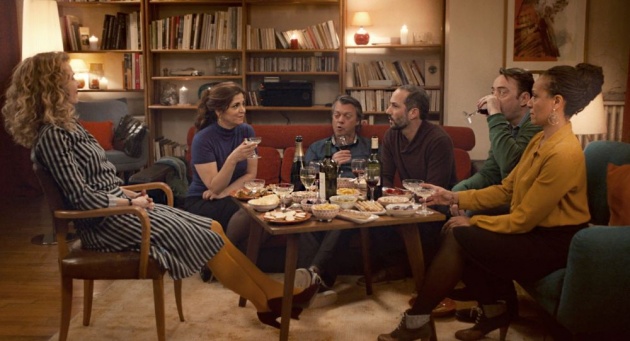 Pictured: 'How many letters in ...' A party game in 'Aurore', a French comedy co-written and directed by Blandine Lenoir. Still courtesy of Diaphana Distribution
The song 'I Got Life' is played twice, once as performed by Nina Simone in the version most of us know and once by Jasmine Vegas, somewhat less convincingly. When Nina sings it, it is the expression of a woman who has clambered out of a deep pit of misery. The cover version is less affirming.
Aurore is the very definition of gentle comedy. Its second best scene has the title character humiliated by the man whose relationship Mano disrupted, with Aurore having to partake in a mock job interview, opening an imaginary door and not being told to sit down. Its warmth is evident in the film's coda: the man wants Mano's telephone number. Its best scene has Aurore watching a documentary about the stages of life as experienced differently by men and women. ('After the age of ten, the woman is never alone.') This isn't a criticism. Aurore's motherhood is cause for celebration.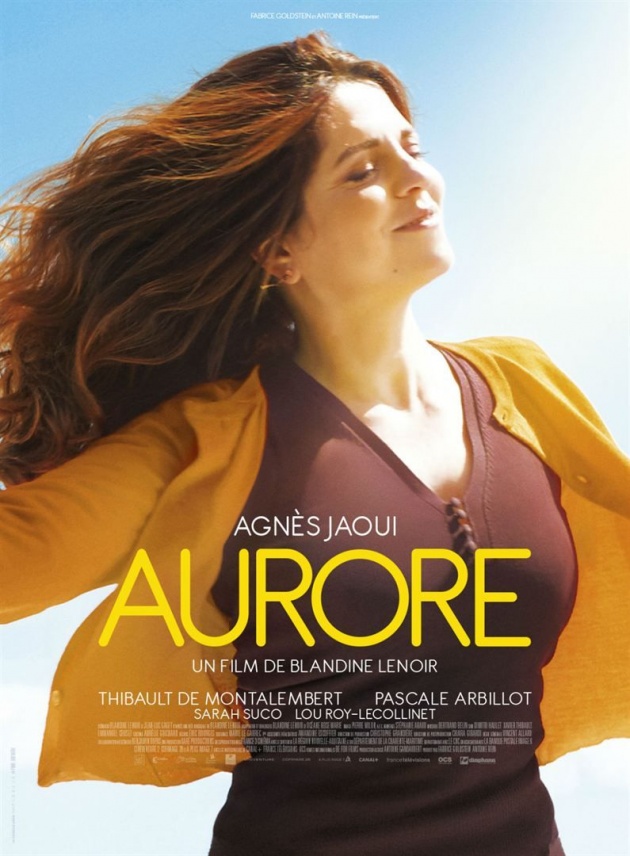 Reviewed at Cineworld Fulham Road Screen Six, Central London, Monday 26 March 2018, 18:00 screening.