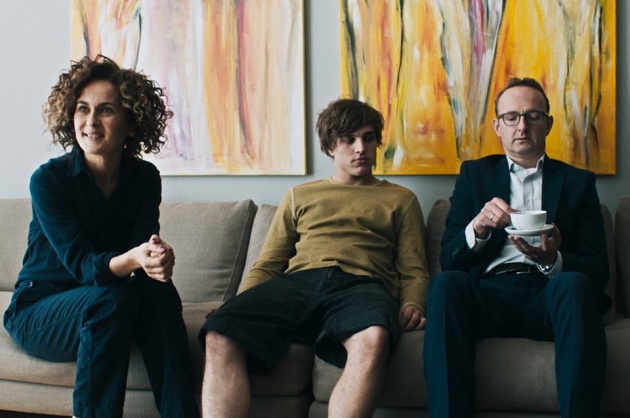 Pictured: No slouch in the blogging department, Karl (Jonas Dassler, centre) is called to (IT) account in 'LOMO - The Language of Many Others', a German language feature film co-written and directed by Julia Langhof. Still courtesy of Farbfilm verleih
The young German writer-director Julia Langhof wanted to make a film about a passive central character. She partially succeeds in her feature debut, LOMO – The Language of Many Others, about a seventeen year old student who conducts his life virtually but whose online activity has potentially devastating consequences for his family.
Karl (Jonas Dassler) attends high school with no idea what he wants to do next. He devotes his life to his blog, 'LOMO – The Language of Many Others', which has followers worldwide. His parents disapprove, especially when it is their lives that he is blogging about. He becomes the focus of attention of politician's daughter, Doro (Lucie Hollman), who has a testing relationship with her mother – Doro is a boundary pusher. When she breaks off their relationship, Karl puts a sex tape of the two of them online. Then all hell breaks loose. Karl's father (Peter Jordan) is an architect whose firm depends on the patronage of the politician; she can make sure that his firm doesn't win a contract, putting his staff out of work. Then Karl's public have a say on what happens next. After Karl's computer is destroyed, a young boy turns up at his door and gives him a phone.
The high-stakes second half of the movie is fairly terrific. In one striking sequence, Karl closes his eyes and asks his viewing audience to guide him. He ends up at a stranger's house and sits down to eat with them in the garden. They assume he is somehow known to them but are too polite to ask.
The film explores the extent to which people can intervene in the lives of others online, with real world consequences, even though their intervention can seem like a game. People can be crowd-funded to do the things that others wouldn't contemplate. Individuals can be the vessels of others.
Langhof doesn't ask how Karl got there. We sense that young people who become the centre of attention online can get drunk on it; they enjoy meeting a perceived need of the public. Like any addiction, it is difficult to wean oneself off it. There is no substitute for physical feeling, real contact, but even that can be treated lightly.
The other danger Langhof foregrounds is the extent to which non-bloggers are vulnerable. People have camera phones and are prepared to use them. The internet makes the private public and even cease and desist orders cannot stop content being disseminated and stored.
LOMO – The Language of Many Others is a film that disapproves of the internet. It argues, I think, for ethical blogging, for sharing videos only with the consent of their subject and for upholding the right to be ignored. It also argues for limiting young people's access to social media. If you needed a state national insurance number and passport number to log on, you would take your internet activity more seriously. Social media can turn young people into false messiahs, not because they have any special insight, but through the extent to which they make their lives public. When Karl wants his audience to ignore his blog, he posts a recording of a receding view of a house, the camera retreating further and further away until they view is from space; Google Maps have a lot to answer for. The mistake Karl makes is to re-engage and to reveal his identity, virtually speaking.
There is, as Karl discovers, a certain pleasure in being a human avatar, subject to viewers' commands. It is the online equivalent of crowd-surfing, of letting others propel you across a space, giving you a chance to experience exhilaration that your enablers cannot truly share. At a certain point though, you have to come back to Earth.
Karl is almost likeable when he helps his father with a speech, Vati struggling to recall the words he has chosen. 'You have to tell a story,' he explains. Later when he is quizzed about his social media activity, Karl throws his father's speech back in his face.
Do young people want to see a film in which they are the problem? That will be the test when LOMO is released widely in Germany on 12 July 2018. Karl's activity takes him down a dark path, to the extent that he takes a dangerous walk across a busy road.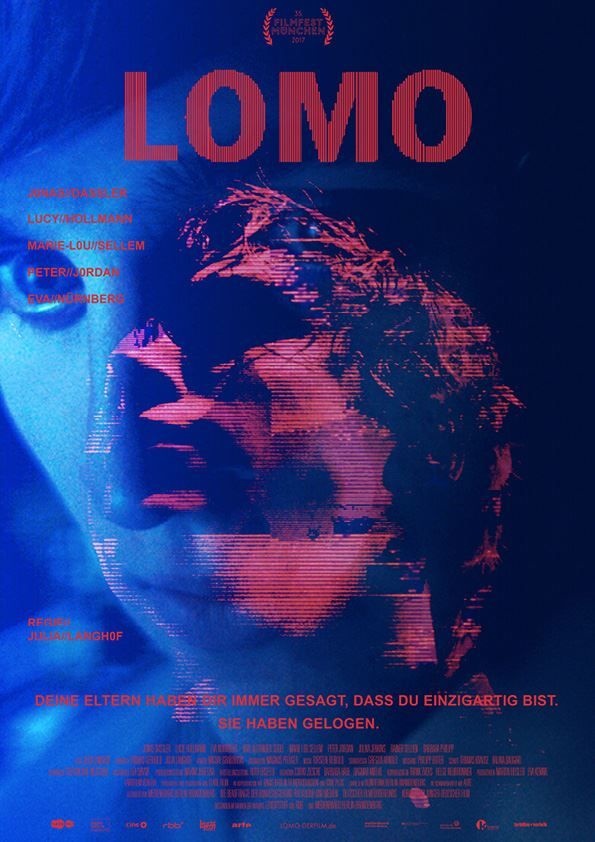 Reviewed at Febiofest, Cinestar Andel, Prague, Saturday 17 March 2018, 19:00 screening