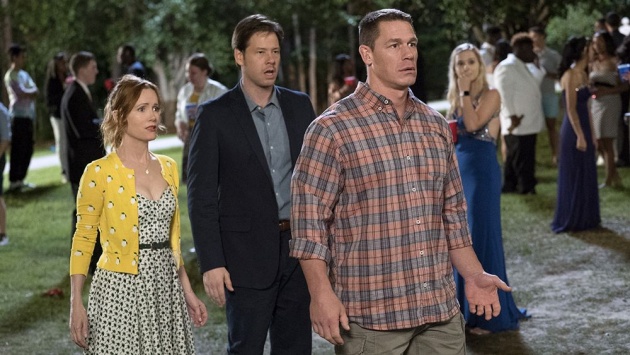 Pictured: Lisa (Leslie Mann), Hunter (Ike Barinholtz) and Mitchell (John Cena) arrive late to the party in 'Blockers', a comedy directed by Kay Cannon. Still courtesy of Universal Studios
Not all parents want to interfere with their children's sex lives. That's why they give them sweaters. But parents can voice their disapproval of a potential suitor. He or she might not be 'good enough'. Alternatively, the parent might have an in-built prejudice that surfaces at dinner and manifests itself by placing the suitor under hypnosis in order to perform surgery.
About that plot flaw in Get Out - did that film really deserve the Best Screenplay Oscar? If you are part of a nasty conspiracy and you place that nice young man that your daughter is dating into a trance, you aren't going to give him time to figure out what you are up to – you are gonna get right to it.
However, this isn't a retrospective whinge about why Lady Bird was robbed at the 2018 Oscar ceremony by a so-called 'smart' horror film (reader, Gerwig was held up at gub point). This is about a modest box office success called Blockers directed but not written by Kay Cannon.
Blockers has a script by a bunch of guys – Brian Kehoe, Jim Kehoe, Jon Hurwitz, Hayden Schlossberg and Eben Russell, Cannon's spouse. The latter three writers may have lost their credit in some WGA (Writers Guild of America) wrangle. Cannon, an established writer (30 Rock, Pitch Perfect), is nowhere near the screenplay. So is this a film 'by' a woman – especially as the producers are Seth Rogen and Evan Goldberg? I wonder. It does prove – if anyone had any doubts and collectively 'forgot' Penelope Spheeris, Penny Marshall and Amy Heckerling – that women can direct mainstream comedy. A woman can point a camera towards John Cena's rear-end as he chugs beer through his rectum just as well as a man. Some might say better.
The film is what's called in Hollywood an ensemble comedy - this means no one was paid really well. Its stars are Leslie Mann, John Cena and Ike Barinholtz, who all play parents with teenage daughters in some American suburb. It's Prom Night (when is it never) and Julie (Kathryn Newton), Sam (Gideon Adlon) and Kayla (Geraldine Viswanathan) have made a pact with each other to lose their virginity. The first sex is not the best sex, right? So why not get it out of the way at a lame party. Mom might have paid $150 for the dress but you only wear it the once just like that outfit you put on for a police line up. I can imagine a victim of a violent crime asked to identify the assailant and saying, 'I don't know – I really hate his slacks.'
Cena, a former professional wrestler turned action hero turned comedy stooge, plays Mitchell. If you are a real guy in a movie, you don't need a surname (just ask Arnie). Mitchell has been content to be the only man in Kayla's life. He gets emotional. Lisa (Mann) treats daughter Julie like a sister. She's a single mom who isn't looking for anyone else. Hunter (Barinholtz) is the ultra-compensating yet chilled guy who is late to the party, on account of not being invited. He and Sam's mom had a bitter break-up and he cannot stand the guy who has replaced him. Although he doesn't have a job, Hunter ordered a limo to take the girls to Prom, because if you are going to get needlessly into debt, you should do so with a vehicle your daughter is likely to defile with vomit.
Mitchell and Lisa get wind of the pact and want to stop it. They are archly conservative. The inference is that they believe that sex is something you save for your wedding night or as leverage. Hunter is chilled. He thinks his daughter is a lesbian. 'A father knows,' he explains. Just exactly how does a father 'know'? I don't want to go there.
Not everybody remembers when they lost their virginity. (I'm tempted to add, 'especially if Rohypnol is involved', but that's just wrong.) I happen to remember January 29, 1990 very well. It was a Monday. Anyway, they usually remember the other person on account of the texts, emails or reverse charged calls. Lisa and Mitchell learn to lighten up about sex, without actually having any and the girls – well, I won't spoil it.
Ostensibly, Blockers is a distant cousin to those gross out comedies in which at least one Hollywood star is shown in a compromising position. However, it is also a film that references the Fast and Furious movies, specially the non-catchphrase 'What Would Vin Diesel do?' I mean, he did The Last Witch Hunter and Babylon A.D., so it doesn't exactly matter what Vin Diesel does. This line occurs when the three parents chase the limo driver. He's the kind of guy who says 'what happens in the car stays in the car', thus accounting for those hard to remove faecal stains. The comedy depends for its motor on Julie leaving her phone behind. This is completely unrealistic; how could anyone celebrate prom without a camera? The fun comes from three adults attempting to crash a variety of parties in which everyone else under the age of twenty. They must have thought Cena was Magic Mike.
I particularly hate the phrase 'What Would Vin Diesel do?' because both Blockers and Fast and Furious are released by Universal Studios. I mean, what next – Julie has a Pitch Perfect poster in her room? (Wait, she does.) The belly laughs come from the parents breaking into a house of Julie's boyfriend only to discover his parents (Gary Cole, Gina Gershon) are playing a blind nude sex game. Then Lisa ends up trapped in a room when her daughter is about to be deflowered.
The film's best scene has a parent protest that Lisa is wrong to be concerned about her daughter. That's why women fought for sexual liberation. The film depicts a false sense of moral panic. Therein is the problem: why should we care about the characters' wrong-headed quest?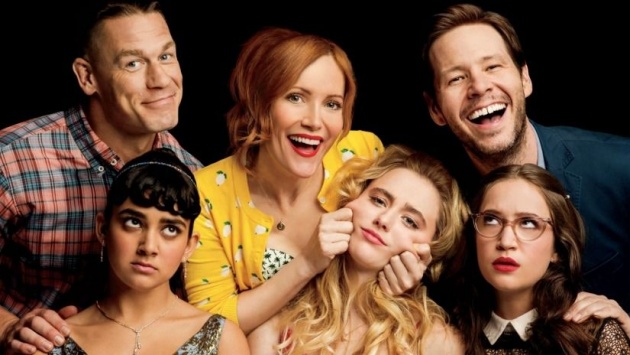 Pictured: A family portrait (left to right, top row): John Cena, Leslie Mann, Ike Barinholtz. (Bottom row, left to right): Geraldine Viswanathan, Kathryn Newton, Gideon Adlon in 'Blockers'. Courtesy of Universal Studios
At its heart, Blockers celebrates lesbian lust and has a coming-out scene that is gently done. When it comes to same-sex love, as long as it is introduced near the beginning of the film, the audience won't be shocked by the revelation. The final scene is cringe-worthy, mainly because Cannon's sure sense of comedy deserts her.
Should parents worry about the choices that their children make? Absolutely! My son opted not to go to Farnham School of Art, instead to the University of Gloucestershire, where the tutors skive off during the Cheltenham Horse Racing Festival (at least you know where the University fees go). But how much should they worry? There is a point at which children can stand on their own two feet. Twenty years later and you shouldn't panic.
Reviewed at Cineworld West India Quay, East London, Tuesday 3 April 2018