One of my great regrets in life is that I'll never watch myself played in a TV skit by Kate McKinnon.
85 year old Supreme Court Justice Ruth Bader Ginsburg – Her Honour – has that honour. Moreover she finds it hilarious. Betsy West and Julie Cohen's documentary, RBG, could have had the title 'Ginsburg Laughs'. Who knows it might have added another million dollars to the gross.
Generally Justice Ginsburg is not well known outside the United States, but then how many UK High Court Judges can Americans name? Judge Dredd doesn't count. If you were to ask me who was the first woman to sit on the US Supreme Court, I might have said 'Judge Judy'. I don't know why Supreme Court Judges don't have their own TV show. It might give some great roles for older actors, though a one hour continuous shot of a judge writing a dissenting opinion might test the audience's patience.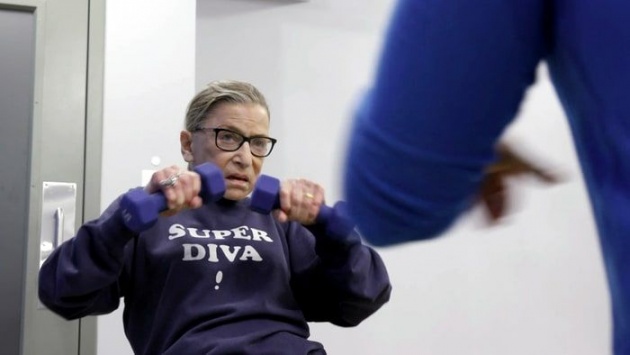 Pictured: Ruth Bader Ginsburg undertakes her exercise in 'RBG', a 2018 documentary directed by Betsy West and Julie Cohen. Still courtesy of Magnolia Pictures/CNN Films
RBG, along with Morgan Neville's documentary Won't You Be My Neighbour has become a surprise speciality hit at the US box office for its producers, CNN, grossing over $10 million. This is a big deal. Documentaries rarely become box office successes, with the exception of the middle work of Michael Moore (Fahrenheit 9/11) and concert movies like The Original Kings of Comedy. I have a theory: people are looking for truth in post-truth America. More importantly they are looking for inspiration. Ruth Bader Ginsburg still goes to the gym aged eighty-four and she has had a speaking part in an opera.
So who is Judge Ginsburg, dubbed variously the 'notorious RBG' and of her it is said, 'there's no truth without Ruth'? Born Joan Ruth Bader in Brooklyn on 15 March 1933, she had barely finished High School when her mother, Celia, her inspiration and teacher, died. Ruth eventually studied government at Cornell University, where she met her husband of some fifty years, Martin Ginsburg. Martin was gregarious where Ruth was quiet and studious. They were a perfect match. After giving birth to a daughter in 1955, Ruth enrolled at Harvard in 1956 – one of only a handful of women in an intake of 500. She made it to the Harvard Law Review – the top twenty five students in her year – though facing prejudice in the process.
Ginsburg's life's work was tackling gender discrimination, doing so through a number of landmark cases which she won. In the process, Martin, a noted lawyer himself, took on child care responsibilities in order that Ruth could devote herself to her work.
West and Cohen whizz through the cases that defined RBG, through her work as the director of the American Civil Liberties Union's Women's Rights Project in the 1970s, successfully arguing five out of six gender discrimination cases before the Supreme Court. The first of these (not covered in the documentary) was 'Reed v. Reed', about a separated couple, Sally and Cecil Reed, who both sought to be the administrator of their late son's estate. Under the law, men were to be given preference over women. Ginsburg wrote the plaintiff's brief (on behalf of Sally Reed) and got the court to rule in her favour that there should be no assumption that men should automatically be named as administrators. The judgment, 'the choice in this context may not be lawfully mandated solely on the basis of sex' forms the title of an upcoming dramatic feature, On the Basis of Sex, starring Felicity Jones as young Ruth and directed by Mimi Leder.
Cohen and West focus on 'Fronteiro v. Richardson' in which a female service member, Sharron Fronteiro, fought to be given the same housing allowance as men; there was an argument that women didn't have a partner at home raising children. Ginsburg argued that women were treated as inferior and won her case 8 to 1. Her next case, 'Weinberger v. Wiesenfeld', was fought on behalf of a man, a widower who did not receive Social Security after his wife died; he was a stay at home dad denied benefits. Through the case, Ginsburg proved that gender discrimination worked both ways; one of the interviewers describes Ginsburg's choice of plaintiff as a shrewd move.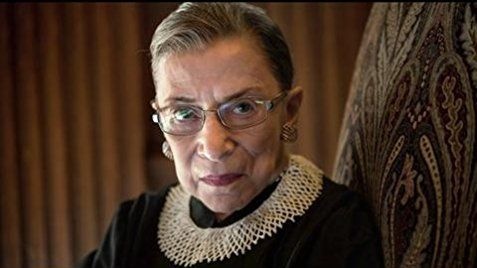 Pictured: Ruth Bader Ginsburg in dissenting mode in 'RBG', a documentary by Betsy West and Julie Cohen. Still courtesy of Magnolia Pictures/CNN Films
If Ginsburg had a strategy, it was slow and steady. She made her arguments slowly and carefully, never raising her voice. She was nominated to the United States Court of Appeals in 1980 by President Jimmy Carter, before being President Bill Clinton's pick for the Supreme Court in 1993.
'Bill didn't want her', we are told. Ginsburg, then aged sixty was not the vision of diversity that President Clinton wanted to nominate for the Supreme Court – her confirmation hearings become a structuring device for the first part of the film. Yet she won him over. Ginsburg was confirmed 96 to 3. West and Cohen dwell on many aspects of Ginsburg's work, but not that she was the first Jewish member of the Supreme Court since Justice Abe Fortas resigned in 1969.
With Ruth working long hours, how did the Ginsburg marriage survive? With Martin calling her home and making sure she had something to eat. She was around for the early years of her two children though she was not known for her cooking.
On the Supreme Court, Ruth formed an 'odd couple' relationship with Justice Antonin Scalia, a pick of Republican President Ronald Reagan, who opposed many of the women's rights that Ginsburg sought to sanctify. For all of their arguments, they shared a love of opera, and developed a mutual respect.
Just how did Ginsburg become notorious? Partly she achieved this through a misjudged remark about Donald Trump's suitability for office. It was not the sentiment that was controversial, rather than it was a Supreme Court Justice expressing this view. Ginsburg issued what was for her a rare apology.
Ginsburg could not stop George W. Bush from becoming President. Nor could she prevent the Supreme Court from more reactionary. Her dissenting opinions – and the Justice collars that she wore to dispense them - became legendary.
When we see Ruth, aged 83, sitting on a chair in the centre of the stage playing the Duchess of Krakenthorp in 'The Daughter of the Regiment', it feels a little embarrassing, pandering to the whims of an older person. What next - the President of the United States hosting a reality TV show? Ginsburg apparently changed her dialogue, asking to see a bride-to-be's birth certificate; nope, I'm not getting the joke.
The cases that Ginsburg argued in the 1970s are her legacy as are her children and grand children. She inspired women to study law, to argue in a measured way and to press for incremental change. The song over the closing credits refers to 'the bullpen'. It is invigorating chaser music. Now where's my vitamin shake?
Reviewed at Edinburgh International Film Festival, Monday 25 June 2018, Cineworld Fountain Park, Edinburgh, 09:00am press screening
The US trailer can be viewed here: https://www.youtube.com/watch?v=biIRlcQqmOc