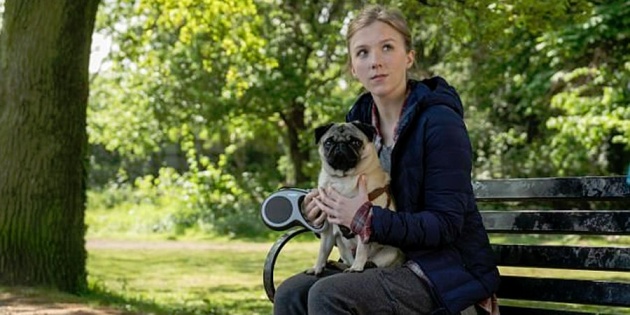 Pictured: Schoolteacher Sarah Francis (Beattie Edmondson) benches adopted pug Patrick in 'Patrick', a family comedy directed by Mandie Fletcher. Still courtesy of Disney (UK)
Congratulations go to Britain's Mandie Fletcher, who is the first woman director to have two films in this blog series – see 53. Absolutely Fabulous (from '52 Films by Women Volume One'). Fresh from the box office success of the 2016 TV spin off, Ms Fletcher has helmed a dog movie, 'Patrick', starring Beattie Edmondson in her first big screen leading role, as hapless school teacher, Sarah Francis, who inherits from her grandmother a pug called Patrick, who is like a canine version of Winston Churchill, minus the speeches, war record and an Academy Award.
According to the Kennel Club's 2010 survey of most popular dog breeds in Britain, the pug scores at number nine. The website 'Pets4Homes' describes the pug as 'the comedian of the canine world ... intelligent, entertaining and good-natured' (whatever that means). I don't believe dogs should be entertaining, at least not without theatrical representation and the promise of a summer season in Blackpool. 'Pets4Homes' remarks on the pug's distinctive looks: 'short squat bodies, curled tails and squashed faces'. Well. You'll be interested to know that the most popular breed of dog in Britain is the Labrador retriever. I thought it would be the Brexit Bulldog, but the survey is a number of years old. The Brexit Bulldog is a term coined by the BBC radio series, 'Dead Ringers' and refers to the politician and failed SAS man, David Davis. The great thing about failing in the SAS (the UK's Special Air Service) is that because they are so secret, no one is supposed to know about them. Except that we do.
A more recent survey (2017) puts the pug at number four – the Labrador retriever is still number one. The happy puppy site cautions against buying a pug simply for its brachycephalic (flat faced) looks. The pug is a special needs dog: low energy - they don't run around all day - and in severe danger of overheating, rather like anyone in a top storey flat in North London who can't open the window because the downstairs neighbour won't stop smoking and nearby Finsbury Park is hosting a music festival. (Rant over!) You should avoid taking a pug for a walk in warm weather and never leave your pug alone in a car on a hot day with only the satellite navigation for company. ('You are going nowhere. You haven't moved at all.') Quite apart from the heat, it could give the pug a complex.
The pug's essential charm is that it is portable: it's the dog for people who really want a cat but cannot be bothered. When I was growing up, we had a West Highland Terrier; my best friend owned a Springer Spaniel. I had no problem with the Springer Spaniel, but our 'Westie' bit me.
Unlike its breed, 'Patrick' is a bit of a hybrid: part rom-com, part inspirational teacher movie, part animal comedy and part sports flick – it ends with a crowd-rousing fun-run, which is a contradiction in terms; I mean, fun-runs never attract much of a crowd, unlike full marathons, because you really want to see your old man sweating a ton and looking like a complete prat whilst wearing a traffic cone. What do you mean, that's not his costume? The film's villains are men of a certain age, who either don't like pets in buildings or despise young teachers who think they can win over school kids by dumbing down the classics: at one point, Sarah explains the plot of 'Jane Eyre' in a way Year Eleven teenagers can understand, though strangely not with acronyms ('Jane was well into Mr R – YOLO') or with emoticons, which are quite difficult to do without an interactive white board, which in itself sounds vaguely racist.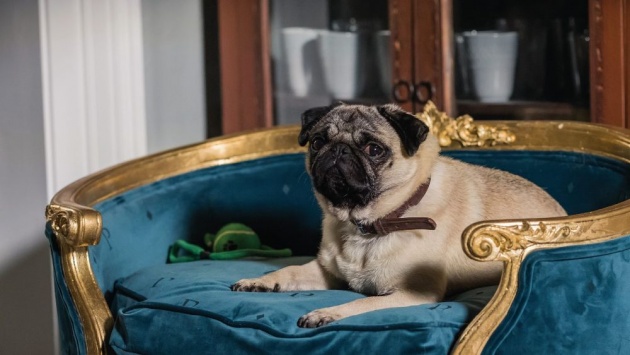 Pictured: 'I'm ready for my sequel'. Patrick the pug in 'Patrick', a family comedy directed by Mandie Fletcher. Still courtesy of Disney (UK)
Like someone who has raided a lot of wardrobes in her time, Fletcher and her co-writers, Vanessa Davies and Paul de Vos – admission, I knew Ms Davies in her publicity days – steal from a bunch of movies and television shows. When Sarah first turns up at her parents' house for her father's birthday, she is wearing her dress back-to-front. When Robin Williams first appeared in the TV series, 'Mork and Mindy', he wore a suit back-to-front and was mistaken for a vicar. Some of us remember. The film opens with Sarah being dumped by her partner, who is wearing a bicycle helmet and, ipso facto, is not worthy of our sympathy. It is not that bicycle helmets are offensive: you should put them on outside the house. At any rate, he has met someone else, and you feel happy for him, because Sarah drives, the man has a bicycle: it is not going to work.
However, Sarah has to put up with her gloating sister, who has two adorable children who still like watching 'Toy Story' as opposed to being on their mobile phones. The film, incidentally, is released in the UK by Disney, who also releases Pixar Animated films like 'Toy Story' and its sequels.
Sarah typically turns up late for the reading of a will – I say typically, because she is portrayed as scatterbrained rather than goes to lots of readings of wills, which would be a very creepy hobby – and discovers she has been left the dog. Of course, her sister with her two teenage kids would be a perfect dog owner – plenty of people in the house to care for it, plus money for kennels – but Gran thought that Patrick the pug would be good for Sarah, like vegetables or 'Love in the Time of Cholera' .
Sarah takes Patrick to the pet store and the pug chooses its own treats, which Sarah immediately puts back on the shelf. I don't know why domesticated dogs don't have their own dedicated TV channel –Petflix – so they could choose their own entertainment. I imagine dogs would like to watch 'Forrest Gump', because it makes a change to see a man run real fast.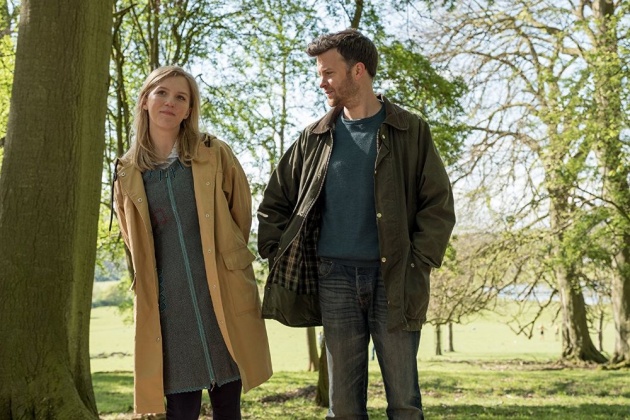 Pictured: Beattie Edmondson and Tom Bennett in 'Patrick', a family comedy directed by Mandie Fletcher. Still courtesy of Disney (UK)
After Patrick predictably tears apart Sarah's soft furnishings, the young teacher whose technique is to use a klaxon to get her class' attention, has to find a dog sitter. Her neighbour (Gemma Jones) also has a dog, and catches Sarah urinating outside (don't ask). However, after one morning with Patrick, the neighbour says 'never again'.
In screenwriters' classes – and 'all you can eat' buffets – they talk about obstacles. What does Sarah have to overcome? Her hatred of dogs? Her inability to manage a relationship? Her disdain for fun runs? All of the above, but not her scattered brain! Taking Patrick out for a walk, Sarah discovers that she can meet men without ever having to make small talk – especially when one man is caught up in her dog lead. She encounters a handsome jogger (Ed Skrein) who looks like he should be in a rowing team. She also meets another dog owner (Tom Bennett), who is older, scruffy and strangely more her type.
Now I've seen 'Bridget Jones' Diary' – the question I want answered is: when are these two men going to fight? The answer is never. The vet's biggest problem is that he is late for his date with Sarah and he goes fifty-fifty on the meal. Very romantic! He is too into his boxed-sets ('Game of Thrones') to turn up on time. Sarah's biggest chance for happiness is with the scruff, who, as it turns out has problems of his own.
There is quite a bit of dog inspired slapstick, which mainly involves Sarah falling over, including onto a park bench which I imagine is quite painful. She also brings a stray dog back to its owner (Bernard Cribbins) which puts her in our good books.
Sarah only teaches one text, which doesn't make her much of an English teacher. I mean, she doesn't tackle Shakespeare, Chaucer or even Gerard Manley Hopkins. You'd think she'd quote from the classics, but 'Notting Hill', an excerpt from which features here, doesn't count.
At one point in the film, there is a houseboat, as if all scatterbrained single women want is to live on the river. They want to get on the housing ladder not into the city's sewer. My biggest complaint about Patrick is that the script could have been written any time in the last twenty five years. Admission: a script I once worked on also had a houseboat and ended with a race. It also featured the madam of a betting slip brothel, which goes to show how tastes have changed.
Sarah takes part in the fun run to raise money for a mobility scooter – for a stranger, not for the pug. Will she complete five kilometres? This doesn't count as edge of your seat stuff.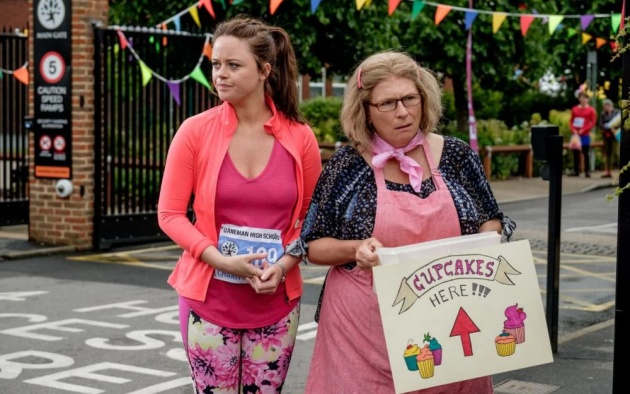 Pictured: Emily Atack and Jennifer Saunders in 'Patrick', a family comedy directed by Mandie Fletcher. Still courtesy of Disney (UK)
There is also a troubled student who has a hard time with her parents' divorce. Most kids I know have a hard time with their parents' marriage – what, you left me on my own again?
Edmondson's real life mother is the comedian Jennifer Saunders, who appears here as a home economics teacher. I have also wondered about the topic 'home economics', which basically equates to home cooking. I mean, isn't it cheaper to buy cakes from the supermarket? Saunders is on hand to offer comedy cakes as opposed to ones laced with narcotics, because in a Disney movie the latter would never do. Meera Syal, another television comedian, has a bit of business involving a loudhailer which she is reluctant to relinquish.
'Patrick' will struggle to recoup its £6 million production budget but passes the time amiably. Edmondson is likeable with the ability to throw shapes with her mouth – the upturned 'what the raspberry'. The film cautions potential dog owners to learn about breeds they are interested in but only right at the end credits when they've all left the auditorium or are looking at their mobile phones. I have a serious issue with the title, which doesn't bark 'dog movie'. There aren't many famous Patricks: Stewart, Swayze and a saint aside. You want to see the pug clear the slugs out of the back garden – Saint Patrick rid Ireland of snakes, don't you know – but this must have ended up on the cutting room floor. Incidentally, I wonder what happens to digital waste. Is unused digital footage archived?
Reviewed at Cineworld West India Quay (East London) Screen One, Wednesday 4 July 2018, 18:10 screening – one walk out (not me)