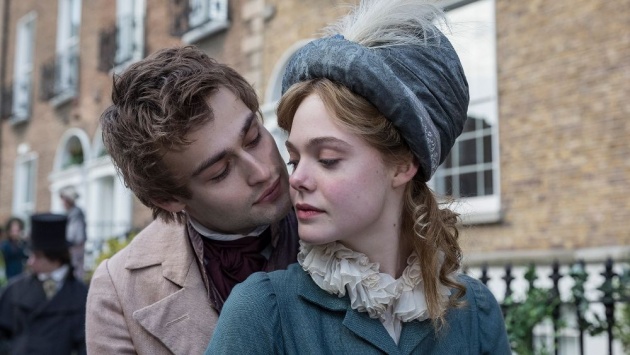 Pictured: 'Come on Mary, give us a Gothic masterpiece.' Percy Shelley (Douglas Booth) pleads with Mary Godwin (Elle Fanning) in 'Mary Shelley', a drama written by Emma Jensen and directed by Haifaa al-Mansour. Still courtesy of HanWay Films/Artificial Eye-Curzon
Though it is both written and directed by women, I'm not sure Mary Shelley qualifies as a film 'by women'. It feels designed by a committee, who took Australian writer Emma Jensen's script, ' A Storm in the Stars' and turned it into an industrial product starring Elle Fanning and a bunch of Brits. The title character, Mary Shelley, the lover of unconventional 19th Century poet Percy Bysshe Shelley, is the author of 'Frankenstein or the Modern Prometheus'. Even if, like me, you haven't read the book you have a clear idea of what Frankenstein is from Boris Karloff's memorable performance, Mel Brooks' affectionate parody and Robert de Niro telling Kenneth Branagh, 'meet me on the sea of ice.'
The director is Saudi-born, San Fernando Valley resident Haifaa al-Mansour, who since her breakout 2012 feature, Wadjda about a young Saudi schoolgirl who wants her own bicycle - the first film to be shot in Saudi Arabia, by the way, not just by a woman, but by anyone – has relocated to the United States. She has recently filmed a movie for Netflix, Nappily Ever After, starring Sanaa Lathan and Ernie Hudson, and is planning an animated film, Miss Camel as well as a second film in Saudi Arabia, The Perfect Candidate, about a female doctor who wants to stand for election. Five years have passed between al-Mansour's first feature and her follow up, which is about the industry average for women directors, if the films of Nicole Holofcener are anything to go by. However, she might be on a roll.
Born Mary Godwin on 30 August 1797, the young Mary blamed herself for the death of her mother, Mary Wollstonecraft, best known as the author of 'Vindication of the Rights of Woman' published in 1792; the latter died from infection ten days after giving birth. Her father, William Godwin, wrote his late wife's biography, which in turn scandalised her and led her to be forgotten. It is intriguing to imagine how young Mary was educated and how she mourned her mother in her stepmother's household. We may wonder how her father's philosophy, arguing for morality without religion affected the formation of Mary's own views.
None of this really informs Mary Shelley, which relates in 'y follows x' fashion, how Mary Godwin met Percy Shelley, struggled to find her voice and eventually wrote her famous defining manuscript, a literary sensation when it was published and finally reprinted in her own name.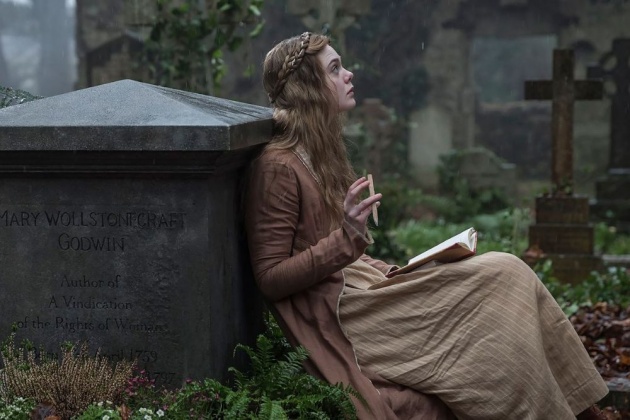 Pictured: Mary Godwin (Elle Fanning) troubles the dead for inspiration in the film 'Mary Shelley'. Still courtesy of HanWay Films/Artificial Eye-Curzon
It is not, in any sense, a psychological portrait or really describes how writers write. They write not because they want to, but because they have to, either it is the only living they can make or because the work keeps the psychological wolf at the door – the devil makes work for idle hands, and all that. Writers see the shortcomings of other art and want to do it better but they also make sense of the trauma of their own lives through their work.
Mary Shelley begins with 16 year old Mary (Elle Fanning) sitting in a graveyard twiddling with her pencil. She rests by her mother's tombstone because (she says) it gives her a sense of solace. Mary reads books that she's not supposed to, not literary works that edify but 'penny dreadfuls', the literary equivalent of a tabloid newspaper or, if you prefer, pulp fiction. Her famous father William (Stephen Dillane) is introduced by Mary's stepmother, Mary Jane Clairmont (Joanne Froggatt) in the 19th Century 'wait till your father gets home' mode. He turns out to be a kindly gentleman whose prized possession is a copy of 'The Iliad' in the original Greek. Mary really ought to be working in the bookshop but she's writing. Her father, ever the critic, is dismissive, but the family has money problems. Later, William contemplates selling the said copy of 'The Iliad'.
Mary is sent to live in Scotland where she makes the acquaintance of Percy Bysshe Shelley (Douglas Booth), a house guest. Mary's host is Isabel Baxter, played by Maisie Williams of Game of Thrones fame. When Isabel appears, you realise that al-Mansour is a lot better of casting and directing actresses than actors. Williams is vivid and sparky, playing a woman seemingly starved of company living in a big old house somewhere remote.
Mary and the 21 year old Percy hit it off, though Booth doesn't wear his role well. Al-Mansour seems to have cast him for his looks, but I never felt that Percy was rooted in any sort of background. We are told about his scandal at Oxford University, publishing the essay, 'The Necessity of Atheism' which got him expelled and also (later) about his marriage to Harriet (Ciara Charteris), a woman who later collars Mary to give her the 'stay away from my husband' speech. However, we aren't told that he is the son of a Parliamentarian - presumably groomed to become an MP - but rebelling against his background.
Mary gets a letter summoning her back to London, where her step-sister Claire Clairmont (Bel Powley) is ill. Only the girl isn't on her deathbed; she's just pretending.
At this point, who should turn up as her father's new apprentice, but Percy Shelley, keen to financially support Mary's father to pay him for his time.
Do we hear any of the philosophical discussions between the emerging poet and Mary's anarchist leaning father? Of course not - we have story points to get through.
One of the film's best moments has Percy speaking at a soiree. Al-Mansour starts the scene by focusing on a servant handing out drinks. This is a reminder that there was a whole group of silent people who witness fragments of the lives of great orators. I sensed in al-Mansour a kinship for that servant; how she would very much like that man to be heard.
Although Percy is married, Mary moves in with him. Then she gets pregnant and gives birth to Clara. Actually, the film isn't faithful to the Godwin-Shelley timeline. We aren't told that at the same time as Mary is pregnant, Harriet is also pregnant with Percy's second child. Indeed, by the time Harriet commits suicide, she is pregnant with Percy's third child. Percy, it seems, is a love rat, but al-Mansour and Jensen simplify things to make him slightly more sympathetic. As I said at the beginning of this review, this doesn't appear to be a film made by women.
Al-Mansour and Jensen even omit the birth of Mary and Percy's second child, William, born on 24 January 1816, presumably because it does not fit the psychological realism of the story they are telling.
Back to the plot: Mary, Percy and Claire are all living together with Mary's young daughter, Clara. Percy enters, breathless.
'We've got to get out of here – the creditors are coming.'
One of the other points of showing the servant in that soiree scene is to illustrate how even anarchists live beyond their means.
The camerawork is all hand held, close to the action. The trio make a dash for it. It is raining outside. Mary complains that the child is poorly.
Percy: 'we have to keep moving.'
Eventually, they find sanctuary. Clara's health worsens and she dies. This ought to be a lesson in the dangers of living beyond one's means.
Claire tells Mary that she's not the only woman from their family to bag a poet: she is dating Lord Byron, he of the tag line, 'Mad, Bad and Dangerous to know.' As played by Tom Sturridge, he resembles a young Omar Sharif from Dr Zhivago minus the Balalaika. When we are introduced to Lord B at his residence, the Sharif-lookalike whisks Percy away, ostensibly so they can take drugs through a hookah. Claire gets Mary and Percy invited to Switzerland, where they are introduced to John Polidori (Ben Hardy), who seems the only young man with a proper profession. John has written a novel, 'The Vampyr' only Lord Byron won't give it the time of day.
In any film about Mary Shelley, we want to see that evening when some of the classic works of Gothic literature were inspired. Mary's inspiration for Dr Frankenstein came from a show in which electricity was used to raise a man from the dead – the process is called Galvanism. We are shown the invitation to write a story to entertain the group in a storm, though in this film, Mary does not perform it in company. A more fanciful account of the same evening is shown in Ken Russell's 1986 film, Gothic, with the late Natasha Richardson as Mary Godwin and Gabriel Byrne as Lord Byron. You might also want to watch the 1988 film, Rowing with the Wind in which Hugh Grant stars as Lord Byron alongside Elizabeth Hurley as Claire Clairmont and Lizzy McInnerny as Mary Shelley. Well, perhaps not. Or better yet, you might want to catch Ivan Passer's 1988 film Haunted Summer, in which Alice Krige plays Mary Shelley, Eric Stoltz plays Percy and Laura Dern Claire Clairmont.
While I saw Gothic, I missed both Rowing with the Wind and Haunted Summer on release.
Al-Mansour and Jensen skim over the evening pretty quickly. It is enough for them to show Mary feverishly writing.
There is a postscript. Percy and Mary disagree over the ending. Percy wants the story to show the 'Monster' become an Angel, to illustrate the power of humankind's creativity. Mary disagrees: she wants the Monster to end up dead to show the danger of creation. They agree to differ.
Mary cannot get her book published (for the most part) unless Percy writes an introduction. He does so. The book is published anonymously and turns out to be a hit. We hear how Harriet committed suicide. In the film, the couple are driven apart by this – well, Percy leaves her for a bit. In reality, the marriage lasted from 1816 to 1822. We learn from John Polidori that Lord Byron published 'The Vampyr' as his own work, the bloodsucker.
The finale is a party in which the identity of the author is revealed. The final image is of William Godwin placing a copy of 'Frankenstein' by Mary Shelley in his shop window.
There are a few scenes with energy, notably an early one in which Mary receives a caller who makes a pass at her; she repels his advances, though he wants to take her by force. In the last ten minutes, Mary defends her right to be identified as the author of her book; that books by women should be identified as such. In Mary's lifetime, Anne, Emily and Charlotte Bronte published their poems under the names Acton, Ellis and Currer Bell.
Mary published many more novels than just 'Frankenstein', among them a post-apocalyptic novel, 'The Last Man' and 'The Fortunes of Perkin Warbeck'. Jensen and al-Mansour are not interested in these works.
You get the feeling that the makers could have saved themselves a lot of time and just watched the films about Mary Shelley made in the 1980s. This film adds very little. It abjectly fails to convey the mind of a woman who would conceive of Frankenstein, mainly because it doesn't convey her point of view emotionally or by using the techniques of cinema – there is a flashback montage close to the end that includes some moments that we haven't seen, but it does not do the job. Fundamentally, the film does not explain why she mostly wrote about men. Mary's posthumously published novel, 'Mathilda' gives the biggest clue, dealing with a father's desire for his daughter. It is clear that there is more to Mary Shelley's life than filmmakers are willing to commit to digital video.
Reviewed at Barbican Cinema, City of London, Thursday 12 July 2018, 18:10 screening
View Trailer here: https://www.youtube.com/watch?v=5mJ0T4P5gH