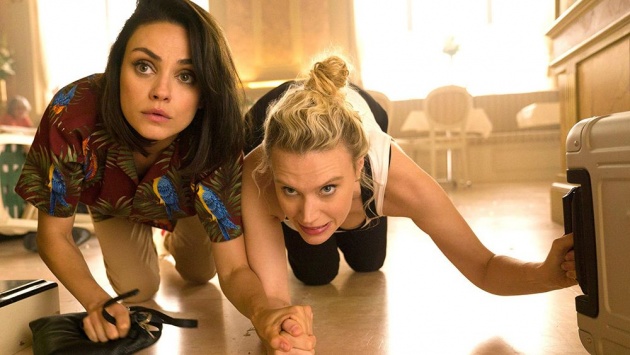 Pictured: Audrey (Mila Kunis) and Morgan (Kate McKinnon) make a frantic escape with one eye on excess luggage charges in 'The Spy Who Dumped Me' a Hollywood comedy co-written and directed by Susanna Fogel. Still courtesy of Lionsgate
'The Spy Who Dumped Me', co-written and directed by Susanna Fogel, is only one of four films directed by women given a wide release by a Hollywood studio this year. It's a depressing statistic and everyone knows it, but it also puts pressure on the film to be good, like 'better than the remake of 'Ghostbusters' good'. It is a comedy with a pun in its title, which isn't a recommendation. It's also a curious one. Just as the James Bond film 'The Spy Who Loved Me' wasn't really about 'me' (Barbara Bach's character, Anya Amasova), so 'The Spy Who Dumped Me' isn't really about the 'spy', in this case Drew (Justin Theroux). It isn't about 'me' – Audrey (Mila Kunis) either, rather me and my best friend Morgan (Kate McKinnon) who has a surname that gets her dinner reservations. Clue: it's not Fairchild.
Fogel's first film, 'Life Partners' (2014) dealt with a female friendship tested when one of them enters into a relationship with a man. Her modest studio follow-up, with scenes set in Vilnius, Los Angeles, Vienna, Prague, Amsterdam and Berlin, is about female friendship whilst doing a man's work. Only Audrey and Morgan don't fall out with each other; they stick together, no matter what.
It is probably too soon for Hollywood to release yet another female-centred spy comedy, after the Melissa McCarthy-Jude Law-Jason Statham comedy 'Spy', which grossed $235 million at the worldwide box office back in 2015. However, studios look at the numbers. If Paul Feig isn't directing a sequel to 'Spy', in which McCarthy played an analyst thrown into the field, then let's make a film with its aroma.
Alas, after four weeks of release, it is clear that 'The Spy Who Dumped Me' is unlikely to recoup its $40 million production budget in the United States alone, having grossed $32 million in 28 days. But it is not a disaster. Its weak link is Mila Kunis, whose association with Seth MacFarlane ('Family Guy', 'Ted') and the 'Bad Moms' movies gives the misleading impression that she is an appealing comedy actress. In the film, she looks like she is playing a sleeper secret agent, who has suddenly remembered that she is good with a gun and can make a creative use of a lip stick and a bad guy's thumb.
The good news is that the film offers Kate McKinnon's biggest screen role to date. McKinnon almost makes up for Kunis' lack of personality by having comic energy and a multitude of voices to burn. I felt that she was the three witches in the Bette Midler-Kathy Najimy-Sarah Jessica Parker comedy, 'Hocus Pocus' rolled into one. Her character is a cheerleader who organises birthday parties where she is the entertainment. 'I didn't know you had a microphone', Audrey remarks at one point. Morgan doesn't just have a microphone - she brings her own amplifier too.
At the start of the film, Drew is in a market in Vilnius aware that there are men trying to kill him. Practically the first image of the film is Lithuanian street food, potatoes and 'slop' – actually they're called Cepelinai and are stuffed potato dumplings – which puts us far away from the glamour of the James Bond films. Drew buys or steals a billiard ball which he uses as a weapon to defend himself.
Meanwhile, several thousand miles away in Los Angeles, Audrey needs cheering up. It is her birthday and she has been dumped by text message like Isabelle Adjani. Not on her birthday, you understand – Drew isn't that cruel – but close to it. Morgan is trying to raise her spirits by coming on full Ethel Merman. Her eyes widen maniacally – it is not surprising that McKinnon played Pennywise the Clown from 'It' in a Saturday Night Live sketch; she is Cecille Be Demented (sorry, John Waters). After a depressing conversation with one of her former classmates, Tess (Lolly Adefope) who couldn't believe Audrey would ever date a man as handsome as Drew and, well, now she's not, Morgan encourages Audrey to burn all his possessions. In the heat of the action in Vilnius, this gets Drew's attention and he calls to beg her not to destroy his stuff. Drew is killed in action, but not before instructing Audrey to take his second prize trophy to Vienna to meet 'Vern' in a cafe. After an attack in Audrey's apartment that leaves one man dead, Audrey and Morgan flee. 'It's a good job we have our passports in the glove compartment from that trip to Tijuana,' Morgan explains thereby addressing one plot difficulty of fleeing the apartment without packing. But they can't arrive at LAX (Los Angeles International Airport) without a suitcase and stuff to put in it.
At this point we get the one year earlier bit: we find out how Drew and Audrey met. Drew was the 'spy who bumped me', though he introduced himself as a blogger on random subjects, which is the cover of choice - see also the 2016 spy action comedy, 'Keeping Up With The Joneses' starring Zach Galifianakis, Isla Fisher, Gal Gadot and Jon Hamm, or rather don't because it's not that entertaining. At some unseen moment, Drew became the spy who humped me. Spoiler alert: there are no sex scenes in this movie, but there is a reverse-testicle shot, which is filmed from behind. Please give Ms Fogel points for creativity.
The 'meet cute' scene has Audrey challenge Drew to find the worst song on the juke box in the bar where they became acquainted. You can be sure that whatever it is, it is not on the soundtrack. The worst song is defined as one that is played at every wedding but that everyone hates; I didn't know 'here comes the bride' featured on jukeboxes.
At this point I ought to mention Sam Heughan, who some viewers will know from the TV series, 'Outlander'. Mr Heughan is a lookalike for Cary Elwes. If you wanted to remake 'The Princess Bride' or somewhat more appropriately, 'Robin Hood: Men in Tights', you could call for Mr Heughan. For some reason, his character, Sebastian, a MI5 agent, or maybe not, has a scratch on his face. I can only assume he sustained it on the show. Sebastian and FBI agent, Duffer (Hasan Minhaj) bust in on Audrey's apartment thereby prompting them to leave. Sebastian ends up in Vienna pretending to be Verne, and there's a shoot out, then a chase, and the whole thing turns on a drive – what we in the UK call a USB stick.
I felt for the taxi (or 'Bitteauto') driver (Kev Adams) who is shot in the middle of a car chase; significantly, it is only men who get killed and not women, even when they are blown up – I'll get to the killer gymnast later. There is an invisible line that Fogel doesn't cross.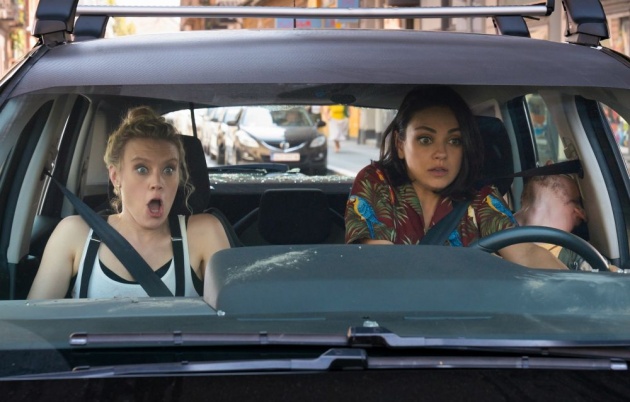 Pictured: Audrey (Mila Kunis) proves she's no Baby Driver in 'The Spy Who Dumped Me', a Hollywood comedy co-starring Kate McKinnon in the passenger seat. Still courtesy of Lionsgate
Logic to the film is stretched. At one point, Audrey and Morgan decide that they have to steal two passports in order to travel from Vienna to Prague. They pick on two Australian backpackers, whose comedy rise is to shout 'give me back my bum bag'. Quite why Audrey and Morgan don't imagine that the photos in the passports won't match and they will be cancelled by the Australian Consulate is neither here nor there. It is a token acknowledgement of the passport issue; everyone knows that Europe's borders are porous.
About that killer gymnast (Ivanna Sakhno) – she's a bad one. There is a point where a female assassin perches on a tower and trains her rifle looking for two 'dumb' female tourists. The joke is that there are three pairs of female tourists, throwing up or looking clueless, who catch the shooter's eye. Audrey and Morgan end up being drugged by Morgan's imposter uncle (Fred Melamed) and find themselves strung up for questioning, being asked by the gymnast where the drive is. 'I flushed it down the toilet,' Audrey explains.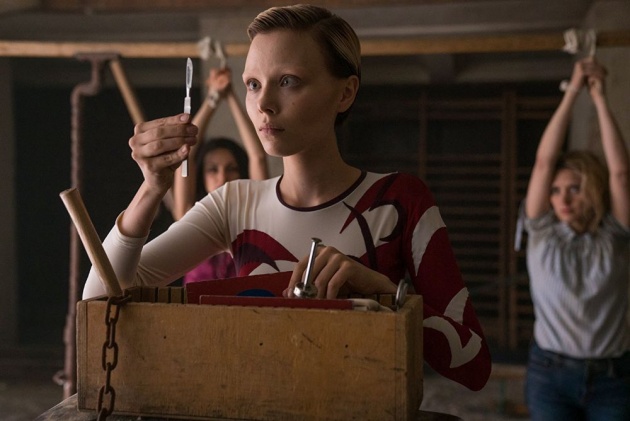 Pictured: a murderous assassin (Ivanna Sakhno) chooses her preferred instrument of torture – scalpel, nail file, Jane Fonda work out video – in 'The Spy Who Dumped Me'. Still courtesy of Lionsgate
The film continues in the same vein for its near two hour running time. Its moral is: trust your best friend, and maybe your parents, but no one else, though that British spy sure is handsome. Its high point is McKinnon's woman-crush on Gillian Anderson as Morgan is weak at the knees in the presence of Sebastian's female boss ('not an ounce of body fat'). Morgan clearly admires the espionage industry for the clothing allowance and diet.
Because the film needs a climax and we've already had car chases, the head in the fondue bowl and an angry gymnast, we end up at a Cirque du Soleil performance in Berlin. Morgan wants to perform – she's gagging for it – and ends up on the trapeze. Well, rather her than Audrey. Audrey is like a sleeper agent who is, well, asleep – Kunis has more rings around her eyes than Saturn. I don't know what the perfect Mila Kunis role might be, but Audrey isn't it.
There are no big belly laughs in 'The Spy Who Dumped Me', even though McKinnon works her knitted socks off. She is going through what I would describe as 'early Robin Williams' – Hollywood doesn't know what to do with her. She needs her 'Good Morning Vietnam' moment – and with the current American President, so do the rest of us. This is McKinnon's version of 'The Survivors' (1983, director: Michael Ritchie).
Ultimately, it is about Audrey facing up to being dumped, but it is a false premise in many senses, based as we find out on a misunderstanding (not a spoiler – honest). Meanwhile, 'The Spy Who Dumped Me' is being dumped at the box office, with 'Crazy Rich Asians' being the late summer 'sleeper' hit.
Trailer: https://www.youtube.com/watch?v=CXkUaaVrB_s
Reviewed at Cineworld West India Quay, East London, where staff point to machines from which you buy your tickets instead of selling you one. Friday 24 August, 20:30 screening, Screen 10