Pictured: JR parks the bus - sorry, van - in a less than picturesque location in the documentary 'Visages Villages'. Still courtesy of Curzon Artificial Eye
Filmmaking is one of the few professions where there is no retirement age. When French director Agnès Varda started making Visages Villages, a road movie in which she collaborates with artist JR to decorate houses with giant-sized black and white photographs of their occupants, she was eighty-eight years old. Eighty-eight? Crazy! At one point JR asks Agnès to climb the stairs of a tower to better see one of his creations. She gets halfway before stopping in protest. JR may be JR Heartless - pun understandable only to those familiar with a British 'Yellow Pages' advert featuring the author of 'Fly Fishing' - but he is nothing to compared to JLG; more of him later.
Varda is one of the directors who defined the French Nouvelle Vague, the only woman in a boys' club whose members included François Truffaut, Alain Resnais and Eric Rohmer. She actually made her first feature film, La Pointe Courte, released in 1955, before any of her male contemporaries stood behind a camera, though Resnais was one of her editors. In 1961, she made a short, Les Fiancés du Pont MacDonald, featuring one J-L Godard without his trademark lunettes. In Visages Villages, she spends practically the whole movie trying to get JR to take off his sunglasses. The young man refuses, even in the presence of his 100 year old grandmother.
Visages Villages (title translated as Faces Places) is a ninety-minute joy ride round villages in Northern France, with one detour to Rolle, Switzerland. I say 'joy' but there are two moments when different emotions are aroused. After Agnès visits an ophthalmologist, she explains why she wasn't afraid, the film cuts to the infamous eye-razor scene from Un Chien Andalou – a rotten trick as I can never watch that scene. At the end, Agnès visit to Rolle is ruined by a cruel quotation; she is made to cry. 'Did he [named perpetrator] do it to mess with our narrative?' asks JR consoling but also wittily. The perpetrator is no fan of story.
From its animated opening credits and contrived 'we didn't meet on the road/in a bakery/at the discotheque' opening, Visages Villages is a delight. It unashamedly celebrates old age and tenacity. It is more redoubtable than Redoubtable, Michel Hazanvicius' recent film about Jean-Luc Godard set around May 1968.Varda and JR have each cultivated their own look. She has dyed hair, brown on the outside, white in the centre. He wears a trilby hat and sunglasses; he could be a used DVD salesman. They are joined by a love of photography, though JR is interested in site-specific works.
Travelling from place to place in JR's studio van, notable for the enlarged photograph of a single reflex camera on its side, Agnès and JR set to work. They invite a group of villagers to be photographed holding a section of baguette between their teeth. The result is a black and white mural showing a very long baguette bitten into by a variety of people, which JR pastes onto a wall. JR spends a lot of time glue pot (so to speak) in hand; as he says at one point, he is less of a photographer than a decorator.
An early highlight involves Agnès and JR visiting a former mining community. In one street, all the houses are empty, save for one, occupied by a miner's widow in defiance of the town planners. JR photographs her and places her likeness on the wall of the building. When the woman steps out to look at herself commemorated in such an unusual way, she bursts into tears. We cannot help but share her emotion; Visages Villages reaches places other films cannot touch.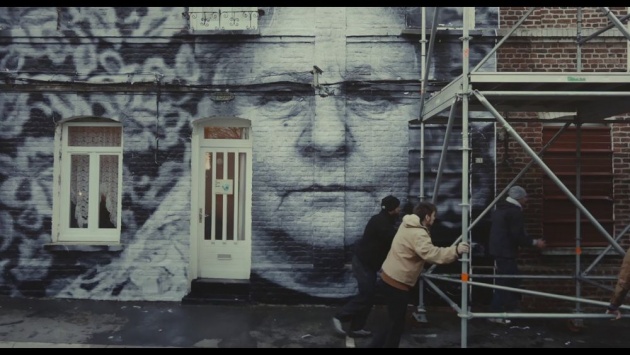 Pictured: A miner's wife gets the JR 'blow up' treatment in 'Visages Villages', a road movie documentary. Still courtesy of Curzon Artificial Eye
There is more. JR photographs Nathalie, a woman who works in a bar, and pastes her likeness on a wall. Her young children stand beneath her photographed foot and tickle it. Nathalie is ambiguous about the enlarged portrait, but she has suddenly become the most famous woman in that village, which tickles her lightly.
They pass a barn that has an inviting blank space that JR decorates with a photograph of the farmer, palms outstretched. Then there is a discussion about goats. One farmer removes the horns from goats at a young age, in order that they do not fight one another. Another farmer prefers not to interfere with her goat flock. 'Goats fight. People fight,' she explains. It is the horned variety that float Agnès' goat – I mean boat. These too are rendered photographically.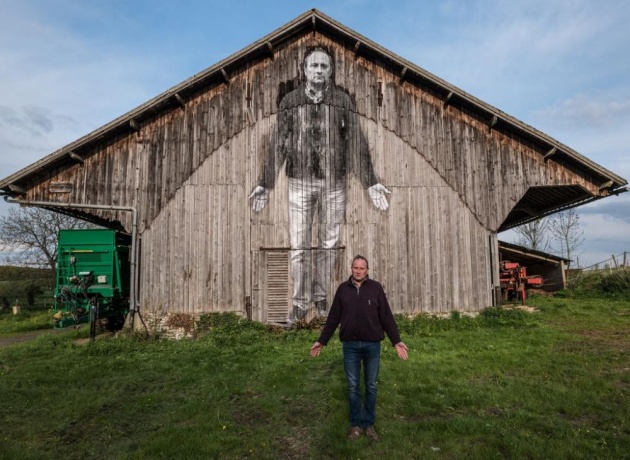 Pictured: A farmer poses in front of his decorated barn in the road-movie documentary 'Visages Villages'. Still courtesy of Curzon Artificial Eye
Each set piece is linked to the next associatively. At one point, Agnès complains that JR ruined her transition. We discover that they each have different tastes in photography. JR teases her for her love of the male nude. They try to incorporate one of her pictures on an unusual beach structure. It isn't one of their most captivating works and the tide, like a discerning critic, washes it away.
Agnès' fading eyesight is a concern; she wonders whether this might be her last film. 'You always say that,' responds JR, as if he had known her all her life – the bond between them is something to behold. They visit the grave of Henri Cartier Bresson and Agnès recalls working with him. She finds herself thinking of Jean-Luc Godard as she collaborates with the youthful JR. Together, they recreate the mad dash through the Louvre staged in Godard's 1964 film, Bande à Part – JR pushes Agnès in a wheelchair through the museum. The sequence encapsulates the documentary's giddy and irreverent mood and is one of its many pleasures.
Was Agnès right to try and arrange a meeting between Jean-Luc Godard and JR? The visit to Rolle doesn't end well. I have long had my suspicions about JLG's ability to relate to people, that he might be quite high on the autistic spectrum, joining such director-artists as Peter Greenaway and David Byrne – the latter confirmed his own diagnosis. Godard doesn't spare Agnès' feelings, prompting a memory of her late husband, Jacques Demy. You don't leave Visages Villages with a favourable view of the man.
The big finish takes place at Le Havre, where JR photographs three wives of workers at the port, pasting their likenesses to containers. The women all sit within their likenesses, far above the ground, each offering a different emotional response; one of them hates heights. The image is truly startling and gives new meaning to the phrase 'high concept'.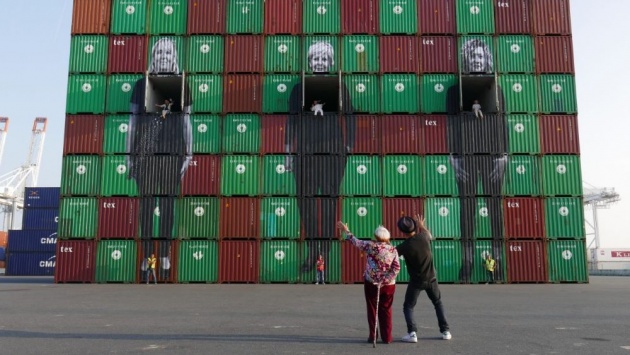 Pictured: Agnès and JR marvel at decorated containers; their subjects sit inside their likeness in the documentary 'Visages Villages'. Still courtesy of Curzon Artificial Eye
Memorialising working people and their families of the past and present, JR and Agnès personalise areas that might otherwise be demonised for their social problems. The impact of murals should not be understated; they invite passersby and residents alike to ask questions and be reminded that communities are filled with people who have histories every bit as valid as politicians or artists. By focusing on working people, Agnès is more socialist in the literal sense than Godard himself. She puts the person as well as the social class front and centre. In so doing, she becomes the Republic's grandmother.
The majority of the enlarged portraits are of white people; the film might be said to be promoting individuals with long-standing ties to the community rather than immigrants who have joined more recently but made just as positive an impact. Yet the enterprise isn't racist; it is just that Agnès connects to a certain generation.
At worst, the film's racial politics are ambiguous. Agnès is telling stories of 'her' people, in the way that African-American directors concern themselves with the black experience or Jewish-American directors reflect on their own preoccupations. JR and Agnès' enterprise is never challenged within the running time of the film, but this isn't a fault. In many ways, class is just as important as race. Visages Villages is not just an aesthetically pleasing and emotional experience but it asks questions about what we mean when we talk about 'the people'.
Reviewed at Soho Screening Room, Monday 10 September 2018, 18:30 screening.