Mo (stand-up comedian turned actor Redouanne Harjane) can't read. Lila (Sara Forestier) can't speak. Naturally they fall in love.
This is the premise behind actress-turned-writer-director Sara Forestier's feature debut, M, a French drama not to be confused with the classic 1931 Fritz Lang-directed film of the same name.
Some qualifications are required. It's not that Mo can't read. He may have undiagnosed dyslexia, though the condition is never mentioned. It's not that Lila can't speak. She has a debilitating stammer to the point where she has stopped trying. She wears a scarf around her mouth which functions as a gag.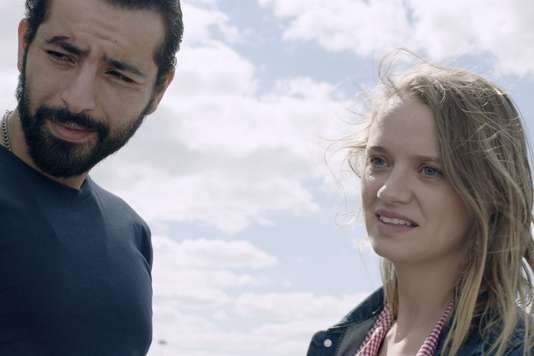 Pictured: Mo (Redouanne Harjane) and Lila (Sara Forestier) in 'M', a romance written and directed by Forestier. Still courtesy of Ad Vitam
Some further qualifications: Mo races cars illegally in a garage. Actually, it's just one car but the expression doesn't allow for accuracy. There is always the assumption that racing car drivers will total at least one vehicle, hence the descriptor. Lila is a schoolgirl, who is studying to pass the Baccalaureate, an exam that allows French kids to enter higher education. Only Lila has to take an oral exam. How can she succeed when she can barely utter a word and gets her classmate to read out her answers in class?
They meet at a bus stop. Mo asks her for directions. Lila draws a picture, illustrating it with words. 'Don't write – use your hands like a stewardess,' he says, angrily. Mo's temperament changes when a bus pulls up and some kids mock Lila. 'B- B – Bernardo,' one mimics. Who's Bernardo? Doesn't matter! Mo gives Lila a half-eaten Macaron (strawberry, if I'm not mistaken) and his telephone number. Lila treasures the Macaron. Her school friend wants her to share. 'I can't,' Lila writes, 'it's a gift.'
Lila tracks down Mo to his practice ground, where he tries to shock her into uttering a word by driving the car very fast. 'Tell me to stop,' he cries. Though petrified, Lila's vocal chords can't cross the threshold.
Mo is determined. He pays his friends to mug him, spraying Mace (TM) in his face and stealing his briefcase. Why is he carrying a briefcase? Doesn't matter! The attempt doesn't quite work. Lila stares helplessly at him, unsure what to say or do. Then the words trickle out.
In the film's first scene, Forestier sets the bar for screen stammering quite high. A group of real-life stammers take part in a support group. We hear their anger at having to substitute words that they cannot say for ones that don't convey what they seek to express. One stammerer simply doesn't say anything. The questions move to Lila and if there is one look that Forestier can convey in super-abundance is that of a deer in the headlights.
It is a mistake to read M as a realist film, even though Forestier has some form in the genre. Readers of this series may recognise that she also appeared in Emmanelle Bercot's La Tête Haute (Standing Tall) in which she played the mother of a tearaway schoolboy and Hélène Angel's Primaire (Elementary) as a provincial primary school teacher (and mother) who lives where she works. Now in her thirties – I am writing this on 4 October 2018, Forestier's 32nd birthday ('joyeux anniversaire, Mmlle') – she is one of the few actresses who can convincingly play both a thirty-year old mother of a teenager and a schoolgirl. She has fragile oval features. As Lila, we see her eyes fill with longing and a face that might crack like an egg. It is fair to suggest that Forestier's audience know how old she is and take a leap of faith in accepting her as a student. I took that leap; I believed.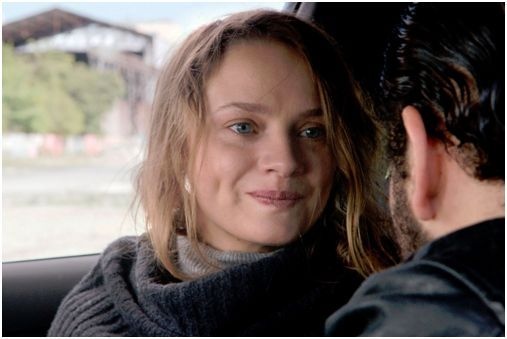 Pictured: The look of love. Lila (Sara Forestier) faces Mo (Redouanne Harjane) in 'M', a French romance written and directed by Forestier. Still courtesy of Ad Vitam
Mo lives in a bus parked in an otherwise deserted lot. He has even erected a hammock on the roof of the bus. How does he climb up there? Doesn't matter! The film has a fairy tale logic, even though some details are plausible, such as Mo and Lila both losing parents, Mo his father, Lila her mother. It is almost as if their impairments are drawn from their familial losses, though I accept that the notion is offensive to disabled people.
Mo is estranged from his mother, who disowned him for quitting school. He won't talk about it. Lila's father (Jean-Pierre Léaud) is a brute. He's the sort of grumpy bloke who lounges in front of the television and when Lila reads the story 'The Dog Who Dropped His Prey For A Shadow' to her kid sister, Soraya (Liv Andren) turns the sound of TV up and tells Soraya to listen to her Walkman. I should explain that Forestier wrote the script over ten years ago; she obviously kept this detail in, even though personal stereos have evolved. Even the mobile phones on screen are older models. That said, later on, Lila publishes her work on a poetry blog. 'Look at the responses,' she says to Mo, not knowing that he cannot read them.
Lila takes Soraya to visit Mo. The young girl, who can't be much older than six years old, winks at him flirtatiously. This takes the film into a whole different stratosphere. The most disturbing scene has Mo get very angry with Soraya to the extent that he pulls out her baby tooth. Soraya is terrified – blood gushes from her mouth. However, with her classmates, she is all smiles, showing off the gap with an adult tooth clearly growing underneath and filling it a bite from her candy necklace.
The other image that might cause eyebrows to be raised has Soraya lying on top of a shirtless Mo with her top also off. There is no suggestion of sexual impropriety yet the image challenges what we think of as natural behaviour.
Many great films feature a classic restaurant scene. Who could forget in Michael Mann's Heat when Al Pacino's cop and Robert de Niro's criminal meet for the first time? Similarly, When Harry Met Sally owed much of its popularity to the fake orgasm 'I'll have what she's having' scene. The restaurant scene in M is not a classic, but I'll rate it B +. In it, Mo takes Lila to a fancy restaurant – earlier he asked her what she would like to eat but she could not say. They are poised over menus. Mo cannot read his. Lila stumbles through hers. She orders by pointing. He says he wants the same. The meals arrive. It is escargot. Lila crunches through one eagerly; Mo changes his mind. He asks for pasta. They have spaghetti with squid ink dressing. Mo asks for spaghetti with tomato sauce. The scene restates M's insecurities not just about reading but about his social class.
Mo undoubtedly helps Lila to speak. She screams at her father to get Mo a job at his restaurant. Her way of entering her apartment is to climb in from the outside. She wants to avoid the key in the latch. She would rather her disapproving father did not know she was there. Mo does get a job in the kitchen. He has problems with the orders, which he cannot read. This leads to a confrontation.
As Lila's confidence grows, she shares her poetry online. Her tutor (Nicolas Vaude) offers encouragement. She joins a group. There is the oral exam. 'When someone unnerves you, imagine them naked,' advises Mo. It turns out to be useful advice.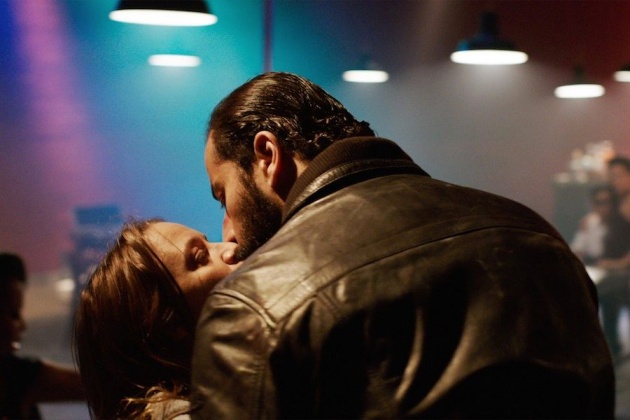 Pictured: Get a Vroom. Lila (Sara Forestier) and Mo (Redouanne Harjane) embrace in 'M', a romance written and directed by Forestier. Still courtesy of Ad Vitam.
There is a striking scene where Mo takes Soraya to McDonalds ostensibly to try to learn to read. She explains the sounds in 'nom' and 'mon', but just ends up confusing him. As homework, he makes her write lines of 'a', 'b', 'c' 'and what comes next'. He later copies her handwriting.
After losing his job, Mo explodes. He asks his sister to help him to read. 'But that's a job.' He returns to racing. During the climactic race, he discovers the letter 'm' with three humps traced on his windscreen.
At its heart, M is a heart-felt fairy tale romance, persuasively played by Forestier and Harjane. The casting is eccentric: Léaud seems a little too old to play Lila's father. His face is a lake of desiccation. The black comedy and tender exchanges provide a winning combination. Although reviews in France were decidedly mixed, Forestier has backing for a second film. Hurrah for that!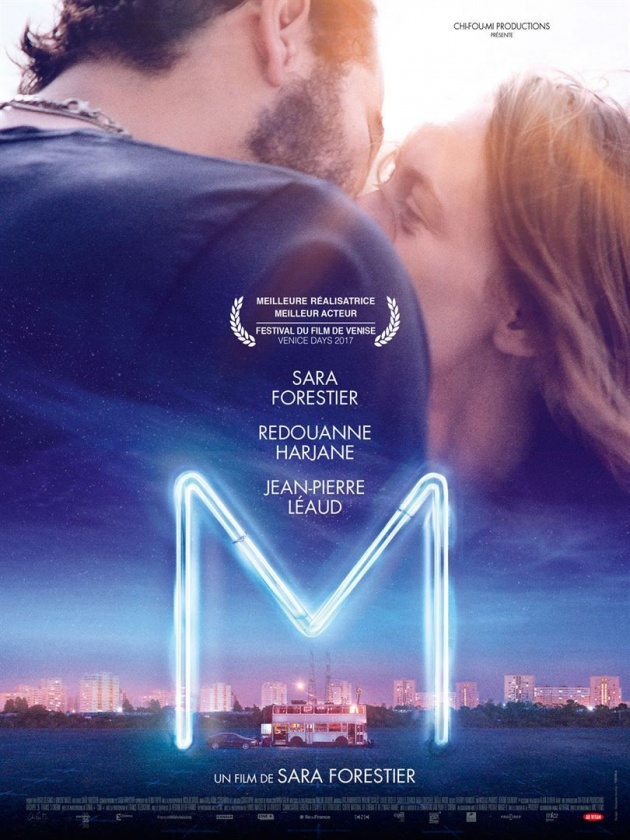 Reviewed at Raindance Film Festival, Vue Piccadilly Circus Screen Four, Lower Regent Street, London, Wednesday 3 October 2018, 18:00 – in the presence of Jean-Pierre Léaud (introduction) and Redouanne Harjane (question and answer session)