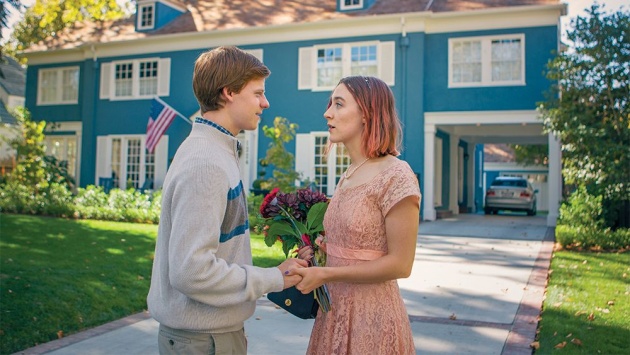 Pictured: Danny (Lucas Hedges) and 'Lady Bird' (Saoirse Ronan) outside Danny's grandmother's house in 'Lady Bird', written and directed by Greta Gerwig. Still courtesy of A24 Films
The route from acting to direction is a familiar one. Recognising the limits of a star persona, actors retreat behind the camera to tell different stories, ones that reveal a broader range of interests, with more emotional depth and subtlety. In 1978, Sylvester Stallone used the kudos afforded to him by the success of Rocky to write and direct Paradise Alley, a drama about three brothers in Hell's Kitchen, New York, who enter the world of professional wrestling in the 1940s. So determined to one-eighty away from reprising Rocky Balboa in a different guise, Stallone cast Lee Canalito as a strong simpleton in the Lenny from Of Mice and Men mould who is persuaded by his two brothers to enter the ring. The film was not a success. Stallone's next film as director was Rocky II, a year later, and he rarely deviated from giving the audience what they wanted – even his Saturday Night Fever sequel, Staying Alive (1983) was directed like a sports movie.
Stars use their celebrity to direct films where there is no obvious starring role for them. Robert Redford could not have possibly played the male lead in his 1980 directorial debut, Ordinary People, about an upper-middle class American family blighted by the death of the eldest son in a boating accident – instead he cast Donald Sutherland, who had previously played the grieving parent in the psychological drama, Don't Look Now. Incredibly, Redford beat Martin Scorsese to the Best Director Oscar – Scorsese's Raging Bull came out the same year – though Robert de Niro won Best Actor. Some stars needed their celebrity in front of the camera to make the transition. There was no way that Metro Goldwyn Mayer would front Barbra Streisand millions of dollars to turn Isaac Bashevis Singer's story, 'Yentl, the Yeshiva Boy' into a musical, unless she played the title role herself. The result, Yentl, released in 1983, became a modest box-office success ($40.22 million according to Box Office Mojo), enough for Streisand to return to the director's chair a further two times with The Prince of Tides (1991), which grossed $110 million and The Mirror Has Two Faces (1996), which grossed $91.61 million. In the early 1980s, it seemed that only actors turned directors would win the Best Director Academy Award: Robert Redford in 1981; Warren Beatty in 1982 for Reds; and Richard Attenborough in 1983 for Gandhi. Then in 1984, a TV show-runner, James L Brooks won for Terms of Endearment and it seemed like the industry was changing again. In the early 1990s, the pattern repeated itself with Kevin Costner winning in 1991 for Dances with Wolves, Clint Eastwood in 1993 for Unforgiven and Mel Gibson in 1996 for Braveheart.
These days, actors turned directors rarely earn awards glory, so don't expect in 2019 Bradley Cooper to pick up an Oscar statuette for his remake of A Star is Born, in which he co-stars opposite Lady Gaga. There is no such expectation that Greta Gerwig will be nominated this year for Lady Bird, a coming-of-age drama set in 2002 that the indie actress wrote and directed based on her own upbringing in Sacramento.
Her film, which has been on release in the United States for the last ten weeks and is still in the US Box Office Top Twenty (at number 16 as of 7 January), is a modest box office success but a monster critical hit. Gerwig is not what Hollywood deems a star. She does not 'open' multi-million dollar productions and she hasn't made a film that has turned into a $100 million hit. But she has appeared in supporting roles in two of the most acclaimed films of 2016, director Mike Mills' 20th Century Women and Pablo Larrain's Jackie and she has exuded star quality – if not the box office to match – in the indie hit, Frances Ha, which she co-wrote with the film's director, Noah Baumbach.
Gerwig's big subject is being a young woman with an artistic sensibility without the means to express it. Her seventeen year-old alter-ego, Christine 'Lady Bird McPherson (Saoirse Ronan) is being educated at a convent school in Sacramento, Northern California. Christine has an older adopted brother, Miguel (Jordan Rodrigues) who works in a supermarket, having underperformed against his college education. Her mother Marion (Laurie Metcalf) wants to keep her close. She doesn't want Christine to go to public school – Miguel witnessed a stabbing. She certainly doesn't want her biological daughter to fly away to an arts college on the East Coast.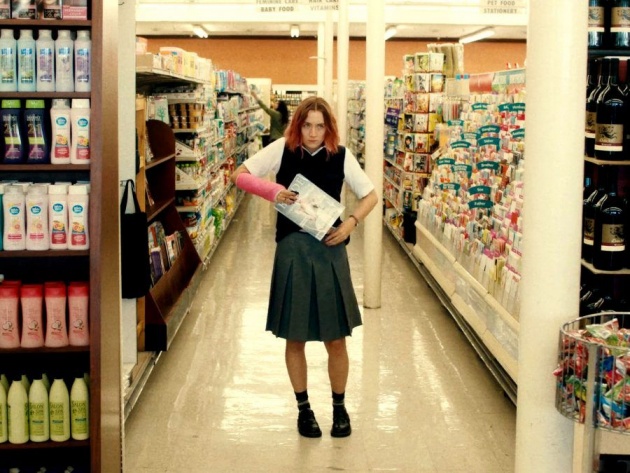 Pictured: Wanting a magazine to read in bed, Lady Bird (Saoirse Ronan) attempts to fuel her cultural need in 'Lady Bird', written and directed by Greta Gerwig. Still courtesy of A24 Films
The tension between mother and daughter drives the film. The struggle is so personal that you could not imagine Gerwig, even if age appropriate, playing the part herself. It helps that the New York-born Ireland-raised actress Ronan has an angel face and no hint of guile or spite. Irritation, on the other hand, Ronan conveys in spades.
We know we have been transported some place real, somewhat unlike our own lives yet utterly plausible, when we see Christine and Marion in a car listening to the closing chapter of the audio book, 'The Grapes of Wrath'. The only time you can imagine people on the road focussing on an audio book is driving through flat featureless landscapes with very little traffic, an America not interesting enough to scrutinise closely. Christine wants to play music but her mother wants her to 'stay on that' [the novel]. A row about Christine's education develops. Tempers flare and then – well, I won't spoil it. The next time we see Christine, she is in class with a pink bandage around her wrist bearing a disparaging remark about her mother and a title montage ensues, set to Jon Brion's low baseline guitar music. The soundtrack completely flips our expectation of a convent school drama, drowning out the catechisms, running against the grain. It gives scenes that might otherwise seem sedate real dynamism.
This being a high school drama, Christine, or 'Lady Bird', as she calls herself, falls for an Irish boy, Danny (Lucas Hedges), who comes for a family so large that he runs the risk of dating his cousins – that's Danny's description, not Lady Bird's. Lady Bird first sees him at audition for the high school musical, where she performs Sondheim, as does he, and then in a supermarket. She spends Thanksgiving at his grandmother's in a large house that she would like to live in herself. Then after the show, she makes an unexpected discovery that causes her to cross out his name on her wall. She then fixates on Kyle (Timothée Chalamet), a kid in a band and trades in her best friend Julie (Beanie Feldstein) for the more popular Jenna (Odeya Rush), who is in with Kyle's crowd.
However conflicted Lady Bird is with her mom, she loves her dad (Tracy Letts). Hearing a knock on the door, she says 'come in, Dad.' 'How did you know it was me?' he asks. 'Mom doesn't knock.' Lady Bird enlists his support for her college applications but cannot bring herself to tell her mother. But Marion is no ogre. She works in a hospital and is supportive to her co-workers. Her 'mother face' is more severe because she fears that Lady Bird will make bad choices, though in many ways Marion is liberal. When Lady Bird asks about the best time to sleep with a boy, she replies softly without judgement, 'college'.
Lady Bird does indeed lose her virginity. 'I deflowered you; you deflowered me; we have each other's flower' is my candidate for the most memorable line of screen dialogue in 2017. But this does not become a problem in a melodramatic way. The film builds to Lady Bird's prom night, when she decides who her true date should be.
The above synopsis doesn't really describe how funny the film is, with its frequent emotional switches. In an acting class, students are asked by the drama teacher, Father Leviatch (Stephen McKinley Henderson) to cry – first one to raise a tear wins. Then there is an unexpected pay off. We see Lady Bird and Julie lying on their backs with their feet on the wall eating communion wafers. 'It's all right, they are not consecrated.' Then there is the football coach who takes over the staging of 'The Tempest' – his direction is priceless. Not to mention Lady Bird's attempt to improve her maths grade and decorating the Chief Nun's car with 'just married' paraphernalia. Then there's Lady Bird celebrating her 18th birthday in a scene to test film classification. Then there is the naming of a star and the 'anti-abortion' presentation to which Lady Bird responds negatively.
The film would count for nothing if it didn't have the emotional impact of the airport scene, in which Marion's reserve crumbles. Every parent who has ever said goodbye to their child as they head off to continue their life's journey will relate.
Lady Bird isn't simply about Christine's journey. It deals with her father's unemployment and attempt to get a new job, in which he faces an unexpected yet welcome competitor. We are reminded of an America wounded by terrorism – Lady Bird thinks 9/11 had an impact on New York college applications. The time and place are particular and, quite unexpectedly, the film becomes a love letter to Sacramento in a montage scene that echoes the opening of Manhattan.
All in all, as coming of age movies go, Lady Bird is quite magnificent. As directorial debuts go, it is assured and confident. It comes with a coda in which Christine asks a guy at a party whether he believes in God. He replies no. 'I can't believe it. You accept the name your parents gave you, yet you don't believe in God!' The reality check ending puts into perspective Christine's own certainties, which are the certainties of the young attempting to make the world in their image. Much of the film is unsentimental and direct, which gives some scenes real power. Even after two viewings, I am still processing how good Lady Bird really is.
Reviewed at London Film Festival, Saturday 14 October 2017, Odeon Leicester Square, 20:45 'Surprise Film' and Saturday 9 December 2017, AMC Georgetown, Washington DC, 11:45am screening