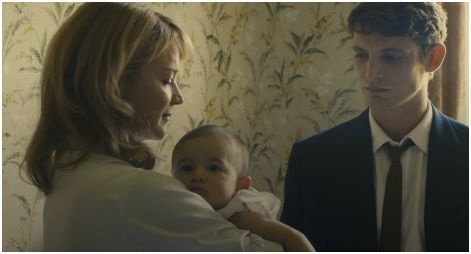 Pictured: Pierre (Niels Schneider) refuses to embrace fatherhood in the 'autofiction' inspired film, 'Un Amour Impossible', an adaptation of Christine Angot's novel from director Catherine Corsini. Still courtesy of Chaz Productions / Curzon Artificial Eye
Until I saw the film, Un Amour Impossible, I had never heard of French author Christine Angot, on whose 2015 novel it is based. Angot is celebrated for creating 'auto fiction', a brand of autobiography and (er) fiction in which fact and imagination are not separate. Borrowing or, more exactly, appropriating intimacies from the lives of others, she opens herself to legal suit. Her statement, 'People seem to think that I am feeding off others; but, when I write, I'm the one who is being consumed' may be disingenuous. However, I think Angot is right to say: 'there is neither morality nor responsibility in literature'. This is to say that to present a truth you may have to betray a confidence, no matter how disrespectful that might be to the original teller of a tale. A large part of art is appropriation. Writers are portrait painters working without commission from their subjects, moved to tell stories about others because they say something about how the writer sees the world.
There is an aspect of Angot's auto fiction that I will withhold for the purpose of this piece. To reveal it would diminish the film's emotional impact. However, the wound, whether real or imagined, gives the author permission to tell the stories that she does. She is shaped by being the target of an obsession that has in turn made her obsessive. However, the proposition that to reveal such a wound is cathartic for an author is entirely false. You never recover from being damaged when young; such experiences create a prism through which you see the world.
Chantal Steiner (played in adulthood by the singer Jehnny Beth) narrates the film. She explains how her mother, Rachel Steiner (Virginie Efira) met her father, Pierre Arnold (Niels Schneider) in the late 1950s, whilst the former worked as a copy typist and Monsieur Arnold, a lover of Nietzsche (not a good sign) worked as a translator. He can speak eight languages but what he has to say doesn't always bear repeating. He is dismissive of Rachel's Jewish father, who played no part in her upbringing, for alleging that he has bank accounts in three countries but no money, arguing that he 'would say that' (that is, hide his wealth). 'You'll get an inheritance,' he assures Rachel. This does not appear to happen. Rachel's father is never mentioned again; what is categorical is that Pierre won't marry her because she does not have money. Incidentally, he also complains that the grammar employed by Rachel's younger sister, Gaby (Iliana Zabeth) will handicap her socially, all because she uses the descriptor, 'kind of'. Gaby ends up happily married, merci beaucoup.
Early in the film, the narrator describes something that we don't see, namely Gaby's wedding. She explains how her mother did not want to go to the wedding with Pierre, even though Gaby invited him anyway. Having established that he has no interest in being Rachel's husband, Pierre is keen in having her move to Paris, where he has found a new job. He will find her a place to live, but not live with her. Whenever they talk – outside of bed, at least - Pierre inevitably says something offensive that puts Rachel in her place. Yet she likes how he makes her feel, how he introduced her to Nietzsche – to culture – and loves him. Throughout their lovemaking, Pierre would always ejaculate on her belly. Before moving to Paris, on the night of the 1st May 1958, he ejaculates inside her. Just over nine months later, on 3 February, 1959, Chantal is born. Incidentally, Angot was born on 7 February 1959, in Châteauroux, France, where much of the drama takes place.
When Rachel discovers she is pregnant, she writes to Pierre. A subsequent letter is returned as he has changed address. In desperation, Rachel visits Pierre's father in the offices of Michelin where he holds a senior position. 'I don't want money,' Rachel insists. All she wants is for Pierre's father to pass on her letter. This he assures her he will do, though not without making her feel that his son's dalliance with her betrays the fickleness of youth. Nice one, Michelin.
Pierre visits her a few months after she is born. Rachel begs him to recognise the child as his; to have his name on the birth certificate. Pierre won't do so. He can barely bring himself to hold the baby. Rachel is persistent and Pierre visits occasionally. Then he puts (another) knife in her heart. He is to be married, having made a German woman pregnant. 'Like Japanese women, German women love to comfort a man,' he explains, smiling. 'They lost so many men in the war that having found a man that they are desperate to keep them.' Her family is also rich. The news arrives soon after the death of Rachel's mother. She tells Pierre to sleep in her mother's room and leave the next day.
An early scene offers a portent of doom, or something. Pierre and Rachel are driving in the hills – this is before she gives birth. All at once, the front bonnet of the car flies open. Pierre brings it to a standstill close to the cliff edge. A lucky escape perhaps, but more a signifier that Pierre means her harm.
He is a set of contradictions. Rachel explains to a colleague that he doesn't like to dance, 'not to this music', but Pierre does indeed dance with her. He might complain about grammar but in the early scenes he always has two buttons of his shirt undone (the top one and the one beneath). Much later, when he is far less available, we see him with all his buttons fastened and wearing a tie. Both Efira and Schneider play their characters over several decades, with a minimum of aging make-up, but just enough to be credible.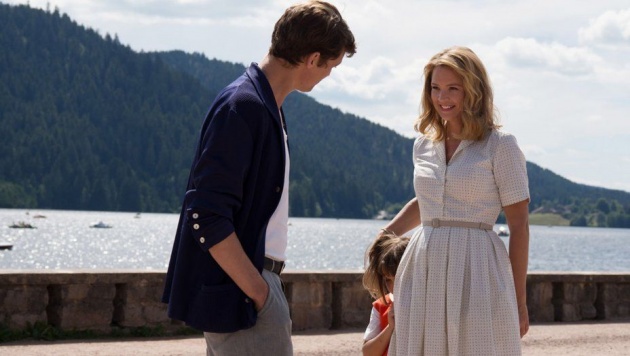 Pictured: young Chantal hides behind her mother (Virginie Efira) when introduced to papa (Niels Schneider) in the drama 'Un Amour Impossible'. Still courtesy of Chaz Productions / Curzon Artificial Eye
If the car incident is not a portent of doom, then the death of Pierre's mother certainly is. After a meal, she throws herself out of the window as Pierre and his father leaves the house. The director, Catherine Corsini (Summertime) superimposes a shot of a falling woman over Rachel's face. It is the only poetic moment. The deaths of both their mothers make Pierre and Rachel closer. However, he still refuses to recognise the child, until she reaches adolescence.
'I want to see you both,' he writes. 'I really want to.' Chantal (in her adult voiceover) is convinced that the use of the word 'both' is important. Indeed, it is. As a teenager and played by Estelle Lescure, Chantal is besotted with her father, who finally recognises her – though Rachel has to plead her case one final time ('you did so beautifully,' he subsequently writes). Pierre invites her to stay with him in Strasbourg. The three go on a trip together. Shortly before leaving, as Chantal is packing her case. We see Rachel in her car, looking at a map (it is the early seventies). There is a pause, an empty arch in which Pierre and Chantal do not appear. We see Rachel in the car, then Pierre and Chantal walking together. There is something wrong, but we don't know what. This sequence, in its utter simplicity, is the film's most disquieting moment.
Chantal is upset that Pierre is still intimate with Rachel. 'I know that mums and dads sleep together, but,' she objects. Chantal's mood changes after returning from a weekend with her father. She attacks her mother. Rachel senses that she is losing her daughter. However, the family has moved to Reims. Rachel has got a job working in a psychiatric hospital, where there are no barred windows. She is stimulated by her work and becomes the head of a department, the top of a list of 538 candidates. She is hurt that Chantal might think her stupid, as if Pierre were the only intelligent parent. Indeed, she joins a group of people who go out for walks in the country. She meets a young Mauritian, Franck (Gaël Kamilindi) who takes her photograph as well as her fancy. Chantal is repelled by the latter. One day, Franck takes Chantal home and explains that she spent the night with him, and not with a friend. Although Chantal is not yet sixteen Rachel is not appalled. However, in a separate meeting Franck makes an important request, one which informs the final part of the film. Rachel becomes ill, contracting an infection in her fallopian tubes and is taken to hospital. Chantal cuts off her hair, becoming the mirror image of Christine Angot, as she is now.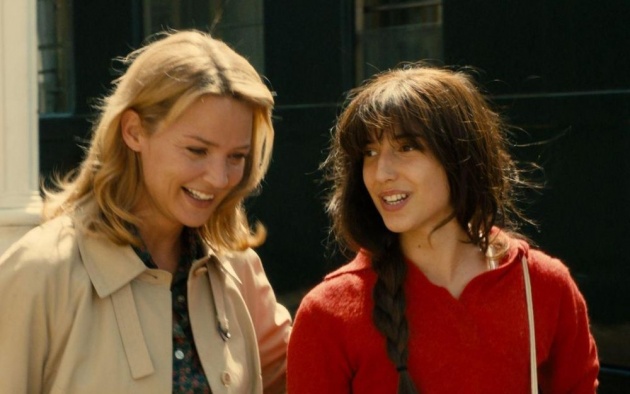 Pictured: Rachel (Virginie Efira) with teenage Chantal (Estelle Lescure) in the French film 'Un Amour Impossible'. Still courtesy of Chaz Productions / Curzon Artificial Eye
In the final part of the film, explanations are sought. The adult Chantal, now with a daughter of her own, can barely tolerate a meal with her mother, asking her to leave. 'Where will Granny stay?' her young daughter asks. 'A hotel, I don't care,' replies her mother tersely. Alzheimer's figures prominently as does a final meeting with Pierre in a museum. Pierre's moustache is the only sign of him aging.
The finale is a meal in Paris in which Rachel tells Chantal about Charlie, the first man she ever loved. She shows Chantal a photograph. They were engaged. We learned much earlier than Charlie was respectful of her virginity. However, after two years, the relationship ended. Chantal imagines Charlie as her father and then comes to a conclusion about Pierre. His cruelty was a kind of game. It occurs to Chantal that Rachel was attracted to him as he was the opposite of Charlie. In the closing moments of the film, Corsini who adapted Angot's novel with her screenwriting partner Laurette Polmanss, shows us patrons staring out of the window, almost looking the other way. Rachel is forced to account for her behaviour. We are left with the banality of forgetting. For all their culture, the Arnold men left nothing behind. When Pierre dies, Chantal speaks to Rachel's husband and not to her. Rachel worries about failing her.
Early in the film, Pierre describes three types of love: marital love (a bit boring), passion (where two people break convention) and the inevitable encounter, defining this as a bit of fun between two people who can't be together. This is what he means by 'un amour impossible'. However, the film redefines that phrase. It hints at the corrupt influence of Pierre's father. It is not about holding people to account for their behaviour but blaming others who tolerate it. Efira is in almost every scene and she is magnificent. Schneider excels at Pierre's shabbiness. The film demonstrates that men are capable of inhumanity because of a combination of arrogance and unexpectedness. Some of this rubs off on the women around them, but overall the film tells the audience to beware of cultured men. It is a disquieting 135 minutes in the cinema.
Reviewed at PictureHouse Central, Shaftesbury Avenue, Friday 12 October 2018, London Film Festival press screening; also Curzon Shaftesbury Avenue, Wednesday 5 December 2018, 10:00am (press screening, held up in traffic); also Cine Lumiere, South Kensington, London, Saturday 12 January 2019, 16:00 (haircut day)