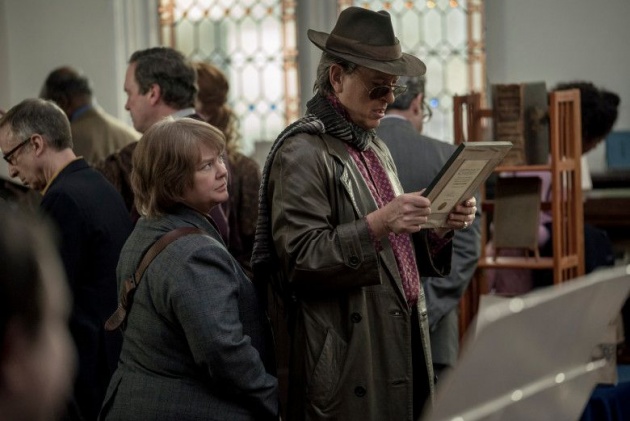 Pictured: Jack Hock (Richard E. Grant) inspects literary letters in the forgery caper, 'Can You Ever Forgive Me?' starring Melissa McCarthy as biographer turned faker Lee Israel. Still courtesy of 20th Century Fox / Fox Searchlight
'Remember the Hitler diaries?' The literary forger Lee Israel is asked midway through Can You Ever Forgive Me, the film adaptation of Israel's entertaining, some might say scandalous autobiography, brought to the screen by writers Jeff Whitty and Nicole Holofcener and director Marielle Heller. Israel forged 400 letters from celebrities from the 1920s onwards. Using her skill to disappear inside her subject, she is, by her own humble opinion, a better Dorothy Parker than Dorothy Parker. Other luminaries to get the Israel treatment include Noël Coward and Fanny Brice; she was working on a biography of the latter when she drifted into literary embellishment.
The reason that the film got made is the participation in the lead role of Melissa McCarthy, the popular American comedy star of such hits as Bridesmaids, Spy and The Heat. Also seen on the TV series, Saturday Night Live, McCarthy is, in this author's humble opinion, a better Sean Spicer than Sean Spicer. The film was developed with Julianne Moore in the lead but somehow it didn't happen. McCarthy, playing, or rather not playing, an alcoholic - no consonants are slurred in the speaking of her dialogue – gives us attitude in spades. When in the film's opening, in 1991, 3:30am, Lee is told that she shouldn't drink in the office, she responds with a weary 'f-k off'. At this point, she is invited to leave even though she hasn't finished her proof reading. The credits sequence set to a melancholy romantic song, charts her trip home to her low rent 83rd Street apartment in New York City. She has a roach problem – cockroaches that is – but she also owes the landlord. 'You were good to my mother,' he remarks. However, his patience is thinning.
We see Lee at a swanky literary party given by her agent (Jane Curtin). Lee arrives in a jacket but no coat and also carrying a satchel. As they are wont to do, her agent is not returning her phone calls. To get her to answer, Lee has to pretend to be Nora Ephron, who subsequently issued her a 'cease and desist' warning. Lee has plenty of ideas. However, even though she once made the New York Times Bestseller List (halcyon days), she is limited by the marquee value – or lack of it – of her subjects. Her recent biography of Estee Lauder is heavily discounted – and I'm not talking about the reviews. At the party, the celebrated 'Commie-baiting' author Tom Clancy is holding court. He doesn't believe in writer's block. Lee, who has struggled with the empty page, is disgusted. Even pouring two glasses of scotch into one glass does not lighten her mood. As she leaves, she appropriates a coat. 'I lost my ticket, but that's mine,' she tells the coat check guy. She is even appalled by the cupboard full of half-used toilet rolls – her agent always wants her guests to have a full roll. Say again?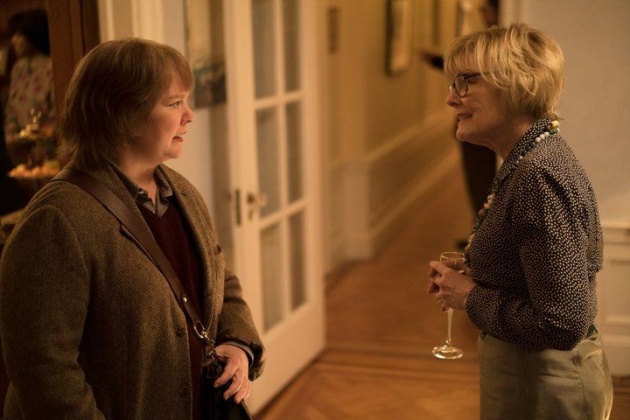 Pictured: 'I've got some great ideas.' Lee Israel (Melissa McCarthy) pitches to her agent, Marjorie (Jane Curtin) in 'Can You Ever Forgive Me?' a literary forgery caper. Still courtesy of 20th Century Fox / Fox Searchlight
As her agent impatiently tells her, an advance of $10,000 is out of the question. 'I couldn't even get $10 for Lee Israel.' Dejected and short of cash, Lee brings her book collection to Crosby Books, whose manager is dismissive. 'I'll give you $2 for these,' he says, indicating a small pile. 'What about the others?' 'Take your trash out of my store,' he tells her.
Banned from Crosby books. That's nothing, her new drinking companion, Jack Hock (Richard E. Grant) tells her. 'I've been banned from Duane Reade.' The boast hangs in the air. They meet in Julius', a New York gay bar. Jack has just had his teeth bleached – it's a way of not being found out; doesn't explain. Jack recognises Lee immediately, describing her as a posh woman. Now Melissa McCarthy is many things, but posh? Julianne Moore might have brought this out, but the line is an incongruity. Lee has heard of Jack too; she recalls his claim to fame. 'You mistook a closet for a commode,' she laughs. 'You ruined thousands of dollars of furs.' Jack blushes modestly. Both of them have committed crimes against winter wear.
Desperate for cash, with a sick cat and another unsettled vet bill to deal with, Lee sells her prized possession, a thank you letter from Katharine Hepburn, to another New York bookseller, Anna (Dolly Wells, channelling mid-career Mia Farrow). She gets a modest sum for it. There's more. Whilst researching Fanny Brice, Lee finds some typed correspondence from Fanny tucked in a book. She purloins it and sells that as well. 'I'd give more for better content,' a bookseller tells her. Looking at her typewriter, and noticing the match between her typing and those on the letter, Lee has a light bulb moment, adding a post-script. What begins as an embellishment turns into full-scale production of completely new content, complete with witticisms in the voices of her subject, like the 'can you ever forgive me' of the title.
The cat is treated, pills are prescribed. Lee shares a celebratory drink with Jack, barely able to contain her glee. 'I've committed a crime,' she tells him. 'I can't imagine what it is, unless it's a crime against fashion,' Jack responds. He takes her to a gay cabaret bar. As Jack chats to the barman – he fizzes with flirtation – Lee marvels at the singer. He's doing the same thing as Lee: embellishing an original for money. In the scene, though, Lee's gaze is difficult to read; the song also has an element of melancholy.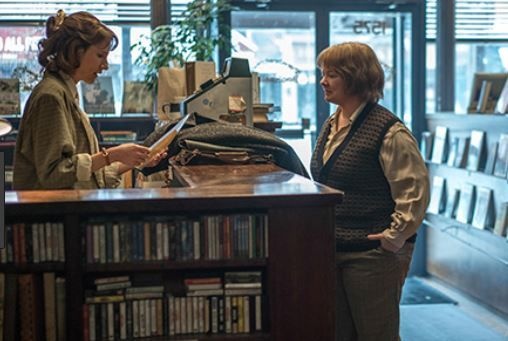 Pictured: Anna (Dolly Wells) inspects a letter brought in by Lee Israel (Melissa McCarthy) in 'Can You Ever Forgive Me?' a film about literary forgery in the 1990s. Still courtesy of 20th Century Fox / Fox Searchlight
Before long, Lee takes Jack into her confidence. They visit a memorabilia fair. She widens the number of booksellers that she uses. It turns out that there is a whole hidden market – letters bought and sold. The curtain falls on Lee's enterprise when one of her letters is judged to be suspect – in an age in which homosexuality was illegal, Noël Coward wouldn't be quite so cavalier about liking men.
In a subplot, Lee and Anna go out for dinner. She gives Lee a short story to read. Lee senses that Anna is interested in her, but closes her down. When they part, Lee attempts to be business-like as if they hadn't been on a date.
Eventually the FBI is involved and the film goes all Goodfellas on us. But there is tragedy too, involving Lee's beloved cat Jersey, given to her by her ex-lover Elaine (Anna Deavere Smith).
Can You Ever Forgive Me is a literary-forgery buddy movie with both McCarthy and Grant in fine form, if not especially believable together in the context. You have to admire a film – well, maybe you don't – in which the two characters bond over clearing cat poop from under Lee's bed. The smell in her apartment is too terrible even for the exterminator. Like any good crime movie, it conveys both the joy of larceny and its cost, Lee breaching the young bookseller's idolising trust.
The coda, in which Lee impersonates a famous author to reveal the letter in a shop window as a fake, is enjoyable to behold. It is, after all, one of her creations. In spite of the presence of a comedian in the lead role, there is no high comedy. Could the film have been amusing and modestly entertaining with an 'actress' in the lead? Perhaps. McCarthy offers a shortcut to pathos. She conveys how overlooked Lee felt, if not the immersive biographer. As for the dope-selling Englishman Hock, who lives on his wits from host to host and flirts with disaster – as well as café staff – on a daily basis, Grant truly sinks his afore-mentioned bleached teeth into the role, though like Lee herself, he too breaches a trust.
It's worth mentioning that McCarthy has her husband, Ben Falcone, cast as a blackmailing bookseller, who wants $5,000 for his silence. He's right: raising $5,000 shouldn't be a problem for McCarthy. She could sign up for The Heat 2 with a post-Bird Box Sandra Bullock.
Reviewed at Cineworld West India Quay, East London, Screen 9, Sunday 20 January 2019, 18:00 screening; also London Film Festival press screening, Empire Leicester Square, Friday 19 October 2018, 09:00am.