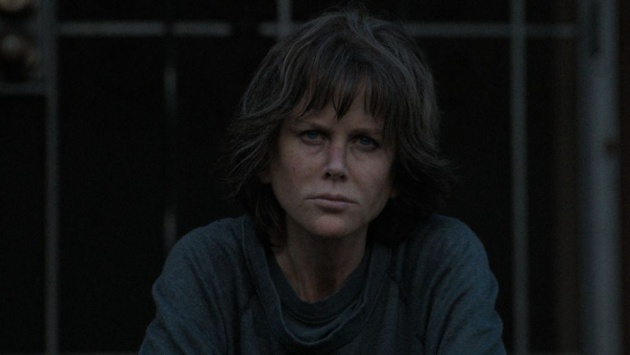 Pictured: Sitting out make up, Los Angeles Police Detective Erin Bell (Nicole Kidman) in the drama, 'Destroyer', directed by Karyn Kusama. Still courtesy of 30West/Annapurna Pictures (US), Lionsgate (UK)
Destroyer is nominally the story of a burnt-out Los Angeles Police Detective, Erin Bell (Nicole Kidman, defying instant recognition) who pursues Silas (Toby Kebbell), the leader of a criminal gang who killed her lover, Chris (Sebastian Stan). Actually, it is a shaggy dog yarn. You wonder why, seventeen years on, Silas would send Erin a purple-stained one hundred dollar bill through the mail. Maybe he wanted her to wash it. He's the type of sadist who would order one of his gang, Arturo (Zach Villa) to play Russian roulette with a loaded snub nose and then remark, 'you shouldn't be such a push over'. In his world, bottled beer is referred to as the army to which Erin remarks 'Gotta support the troops'. In the process of tracking down Silas, Erin tries to be a better mother to her sixteen year old daughter, Shelby (Jade Pettyjohn) who is dating a 23 year old sleazebag with criminal facial hair. Not only does Shelby hate her mother, she has no ambition to finish school, which is a big problem, especially when she ends up in hospital with a broken wrist – well, that's one way to get out of homework.
The director of Destroyer, Karyn Kusama, makes gritty films about people in tough situations; her last feature, The Invitation, out-purged The Purge. Admittedly, her plan to overtake Kathryn Bigalow as the female action director of choice hasn't quite worked out – Aeon Flux was a particular disappointment. But she gave Michelle Rodriguez her first starring role in Girlfight and that is a good thing.
Kusama works with her screenwriter husband Phil Hay (who co-scripted both The Invitation and Destroyer with his partner Matt Manfredi) and this has led to a purple patch of sorts. Destroyer feels uncompromised by Hollywood studio expectations. It is not a typical tale of redemption or validation in which Erin is fully understood by those around her, rather something else.
It certainly isn't a comfortable watch. Erin takes a couple of beatings, but also gives as much as she gets. The action scenes, of which there are several, have a real immediacy. At one point, Erin charges into a bank with a large machine gun, and you think 'whoa'.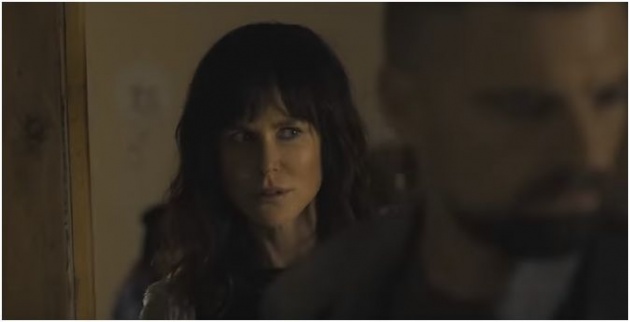 Pictured: Erin (Nicole Kidman) undercover in 'Destroyer', a Los Angeles crime drama directed by Karyn Kusama. Still courtesy of 30West/Annapurna Pictures (US), Lionsgate (UK)
How unrecognisable is Kidman? First there is her jet black hair that hasn't seen a shampoo bottle since the Noughties. Then there are her red rimmed eyes; the pigment on her lens looks like it has had the blue drained out of it. Erin staggers through the early part of the film. She is greeted by colleagues with distain when she comes across a John Doe killed with an unmarked gun ('no I.D., no idea'). They want her to go home, get some sleep. You wonder why LAPD doesn't order a psychiatric evaluation to assess her competence but that is just one of the leaps one has to take. Nominally Erin is an alcoholic, drinking coffee on which the powdered creamer sits like a dust cloud - like Los Angeles smog. Erin wears a black leather jacket and blue jeans throughout. Surprisingly she can still give good foot chase when she seeks out Arturo almost two decades after their last encounter.
How grim is the film? Early on, Erin quizzes one of Silas' crew, Toby (James Jordan) who has been released from prison on compassionate grounds and is being cared for by his mother. The whole of his mother's sideboard is covered with owl figurines. 'You tell one person you like owls and suddenly you get a whole load of them'. Erin is asked to turn the largest owl away from him ('I don't want it looking at me') and then obliges Toby with a hand job. 'Open your shirt,' he moans, to which she partially responds. After he has creamed his privies, he tells her about Arturo, who is now dispensing immigration advice to Mexicans facing deportation. Silas uses lawyers to launder his cash, which I am not sure makes sense. You go with it because police procedurals depend upon the cop following one lead after another.
Having bested Arturo in a night time foot chase – not bad for an alcoholic – Erin is led to an even more corrupt lawyer, DiFranco (Bradley Whitford) who has 'done some googling of his own' and knows Erin's sad history, revealed throughout the film in flashbacks. After Erin is whacked from behind, DiFranco gives her the 'how did you think this would turn out' speech, one of the clichés of crime dramas. He doesn't expect Erin to throw up and need the bathroom but luckily said room is stocked with a heavy object that Erin uses against his henchman. She gives DiFranco a beating in front of his son, who is practicing golf strokes outside, but who is ordered not to use his phone. DiFranco gives Erin the location of the next drop, where she is reacquainted with Petra (Tatiana Maslany) the daughter of one of DiFranco's associates who, it is implied, slept with him.
There is a scene in a park and suddenly Erin finds herself witnessing the beginnings of an armed robbery at SoCal Mutual Bank. She calls it in and gets two officers without armour as back-up.
Pictured: An explosion of purple dye in 'Destroyer', a Los Angeles crime thriller directed by Karyn Kusama. Still courtesy of 30West/Annapurna Pictures (US), Lionsgate (UK)
Not only does the film have flashbacks, but we meet Erin's estranged lover, Ethan (Scoot McNairy) who cannot cope with his stepdaughter's infractions. The actual father is Chris, who learns to kiss Erin in an early scene to make their relationship seem natural. He changes their back story – meeting at a bar in which she complains about the music – to include a song by Dire Straits. Cue the number, 'The Man's Too Strong', covering the next scene.
The film is partly about whether crime is truly necessary. Petra comes from a wealthy background and gives Erin the 'you don't get it, do you' speech, another of the clichés of crime dramas. For her part, Erin has her own mad scheme; she convinces Chris with the 'Do it for me' speech and tells her daughter, 'I didn't want this for you'. Incidentally, both Erin and DiFranco don't want their kids to turn bad.
We finally discover what happened in the Palm Springs bank raid, shown mostly through black and white security camera footage, in which a cashier is punished for packing purple dye bags - one of these explodes over a gang member. Chris turns out to be a hero while Erin teaches another gang member the virtues of not talking why she is driving. ('Tell me you're not a cop', the passenger screams hysterically.)
Throughout the film, Erin's default line is 'I'm doing this to help you' even when she has Petra handcuffed and crying out for drugs – Erin doesn't do cheese and wine parties. She has an incredibly tolerant partner, Antonio (Shamier Anderson), whose calls she does not answer – she does not respond to other calls either.

Pictured: Chris (Sebastian Stan) and Erin (Nicole Kidman) confer in 'Destroyer', a Los Angeles crime thriller directed by Karyn Kusama. Still courtesy of 30West/Annapurna (US), Lionsgate (UK)
The ending has one surprise but also illustrates how to suggest that a character is dying. Try a montage involving skateboarding kids, a wolf that steps into view and some circling birds – Kusama is spoilt for choice for a metaphor. In the end, Destroyer is let down by slightly sloppy plotting. Would not Internal Affairs have located a lock up containing stolen cash in her name? Would Shelby's unsuitable lover really settle for $11,460 in hard (stolen) cash? Would Shelby really tell her mother about the time they were both out in the snow when she was seven and Erin protected her? ('At the same time as I knew we were safe, I was asking why we are out here.') Would not Ethan have formed another relationship to give Shelby a step mom? Nevertheless, it has some gripping set pieces and a strong central performance, elements that make for a mostly satisfying cop thriller. Theodore Shapiro's score is a pastiche of the work of Atticus Ross and Trent Reznor, all echoing electronica. Julie Kirkwood's cinematography embraces moody out of focus shots of lights. The editing by Kusama's regular collaborator, Plummy Tucker is deft.
Reviewed at London Film Festival, Vue Leicester Square, Monday 15 October 2018, 12:30 screening; also Cineworld Enfield (North London) Screen One, Saturday 2 February 2019, 22:40 screening