Pictured: Mary Stuart (Saoirse Ronan) in blue rides off to deal with some troublemakers in 'Mary, Queen of Scots', a drama about her brief reign - more like a light shower - in 1560s Scotland. Still courtesy of Working Title / Focus Features / Universal Pictures UK
She was put to death in 1587, yet her son ascended the English throne in 1603. Mary Stuart, Queen of Scots from 1542 until 1567, say the history books, but more like 1561 to 1567 in terms of years spent wielding power, didn't have it easy. To rule, she required the love of her subjects as well as the loyalty of powerful lords who ensured taxes that are collected and armies are raised. But if the new film, Mary, Queen of Scots, written by Beau Willimon and directed by Josie Rourke, is anything to go by, the more Mary spoke up for herself, the more she lost respect. Her claim to the English throne was based on being the great granddaughter of King Henry VII (1457-1509). She was the cousin of the English Queen Elizabeth I (who ruled from 1558 to 1603) and represented a stalking horse of sorts. Mary harboured the ambition to sit upon the English throne, which I daresay is a lot more comfortable than its Scottish counterpart, if as random conjecture would have it, the cushion being stuffed with thistles.
This new film is revisionist to a point. I am waiting for the first period movie to accurately deal with royal excrement. How was it collected and conveyed through the palace? Who buried it? Did the unfortunate lackey have any career opportunities? Was this the reason that the poor were neither taught to read nor write? At any rate, unlike in the Oscar-nominated The Favourite, ostensibly about the sadness of Queen Anne (born 1665, died 1714), there is no excrement in Mary, Queen of Scots. There is, however, a rape, underlining the point that a title is not the same as power.
Pictured: Are you blue? Henry Darnley (Jack Lowden) kisses the hand of Queen Mary (Saoirse Ronan) in the drama, 'Mary, Queen of Scots'. Still courtesy of Working Title / Focus Features / Universal Pictures (UK)
Queen Elizabeth I (Margot Robbie) and Mary Stuart (Saoirse Ronan) spend the entire movie not meeting. There was a certain point at which Elizabeth could not travel as she contracted the pox, which in the film results in her applying white face powder illiberally. According to historians, they never conversed directly. However, Willimon and Rourke, working from John Guy's biography, 'Queen of Scots: The True Life of Mary Stuart', show the two women meeting amongst hanging muslin. Mary asserts that she is Elizabeth's true Queen, which is not a great move given the younger woman was forced off the Scottish throne by her nasty third husband. I could imagine that Elizabeth would look to her cousin's example and think, 'I'm not marrying if they treat me like that'.
We never see Mary's first husband, François, who became King of France aged fifteen, on account of him dying young. The widow Mary was effectively expelled from France. The film begins, after a prologue in which she is led to her eventual execution, with Mary arriving back in Scotland with a French entourage – four maids – in 1561. She is led to her castle, Holyrood, where she is greeted by James, Earl of Moray (James McArdle). He appears to be Mary's loyal confidante, but he is hacked off when Mary encourages arch protestant John Knox (David Tennant, best known as Doctor Who) to leave her court. Mary is Catholic, but she also has no interest in marrying Elizabeth's choice, Robert Dudley (Joe Alwyn). Instead, she marries her cousin, Henry Darnley (Jack Lowden) who needs to be encouraged by his young wife to give up his sperm. Mary is subsequently pregnant with the future James I. In this version of Mary's story, Henry prefers the company of Mary's secretary, David Rizzio (Ismael Cruz Cordova) – we see him interrupt a dance routine and place himself provocatively close to the young man. From then on, he has no interest in Mary's bedchamber. But he does want to be King. David is brutally murdered in front of Mary and Darnley is cast out to Kirk o'Field. There is an explosion at his house, but even though Darnley escapes, he is slain outside. Mary is then given no choice but to marry James Hepburn the 4th Earl of Bothwell who then separates Mary from her son in order that he may rule. There is a fight, cut out of the movie as a test audience found it confusing (not to mention under-nourished, I've seen it) known as the Battle of Langside (1568) in which Mary's forces are defeated. Mary then flees to England, where she is protected for nineteen years by Elizabeth.
Pictured: Carried onto Scottish soil, Queen Mary (Saoirse Ronan, centre) returns in the drama, 'Mary Queen of Scots'. Still courtesy of Working Title / Focus Features / Universal Pictures (UK)
The period of Elizabeth's protectorate is not of concern to the filmmakers, who cut – no pun intended - to her execution. As the above summary suggests, the focus of the film is very narrow. Even the moment when Mary is forced to abdicate is confusingly done. To be sure of the history – and there are competing versions – I had to look it up.
The most interesting thing about Mary, Queen of Scots is that it is not about a clash of religions. Mary Stuart does not (in this movie) insist upon her Catholicism as a virtue. Indeed, why would it be given that the family of François II, Mary's first husband, was Catholic and they kicked her out - darn that House of Guise! Elizabeth was the daughter of Henry VIII, the self-styled first Protestant King of England, but she doesn't talk about religion either. The film doesn't mention how she became Elizabeth, Queen of Spots and the effect of the pox on her love life. The film is interested in whether beauty can be construed as virtue and power. Each Queen offers representations in order the other might know their physiognomy. Queen Elizabeth sends Mary a lovely red and white doily, of the sort she might use to rest a goblet. Well, she couldn't send her a true portrait. It is tempting to infer that Mary's appearance and her insistence on being named in a line of succession – as Elizabeth's heir – makes E-One ill. At any rate, Elizabeth has Guy Pearce, sorry William Cecil on her side. Pearce has form in costume dramas about English monarchs, having appeared as King Edward VIII in The King's Speech. Elizabeth's entourage also includes Lord Randolph (Adrian Lester), who is effectively offered one of Mary's maids to sleep with during his trip as emissary to Scotland – fancy.
Pictured: William Cecil (Guy Pearce) with Queen Elizabeth I (Margot Robbie) contemplate something about Mary in 'Mary, Queen of Scots', a drama directed by Josie Rourke. Still courtesy of Working Title / Focus Features / Universal Pictures (UK)
The big reveal at the climax of Mary, Queen of Scots is Mary's red dress. At the chopping block, the no-longer young ex-queen is making a statement that she has royal blood in her veins, rather than being a scarlet woman or as John Knox says, 'a hoor'; Tennant's pronunciation, not to mention his comically long beard, is a source of unintended amusement. I suspect that Rourke wanted the audience to think about that red and white doily; Mary's red dress contrasts with Elizabeth's white (heavily made up) face. Red and white should live in harmony, like blood cells – red blood cells transport oxygen, white blood cells are part of the body's immune system. Of course, until 1590, they did not have microscopes – some say it wasn't invented until 1609 – so folk back then could not look at blood cells.
There is another clash between the still, almost poker face of Ronan and the animated, disgusted face of Elizabeth. This Mary conspires to be inconspicuous. In one scene, she hides amongst her maids as Robert Dudley is invited to identify her. He successfully does so, but the scene does not go anywhere. There is a sense that the populace don't know their Queen, even when they fight for her, but this isn't explored.
After James is born, Mary is less of a person than an icon. She is separated from her child, but this isn't shown to be a source of personal anxiety; it is more about controlling the throne. The story that Willimon and Rourke want to tell doesn't have an ending, which is why the drama runs out of road. When Mary moves from being a subject (protagonist) to object (a cause around which some of the population can rally), both writer and director have nothing left to say.
In the end, the film is only concerned with the fictional meeting of two queens – its nominal climax. Mary disturbs Elizabeth by asserting her right to be recognised as her queen; Elizabeth realizes that she has no further need to be afraid. But neither queen is celebrated as a figure of agency; this isn't a classic feminist text, partly because royalty – inherited power – isn't compatible with the feminist cause, that is, all people have an equal right to power and respect, whether man or woman, rich or poor.
In an early scene, Mary is asked what it is like to be with a man. Her first husband was a frail fifteen year old boy, who could barely wear his own crown. Mary's reply is giggly but does not describe her reality. The film does not want to deal with that we are not shown.
Would Rizzio have been killed in front of a male monarch? One suspects not. The difference between a female and a male monarch is that Mary's privacy and her sanctity is not respected. The classic image of a monarch is someone who lives in a protected space guarded by those who would die in service. Mary is not afforded this protection. Yet it is never clear whether she expects this. We see her take part in a successful skirmish in which her forces ambush those who would plot against her – some farm animals blocking a bridge also play a part. Mary does not at any point become a Joan of Arc type figure, holding a sword aloft heroically whilst dressed in gleaming armour. So it is only her office – her birthright – that affords respect, not her deeds.
Overall, Mary, Queen of Scots is an unsatisfying film. At its best, it draws us into the intrigues at court and the revelation that a crown offers no more protection to a Queen than marriage. Had it began in France, it could have been structured around Mary's three contrasting husbands. However, it ends up being more concerned with the rivalry of two women who in other versions of their stories were not rivals at all.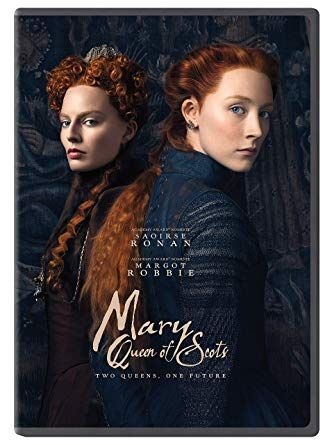 Reviewed at Crouch End PictureHouse, Monday 21 January 2018, 18:00 screening (also work in progress, Vue Shepherd's Bush, 2018)