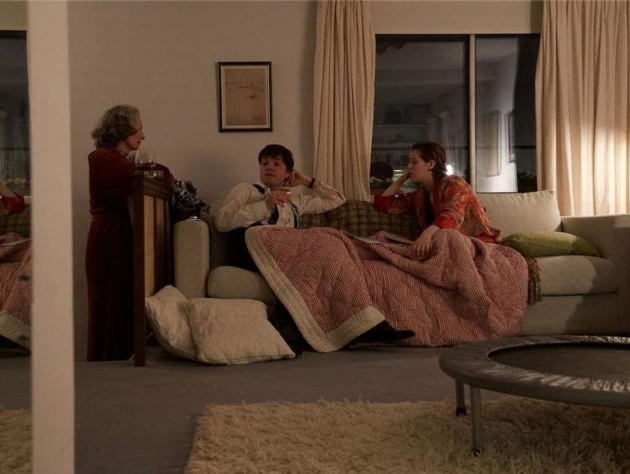 Pictured (from left to right): Julie's mother (Tilda Swinton) pops in on Anthony (Tom Burke) and 'trainee Rotarian' Julie (Honor Swinton-Byrne) in the British film, 'The Souvenir', written and directed by Joanna Hogg. Photo courtesy of Protagonist Pictures / BBC Films
Joanna Hogg (born March 1960) has been making feature films in England for the last twelve years. Three of them, Unrelated (2007), Archipelago (2010) and Exhibition (2013) have featured Tom Hiddleston (aka Loki from the Thor movies). Her latest, The Souvenir is her first film in six years, though at the end she teases a sequel. It has been a long journey – 21 years - from making her graduation film, Caprice in 1986 to her first authored feature. She is unmistakably an auteur. She will influence others, if she hasn't already. With The Souvenir, arguably her most commercial film – Martin Scorsese is listed as an executive producer – she will influence more still.
A Joanna Hogg film is undeniably upper middle class. Her struggles are not financial in nature. I learned from an article on frieze.com that she saw a psychiatrist in the 1980s and was prescribed Librium, used as Wikipedia tells me, to treat anxiety, insomnia and withdrawal symptoms from alcohol and/or drug abuse. The Souvenir has the veneer of an autobiographical work – the initials on a suitcase, JWH, suggest this. JWH Films is Hogg's company. I am wary of categorising the film as such, for that would suggest that she lived with a man who said he worked for the Foreign Office (cue huge guffaw at the screening I attended – and that was just from me) but was a heroin addict. Heroin addiction, as we know from 1980s movies like Christiane F, doesn't end well.
I have what believe to be a Joanna Hogg story. Five years ago, I attended a screening of her film, Exhibition at the Whitechapel Gallery in London. It was followed by a question and answer session not with the director but with its star, Viv Albertine, best known as the guitarist for the punk band The Slits. Before the screening, a woman offered guests cardboard tube packaged crisps – you might know the brand. I suspect that woman might have been Hogg. At any rate, my perception of her was as a Stanley Kubrick like figure, not wanting to be seen in public, but present at her screenings nevertheless. I did once glimpse Mr Kubrick very briefly at the press screening of his 1987 film, Full Metal Jacket in a Leicester Square cinema. The auditorium was mostly empty but he was there to check on the conditions for projection. There – and then gone.
Autobiographical or not, The Souvenir is set in the 1980s and stars Honor Swinton-Byrne as Julie, a young film student who meets pin-striped Anthony (Tom Burke) at a party. He takes her out to lunch at a club, paying with a cheque – the period detail is accurate, we didn't have cash cards back then, though mostly one paid with notes. As an aside, there is something violent about the detaching of a cheque from a cheque book – the distinctive ripping sound - as if payment involved the severing of a limb.
Hogg's male lead, Tom Burke, is not primarily known for his work on film. He played the title amputee character in the television detective series, Strike, based on the series of novels by Robert Galbraith, aka JK Rowling. If he is good enough for one Joanna, then he'll do for Hogg. You may also have seen him in a recent English language television version of War and Peace. He has a cleft lip and a withheld demeanour. Anthony doesn't volunteer much about his past. However, Hogg does integrate one character trait of Burke's into Anthony's character: he draws. Like Julie, Anthony has an appreciation of the visual medium, amazing for someone who keeps his pin-striped jacket on at a student party (he doesn't want to fit in). Anthony mentions the films of Michael Powell and Emeric Pressburger: they are not real, he explains, but they're true.
The Souvenir is a film about a filmmaker, though the nature of Julie's cinema keeps changing. We see newsreel footage of Sunderland, where Julie wants to set her story, about a boy who has a very strong attachment to his mother, which in the end destroys him. At the interview for a place at Raynham Film School, modelled I think on the National Film and Television School in Beaconsfield, she pitches her project without fiery conviction. I wonder if Hogg distrusts this quality. She meets the steady gaze of a late middle-aged film tutor: someone who had been in the profession but has started teaching. What intrigues him about this unconvincing young woman with a flat in Knightsbridge - an exclusive part of London in the Royal Borough of Kensington and Chelsea, for readers unfamiliar with the city - is that she wants to tell a story so far from her experience. Yet it isn't entirely apparent that they are intrigued, since they give little away.
Why does Julie fall for Anthony? This is the sixty-four thousand pound question. We know later that he sees something extraordinary in her, in spite of her protestations to the contrary. He seems other-worldly of himself even though he is of her class. Julie looks like she fits in but doesn't; later in the film, a fellow student asks why she disappeared for five months, which nowadays is a trigger for expulsion. Julie explained she had issues. Anthony represents the difference between Julie and other students; she might just as well be wearing pin-stripes herself.
However, Julie has friends. In an early scene, she is asked why she doesn't charge rent to the girlfriend of her nominal tenant. 'You should make it official.' To enforce it, her friend suggests that she 'get a baseball bat'. Julie allows things to drift and, like Hogg, doesn't like rows. In a Hogg film, there are no rows, only disagreements. No one storms out. Instead, they ask to borrow a tenner. If views are not exchanged violently, how then does The Souvenir qualify as a drama? Drama is what happens when you make an uncomfortable discovery: you didn't think it would come to this; there's a hit looking for a Miss. Incorrectly quoting Elvis Costello brings me the use of 'Shipbuilding' as played on the soundtrack. It is the version performed by Robert Wyatt, set to a scene where Julie reviews footage viewed through a Moviola.
The reference to the baseball bat shows the distance between Hogg and her executive producer, Scorsese. However, they both love Powell and Pressburger.

Pictured: Anthony (Tom Burke) and Julie (Honor Swinton-Byrne) in 'The Souvenir', a British film written and directed by Joanna Hogg. Still courtesy of Protagonist Pictures / BBC Films
Honor Swinton-Byrne makes her acting debut in The Souvenir. She is the daughter of Tilda Swinton and the playwright and visual artist John Byrne. Swinton also appears in the film, playing – naturally enough – Julie's mother. When she first appears, wearing a head scarf and looking dowdy, she practically draws applause. This isn't the first film in recent years when a mother and daughter act alongside one another: Jennifer Saunders played a supporting role to her daughter Beattie Edmondson in the 2018 family comedy, Patrick. In both, the star is careful not to overwhelm the ingénue. Swinton is warm, fussy and, as Julie's mother, short of opinions. There is a discussion about Northern Ireland that is closed down with the phrase 'it's difficult' - the upper middle-class silencer. Julie's mother comes bearing a lamp for the flat and suggesting that Julie hang up lights. Julie isn't concerned with interior design – appropriate enough, since her own interior is under construction.
A paragraph on the edge of things. This sounds like the Mario Vargas Llosa novel that he never wrote. Hogg doesn't frame two people having a meal like other directors. You are acutely aware of the distance between the subject of her shot – Julie and Anthony partaking of a meal in a handsomely appointed dining room with prices set to scare away yokels – and other diners whose conversation is inaudible. You notice the edge of things. The restaurants I dine in don't have tables marooned in the middle of a room. I don't have to cast a bottle onto the aquamarine carpet to get service. In Hogg-land meals are eaten in well-appointed surroundings without the oppression of other diners close by. There is also a conversation about edge: Anthony complains that as Julie turns this way and that in her sleep, she takes up more room. She has a foot to her other side – Anthony makes this point three times in the scene. He has nothing behind him. In the end – and in a movie homage to It Happened One Night – he erects the 'wall of Jericho' of stuffed toys, Julie's childhood bedtime companions that (one assumes) she could not bear to consign to landfill. Where do you think stuffed toys go to, young children? They may look immortal, unconcerned with wrinkles…
About the title: it refers to a 1778 painting by Jean-Honoré Fragonard, depicting a young girl also called Julie (like Hogg's heroine) carving something onto a tree. It was inspired by Jean Jacques Rousseau's 1761 novel, 'Julie or the New Eloise', which consists of exchanges of letters. Significantly, in The Souvenir, Julie depends upon the mail, in particular postcards that Anthony sends her. (No email in the 1980s, folks.) There is also voiceover – poems, quotations that I couldn't place.
About that heroin addiction: early on, Julie discovers bruising on Anthony's arm. 'It must hurt.' 'I expect it does,' says Anthony, or a dismissal to that effect. Strangely, I found myself not reading this as a signifier of drug taking. Anthony has a good job, an appreciation of art – he introduces Julie to Fragonard's painting. Julie describes the subject as 'determined'. Anthony describes the painted Julie as sad. The eye of the beholder.
The Souvenir is Hogg's most formally sophisticated film. It has flash forwards to an underwater canal in Venice, Julie sitting in a car at a night watching police action around a nearby house. (Suspect package?) It has a man strip naked in front of Julie in her bedroom (not Anthony). It has Julie in provocative underwear purchased in Paris – the top and bottom don't match. It has a woman in a film dress. It has Julie typing the beginnings of scripts or – planning a trip to Venice – a list. It has a discussion of the shower sequence in Psycho filmed with students standing up in a bare studio but the only participants are the tutor and Julie – so it's a trading of viewpoints with an audience with Julie having the same status as informed expert as the tutor. It has a country walk in which the family dogs – the pair of them – veer to the right, as if never to return. They dash, showing more energy than any of the human characters. It has a film dress for a shoot directed – or not directed, as she seems overwhelmed – by Julie. It has the slow dolly into during a monologue, with Hogg's camera moving towards Julie as her camera moves towards her subject. It has a close up of Julie's dress as she climbs the stairs to the Gran Teatro in Venice. It ends with huge studio doors opening to reveal a green field, much like one seen early. There is voiceover whilst the camera fixes on a low green horizon. Then there's the drug dealer in the flat; the break-in that really isn't. Julie sits in on a addicts anonymous meeting and listens to a woman who explains that she has had enough. There is Julie's mother deciding to take an art course in London. Her father also considers studying – he's qualified in land management, but he'd like to learn history. The flash of a smile from another student as Julie appears to be on her game. Finally, there is the explicit parallel to Fragonard's painting – the note placed on the door: 'A, we've gone to bed. But don't worry about disturbing us. Ring the bell at any time. J.'
I didn't even mention the film dress.
A souvenir is an item that is supposed to be the distillation of a place or experience given to another person as a decoration. We are the recipients of Hogg's souvenir, just as she may have once offered me a Pringle. Does it need a second part? The film may be an act of catharsis, but I suspect that Part Two might dispel this notion.
Reviewed at Berlinale, Friday 15 February 2018, Kino International, Karl-Marx Allee, Berlin, Germany, 20:00 uhr
Trailer: not yet available.