Pictured: Sister Hua (Kong May Yee Elena) offers Peipei (Huang Yao) a gun in Bai Xue's directorial debut, 'The Crossing' set in Shenzhen and Hong Kong. Still courtesy of Trinity film Distribution (UK) and Cine Asia
Peipei (Huang Yao) the young hero of director Bai Xue's debut film, The Crossing has just turned sixteen. She dreams of travelling to Japan with her best friend, Jo (Carmen Soup). They look forward to seeing snow for the first time, sipping sake and sitting in a hot spring. How can they afford such a trip? Selling mobile phone screen protectors to their classmates at thirty Hong Kong dollars each (approximately 4 US dollars) raises a small amount. Even then, there are grumbles about the price. ('It includes labour,' adds Jo defiantly.) Peipei takes a part-time job at a restaurant at minimum wage (32.5 Hong Kong dollars per hour). There is a complaint. At one of the tables Peipei cleared, a woman has lost a ring. 'The customer is always right,' Peipei is informed with barely a trace of irony or sarcasm. At the end of the night, she is paid in cash. Her father, who lives with his new family, gives her a couple of hundred Hong Kong dollars. 'Don't tell mother,' he says. He takes a call. The mortgage is a few million, agency fees seventy thousand. The matter is not spoken about but he is not in a position to fund Peipei's trip.
At least he remembers Peipei's birthday. Her mother, who is immersed in a game of Mah Jong, doesn't even mention it. There are dumplings on the table, but Peipei goes straight to her room. One of the Mah Jong players complains about her son, Heydon, being educated in Hong Kong. They speak Cantonese and English – how is she supposed to help him with his homework? The woman curses giving birth there.
Peipei lives in Shenzhen, a city in south-eastern China that links Hong Kong with the Chinese mainland. Although in close proximity to Hong Kong, the population speak Mandarin. Each day, Peipei takes the train to the border and crosses it to go to school. When we first see them together, Peipei and Jo are late – they make excuses that barely pass muster. One morning, Peipei stuffs some of her mother's cigarettes into a pencil case and then more into a flask. She and Jo skip school; Jo impersonates Peipei's 'maid' on the phone. They attend a yacht party. One of the boys has a birthday. The cigarettes, poured onto a table, are their gift. Peipei is goaded into sliding into the water. Only she cannot swim. Hao (Sunny Sun), Jo's boyfriend, rescues her. He chides her. By the end of the evening, Jo is drunk. There is no space in the car for Peipei. She makes her own way back, but not before seeing two boys with some mobile phones wrapped in plastic. As the boys cross into mainland China, they are pursued by customs officials. A bag containing four phones is given to Peipei. In her bedroom, she lays them out in a row, all of them switched on. They are like over-sized keys on a neon piano, bricks of light. Peipei takes a call from Hao. 'How did you get this number?' she asks. 'Don't open the package,' Hao tells her. She is to bring the phones to an address.
For her trouble, Peipei is given some money. She meets Hao again, this time at Jo's aunt's house. The family is rich. The aunt lives in Galway in Ireland. Perusing a globe, Peipei cannot find it. 'What does she do there?' 'Frying chips,' explains Jo. If the aunt could buy such a large house buying chips, it might be something Peipei would consider. At an opportune moment, Peipei asks Hao if she 'could do that thing again'.
Pictured: Peipei (Huang Yao) in 'The Crossing', a drama co-written and directed by Bai Xue. Still courtesy of Trinity Film Distribution (UK) and Cine Asia
The title refers not simply to the border crossing that Peipei makes every day but to her crossing the line into criminality. She also, at a certain point, crosses her friend, when Jo finds out that Hao has taken a girl to Kowloon Peak. It could also refer to the railway track where Peipei drops one of the phones – she only sees it when she is standing on a bridge. It is also relates to Hao 'crossing' his employer, Sister Hua (Kong May Yee Elena) who runs the phone smuggling operation.
What it doesn't refer to is Peipei crossing into womanhood. Although she does go to Kowloon Peak with Hao, where he shouts, 'I'm the King of Hong Kong' – off-screen, she calls him an idiot – she does not let him kiss her. Their most intimate scene involves Hao wrapping a belt of phones around Peipei's waist and then attaching them to her legs. Then Peipei wraps phones around Hao's waist, glancing at his tattoo of a shark. Red and yellow light from traffic shine into the room and pass over their bodies, giving a frisson of eroticism.
'Why do you like sharks so much?' 'Why do you like snow so much?' Both Peipei and Hao act tough. Initially, though Peipei is apprehensive about knowingly smuggling phones. Before making her first crossing, she drains a plastic bottle of water dry. She is late for the delivery, and has to call the man who is taking receipt of the phones. He complains.
Nevertheless, as a montage illustrates, Peipei becomes more efficient. She even sees Hao in his regular job as a noodle seller. When Hao hands her a bowl to take to table one, she does so and works as his waitress for the night. Peipei's gratitude to Hao is unspoken. However, she does not try to steal Hao away from Jo. She is disturbed by Jo's anger: 'I was doing this for our trip,' she says. Jo tears up the plane tickets to Japan – or at least screws them up – and calls Peipei's mother a whore. This time, it is Peipei who is overwhelmed with fury.
Sister Hua's smuggling den becomes a second home for Peipei. The older woman feeds her – there is chatter about egg (in egg fried rice) being over-cooked. At one point, a gun is pointed at her, though it appears to be a replica. It needs to be smuggled over the border. Peipei almost volunteers but Hao warns her of the consequences.
At three moments in the film, Bai inserts a freeze frame set to some bass guitar. These are the 'crossing' points, when Peipei transgresses or becomes aware of something dangerous. For example, outside of Hua's den, she sees a man who has been beaten up. The criminality in which she takes part appears victimless. It is clear that violence is not far away.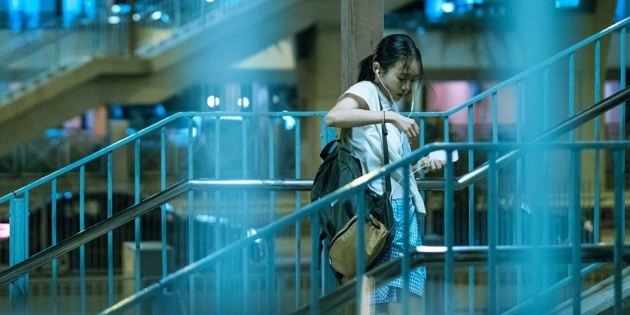 Pictured: Peipei (Huang Yao) discovers the loss of a phone in the drama, 'The Crossing', co-written and directed by Bai Xue. Still courtesy of Trinity Film Distribution (UK) and Cine Asia
The most striking scene involves Peipei trying to get a phone repaired before its delivery, having dropped it. In Shenzhen, a large crowd amasses around her. They want to buy the phone. A repair will cost 1,500. Why so much? It is the latest model. She receives various offers, but she is saved by Hao who takes it to another repairer. Peipei offers him money, but it is given back to her. Hao is cutting a deal on the side.
There are moments of melancholy, when Peipei stands outside a restaurant where her father is eating. She also defends her mother from a man who owes her money; the man won't hit a schoolgirl. Peipei proves herself to have agency, even though she cannot solve every problem. During the big finish, she is caught in a rainstorm.
The film offers some (Chinese) state-approved criticism of Hong Kong's 'one land, two systems' government that allows criminality to exist. The Chinese are portrayed as broadly honourable. During one of her deliveries, Peipei asks for water, even though her contact has misheard her. Nevertheless, he brings sliced mango.
In the postscript, Peipei takes her mother to Kowloon Peak. The unspoken danger is that Peipei would become just like her. Her mother dreams of going to Spain; Peipei remarks that Mother does not know where it is. ('It is in south-eastern hemisphere', Mother retorts). Peipei's birthday wish was that it would snow. At the end of the film, she holds out her palm and a flake falls gently into it.
Reviewed at Cineworld, West India Quay, Screen Six, East London, Saturday 23 March 2019, 20:00 screening