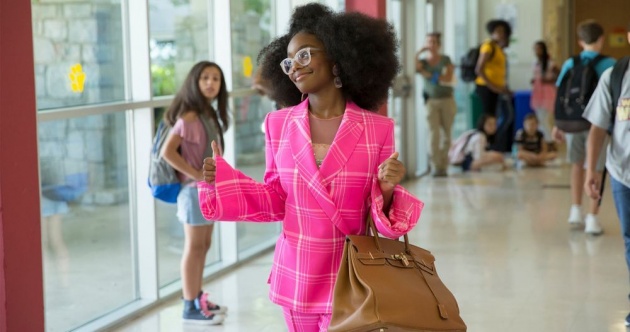 Pictured: 38 going on 13 year old Jordan Sanders (Marsai Martin) goes back to school in the comedy 'Little', directed by Tina Gordon from a script co-written by Tracy Oliver. Still courtesy of Universal Pictures/Legendary
Some of us feel like little kids in old people's bodies. That's called immaturity – now, eat your greens. There are a few people who feel like adults in children's bodies - minus hormones. Good to know - now eat your greens. Writing checks your body can't cash (to quote Top Gun) – it's hard. I mean, who writes checks anymore? Being the smartest person in the room doesn't mean that you get respect - look at the White House. There's definitely scope for comedy.
Writer Tracy Oliver (Girls Trip) and director Tina Gordon have collaborated on the Universal Pictures release, Little, a throwback to those body-swap do-over movies like Freaky Friday and 13 Going On 30. In a zeitgeist type thing, the current superhero movie, Shazam is also about a little kid in a muscular adult body. It's a lot of fun. Putting an adult in a young girl's body with a child expressing adult desires isn't so much. However, young TV star Marsai Martin (Black-ish) as little Jordan Sanders puts in a terrific performance. She does the nerdy scientist bit, the storming to the front of the queue, little miss entitlement bit and the singing on top of a table using a bread stick as a microphone bit. Aren't bread sticks just a bit oily for that?
Back in 1993, middle school student Jordan knew that if she swung a heavy wrecking ball from a certain spot, close to but not from her body, when it swung back, it wouldn't hit her. Only one of the mean girls in her class swung it right at her. She ends up in plaster. Who knows what happened to her attacker? This plays to a narrative that we all too readily accept – haters get away with it. Being nasty may come from a place of pain – for some people, it is the place the size of a football pitch. Or perhaps it comes from being insecure or seeking status. The issue is really related to competition. Cultures that encourage this create mean people who have a pathological fear of being second best. But not everything in life is about winning and losing. Civic responsibility is not a race.
Jordan grows up to be the CEO of a successful Georgia-based tech company – that is, the US state of Georgia, not the former Soviet Republic. As an adult she is played by Regina Hall. Surrounded by talented people, Jordan is universally reviled as a bully who does not get the best out of her staff. If it was up to her workforce, they would be keeping their spirits up with carbohydrate-heavy bread-based products. Jordan won't look at Carbs – she won't even pronounce their full name. As for that doughnut truck outside - doughnut trucks, are they a thing?
Her faithful assistant is April (Issa Rae, the writer-actress creator of the TV series, Insecure) who, according to her boss, is not entitled to sleep. Jordan's slippers are supposed to be 53 centimeters away from the edge of her bed so she can slide her feet right into them. The slippers are too far away, damn it. April is instructed to inform Jordan's housekeeper.
Jordan doesn't really look at people. Her lover, artist Trevor (Luke James) is entered in her phone as D-Boy - he has the key to her apartment entirely for plot purposes. Later, he will tell her that he is a successful artist, not 'starving' as Jordan had thought. The only person Jordan really has time for, in between beta-testing her black Alexa 'Home Girl' – it looks more like a Walnut Whip than a voice activated remote control service – is Connor (Mikey Day), her one client. He doesn't want to invest in her anymore but is prepared to give her one last chance – again, for plot purposes. Can she come up with a suitable big idea?
The plot turns on Stevie (Marley Taylor) a young girl with a wand who, having been kicked out of Jordan's building, puts a curse on her. Jordan wakes up the next day in the body of her younger self, immediately attracting the attention of child services (Rachel Dratch in a cameo) for being home alone. She needs April more than ever.
Pictured: Teacher Mr Marshall (Justin Hartley) meets Jordan (Marsai Martin) and 'Aunt' April (Issa Rae) in 'Little', a family comedy from writer Tracy Oliver and co-writer-director Tina Gordon. Still courtesy of Universal Pictures/Legendary
The humour is close to the bone, not in an edgy satirical way – this is broad stuff – but in causing offense. Jordan's inability to 'see' people leads her to mistake her neighbour's boy child for a girl. 'Good luck with the transition,' she says sarcastically. Humour directed at gender dysphoria is no better than racism. We're supposed to be laughing with Jordan as the person with the best put-downs, not at her.
When Jordan becomes thirteen again, she loses her power, or at least the ability to convey it. She has to go to school because it's the law. That April is accepted as her aunt is taken at face value. Gags revolve around a valet who refuses to let Jordan take her car ('you're not getting me fired'), Jordan not really seeing herself as a thirteen year old in the mirror – so she cuts a queue and orders 'the usual' without being recognised, and expressing sexual interest in her new teacher, Mr Marshall (Justin Hartley). At middle school, she faces an identikit bully (Eva Carlton in two roles). Jordan's self-possession makes her override being bullied, even down to straws being placed in her hair, and in the school canteen she ends up in the 'safe space', where the bullied misfits gather. The 'safe space' is anything but – the kids are still expected to do other's homework and get their food stolen. Jordan tries to order food in but she has her delivery food taken from her by Mr Marshall.
Meanwhile April is forced to hold team meetings on Jordan's behalf and after a less than commanding start does well. 'For the first time, I felt my ideas were being heard,' says one app designer. Connor surprises April by appearing 24 hours before pitch day. April mentions the name of her derided idea: 'Discover-Eyes'. This is the only pitch Connor wants to hear – again, for plot purposes.
Pictured: April (Issa Rae) gets used to her boss Jordan as a thirteen year old girl (Marsai Martin) in 'Little', a comedy from writer Tracy Oliver and co-writer-director Tina Gordon. Still courtesy of Universal Pictures/Legendary
The edgy humour revolves around Jordan still wanting to drink alcohol and, in a clumsily edited scene, swigs some at a restaurant. It is then we have the aforementioned performance of a Mary J Blige song, involving breadsticks and the removal of a wig. April joins in.
The plot elements include a talent show that Jordan's new friends want to appear in, April finally having time for another employee, Preston (Tone Bell) and the race to find Stevie, who works on the doughnut truck – the truck has changed its route. Trevor also returns, stripping in front of a thirteen year old – he's in the tee-shirt ripping business. He mistakes Jordan for the child that Jordan never admitted to and tries to be a father figure.
The film reinforces certain values that are of questionable merit. Firstly, it supports the idea that expensive clothes can displace nerd-like behaviour and will prevent kids from being bullied. This is patently untrue. Expensive clothes give bullies one more thing to steal or destroy; you cannot buy coolness. Secondly, it proposes that carbohydrates are an essential component of office life, that is, it is okay to eat doughnuts. This is a world in which high blood sugar levels don't cause harm. Heck, the characters in this movie must think that diabetes is a villain from Game of Thrones. The film is essentially a commercial. It portrays ideals you can buy that will make you feel better, regardless of the harm they actually cause.
The comedy is awkward. Yet the audience I saw it with chuckled with fair consistency. In other words, it plays. It offers the following observations: fear shouldn't hold you back; rejection isn't an obstacle; flossing is so 2018.
It isn't a spoiler to say that Jordan learns to be a better person and to embrace carbohydrates and other people – even though 'Associates' added to her company name is in tiny lettering. However, what the film doesn't tell you is that Jordan will get a second visit from child services. Jordan Sanders the younger has disappeared. The successful businesswoman is now a murder suspect.
Reviewed at Cineworld West India Quay, Screen Six, East London, Friday 12th April 2019, 19:30 screening