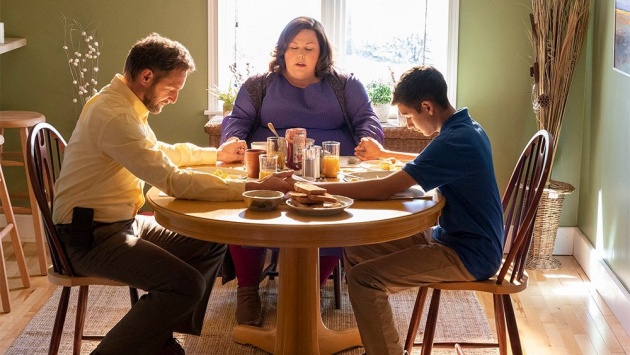 Pictured: The Smith family, Brian (Josh Lucas), Joyce (Chrissy Metz) and adopted son John (Marcel Ruiz) in the faith-based drama, 'Breakthrough', directed by Roxann Dawson. Still courtesy of 20th Century Fox
Can taking on a faith-based movie be a bad career move for a director? Roxann Dawson established herself an actress before helming episodes of many popular TV drama series including Heroes, The Closer, The Mentalist and more recently This is Us. Breakthrough is Dawson's first cinema film. It describes the rescue and treatment of an adopted Guatemalan migrant, John Smith (Marcel Ruiz) living in Missouri and attending a Christian Middle School who disappeared under ice cold water for several minutes after some horseplay with friends and was thought to be beyond recovery. The film has grossed a very respectable $37 million to date in the United States alone, since its release on Wednesday 17 April 2019, from a production budget of $14 million, far more than other high profile releases directed by women such as Can You Ever Forgive Me ($8 million gross) and Mary, Queen of Scots ($16 million gross), released within the last 12 months. It is likely to end up one of the most successful films directed by a woman released in 2019. The film received a push from Christian groups supporting its message of the (literal) power of prayer. Faith-based movies with factual underpinning have a solid audience in the United States, which doesn't necessarily translate overseas. When I left the cinema in East London, an usher sarcastically bade me to 'have a good evening – and merry Christmas', essentially being disrespectful to the film's core audience.
The film stars Chrissy Metz as John's adopted mother, Joyce, who early on tells her son, 'you have a purpose and you are loved'. John feeds his scrambled eggs to the dog, preferring a cold slice of pizza for breakfast (no, I don't know what that's about either) but darned if Joyce doesn't given him a second helping – he doesn't get away from hot food that easily. His adopted father Brian (Josh Lucas) would rather talk to him about basketball. 'You can't be his father and his best friend,' Joyce tells him. 'Why not,' asks Brian. 'You just can't,' she insists. Joyce is a forceful character who jokes about trying to befriend John's friends on Instagram after she drops him off at school. 'Really, mom,' John groans. There is a comedy sequence in the family car in which Joyce announces that she will increase his allowance to $100 per week – only he doesn't hear her, just his music. To get his attention, she throws some moves. The easy, non curse-word based humour is typical of the early section, Joyce taking particular exception to the young pastor, Jason (Topher Grace) with his haircut and the introduction of rapping at Sunday service. He asks his congregation who amongst them has watched 'The Bachelor' on television and then explains the link between the show and accepting God. It is easy to imagine an audience squirming as they listen. Joyce is uncomfortable for a different reason: she prefers hymns.
Pictured: 'I'm available for the next season of 'The Bachelor''. Pastor Jason (Topher Grace) makes a television appeal in 'Breakthrough', a faith-based drama directed by Roxann Dawson. Still courtesy of 20th Century Fox
Grant Nieporte's screenplay does its job: establishing John as a boy who would rather score his own baskets than pass the ball and is ambivalent about his place in the world. John feels that his birth mother rejected him; he doesn't think about the possible circumstances of his coming into the world or what kind of life he might have had. He is on his phone rather than plays video games and doesn't listen when he and his friends are told to get off the ice.
The moment of submersion is an effective 'jump scare' as any in modern horror. It's not up there with the end of Carrie (1976) but you feel the panic. John is shown floating to the bottom before he is fished out by rescue worker Tommy Shine (Mike Colter) who alleges he heard someone tell him to 'go back'.
John is taken to a local hospital then flown by helicopter to Cardinal Glennon Children's Hospital in St Louis. Joyce joins him. 'You're hyperventilating. Wouldn't you rather travel by road?' Joyce is asked. 'I'm not leaving my son,' she insists, even though she is afraid of heights.
There she meets the specialist, Dr Garrett (Dennis Haysbert), who tells Joyce and Brian that John is unlikely to make it through the night. 'You are the best, right' Joyce asks him. 'Yes.' 'Then do the best you can and let God do the rest.' For non-believers, the scene is awkward to watch.
If that scene is hard to enjoy, how do we respond when John starts squeezing Joyce's hand when she starts talking about Michael Jordan, the basketball player, being the best? Joyce attempts to will John back to life, his pulse having previously appeared after she started praying for him. During the hand squeezing bedside scene, Joyce has one hand, Pastor Jason has the other and they start talking about Michael Jordan and Lebron James. By the end, he has squeezed both hands. Joyce insists her son is a fighter. However, his ability to recover is diminished by the drugs that have put him in a coma. 'Well, wake him up then,' she tells Dr Garrett.
Pictured: Praying for a miracle: Mother Joyce (Chrissy Metz) and Pastor Jason (Topher Grace) flank John Smith (Marcel Ruiz) in the faith-based drama, 'Breakthrough' directed by Roxann Dawson. Still courtesy of 20th Century Fox
It is a testament to our involvement in the story that the awakening scene is as intense as it is. Admittedly, I watched the film as a parent. I could imagine non-parents just groaning in dismay. Nevertheless, some scenes are clunky, notably when Joyce tells a whole group of well-wishers from the community not to be so pessimistic. 'I will not have any negativity in this room,' she insists.
At one point, Joyce goes into a coma herself, having travelled without her medication – she has Type One Diabetes. She is told to remain in a bed for eight hours. 'Three – I'll nap,' she counters. 'Five,' insists Dr Garrett. Joyce doesn't sleep but sits on the edge of her bed until the alarm goes off.
The most interesting aspect of the film is the coda, which asks the question: why do some people in life threatening situations recover and others do not? The recipient of a miracle is almost resented. There is also a church scene in which Pastor Jason invites members of the congregation to stand up if they were rescue workers, police officers, hospital staff or people who just prayed for John. In the UK, it has an awkward similarity to a UK Nescafe [coffee] commercial. Nevertheless, the film is particularly strong on the trauma of recovery.
Some of the reviews of Breakthrough are disingenuous, complaining that there is never any doubt that John would get well. However, on a minute-by-minute basis you are with Joyce. By her own admission, Chrissy Metz is overweight, more so than any leading lady in a film – she has struggled with her weight all her life. Her size makes her vulnerable and relatable. You don't know whether Joyce's body will cope with the struggle to bring John back to life. There is an additional revelation that Joyce gave up her biological son when she was younger, but you are with her even before you hear this.
In reality, John Smith attended the Living Word Christian Middle School, not 'Water of Life' as shown here. Some of the names, like Dr Kent Sutterer (played in the film by Sam Trammell) are unchanged. The accident did occur on Martin Luther King Day, 2015, on Lake St Louise. Dr Jeremy Garrett did describe what happened as 'a bonafide miracle'. The left hand, right hand squeeze test was instigated by Dr Garrett, not Joyce and Pastor Jason. His story can be read on USA Today's website.
To return to my first question: is directing a faith-based movie an impediment to future filmmaking? It didn't hurt Patricia Riggen, who followed her 2017 film, Miracles from Heaven with episodes from the TV series 'Tom Clancy's Jack Ryan' and has helmed the TV movies, 'Run for Your Life' and 'Surveillance'. Similarly, Randall Wallace, who directed Heaven is for Real, went on to co-write and direct the TV movie, 'Point of Honor'. The trend appears to suggest that for faith-based movies, television directors rather than 'auteurs' are safe pairs of hands.
Reviewed at Cineworld West India Quay, Screen One, East London, Friday 17th May 2019, 17:40 screening (thanks for the early Christmas greetings)