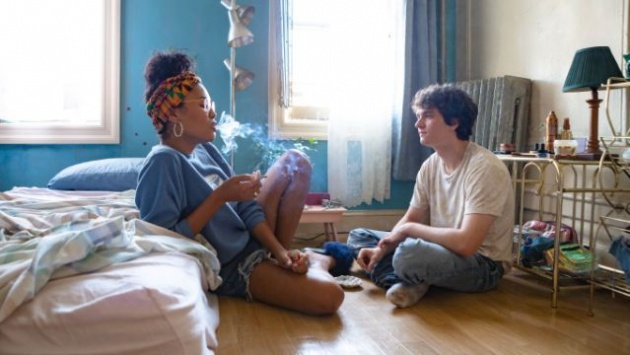 Pictured: Wye (Leyna Bloom) and Paul (Fionn Whitehead) get some floor time in the New York City set 'Port Authority', written and directed by Danielle Lessovitz and premiered in the 'Un Certain Regard' section of the 2019 Cannes Film Festival. Still courtesy of MK2 films (France)
Why would a young black choreographer-performer rehearsing with a tight group (her 'family') and living in an apartment where she faces eviction fall for a mysterious, wounded white boy, who pretends to be living with his half-sister but is actually homeless? It is a question never satisfactorily resolved in writer-director Danielle Lessovitz's debut feature, Port Authority, which like its hero, Wye McQueen (Leyna Bloom) has a 'lot going on' but never quite accounts for all of it in its plotting.
It has a ticking clock. Paul (British actor Fionn Whitehead), arrives at New York City's Port Authority bus station hoping that his half-sister, Sara (Louisa Krause) would be there to greet him. He is left un-met. Through a window, looking out onto some steps, he briefly sees a group of dancers in their own world. They are like the sub-culture skateboarders in last year's Skate Kitchen. Paul is mesmerised by the confidence they have in their own self-expression. Inadequate words that might describe them are 'camp' and 'loud'. They are indifferent to the judgment of others. Paul, on the other hand, is on probation for a crime that isn't explained. He has come from the mid-west. In a work by another screenwriter, he would articulate what his 'problem' is; why he felt he had to run away. My guess is he wanted to go somewhere where he didn't feel a criminal, to connect with a family and a lifestyle that he never enjoyed. Making the mistake of trying to sleep on a subway train, he has a violent altercation with two men who steal his baseball cap. The fight leaves his mobile phone broken. He is saved by Lee (McCaul Lombardi), who tells him that he's lucky: he could have been raped. Lee takes Paul to a homeless shelter, where he is able to queue-jump. Lee sort of expects Paul to move in with his half-sister at some point, but Sara doesn't want to know. She feels put-upon, giving him the 'I can't deal with this right now' speech – well, more of a gesture. Paul finds himself in un-gainful employment, knocking on the doors of vulnerable tenants, preceded by a shout, 'immigration' and taking possessions in lieu of rent. He is financially remunerated but it is unclear how much he earns or where he puts it.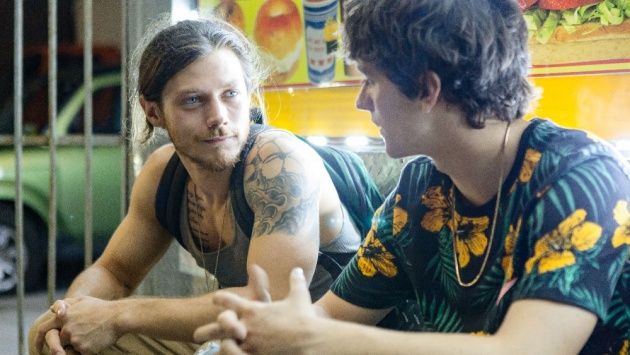 Pictured: Lee (McCaul Lombardi) and Paul (Fionn Whitehead) discuss the finer points of surviving in New York City in 'Port Authority', a drama written and directed by Danielle Lessovitz. Still courtesy of MK2 Films (France)
The impending danger you might expect is that the police, acting on instruction from Paul's probation officer, would find and arrest Paul, tracing him through his half-sister. However, this isn't the issue. Rather, Paul follows a dancer, Tekay (Devon Carpenter) who sleeps at the hostel and follows him to Wye's rehearsal space. Wye's brother tells that he is not welcome, that he should leave, that these are not his people, and so on. Wye follows him out. They go to a diner. Wye subsequently introduces him to her sub-culture, where individuals compete against each other through poise and look on a catwalk. There is a prize up for grabs that could really solve Wye's rent problem.
In another film, this competition might be the climax, but not here. Wye creates a look for herself that is 'Lena Horne from The Wiz'. Did anyone tell her than Sidney Lumet's 1978 movie flopped? (Horne played Glinda the Good.) The set piece serves to show how Paul becomes further enraptured. Having danced a bit himself – in an early scene, he and Lee take synchronised steps on a dance mat – Paul wonders what category he could portray. 'White boy realness,' is Wye's reply.
Wye feels the need to spell out her name for Paul - it's Wye as in the river, the fifth longest in England, running 215 km. (This isn't mentioned in the film, but just saying.) She is uncomfortable that she has not met anyone who knows him. He breaks into his sister's apartment and lets Wye in. Needless to say, Sara doesn't show up.
Is this enough? Paul introduces Wye to Lee. However, it is so obvious that Lee is holding something back that Wye walks out.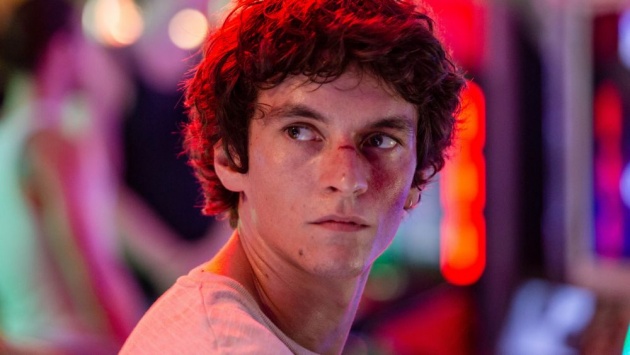 Pictured: Paul (Fionn Whitehead) in an early scene from 'Port Authority', a New York City-set drama written and directed by Danielle Lessovitz. Still courtesy of MK2 Films (France)
Back at the hostel, Tekay is at the centre of an argument. He falls from the top of a cupboard and is taken to hospital. Paul witnesses the incident but cannot tell Wye. When Wye and her family go to visit Tekay in hospital, Paul goes off to buy snacks, including (on request) bottles of Gatorade.
Of course Paul's line of work will take him to Wye's door. Before then he discovers that Wye is a transgender woman. (Bloom is also transgender.) Does Wye have male genitalia? Wye is disgusted that Paul would ask. Nevertheless, they kiss. Paul is in love.
Port Authority has been described as a transgender romance. Really, it is about the complications of remaking oneself in the city, where a sense of belonging is self-defined. Its message is subversive: the families you make are stronger than the ones you are born into. Not that Lessovitz really stress-tests this idea. It's just there. At the end of the film, Paul finds himself back at the bus station, but then is compelled to demonstrate his 'white boy realness', walking up and down. Realness is defined not by a sense of history, a back story, but by presence and what they call in theatre studies, 'the gest'.
There is one other issue that isn't disgusted: the legality of using homeless people as bailiffs. Is this rooted in reality? If so, what can be done about it? What happens to the homeless people who were involved in Tekay's accident? We don't find out.
Reviewed at Theatre La Licorne, Cannes La Bocca, France, Cannes Cinephiles screening, Monday May 20th, 2019, 19:00 hrs
No trailer available. Pictured below: Wye (Leyna Bloom) on the dance floor in 'Port Authority', a drama set in New York City written and directed Danielle Lessovitz. Still courtesy of MK2 Films (France)